Chaotic Terrain (Venus)
Reference work entry
DOI:
https://doi.org/
10.1007/978-1-4614-3134-3_47
Definition
Chaotically collapsed terrain occurring at the source region of Venusian outflow channels (Kargel et al. 1994).
Prominent Examples
The source region of Kallistos Vallis consists of graben-forming coalesced fractures that are flooded by lava and widened by slumping, collapse, and sapping. Its floor near the edges contains "a chaotic jumble of rocks," 0.6–2 km across. The chaos area is few 10's km in diameter (Kargel et al.
1994
) (Fig.
1
).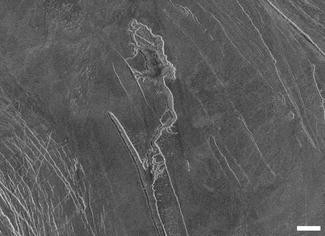 Copyright information
© Springer Science+Business Media New York 2015