Corona (Venus)
Reference work entry
DOI:
https://doi.org/
10.1007/978-1-4614-3134-3_439
Definition
Quasi-circular volcano-tectonic/tectonomagmatic structure on Venus with concentric ridge and trough along its perimeter.
Synonyms
See also Ovoid (obsolete).
Description
Circular to ovoid structure on the surface of Venus consisting of partially to fully complete concentric tectonic structures that are usually aligned with a raised rim or trough.
Coronae consist of interior (dome, plateau, depression, or no relief) and exterior (rim or trough) elements (Smrekar and Stofan
1997
). Their central region is usually higher than the level of the surrounding plain, but often lower than their rim; the entire structure is surrounded by a circular moat-like depression. Coronae may exhibit radial fractures (
corona-nova
) and are frequently associated with lava flows and volcanic domes and shields (Dombard et al.
2007
) (Figs.
1
and
2
). About 20 % of coronae are associated with distinct positive gravity anomalies (Johnson and Richards
2003
).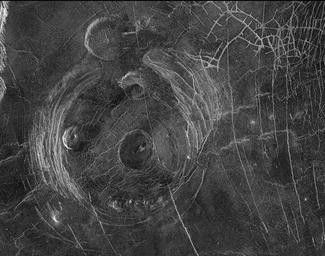 Copyright information
© Springer Science+Business Media New York 2015