Quasi-Circular Depression
Reference work entry
DOI:
https://doi.org/
10.1007/978-1-4614-3134-3_288
Definition
A circular topographic depression that appears in a high-resolution topographic dataset but may not have a corresponding visual structure on the surface.
Description
In the broad sense, all kinds of at least somewhat circular depressions in the gridded topographic dataset of Mars Orbiter Laser Altimeters or Lunar Orbiter Laser Altimeter are quasi-circular depressions (QCDs), visible or not. In a more strict sense, QCDs (or stealth/invisible QCDs) are only those evident depressions which have no structural representation in optical imagery, i.e., cannot be detected via photogeologic methods (Buczkowski
2007
b) (Fig.
1
). However, some stealth QCDs (sQCDs) are manifested as circular fractures (Ghent et al.
2012
).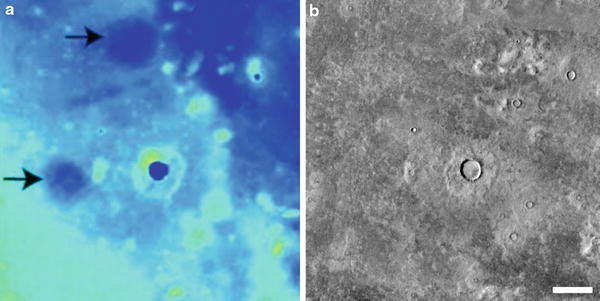 Copyright information
© Springer Science+Business Media New York 2015