Current Crescent and Scour Flute
Reference work entry
DOI:
https://doi.org/
10.1007/978-1-4614-3134-3_116
Definition, Description, and Subtypes
(1)

Erosional: Scour zone/crescentic furrow – a deposit-free U-shaped or moat-like depression encircling a topographic obstacle in an area otherwise covered by deposits (e.g., aeolian) (Bishop 2011). The deepest part of the moat is typically upwind (e.g., between a possible echo dune and the obstacle). Its arms extend leeward in a pair of furrows that become shallower and wider downflow (Sharpe and Shaw 1989) (Figs. 1 and 3a–c).

(2)

Depositional: Horseshoe (U) shaped or paired accumulations in front of an obstacle (on the windward or up-current side) and on the two sides appearing as two wings, formed by the airflow or streamflow deflected around and over the obstacle (Pye and Tsoar 1990 and references therein) (double lee dunes) (Fig. 3d).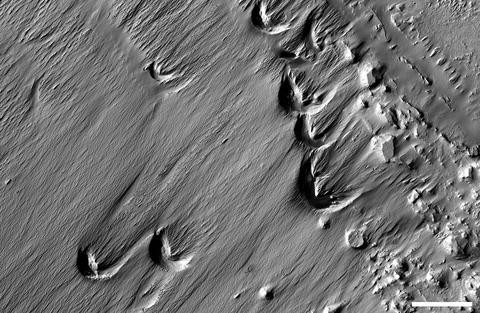 Copyright information
© Springer Science+Business Media New York 2015