Geologic Carbon Sequestration: Sustainability and Environmental Risk
Reference work entry
DOI:
https://doi.org/
10.1007/978-1-4419-0851-3_200
Definition of Subject and Its Importance
Carbon dioxide (CO
2
) capture and storage (CCS) is a combination of technologies that addresses climate change by directly reducing the net CO
2
emissions arising from the use of fossil fuels as the main global primary energy source [
1
]. In CCS as commonly envisioned, CO
2
will be captured from flue gases at point sources such as coal-fired power plants, compressed, transported by pipeline, and injected into deep geologic formations for permanent storage (i.e., geologic sequestration) (Fig.
1
).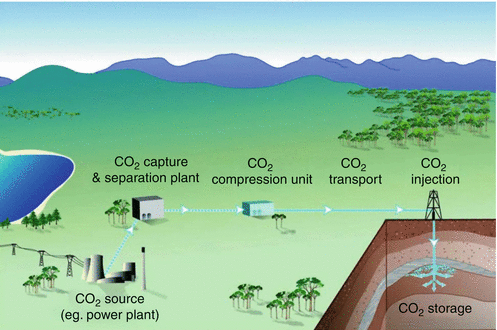 Notes
Acknowledgments
This entry greatly benefitted from suggestions and comments by my LBNL colleagues Karsten Pruess, Jens Birkholzer, and Preston Jordan.
Copyright information
© Springer Science+Business Media, LLC 2012