Klithi Site: Excavating a Rockshelter in Northwest Greece
Reference work entry
DOI:
https://doi.org/
10.1007/978-1-4419-0465-2_1510
Introduction
Klithi is a limestone rockshelter on the right bank of the River Voïdomatis in Northwest Greece (Fig.
1
). Between 1983 and 1989, archaeological excavations here directed by Geoff Bailey brought to light a sequence of Upper Paleolithic deposits exhibiting remarkable uniformity in their artifact and faunal assemblages. Hunter/gatherer groups of the late glacial period had used ibex and chamois for food, leather, and bone artifacts. They had collected flint pebbles from the nearby river banks to manufacture an Epigravettian industry dominated by backed bladelets which were employed in hunting. Small endscrapers and other tools were employed in the working of hides and bone. Klithi is a low-diversity site and now features among other specialized ibex-sites that are typically found at high altitudes in or near the sort of rugged terrain that was the habitat of ibex herds.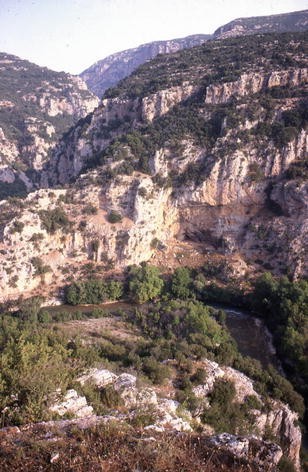 Further Reading
Bailey

,G. (ed.) 1997.

Klithi: Palaeolithic settlement and Quaternary landscapes in northwest Greece

. Cambridge: McDonald Institute for Archaeological Research.

Google Scholar

Bailey, G. & N. Galanidou. 2009

. Caves, palimpsests and dwellings places: examples from southeast Europe.

World Archaeology

41(2): 215-41.

Google Scholar

Courbin, P. 1987

. André Leroi-Gourhan et la technique des fouilles.

Bulletin de la Société PréhistoriqueFrançaise

84(10-12): 328-34.

Google Scholar
Copyright information
© Springer Science+Business Media New York 2014