Phosphatidylinositol 5-phosphate 4-kinase
Reference work entry
DOI:
https://doi.org/
10.1007/978-1-4419-0461-4_418
Historical Background
Phosphatidylinositol 5-phosphate 4-kinase (PIP4K) is an enzyme activity capable of converting a mono-phosphorylated lipid substrate into a bis-phosphorylated product, a reaction that is fundamental in the maintenance of the cellular phosphoinositide (PI) cycle. PIP4K catalyzes the addition of a phosphate group to position D-4 of the inositol head-group of PtdIns5
P
(Figs.
1
and
2
). Downstream effects of signaling molecules generated by the PI cycle are diverse and include vesicle trafficking, ion channel activity, cytoskeletal dynamics, cell differentiation, proliferation, and apoptosis (Toker
2002
; Irvine
2003
; Di Paolo and De Camilli
2006
; Gonzales and Anderson
2006
).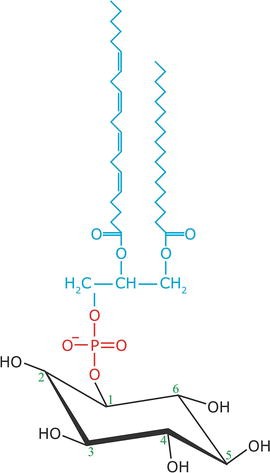 Copyright information
© Springer Science+Business Media, LLC 2012