Burma (Myanmar)
Reference work entry
DOI:
https://doi.org/
10.1007/978-1-4020-8639-7_202
Introduction
The coastline of Burma (Myanmar) is about 2,300 km long, and consists of three distinct parts (
Fig
.
17.5.1
): the western Arakan (Rakhine) coast, the southern Irrawaddy (Ayeyarwady) deltaic coast, and the north-south Tenasserim (Tanintharyi) strip. The Arakan coast, from the Bangladesh border south to the Cape Negrais peninsula, runs parallel to mountain ranges of strongly folded Mesozoic and Tertiary rocks, dominated by ridges and valleys that follow the geological strike. East of Cape Negrais the deltaic plains of Irrawaddy border the Gulf of Martaban (Mottama), and south from Moulmein the coast, which has a predominant north-south strike, is again generally steep, bordering the Tenasserim Ranges of mainly Upper Palaeozoic rocks.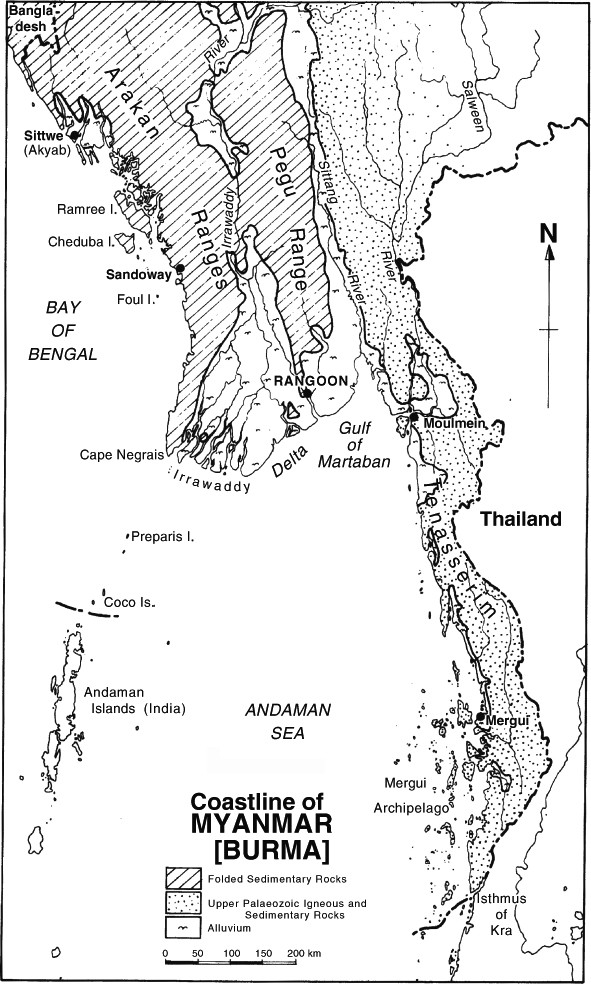 Keywords
Sandy Beach 
Offshore Island 
Mangrove Swamp 
Deltaic Plain 
Sand Spit 
These keywords were added by machine and not by the authors. This process is experimental and the keywords may be updated as the learning algorithm improves.
References
Pascoe EH (1962) A manual of the geology of India and Burma, Vol 3. Geological Survey of India, Delhi

Google Scholar

Volker A (1966) The deltaic area of the Irrawaddy River in Burma. In: Scientific problems of the humid tropical zone deltas and their implications. UNESCO, Paris, pp 373–379

Google Scholar
Copyright information
© Springer Science+Business Media B.V. 2010