Mompha Moths (Lepidoptera: Momphidae)
Reference work entry
DOI:
https://doi.org/
10.1007/978-1-4020-6359-6_4666
Mompha moths, family Momphidae, total 127 species worldwide, with about half from the Palearctic. The family is part of the superfamily Gelechioidea in the section Tineina, subsection Tineina, of the division Ditrysia. Adults small (8–18 mm wingspan), with head smooth-scaled; haustellum scaled; labial palpi recurved; maxillary palpi small, 3-segmented. Wings elongated and hindwings mostly lanceolate with long fringes (Fig.
83
). Maculation often white with golden iridescent markings, or darker with various marks. Adults mostly diurnal or crepuscular. Larvae mostly leafminers, but some are borers in flowers and stems, or gall makers. Hosts are only known in Onagraceae.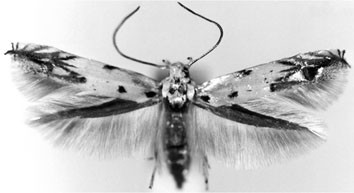 Copyright information
© Springer Science+Business Media B.V. 2008