Mantidflies (Neuroptera: Mantispidae)
Reference work entry
DOI:
https://doi.org/
10.1007/978-1-4020-6359-6_1710
The family Mantispidae belongs to the suborder Planipennia of the order Neuroptera. The group receives its name from the remarkable resemblance of the adults to praying mantids. Like mantids, adult mantispids, or mantidflies as they are sometime called, have an elongate prothorax, a freely movable head with prominent eyes, and raptorial forelegs composed of a lengthened coxa and a spined femur, which fits against the tibia to immobilize prey (Fig.
5
). Of course, the two groups are not closely related, instead providing an excellent example of convergent evolution. Unlike the mantids, mantispids have membranous wings, no cerci, and are holometabolous.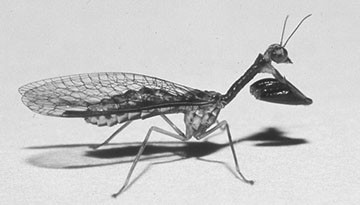 Copyright information
© Springer Science+Business Media B.V. 2008