Gold Moths (Lepidoptera: Axiidae)
Reference work entry
DOI:
https://doi.org/
10.1007/978-1-4020-6359-6_1133
Gold moths, family Axiidae, are a very small family of only six Palearctic species in the Mediterranean region, mostly in the genus
Axia
. The family is in the superfamily Drepanoidea, in the section Cossina, subsection Bombycina, of the division Ditrysia. Adults medium size (23–30 mm wingspan), with head scaling normal; labial palpi slightly porrect but very short; maxillary palpi vestigial; antennae bipectinate. Wings elongated and triangular, with relatively acute forewing apex; hindwings triangular and rounded (Fig.
28
). Maculation mostly shades of brown to pink, but with at least one bright iridescent mark (often golden color); hindwings unicolorous. Adults nocturnal. Larvae are leaf feeders. Host plants all are in Euphorbiaceae.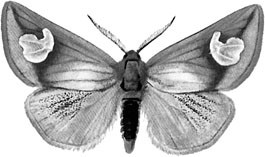 Copyright information
© Springer Science+Business Media B.V. 2008