Anhydrite and gypsum
Reference work entry
DOI:
https://doi.org/
10.1007/0-387-30720-6_7
The calcium sulfate in evaporites sometimes occurs as gypsum, CaSO4 · 2H2O, sometimes as anhydrite, CaSO4, and sometimes as both minerals together. Near-surface material is almost always gypsum because of the ease of weathering and hydration of CaSO4, and deep-seated subsurface material is always anhydrite because of dehydration effects. Numerous examples of replacement of one of these minerals by another are known (Murray, 1964; Stewart, 1953; Borchert and Baier, 1953; Ogniben, 1955; Sund, 1959).
The water solubilities of
gypsum
and
anhydrite
have been investigated by
Posnjak (1938)
,
Bock (1961)
,
Marshall and Slusher (1966)
, and others; and
MacDonald (1953)
has made thermochemical calculations. For many years, it was believed that
gypsum
crystallized out of pure water at a temperature less than about 40°C, that
anhydrite
was the stable phase above this temperature, and that increasing salinity lowered the transition point (see
Fig. 1
).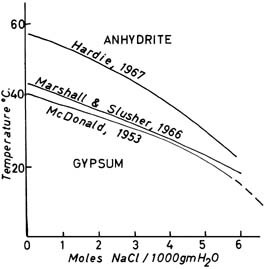 Copyright information
© Hutchinson Ross Publishing Company 1981