Biodegradability of Ionic Liquids (ILs) Under Aerobic and Anaerobic Conditions
Living reference work entry
DOI:
https://doi.org/
10.1007/978-981-10-6739-6_56-1
Introduction
Persistence, bioaccumulation potential, and toxicity are the main parameters considered in environmental hazard assessment. Out of these persistence is the key factor. Rapidly degrading chemicals are unlikely to cause adverse effects, and even if they do, there is a high probability that these effects can be reversed. Persistent chemicals on the other hand will continue to accumulate in the environment for as long as they will be released, and the damage that they might cause can be difficult, if not impossible, to reverse. Therefore, persistence should be avoided by all means.
Testing Biodegradability
Biodegradability can be tested in several different ways which differ in test conditions, system complexity, environmental relevance, measurement method, and the kind of information they deliver (extensive information can be obtained from [
5
,
24
,
45
]). Based on the parameter that is measured, the biodegradability can be evaluated as:
Primary degradation – evaluates the transformation of the parent compound to any other product that is structurally different from it. It usually requires measuring the concentration of the parent compound at several time points using specific analytical method. If no attampt is made to search for transformation products the extent of degradation cannot be judged, i.e., it might be limited to a first transformation step (which could lead to a stable product) or lead to complete degradation (mineralization), yet the outcome of the test might still be 100% primary degradation in both cases.

Ultimate biodegradation (mineralization) – evaluates the transformation of parent compound to simple inorganic compounds (e.g., CO2, H2O, NH3, NOx) using a non-specific sum parameter, e.g., CO2 evolution, O2 consumption, and elimination of dissolved organic carbon.
The test systems used to measure biodegradability (at least the standardized ones) can also vary with respect to how realistically do they represent environmental conditions and which environment are they representing. The outcome of these tests is often accompanied by a threshold value that can be used to classify the compounds in terms of biodegradation potential often in regulatory context. Generally, in environmental regulatory context, a tiered approach is often adopted with the test systems increasing in relevance and complexity:
Ready biodegradability tests (e.g., according to OECD 301 A–F guideline) – is a screening test (I tier) based on ultimate biodegradability assessment and is the most often employed test in ionic liquid literature. The test conditions are stringent with low inoculum densities, no adaptation, and no nutrient supplementation. Compounds passing an arbitrary threshold value of 60% CO2 evolution/O2 consumption or 70% dissolved organic carbon removal are classified as readily biodegradable. These compounds are then deemed to degrade easily in the environment.

Inherent degradability tests (e.g., according to OECD 302 A–C guideline) is a second-tier test based on primary or ultimate degradability assessment. The test conditions are much more conducive compared to ready biodegradability test due to high inoculum density as well as active aeration, nutrient addition, and inoculum adaptation in some of the procedures.
Biodegradability of ILs' Cations by Classes
ILs are composed of a minimum two entities, the cation and the anion, and they should be both taken into account in evaluating persistence. It was often shown that only one of the entities is biologically degradable, sometimes to high extent, e.g., exceeding ready biodegradability threshold values, while the other entity persists [5, 24, 45, 50]. Such an ILs cannot be truly green. Therefore, in green design of ILs, one should strive to make the entire IL degradable.
Certain features of ILs' structure make it more susceptible to biodegradation and should be promoted if the green design is the aim (see Figs.
1
and
2
, as well as review articles [
5
,
24
,
45
] for more details)). Logically, there are also structural elements that decrease biodegradability – those should be avoided if possible (see Fig.
1
for a summary of structure-biodegradability relationships).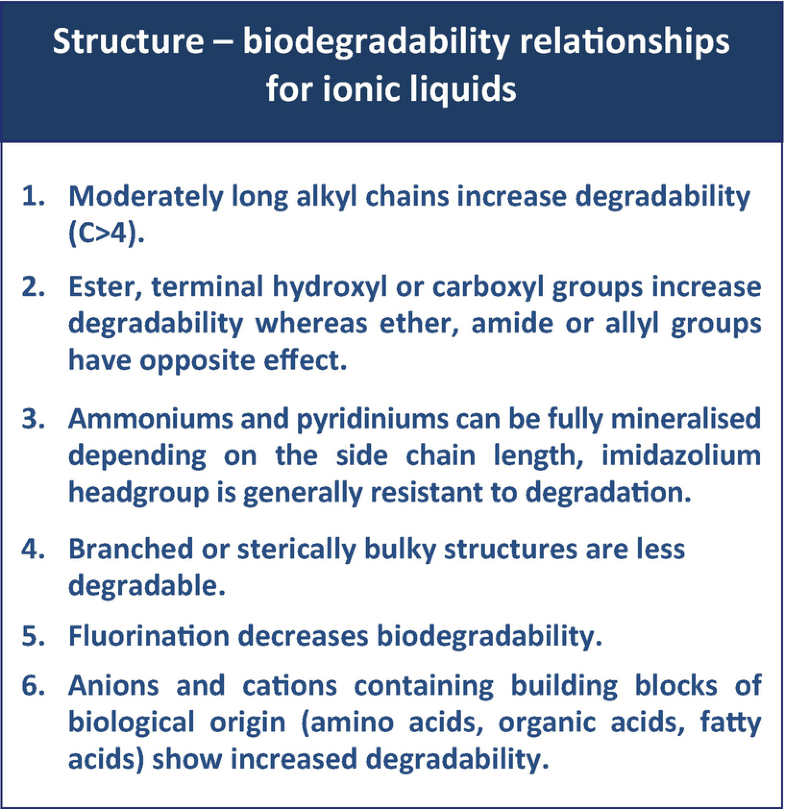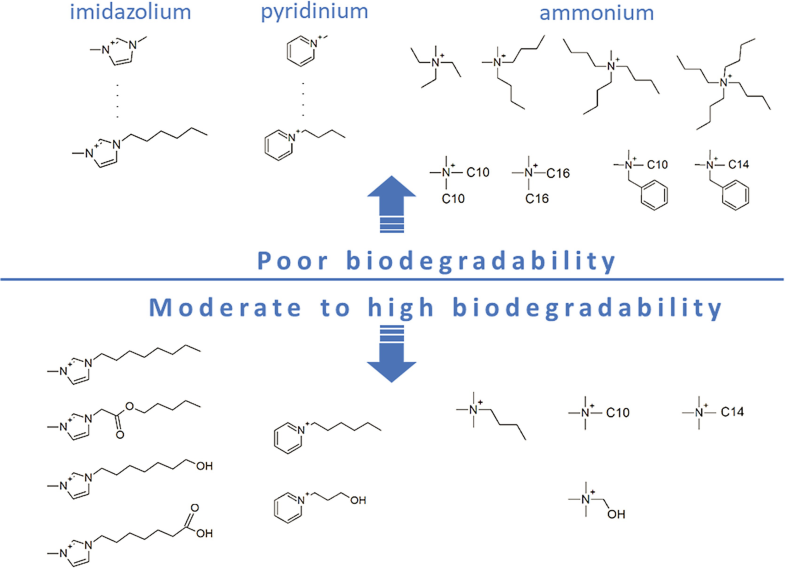 Imidazoliums
The first IL cations to be tested for degradability were the substituted imidazoliums, and multiple studies concerning their degradability can be found in the literature. Generally, N-substituted imidazolium core is largely resistant to degradation [8, 44], whereas C-substituted imidazoliums can be degraded easily [44]. The N,N-substituted imidazolium can be partially degradable, and what makes all the difference is the type and length of the substituent. If the alkyl substituent is too short (C<8) the whole cation is usually not degradable [44], yet when the chain is too long, poor degradability can result from toxicity-driven inhibition of inoculum's activity [48]. If functional groups susceptible to enzymatic attack are present, they will increase degradability (rate or extent); these include terminal hydroxyls [44], carboxyls [44], or esters [18, 47] given the side chain is long enough [22]. On the contrary, introduction of phenyl [22, 44, 47, 48], allyl [22], nitrile [44], ether [7, 47], or amide [18, 22, 28] group does not improve degradability, i.e., decreased extent or rate of degradability is observed [7]. As can be expected, halogenated [48] substituents are also not favorable. Presence of methyl substituents on C2, C4, and C5 carbon of the imidazolium ring does not favor biodegradability [26]. Imidazoliums normally susceptible to (primary) aerobic degradation, e.g., methyl-octylimidazolium, do not undergo any appreciable degradation under denitrifying conditions [29]. In hydroxyl-octylimidazolium IL, a transformation of terminal hydroxyl to carboxyl was observed in anaerobic environment, followed by shortening of the alkyl chain [29]. Nevertheless, the degradation did not proceed further, and the timeframe was much longer than observed under aerobic conditions.
The dicationic imidazolium IL studied so far did not undergo even primary degradation regardless of the length of the linkage between imidazolium cores (C2 to C6), presence of ether and/or triazole functionalities in it, and substitution with C2 or C6 alkyl chains on imidazolium's free nitrogen atoms [43]. Tetrakis-imidazoliums and benzimidazoliums substituted with four equal alkyl chains containing 1 to 12 carbons underwent 20% and 56% degradation; nevertheless, taking the distribution of oxidizable carbon in the structure into account, most probably only the alkyl substituents were degraded, leaving the complex imidazolium core unchanged [1].
After several years of modifying the structure of imidazolium-based ILs, by introducing easily degradable functionalities or coupling with easily degradable anions, it became apparent that there is no easy way around stability of imidazolium core. The reader will find a detailed discussion of degradability of "simple" imidazoliums in recent reviews [5, 24, 45] and more information on mechanism of degradation in original research contributions [4, 44].
Biodegradability of ILs' Anions
Most of the anions used at the dawn of ILs were inorganic. Since they could not serve as a source of energy or carbon for microorganisms, they are not relevant for biodegradation studies. Fluorinated entities, e.g., [(CF3SO2)2N]− or [(C2F5)3PF3]−, where some carbon present in the molecules is counteracted by rather large amount of highly stable C–F bonds, also resist both aerobic and anaerobic degradation [8, 17, 30]. This is also the case for fluorinated equivalents of anions which are normally biodegradable (e.g., alkylsulfonates or carboxylates) [50]. Cyano-based anions turned out to be nondegradable under both aerobic and anaerobic conditions [17, 30].
The first anion intentionally used to increase degradability was an octylsulfate, which is indeed fully degradable. Depending on what cation it is paired with it can form highly to poorly degradable ILs [17, 19, 28]. Alkyl sulfates containing methyl [51] or hexyl to dodecyl chains were also shown to be degradable [22].
Bio-based anions, e.g., formate, propionate, butyrate, isobutyrate, pentanoate [33], saccharinate [22], lactate [3], succinate [3, 20], acetate [3, 33], sorbate [3], citrate [3], levulinate [3, 27], maleate, and polyethylene glycol [20], were shown to be highly degradable. Yet branched organic acid-based anions were generally not degradable [36]. Branching (valine, leucine, isoleucine) or presence of heterocyclic imidazole or indole ring (histidine and tryptophan) in amino acid-based anions also decreased biodegradability, whereas straight alkyl chains, second carboxylic group, and hydroxyl or amide group increased it [23].
Tetrabutylammonium ILs coupled with lactate, maleate, tartrate, malonate, pyruvate, glucoronate, galacturonate, prolinate, and hydroxyprolinate were shown to form not readily degradable ILs; yet taking into account the proportion of oxidizable carbon in both ions, the extent of degradation corresponded fairly closely to full degradation of the anion [12, 13]. ILs derived from several naphthenic acids as well as benzoic, salicylic, deoxycholic, or lithocholic acids as anions were degradable to high extent when coupled with cholinium cation. On the other hand, anions based on naphtoxy-acetate and anthracene carboxylate showed moderate biodegradability despite presence of cholinium moiety [53]. This is also consistent with general rules of degradability developed for polyaromatic hydrocarbons stating that increasing the number of aromatic rings, degradability decreases.
There are several instances where anions that were expected to be degradable turned out to be rather stable. Both diethylphosphate and dibutylphosphate were not degradable. The latter coupled with phosphonium IL significantly inhibited the activity of inoculum [22, 51]
Anaerobic Versus Aerobic Degradation
Aerobic degradation processes usually occur faster than the anaerobic ones due to much larger energy gain from the former, mandating faster growth of microbes. Therefore, it is to be expected that when the oxygen is lacking, the degradation processes will be slower. Nevertheless, in many environments and for many environmental pollutants, anaerobic processes are very important degradation mechanisms. Investigations into the anoxic degradation of ionic liquids are scarce. Imidazoliums or pyridiniums normally susceptible to, at least partial, aerobic degradation, e.g., methyl-octylimidazolium or N-octylpyridinium, did not undergo any appreciable degradation under denitrifying conditions over a period of 11 months [29]. Terminal hydroxyl group in octylimidazolium IL could be oxidized to carboxyl group within approximately 1 month, yet no further transformation occurred during subsequent 10 months [29]. Fluoro- and cyano-based IL anions were also shown to be resistant to both anaerobic and aerobic degradation [30]. It can be concluded, based on this limited amount of studies, that degradability of ILs under anoxic conditions is poorer than in the presence of oxygen.
Synergistic Effects in Biodegradation
In biodegradability studies, anions and cations are often treated as separate entities; nevertheless, on several occasions, synergistic effects in biodegradability were observed. Anions derived from triglycerides (stearate, oleate) or edible oils (canola, coconut) were fully degradable in ILs formed with trimethyl-hexadecylammonium cation. When one more methyl group in the cation was replaced by bulkier substituent, ILs containing anions based on unsaturated chain (stearate or coconut oil) were poorly degradable, whereas those possessing saturated anions retained their high degradability ([35]). Similarly, dimethyl-dibutylammonium chloride was not degradable, yet when coupled with organic acid-derived anion, the degradability of resulting IL was high and exceeded the theoretical degradability of the anion alone [3]. Cholinium used as a counterion coupled with long-chain fatty acid (C12–C18) resulted in fully degradable compounds where cholinium increased the degradation rate compared to sodium equivalents [25]. Dimethyl-dibutylammonium chloride was not degradable, yet when chloride was replaced by degradable anion derived from organic acid, the IL was degradable to high extent – vastly exceeding the theoretical degradability of anion [3]. On the contrary, the presence of octylsulfate anion significantly decreased the biodegradation rates of 3-methyl-1-(propoxycarbonylmethyl)imidazolium cation as compared to bis(trifluoromethylsulfonyl)amide [7].
Copyright information
© Springer Nature Singapore Pte Ltd. 2020
Section editors and affiliations