Abstract
Most mental health professionals all over the world prefer working in urban areas. As a result rural and remote area psychiatry is often neglected. While the situation is concerning in high-income countries, it is even worse in low- and middle-income countries. Rural psychiatry can be challenging because of poor resources, professional isolation, lack of a team, and perceived lower opportunities for professional growth.
Many countries are thinking of creative and innovative ways of recruiting and retaining psychiatrists for rural mental health services. These include ongoing training, linking them to an academic center, enhancing incentives, and encouragement to develop newer services that are context specific. In addition, a major thrust on training postgraduate trainees in rural psychiatry through immersive methods, such as rural postings, has also shown promise.
Keywords
Rural 
Psychiatry 
Training 
Equity 
Mental health 
Psychiatric services 
Introduction
World over there is a dearth of mental health professionals (MHPs) working in rural areas. Even in countries where rural and remote area mental health is an established specialty, recruitment and retention in rural areas has remained a challenge. Norman Sartorius (2009) in his book Pathways of Medicine discusses several important issues regarding psychiatrists and the nature of care they provide worldwide. First is the lack of equity in mental healthcare in remote and rural areas with most professionals concentrating in urban centers, and second is the decrease in public mental health services and the burgeoning of private care. The third aspect that he describes is the changing values among health professionals with career choices being driven more by prestige or money rather than by a sense of purpose and altruism (with few exceptions). This is probably true in most countries except where there is limited private care and most mental health is provided by a public health service.
However, providing mental healthcare to people who live in rural areas is necessary, and no government can shy away from it. There will need to be efforts to ensure that there are enough professionals who live and work in rural areas and are able to meet the unique needs of the mental health of people living there. For this to happen, we need to understand the challenges that mental health professionals face in such situations, learn from solutions developed across the world to enhance recruitment and retention of MHPs in rural areas, and also focus on psychiatric training. We also need to consider what different mental health professionals can offer to rural mental health instead of focusing only on psychiatrists.
What Are the Challenges of Working in Rural Areas?
The challenges to working in rural areas could be professional, social, or economic. There are unfortunately not too many studies addressing this problem. A qualitative study among psychiatrists working in rural New Zealand identified the following ten barriers – feelings of isolation, the lack of a multidisciplinary team, frequently being on emergency cover or on call, the lack of academic opportunities, donning the role of both a psychiatrist and a general physician, negative attitudes toward psychiatry and psychiatrists in the rural communities, poor funding and inadequate resources, poor retention of staff, and absence of psychiatry trainees (Lau et al. 2002).
Another problem reported was the absence of peers and opportunities for second opinions which in turn contributed to the feeling of professional isolation. The rural psychiatrists interviewed in the study also reported missing the opportunities to be teachers and to be around trainees. Trainees help by sharing the workload and also provide intellectual stimulation and the opportunity for a rural doctor to teach.
Social factors included an inability to integrate into rural society, lesser opportunities for education for children, infrequent avenues for leisure and recreation, and the career of the partner being compromised.
Economic factors included lack of incentives and less opportunities for promotion. Even though the cost of living in rural areas might be cheaper, professionals reported spending money on travel to visit family who might live in urban areas and also bemoaned the lack of health facilities.
Many of these factors appear to contribute to psychiatrist's preference for urban centers and a worldwide dearth of psychiatrists in rural areas.
What Are the Charms of Working in a Rural Area?
However, all doesn't seem to be lost as there is some attraction of practicing psychiatry in rural areas. The study, among New Zealand psychiatrists described above, also asked about what was positive about working in rural areas (Lau et al. 2002). Some of the factors reported included a chance to include nonmental health caregivers in the team, lower cost of living, being able to see patients at their homes, the variety of cases seen in practice, and also being able to practice general medicine alongside psychiatry. Some other aspects included an opportunity to develop a bond with both patients and the community, flexibility in work schedules, and the chance to be close to nature. Psychiatrists also reported low stress levels and the absence of politics to be the nonmaterial perks of working in rural areas.
What Is the Situation in Low- and Middle-Income Countries?
In a recently conducted situation analysis in South Africa, all 163 public rural primary healthcare facilities (district hospitals, primary care clinics, and community health centers) were approached and asked the following questions:
Do you have psychiatrists employed at your health facility?

Do you have medical officers dedicated to mental health?

Does your facility receive outreach psychiatrist services and at what frequency?

How many sessions per week does your service dedicate to mental health?
The results revealed a glaring absence of psychiatrists in rural areas. Only seven psychiatrists (2% of the total number of SA's public sector psychiatrists) were found to be employed in rural primary care health facilities that serve a population of 17,143,872 rural South Africans. Psychiatrists were represented at a rate of 0.03 per 100,000 population, and 99 (62%) of the primary healthcare facilities did not receive monthly psychiatric outreach by a psychiatrist. This was much below the recommended psychiatrists for 100,000 populations recommended for high–middle-income countries (De Kock and Pillay 2016).
In India, the National Mental Health Survey has shown the psychiatrist/population ratio to be 0.3 per 100,000 population as against the recommendation of 1 per 100,000 population, with wide variability between regions (Gururaj et al. 2016).
The number of psychiatrists ranged from a low of 0.1–0.15 to a high of 0.56–1.2 per 100,000 population. The survey however did not focus on rural urban differences. Medical doctors trained in mental health ranged from a low of 0.05 to a high of 2.74 per 100,000. However, the district mental health program which aims mainly at rural mental health shows coverage that varies from a low of 13.7% in some states to a high of 60–199% in other states.
The situation of mental health professionals in rural areas in other countries of Africa and South Asia is even more dismal.
How Can We Enhance the Recruitment and Retention of Mental Health Professionals in Rural Areas?
Is there something we can learn from countries where rural psychiatry has long been a specialty? What have been some of the innovative models?
Most countries like the USA, Australia, and New Zealand where rural psychiatry has been established for long have tried out several ways of recruiting and retaining psychiatrists for rural areas. Most such efforts describe the main ingredient of a successful program to be one where psychiatrists and indeed all mental health professionals see a value of their work (Wilks et al. 2008; Sutton et al. 2015a; Cosgrave et al. 2016). Knowing that working in rural areas is encouraged and rewarded is important for maintaining staff morale and retention. Describing their experience in rural California where they had a mix of successful and unsuccessful programs (Ng et al. 2013) made several relevant observations. Among the successful programs was a linked outpatient and consultation liaison service for patients who had been admitted to rural general hospitals. The other was an adult day treatment center for the elderly and a clinical trials division that ran multiple research projects in collaboration with the local hospitals. Psychiatrists enjoyed working closely with trained community clinic health teams to identify risk and triage and follow up patients at home. However, services that did not work included support groups and an electroconvulsive therapy service. ECT was associated with stigma because of lack of knowledge about the treatment and fears. Support groups were not successful because of issues related to confidentiality in close-knit communities. It is therefore important to plan programs well when they are being launched and take the view of the community seriously. If a program fails, psychiatrists may get demotivated to stay on in such areas.
Another important factor that motivates rural psychiatrists to stay on in remote areas appears to be a connection with academic centers to foster collaboration, participate in teaching, and be part of research collaborations. Links with academic centers decrease the sense of isolation, help in an objective evaluation regarding the kind of work that is being done, and encourage development of new services (Bonham et al. 2014).
The authors emphasize the role of academic centers in building academic bridges and creating mentorship as well as teaching opportunities. In addition to encouraging psychiatrists in rural areas, it also spurs interest among young trainees toward rural psychiatry. Needless to say, the role of psychiatric leadership in fostering these partnerships is vital.
Burnout and frustrations are known to be a problem among rural psychiatrists. One way to overcome this is through providing new online resources on self-care, providing tele-psychiatry for getting connected with peers during case discussions, and continuing medical education through online or tele-psychiatry courses (Watanabe-Galloway et al.
2015
) (Table
1
).
Table 1
How can rural psychiatry be made more attractive to practicing psychiatrists?
| | |
| --- | --- |
| Decrease social isolation | Online teaching, tele-psychiatry, peer supervision, links with academic centers |
| Funding | Extra incentives, promotional opportunities, chances to attend conferences |
| Enhance professional satisfaction | Posting trainees so that rural psychiatrists get chances to teach, encourage publishing of unique experiences in rural psychiatry |
| Sharing load with other health professionals | General practitioners joining on-call duties, using non-psychiatrists such as psychologists and nurses to triage, developing a team |
How Can Training in Rural Psychiatry Be Enhanced?
It is now clear that if one wants psychiatrists to work in rural areas, then the topic should be introduced in their training itself. There need to be adequate opportunities for training and exposure to a range of rural situations. Sometimes, what is defined as rural may just be a semi-urban posting some distance from an academic center. The definition of what is a rural posting may vary from geographical location and cultural issues to even a way of practice. The trainees need to be exposed to different geographical locations and to different cultural milieus.
A curriculum that is unique to psychiatric practice in rural areas must be developed which focuses on the specific mental health problems that might be more common in rural areas, the ways in which they present, the need to be both a general physician and a psychiatrist, and ways of handling issues of stigma, boundaries, and confidentiality and of conducting home visits (Bennet-Levy and Perry 2009). The curriculum should also focus on community consultation and participation, networking with other physicians and in many countries with local healers and faith-based healing (Berntson et al. 2005; Nelson et al. 2007).
Imparting these skills involves using innovative methods such as creating a rural psychiatry fellowship and clinical and contextual teaching with rural medical mentors. It has been suggested that rather than visits to rural areas or once a month postings, a longer rural posting where trainees live in the area and get to understand the community and the working patterns is more useful.
There also needs to be involvement of leadership in academic centers to ensure funding for transport and housing for sending trainees to rural areas. Finding a way for the academic center to stay in touch and have teaching through video conferencing when trainees are in rural areas is also important. Using medical informatics to coordinate rural curricula, research, or continuing education have also been successful methods.
The important thing to remember is that exposure to rural psychiatry should start early on in one's career. Once a physician becomes settled in a certain way of life in an urban area, it is more difficult to relocate. Some other ways of increasing recruitment include admission policies that prioritize students from rural areas, taking in students with an aptitude for rural practice, maximizing the quality of the educational experience, encouraging doctors from rural areas to go back to their roots, and starting rural medical colleges which take students from that area who are more likely to give back to their own communities.
In the department of psychiatry at the National Institute of Mental Health and Neurosciences, we have developed a 2-week rural psychiatry training program as part of the community psychiatry training. Residents in their second year of postgraduate training are posted to a rural district mental health program where they live in the rural area and work with the district mental health team. During this period they conduct clinics at primary health centers, are involved in awareness programs in rural schools and colleges, and make home visits. Preparation for the posting involved several visits and meetings from the team at NIMHANS to the district, formal permissions, collaborating actively with the local district team leader, and pre-posting briefing of the trainees. While the program has just begun and is showing acceptance from the trainees as well as positive feedback from both the trainees and the trainers, its long-term feasibility and gains achieved will need to be evaluated systematically (Fig.
1
).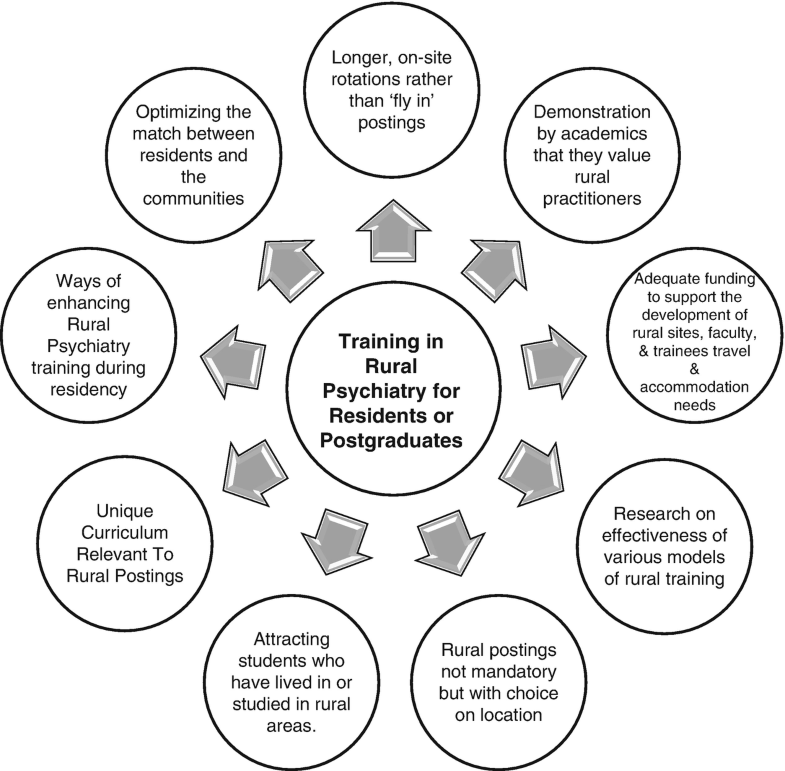 What About Other Mental Health Professionals?
Compared to studies among psychiatrists, the literature on psychologists and mental health nurses working in rural areas is quite inadequate. Most studies among psychologists are from Australia and focus on competencies that clinical psychologists may require to work in rural areas.
Using qualitative research methods, competencies that rural psychologists identified included being able to handle professional isolation, manage rural life, work without too much supervision, deal with a lack of support services, become used to issues such as visibility in the community, and handle concerns of confidentiality. Psychologists also identified resilience, autonomy, and confidence as important personality attributes of being able to work in rural life (Conomos et al. 2013; Sutherland and Chur-Hansen 2014).
Psychologists who placed less value on academic prestige and more value on service were thought to be more successful in rural areas. These findings are important in recruitment.
There is even less information on mental health nurses in rural areas (Sutton et al. 2015b). Efforts to integrate mental healthcare into primary care rely heavily in countries like South Africa on nonpsychotic mental health professionals such as mental health nurses.
Similar to their study on psychiatrists working in rural areas in South Africa, De Kock and Pillay (2016) did a situation analysis of mental health nurses in the 160 rural South African primary care centers. They describe an acute shortage of mental health nurses in rural South Africa's public health facilities. Only 62 (38.7%) of the 160 facilities employ mental health nurses. These nurses served an estimated population of more than 17 million people, suggesting that they were employed at a rate of 0.68 per 100,000 population in South Africa's public health rural facilities. Compared to the national average of 9.7 mental health nurses per 100,000 population, this is again inadequate (De Kock and Pillay 2017).
The World Health Organization (WHO) has recommended the use of task shifting and task sharing as a way to deal effectively and rapidly with mental health workforce shortages. Task shifting involves shifting some tasks such as routine medical examination (BP, weight, pulse) and basic prescribing of certain medications to cadres of nonmedical health professionals who have been specifically trained for the purpose. In many parts of the world, pharmacists and psychologists have been trained to prescribe basic psychotropic medications to overcome shortage of mental health professionals in areas of shortage. However, there is a need to develop proper systems of training and ongoing supervision when task shifting or task sharing is used.
Conclusions
It is quite clear that rural mental health should be a priority in most countries both because of need and the lack of professionals. The leadership needs to pay attention to this problem, find innovative ways of recruitment and retention, start discussing the option of working in rural areas early in a psychiatry student's postgraduate career, and make rural mental health a part of clinical postings during training. In addition, there is also a need to pay attention to other mental health professionals so that a team approach is used which may handle the professional isolation often felt by psychiatrists working in rural areas. The appropriate use of technology to link them to academic centers and for ongoing training is another important strategy to reduce burnout.
Copyright information
© Springer Nature Singapore Pte Ltd. 2019