Gastrointestinal Bleeding
Living reference work entry
Abstract
)Gastrointestinal bleeding is a commonly encountered problem in pediatric practice. While many causes of gastrointestinal bleeding exist, age and presenting symptoms aid in narrowing the differential diagnosis and in selecting initial diagnostic studies. Management strategies vary depending upon the diagnosis and source of bleeding and may include medical, radiographic, endoscopic, or surgical interventions.
Keywords
Gastrointestinal bleeding 
Endoscopy 
Upper gastrointestinal bleeding 
Lower gastrointestinal bleeding 
Colonoscopy 
Introduction
Children who present with gastrointestinal (GI) bleeding must first be assessed for hemodynamic stability. Bleeding may be sudden and life-threatening or subtle without visible evidence of blood loss but presenting with non-specific symptoms of fatigue or pallor. The majority of cases are benign and self-limiting, but patients who show signs of hemodynamic instability require immediate resuscitation with subsequent investigation as to the cause of bleeding. The diagnostic approach for gastrointestinal bleeding in children includes definition of etiology, localization of the bleeding site, and determination of the severity of the bleeding; timely and accurate diagnosis is necessary to reduce morbidity and mortality (Romano et al. 2017).
A differential diagnosis can initially be based upon patient presentation and age (Table
1
). The gastrointestinal bleed is generally defined anatomically, by location of suspected blood loss relative to the ligament of Treitz. A careful history and physical examination is essential in identifying the likely source of bleeding and guiding the use of appropriate diagnostic tools (Table
2
).
Table 1
Differential diagnosis of gastrointestinal bleeding based on age and location
Age

Upper gastrointestinal bleed

Lower gastrointestinal bleed

Newborn (<1 month)

Maternal or swallowed blood

Maternal or swallowed blood

Allergic enterocolitis

Allergic enterocolitis

Esophagitis

Necrotizing enterocolitis

Gastritis

Anal fissure

Gastroduodenal ulcers

Malrotation with midgut volvulus

Mallory-Weiss tear

Hirschsprung disease

Congenital malformation

Intestinal duplication

Intestinal duplication

Coagulopathy

Coagulopathy

Liver disease

Liver disease

Infancy (1 m–2 years)

Esophagitis

Allergic enterocolitis

Gastritis

Anal fissure

Gastroduodenal ulcers

Intussusception

Varices

Meckel's diverticulum

Mallory-Weiss tears

AVM

Hemangiomas

Infectious colitis

Dieulafoy's lesion

Intestinal duplication

Allergic enterocolitis

Henoch-Schonlein Purpura

Preschool (2–5 years)

Esophagitis

Anal fissure

Gastritis

Infectious colitis

Gastroduodenal ulcers

Juvenile polyps

Varices

Intussusception

Mallory-Weiss tears

Meckel's diverticulum

Dieulafoy's lesion

Angiodysplasia

Intestinal duplication

Henoch-Schonlein Purpura

School age (5–12 years)

Esophagitis

Anal fissure

Gastritis

Infectious colitis

Gastroduodenal ulcers

Juvenile polyps

Varices

Angiodysplasia

Mallory-Weiss tears

Henoch-Schonlein Purpura

Dieulafoy's lesion

Adolescent (12–18 years)

Esophagitis

Anal fissure

Gastritis

Infectious colitis

Gastroduodenal ulcers

Juvenile polyps

Varices

Angiodysplasia

Mallory-Weiss tears

Inflammatory bowel disease

Dieulafoy's lesion
Table 2
Diagnostic tools used for gastrointestinal bleeding
| | |
| --- | --- |
| Upper gastrointestinal bleeding |   |
| Esophagitis, gastritis, gastroduodenal ulcers | EGD |
| Mallory-Weiss tears | EGD |
| Esophageal or gastric varices | EGD |
| Lower gastrointestinal bleeding |   |
| Anorectal fissure | Physical exam |
| Allergic colitis | History |
| Necrotizing enterocolitis | Physical exam, KUB |
| Malrotation with midgut volvulus | Upper GI series |
| Meckel's diverticulum | Meckel's scan |
| Hirschsprung disease | Lower GI series, suction rectal biopsy |
| Intussusception | Ultrasound, contrast enema |
| Infectious diarrhea | History, stool culture |
| Inflammatory bowel disease | Colonoscopy |
| Polyp | Colonoscopy |
| Obscure source of gastrointestinal bleeding | Tagged RBC scan, angiography, capsule enteroscopy, balloon enteroscopy |
Resuscitation
Most patients with gastrointestinal bleeding are hemodynamically stable. All children, however, should first be assessed for the status of airway, breathing, and circulation. Stabilization should take precedence over diagnosis.
Signs of circulatory compromise include tachycardia, hypotension, pallor, altered mental status, lethargy, or decreased urine output. An ill-appearing child should have two large bore IVs placed and be given 10–20 mL/kg boluses of crystalloid. Rapid blood loss may need to be replaced with packed red blood cells and appropriate clotting factors, particularly if the patient continues to be tachycardic and hypotensive despite boluses of crystalloid.
General Diagnostic Principles
In hemodynamically unstable patients, initial attention must be directed toward patient resuscitation. While resuscitation is underway, a basic diagnostic work-up and plan can also be initiated concurrently. In cases when the source of bleeding is unclear, placement and irrigation of a nasogastric tube can provide useful information. Return of frank blood or coffee-ground aspirant suggests a source proximal to the ligament of Treitz. Clear returns favor a more distal source, but this maneuver is insufficiently sensitive to rule out an upper GI bleed since pylorospasm may obscure duodenal bleeding. Risk factors obtained in the history, along with consideration of patient age, can help create a differential diagnosis for the most likely causes of GI bleeding. A rectal examination revealing bloody or heme-positive contents can confirm a gastrointestinal source of blood loss.
Endoscopic examination is generally considered the gold-standard diagnostic tool and also provides the ability to intervene at the source of bleeding. If endoscopy does not reveal bleeding, nuclear imaging and/or angiography may be necessary to identify and manage a gastrointestinal bleed.
When traditional endoscopy of the foregut and colon is unsuccessful at identifying a bleeding source, additional techniques are available for assessing the small intestine. Wireless capsule endoscopy allows for visualization of the entire length of the small bowel. Double-balloon enteroscopy utilizes inflation of a balloon at the distal position of the endoscope to allow progressive advancement of the scope throughout the small bowel. Like capsule endoscopy, this allows for visualization of the entire small bowel but also enables interventions including biopsy, polypectomy, and cautery.
Upper Gastrointestinal Bleeding
Upper gastrointestinal (UGI) bleeding is defined as originating from a site proximal to the ligament of Treitz. UGI bleeds can be broadly categorized as mucosal or related to portal hypertension. In developed countries, bleeding related to mucosal pathology is most common, whereas in developing countries, portal hypertension leads to more UGI bleeding (Singhi et al. 2013; Podder 2019).
Lower Gastrointestinal Bleeding
Any bleeding that originates from the intestine distal to the ligament of Treitz is defined as lower gastrointestinal bleeding. The causes of lower gastrointestinal bleeding vary with patient age. Patients usually present with bloody diarrhea, hematochezia, blood seen on toilet paper, or blood mixed with stool. As with upper gastrointestinal bleeding, the diagnostic work-up depends on the patient's age and presentation. The diagnostic modalities for identifying causes of lower gastrointestinal bleeding in children include endoscopy and colonoscopy, cross-sectional and nuclear medicine imaging, video capsule endoscopy, or enteroscopy (Sahn and Bitton 2016).
Anal Fissures
Anal fissures are the most common source of rectal bleeding in infants less than 2 years of age. They are the result of a superficial tear of the squamous lining of the anal canal caused by the passage of a large, hard stool. Fissures may be found in all age groups and present as pain with defecation and bright red streaks outside of stool. The diagnosis may be made by physical exam. Most fissures are posterior below the dentate line. Treatment includes stool softeners and sitz baths. Recurrent fissures should be evaluated for inflammatory bowel disease.
Allergic Colitis
Food allergy colitis may present in newborns or infants younger than 3 months with gross or occult blood with stools. Cow's milk and soy protein are the most common causative agents. The diagnosis may be made by eliminating the suspected agent and observing resolution of symptoms.
Necrotizing Enterocolitis
One of the most worrisome causes of gastrointestinal bleeding, necrotizing enterocolitis, is a disease of premature neonates caused by the loss of the intestinal mucosal barrier and bacterial translocation. Neonates generally have symptoms of vomiting, abdominal distention, tenderness, lethargy, and abdominal wall erythema. Gross blood in the stool may or may not be seen as there is a wide range of reported incidence of 25–63% (Kanto et al. 1994; Chandler and Hebra 2000). Laboratory findings include thrombocytopenia, neutropenia, and metabolic acidosis.
A two view abdominal x-ray may reveal dilated loops, pneumatosis intestinalis, or portal venous gas. However, 40% of infants with confirmed perforation at operation will have no signs of free air on preoperative imaging (Frey et al. 1987).
Initial treatment consists of ceasing enteral feeds with gastric decompression and broad spectrum antibiotics with frequent abdominal radiographs. Signs of perforation or clinical deterioration are indications for surgical intervention.
Malrotation with Midgut Volvulus
Midgut volvulus secondary to malrotation is the most common in neonates, and 90% of infants are symptomatic before 1 year of age (Ford et al. 1992). Bowel that fails to undergo normal rotation and fixation is at a high risk for volvulus as the duodenum and cecum are fixed in close proximity to each other around the root of the mesentery. Twisting around this narrow mesenteric pedicle leads to vascular compromise of the majority of the small intestine.
The symptoms of midgut volvulus include bilious emesis, abdominal distention, and sometimes melena from ischemic mucosal injury. Patients with concern for malrotation require an urgent upper gastrointestinal series; however, decompensation or peritoneal signs warrant emergent laparotomy even without radiologic confirmation.
The surgical approach for volvulus is to first untwist the intestine by rotating the bowel in a counterclockwise motion until the duodenum and cecum are parallel. The malrotation is then managed by a Ladd's procedure in which mesenteric bands over the duodenum are lysed, the mesentery is broadened to separate the duodenum and cecum, the small bowel is placed on the right side of the abdomen with the colon on the left, and the appendix is removed.
Meckel's Diverticulum
Healthy infants or preschool children with painless rectal bleeding should be evaluated for Meckel's diverticulum, a true congenital diverticulum resulting from incomplete obliteration of the omphalomesenteric duct. Bleeding is typically profuse and intermittent, resulting from ulceration of the ileal mucosa on the antimesenteric side by acid secreted by ectopic gastric mucosa within the diverticulum, which occurs in 50% of all cases. Patients may also present with obstruction from intussusception, internal herniation, or volvulus as well as from diverticulitis or perforation.
Meckel's diverticulum is often defined by the rule of twos: it occurs in 2% of the population, has a 2:1 male/female ratio, is located within 2 ft of the ileocecal valve, is 2 in. in length, can contain two types of ectopic tissue, and is most common before 2 years of age.
Diagnosis may be confirmed with a Tc-99 pertechnetate nuclear scan with a sensitivity of 68–85% (Fig.
1
). The sensitivity may be increased with a histamine antagonist, pentagastrin, and glucagon. However with a negative predictive value of 74%, a negative nuclear scan does not necessarily rule out Meckel's diverticulum if there is high clinical suspicion.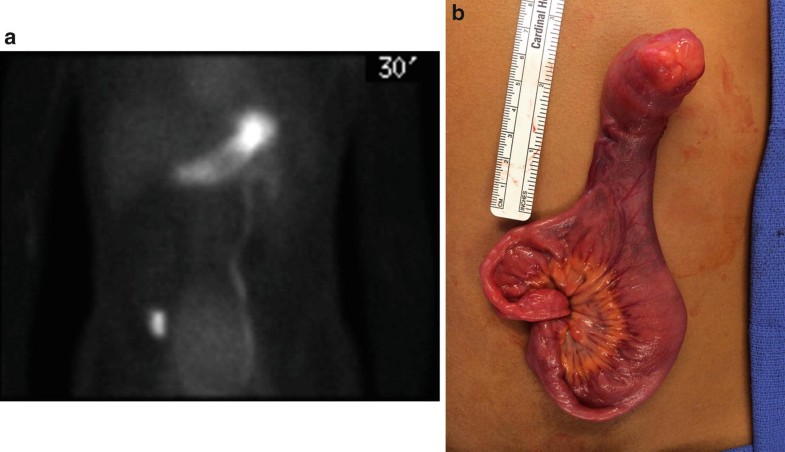 If bleeding is involved, treatment involves surgical resection of the diverticulum and inspection of the adjacent ileum. The presence of ulceration prompts bowel resection with primary anastomosis to avoid rebleeding.
Enteric Duplication Cysts
Duplication cysts are hollow, epithelium-lined structures attached to the wall of the gastrointestinal tract, usually with a common blood supply to the bowel. They are uncommon congenital malformations and may occur anywhere along the alimentary tract but most commonly in the ileum on the mesenteric border. Similar to a Meckel's diverticulum, duplication cysts often contain ectopic gastric mucosa that may lead to ulceration and gastrointestinal bleeding. Other symptoms may include intussusception or obstruction. Duplication cysts are removed by complete resection of the cyst itself as well as the adjacent bowel and mesentery.
Hirschsprung's Disease
Hirschsprung's disease is an enteric nervous system disorder characterized by the absence of ganglion cells within the distal intestine. Neonates with delayed passage of meconium or abdominal distention with constipation should raise suspicions for Hirschsprung's disease. Evaluation typically begins with a contrast enema, which typically demonstrates colonic dilation with a transition zone. If suspicious, this can be followed with a suction rectal biopsy, in which absent ganglion cells, hypertrophic nerve fibers, and positive acetylcholinesterase staining would confirm the diagnosis. Following this diagnosis, operative planning is initiated for removal of the aganglionic segment.
Patients may also present with Hirschsprung-associated enterocolitis (HAEC), particularly if the diagnosis of Hirschsprung's disease is delayed. Symptoms include abdominal distention, explosive diarrhea, vomiting, fever, and lethargy. Rectal bleeding is an uncommon presentation of Hirschsprung's disease, but may be seen in 6% of children with HAEC (Elhalaby et al. 1995). Treatment consists of aggressive resuscitation, broad spectrum antibiotics, and rectal irrigations.
Intussusception
Most commonly seen in children less than 2 years old, intussusception is an invagination of a portion of proximal intestine into a distal portion. Intussusception is one of the most common causes of pediatric bowel obstruction and may lead to necrosis and perforation. Patients present with sudden onset, colicky abdominal pain with vomiting. The classic sign of "currant red jelly" stools, the result of venous congestion with ischemia, may or may not be present. Diagnosis is made with ultrasound.
Intussusception is frequently treated with contrast or air enema, although pneumatic reduction has been shown to have higher rates of success due to higher intraluminal pressures. Contraindications to enema include peritonitis, perforation, or necrotic bowel, which would prompt surgical management. While recurrent intussusception may be treated with repeat enemas, persistent intussusception or failed reduction will also require operative management.
Polyps
Polyps are commonly seen in preschool- or school-aged children with painless rectal bleeding. The majority are solitary and found in the left colon. Polyps may be discovered by colonoscopy and require endoscopic removal for definitive diagnosis and to prevent sequelae (bleeding, intussusception) (Thakkar et al. 2012)
There are two types of polyps based on microscopic appearance: hamartomas and adenomas. The majority of polyps are hamartomatous, which are usually solitary and benign. The most common type of hamartomatous polyp are juvenile polyps, which represent 70–80% of polyps in children (Fox et al. 2010). However, multiple hamartomatous polyps may be found in premalignant conditions such as juvenile polyposis syndrome or Peutz-Jeghers syndrome.
In contrast to hamartomatous polyps, adenomatous polyps are dysplastic with malignant potential and so require frequent surveillance. They are rarely solitary in children. Familial adenomatous polyposis is the most common syndrome associated with adenomatous polyps. Turcot syndrome and Gardner syndrome are also examples of adenomatous polyposis syndromes.
Inflammatory Bowel Disease
Approximately 25% of all patients with inflammatory bowel disease are diagnosed before the age of 20, particularly between the ages of 10 and 16 (Vinton 1994). These patients often present with chronic bloody diarrhea with weight loss and abdominal pain. Laboratory signs may include anemia and hypoalbuminemia. Gastrointestinal bleeding occurs in almost all patients with ulcerative colitis and in 25% of patients with Crohn's disease (Farmer 1991). Diagnosis may be made by colonoscopy and biopsy. In cases where colonoscopy is indeterminate, or if small bowel disease is suspected, either capsule or double-balloon enteroscopy may be necessary.
Henoch-Schonlein Purpura
Henoch-Schonlein purpura is a small vessel vasculitis characterized by purpura, arthritis, abdominal pain, and hematuria. An upper respiratory tract infection generally precedes symptoms. Gastrointestinal symptoms occur in 43–75% of cases and manifest as colicky abdominal pain, vomiting, and bloody stools (Robson and Leung 1994). The disease is most commonly seen in children aged 2–10 years and is self-limiting with supportive treatment.
Infectious Causes of Gastrointestinal Bleeding
Patients with infectious colitis may also present with acute (<1 week) gastrointestinal bleeding, often in the form of bloody diarrhea, with abdominal pain and tenderness. While most cases will resolve, patients should be hospitalized to ensure appropriate resuscitation as well as halt secondary spread of the pathogen.
The most common bacterial causes include Salmonella, Shigella, Campylobacter jejuni,
Yersinia enterocolitica, Clostridium difficile, and E. coli O157:H7. These pathogens may be identified through stool cultures. Entamoeba histolytica may be a parasitic source of colitis, while rotatvirus and Norwalk virus may also cause bloody diarrhea. In an immunocompromised child, CMV, adenovirus, and Cryptosporidium may also be suspected.
Special consideration should be given to patients who have symptoms suspicious for E. coli O157:H7, as early recognition and management may have a significant impact upon outcome. E. coli O157:H7 begins with non-bloody diarrhea that becomes bloody after 1–3 days and abdominal pain that is worse on defecation. In addition to sending for a stool culture, these patients should be aggressively hydrated. However, practitioners should abstain from using antibiotics, as antibiotics in children with E. coli O157:H7 have been shown to increase risk of hemolytic uremic syndrome (HUS) (Bell et al. 1997).
HUS is the most feared complication from E. coli O157:H7 and is characterized by microangiopathic hemolytic anemia, thrombocytopenia, and acute renal failure. HUS may also lead to gastrointestinal bleeding from small vessel occlusion and mucosal ischemia.
Vascular Malformations as Causes of Gastrointestinal Bleeding
Several uncommon pediatric conditions can lead to vascular malformations that may cause gastrointestinal bleeding. The anomalies themselves can be classified based on whether they are venous, arterial, or arteriovenous. Klippel-Trenaunay, blue rubber bleb nevus, and Proteus syndromes are all associated with gastrointestinal venous malformations with bleeding potential (Dubois, Rypens et al.
2007
). Patients with blue rubber bleb nevus syndrome (Fig.
2
) can present with multiple venous malformations throughout their GI tract causing bleeding and anemia that, given its diffuse nature, can be difficult to manage. In such patients, a case series has shown successful eradication of bleeding in nine of ten patients with extensive intraoperative endoscopy and resection of malformations (Fishman et al.
2005
).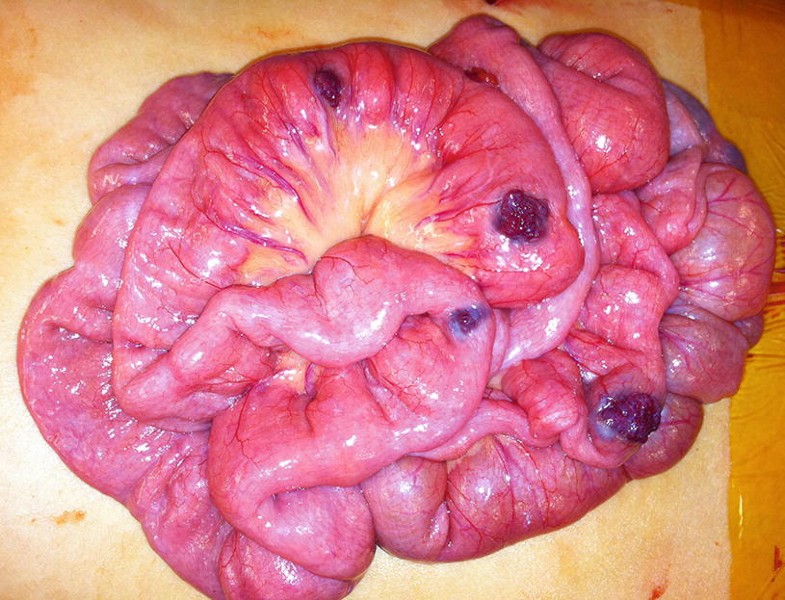 Hereditary hemorrhagic telangiectasia, or Rendu-Osler-Weber disease, is an autonomic dominant inherited disease associated with mucosal telangiectasias and arteriovenous malformations in the nasopharynx and GI tract. Patients may present with recurrent epistaxis or GI bleeding. The malformations are predominantly located in the stomach and small intestine and can be seen from the mucosal surface on endoscopy (Canzonieri et al. 2013). Various medical and interventional treatments exist for controlling bleeding from these lesions, including progesterone/estrogen therapy, bevacizumab, endoscopic cautery or laser treatment, and surgical excision (McDonald et al. 2011).
Conclusion and Future Directions
The differential diagnosis of gastrointestinal bleeding is wide ranging from benign and self-limiting etiologies to life-threatening bleeds that require emergent intervention. Identification of the bleed requires diligent review of the patient's history and physical exam, which helps guide the appropriate diagnostic tests and treatment options. Management of GI bleeds may require of multidisciplinary approach of gastroenterologists, radiologists, as well as surgeons. In future, randomized clinical trials are needed to assess various modalities of treatment for upper and lower gastrointestinal bleeding.
Copyright information
© Springer-Verlag GmbH Germany, part of Springer Nature 2020