Juvenile Hormone
Living reference work entry
DOI:
https://doi.org/
10.1007/978-3-319-90306-4_68-1
Juvenile hormones (JH) are a class of hormones in insects that regulate various aspects of development. In most social insects, JH III is the only isoform present, while in other insects (e.g., lepidopterans), JH I and II are the main forms.
JH is produced by paired glands near the brain, called
corpora allata
(Fig.
1
). The production of JH is regulated by neuropeptides produced by the brain, with allatastatin suppressing and allatatropin promoting JH production. Theoretically, the JH titer in the hemolymph is determined by the rates of JH biosynthesis, JH degradation, and possibly also compartmentalization of JH by different organs/tissues. However, in honey bees, JH titers are highly correlated with, and thus mainly determined by, the rate of its production [
3
]. In
fire ants
, JH biosynthesis and JH whole-body content are also highly correlated.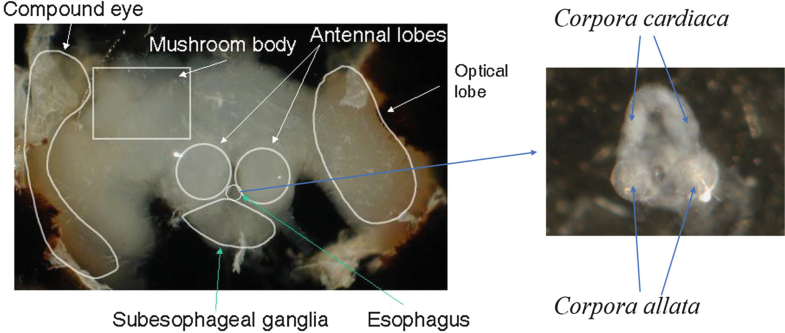 Copyright information
© Springer Nature Switzerland AG 2020