Genetics of Pituitary Gigantism: Syndromic and Nonsyndromic Causes
Part of the Endocrinology book series (ENDOCR)
Abstract
The last decades have seen an expansion of knowledge regarding GH-secreting pituitary adenomas in general and gigantism in particular. New conditions, such as familial isolated pituitary adenomas (FIPA) and X-linked acrogigantism (X-LAG), have been identified, as have some important underlying genetic and molecular factors that contribute to somatotropinoma tumorigenesis and behavior. These discoveries have prompted the study of large series of patients, which have revealed specific disease characteristics. Thorough assessment of each patient in order to correctly classify the disease is essential for optimal treatment and follow-up.
Keywords
Gigantism 
Pituitary adenoma 
Aryl hydrocarbon receptor interacting protein (AIP) gene 
Familial isolated pituitary adenoma (FIPA) 
Multiple endocrine neoplasia 
Carney complex 
McCune-Albright syndrome 
X-linked acrogigantism (X-LAG) 
GPR101 gene 
Introduction
Chronic, excessive growth hormone (GH) secretion that occurs in children or adolescents before growth plate fusion can lead to pituitary gigantism, if not recognized and controlled in a timely manner. The equivalent condition occurring in adults causes acromegaly. Rarely, ectopic GH or GH-releasing hormone (GHRH) hypersecretion can underlie the development of gigantism and acromegaly, but in the majority of these cases, excess GH is due to the presence of a GH-secreting pituitary adenoma (PA) (Borson-Chazot et al. 2012).
The prevalence of clinically relevant PA is about 1:1000 of the general population in developed countries (Daly et al. 2006b). Various subtypes develop from the different cell types of the anterior pituitary and include prolactinomas (50–55%), non-functioning PA (NFPA) (20–25%) that arise from gonadotrope cells, somatotropinomas that secrete GH (15–20%), ACTH-secreting PA (5%) and TSH-secreting PA (1%). The prevalence of somatotropinomas is estimated at 1:3000–14,000 with an incidence of 1 case per 125,000–323,000 population per year (Daly et al. 2006b; Fernandez et al. 2010; Gruppetta et al. 2013; Agustsson et al. 2015; Gatto et al. 2018; Caputo et al. 2018).
Most PA occur sporadically, but 5–10% have a hereditary or familial background. These familial PA can manifest either as part of syndromic conditions, such as Multiple Endocrine Neoplasia (MEN) type 1, MEN type 4, the paraganglioma/pheochromocytoma/PA association (3PAs), and Carney Complex (CNC), or develop as pituitary-specific diseases, as is the case for familial isolated PA (FIPA) and X-Linked Acrogigantism (X-LAG) (Beckers et al. 2016). Inherited forms of PA usually present specific characteristics, distinct from those of sporadic PA and these characteristics depend on the genetic background. Moreover, the clinical presentation of these syndromic forms can be variable not only between kindreds, but also within the same family (Beckers et al. 2013).
As pituitary gigantism is, by definition, a condition occurring at an early age, a genetic etiology is far more frequent than in cases of acromegaly. Indeed, half of patients with pituitary gigantism are found to carry genetic abnormalities (Rostomyan et al. 2015b). The genetic anomalies responsible for pituitary gigantism range from mutations in predisposing genes to pathological copy number variations (CNV). These can either be constitutional, present in and transmitted to every cell of the organism, or appear during the postzygotic development, due to somatic mosaicism.
The possibility that an apparently sporadic PA actually belongs to a familial form should always be kept in mind and prompt the detection of other manifestations that could indicate a PA-associated syndrome (Rostomyan and Beckers 2016). Identification of syndromic or nonsyndromic forms of familial PA is important as it allows a more appropriate management of index patients, as well as timely diagnosis in their relatives.
Nonsyndromic Pituitary Gigantism
Familial Isolated Pituitary Adenomas (FIPA)
PA occurring in a familial context have been described occasionally in the historic medical literature, for example, families with acromegaly. An inherited background was explored in this disorder (Verloes et al. 1999; Gadelha et al. 2000; De Menis and Prezant 2002).
Familial occurrence of all PA phenotypes (i.e., not only acromegaly) that were not part of a MEN1 or Carney Complex was investigated in a single-center study performed in Liège, Belgium, at the end of the 1990s (Valdes Socin et al. 2000). This distinct pituitary disease was defined as familial isolated pituitary adenomas (FIPA) and characterized in a large international cohort in 2006 (Daly et al. 2006a). FIPA is an inherited condition clinically characterized by the presence of PAs in two or more related members of a family in the absence of PA-associated syndromic diseases. Within the same family, patients may have the same PA phenotype (homogeneous FIPA) or different phenotypes (heterogeneous FIPA) (Daly et al. 2006a). Since the identification of FIPA, hundreds of kindreds have been reported by different international research groups (Beckers et al. 2013; Hernandez-Ramirez et al. 2015). Whereas in non-FIPA PA populations prolactinomas are by far the most common subtype of PA, in FIPA this predominance is not so clear. Combining data from two large international FIPA cohorts, prolactinomas constitute 27–38%, while GH/mixed GH-prolactin secreting adenomas account for about 41–47% (Beckers et al. 2013; Hernandez-Ramirez et al. 2015). Patients belonging to FIPA families are diagnosed with PA at younger ages (about 5 years earlier) and with larger tumors compared to patients with sporadic PA (Daly et al. 2006a).
In 2006, the aryl hydrocarbon receptor interacting protein (AIP) gene was identified as a predisposing gene in GH- and / or PRL-secreting PA in large kindreds from Finland and Italy (Vierimaa et al. 2006). The AIP gene, like MEN1, is located on chromosome 11q13. AIP is a tumor suppressor gene and inactivating germline mutations in this gene accompanied by loss of heterozygosity on the other normal allele lead to AIP-mutation associated pituitary tumor formation. AIP consists of 6 exons encoding a 330 amino acid protein. AIP is a ubiquitous, cytoplasmic protein, abundant in somatotrope, lactotrope, and mixed mammosomatotrope cells, with functional domains involved in various protein-protein interactions, including with the aryl hydrocarbon receptor (AHR) (Vierimaa et al. 2006). Decreased AIP immunostaining appears to be a characteristic of more aggressive PA (Jaffrain-Rea et al. 2009). AIP has been suggested to be a mediator of somatotropinoma growth and secretion (Chahal et al. 2012; Jaffrain-Rea et al. 2009; Kasuki et al. 2012; Formosa et al. 2013; Tuominen et al. 2015; Formosa and Vassallo 2017).
Germline AIP mutations are involved in approximately 20% of FIPA, particularly in homogeneous acromegaly (50%) (Daly et al. 2007). In AIP-positive FIPA cases, PA are larger and develop at younger ages. Most mutations lead to truncated proteins (nonsense, frameshift, splice-site), followed by missense mutations (20%), large deletions (≤10%), and other variants (Beckers et al. 2013). Truncated forms of AIP may be associated with a more frequent pediatric onset (60% vs. 33%) (Hernandez-Ramirez et al. 2015). In 80% of FIPA families, no AIP mutations are detected in particular in the absence of at least one case of GH- or prolactin-secreting PA and in familial microprolactinomas (Beckers et al. 2013).
Genetic screening should be performed in AIP-positive FIPA families so as to pinpoint the AIP mutation carriers. These individuals should undergo a complete clinical, biochemical (GH/IGF-1 and prolactin levels at a minimum, followed by relevant testing of other axes), and radiologic assessment (pituitary MRI) when their AIP positive status is revealed. Screening in young AIP mutation carriers is recommended and early clinical disease signs must be actively sought, particularly in the predisposed age groups – adolescents and young adults. If there is no evidence of a PA, regular annual clinical follow-up (clinical assessment and pituitary hormonal levels, and if necessary, imaging investigations) should be performed up to the age of 30 and less frequently in older patients. Only a minority of AIP mutation positive patients develop PA after the age of 30 (Beckers et al. 2013; Hernandez-Ramirez et al. 2015).
Codon 304 appears to be a mutational hotspot, with the most common change p.R304X initially being found in an Italian cohort and in large kindreds from Ireland (including a historical case of gigantism with a common ancestor living in the same geographical region) (Occhi et al. 2010; Chahal et al. 2011; Beckers et al. 2013; Hernandez-Ramirez et al. 2015; Radian et al. 2017). Another founder AIP mutation p.Q14X was found in the initial Finnish FIPA cohort and is specific to that population (Vierimaa et al. 2006). The increased carrier frequency for particular AIP mutation in a population with common origin explains the higher prevalence of AIP-related PA in the geographical area of their location (Chahal et al. 2011; Radian et al. 2017). Germline AIP mutations have incomplete penetrance, which is approximately 20% as observed in some large mutigenerational FIPA kindreds (Naves et al. 2007; Jennings et al. 2009; Igreja et al. 2010). Thus, AIP-related PA can develop only in a single patient in a family in which all other mutation carriers remain unaffected. These latter AIP mutation–associated PA are termed simplex cases.
AIP-related PA are frequently diagnosed at a young age (80% are diagnosed before the age of 30 years) (Beckers et al. 2013; Daly and Beckers 2015). Pediatric patients and young patients with large PA are considered to be significant at-risk populations. In patients younger than 30 years with large aggressive macroadenomas, the prevalence of AIP mutations is 12% and it increases to 20% in pediatric patients (Stratakis et al. 2010; Tichomirowa et al. 2011). Patients with AIP mutations mainly develop somatotropinomas (75%) either pure or mixed GH/prolactin, more rarely prolactinomas (15%), although all types of secreting and nonfunctioning PA related to AIP mutations can occur (Beckers et al. 2013). Patients with AIP-related somatotropinomas have a younger age of disease onset and are predominantly male and the tumors exhibit more aggressive features in terms of size and local growth and higher hormonal activity at diagnosis. Moreover, they are relatively more resistant to somatostatin analogs (SSA) therapy in terms of hormonal control and tumor shrinkage than AIP-negative acromegaly cases (Daly et al. 2010; Joshi et al. 2018). Some patients with AIP mutations that were resistant to first generation SSA can have a dramatic tumor shrinkage response and hormonal control with the multi somatostatin receptor specific agent, pasireotide during treatment for 8–10 years (Daly et al. 2019a). Finally, as a consequence of the excessive GH secretion by these usually large, aggressive somatotropinomas that develop at young ages, cases with gigantism occur significantly more frequently in AIP-positive patients than in AIP-negative acromegaly (32% vs. 6.5%, respectively) (Daly et al. 2010).
Germline
AIP
mutations are most prevalent in pituitary gigantism patients (Beckers et al.
2018
). In an international cohort of 208 pituitary gigantism patients,
AIP
mutations were found in nearly one third of cases and represent the most frequent known genetic cause (Fig.
1
). Other causes of pituitary gigantism include X-LAG syndrome (10%), MAS (5%), MEN1 (1%), and Carney complex (1%) (Rostomyan et al.
2015b
).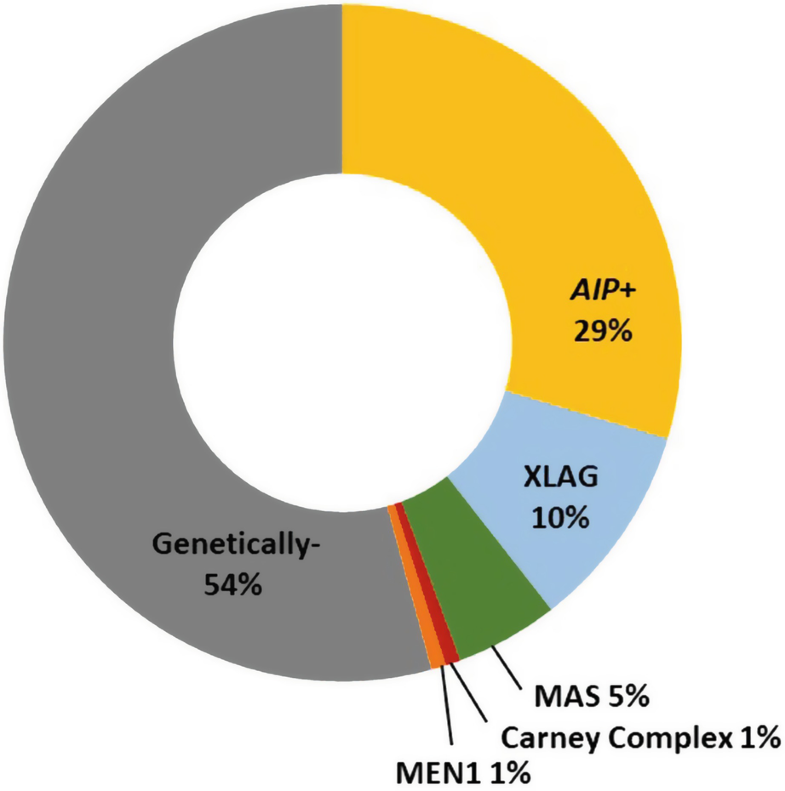 Some AIP variants are considered most certainly pathogenic, but there are also variants of unknown significance encountered in some patients with PA. One such situation was found in a historical gigantism case from Mexico with p.A299V variant (Ramirez-Renteria et al. 2016). The role of these variants of unknown significance in pituitary tumorigenesis is difficult to affirm. However, their contribution, alongside other factors, to the disease phenotype, particularly in severe cases such as pituitary gigantism, cannot be excluded (Daly and Beckers 2017).
X-Linked Acrogigantism (X-LAG)
Genetically, X-LAG was found to be associated with a microduplication on the X chromosome (Xq26.3), in a region that includes the GPR101 gene (Trivellin et al. 2014). This latter encodes an orphan G-protein coupled receptor. In the initial X-LAG cohort, Xq26 microduplications included four genes that were common to all patients; among those candidate genes, the expression of GPR101 was selectively increased in the pituitary tissue of two patients with Xq26.3 microduplications, suggesting its causative pathogenic role in X-LAG (Trivellin et al. 2014). These findings were then supported by a duplication that only included the GPR101 gene in an X-LAG patient (Iacovazzo et al. 2016).
Although it seems that the GPR101 gene function is intimately involved in the physiopathology of X-LAG, not much is known about this receptor, such as its precise biological functions. Its expression under physiological circumstances is high in mouse hypothalamus and macaque and rat pituitary. In adult human pituitary tissue, mRNA expression for GPR101 is low if not absent, although in human pituitary tissue it is expressed starting from 19 weeks of gestational age and the expression increases towards the end of gestation (Trivellin et al. 2014, 2016). These findings suggest a role for GPR101 in physiologic pituitary ontogenesis. In a pathological context, while GPR101 duplication is associated with GH hypersecretion, dysfunction of the receptor does not seem to play an important role in the condition of GH deficiency as shown in a series of patients with congenital isolated GH deficiency (Castinetti et al. 2016).
Most X-LAG cases are sporadic, although the condition can also occur in a FIPA context and thereby represents the second known genetic cause of FIPA in some AIP-negative kindreds with familial acrogigantism. Transmission of a family-specific Xq26.3 microduplication from the affected mother to her affected son with complete penetrance has been described to date in three homogeneous FIPA kindreds with acrogigantism (Trivellin et al. 2014; Gordon et al. 2016)
Aside from the constitutional Xq26.3 duplication, variable levels of somatic mosaicism (16–50%) for this CNV, occurring specifically in sporadic males, seem to be responsible for the clinical manifestations of X-LAG (Daly et al. 2016b; Rodd et al. 2016; Iacovazzo et al. 2016). These somatic mosaicism cases have a similar presentation to sporadic female patients or familial cases. As few as 16% of cells including the GPR101 duplication were found to be enough for the development of severe pituitary disease and dramatic overgrowth (Daly et al. 2016b).
Genetically Negative Nonsyndromic Pituitary Gigantism
Female predominance, very early-onset linear growth acceleration, and an already marked overgrowth at diagnosis associated with very elevated GH/IGF-1 and prolactin levels are important features that distinguish X-LAG from other forms of pituitary gigantism. In contrast to X-LAG, almost all gigantism patients with AIP mutations are males (95%), in whom the first symptoms appear at the age of adolescence or in young adulthood. These patients also present with an aggressive pituitary disease in terms of tumor size, local growth, and elevated hormonal levels (Beckers et al. 2013; Rostomyan et al. 2015b; Hernandez-Ramirez et al. 2015).
In half of the pituitary gigantism cases, the genetic causes remain unknown for the moment (Rostomyan et al.
2015b
). Unlike adult acromegaly, in which case sporadic
AIP
-negative patients usually have milder manifestations than those with
AIP
-positive somatotropinomas, among pituitary gigantism patients,
AIP
mutations do not render the phenotype particularly more aggressive than that of genetically negative ones. Pituitary gigantism cases negative for all known genetic causes of somatotropinomas were found to exhibit similarly aggressive clinical presentations (Fig.
6
), with highly elevated GH/IGF-1, resistance to treatment, and a frequent requirement for the use of multimodal treatment (Rostomyan et al.
2015b
; Beckers et al.
2018
). These genetically negative cases were mostly male. Although these patients were older at diagnosis, the longer periods of disease latency compared to X-LAG and
AIP
-positive patients suggest the disease had its onset in childhood or adolescence. The development of these particularly aggressive somatotropinomas is due to as yet unknown molecular etiologies (Rostomyan et al.
2015b
; Iacovazzo et al.
2016
).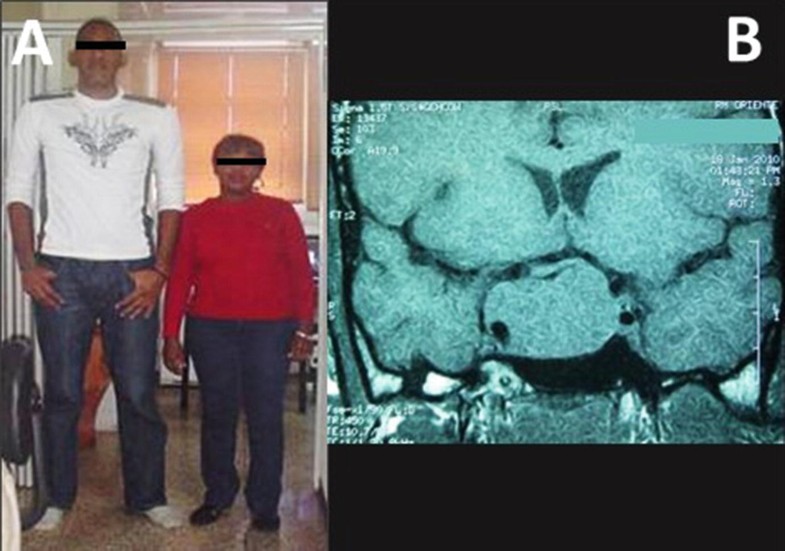 Syndromic Pituitary Gigantism
Conclusion
Pituitary gigantism is a rare, yet etiologically heterogeneous disease. It can occur in the context of inherited or genetic conditions due to GH-producing PA that can be the sole disease manifestation or can be accompanied by various endocrine and nonendocrine abnormalities. Depending on the underlying hereditary condition and particular genetic abnormality, the clinical presentation will vary. However, most cases of genetically predisposed somatotropinomas leading to pituitary gigantism exhibit an aggressive behavior that translates into an early disease onset, highly increased hormonal secretion, large, extensive and invasive adenomas, and resistance to treatment. These features can lead to dramatic presentations with markedly abnormal growth velocity and extremely tall stature, especially when the disease is diagnosed late and control is not obtained. Earlier diagnosis and prompt treatment initiation and a younger age at hormonal control are associated with a lower final height. Hence, the guiding principle for the appropriate management of pituitary gigantism is early GH/IGF-1 status evaluation in patients with abnormally accelerated growth and effective hormonal and growth control as soon as possible.
Theoretically, any genetic anomaly leading to acromegaly can also cause gigantism, but there are currently two notable etiologies: AIP mutation positive cases and X-LAG. However, the other potential causes must be kept in mind and the clinical, biochemical and imaging exploration of any case of tall stature should be extensive enough to reveal other potential manifestations of syndromic conditions and orient the management towards adequate genetic studies. This will allow for appropriate, patient-tailored management and the timely diagnosis of potentially affected family members.
Copyright information
© Springer Nature Switzerland AG 2019