Tropical Savannas and Conciliating Production with Conservation Strategies: The Case of Brazil
Living reference work entry
DOI:
https://doi.org/
10.1007/978-3-319-71065-5_57-1
Definitions
Savannas are tropical grasslands with scattered trees. These ecosystems are found throughout the tropics but particularly in the Americas, Africa, and Australia. They are the most widespread ecosystem in the tropics and are subjected to great modification due to human use (modified from Solbrig et al. 1996).

Ecosystem services are the benefits people obtain from ecosystems. They are, for instance, food, water, control of floods and diseases, water quality, and nutrient cycling, among other services (modified from the Millennium Ecosystem Assessment 2005).
Land Use and Ecosystems for Achieving the SDGs
The 2030 agenda sets an ambitious road map to inspire government planning and mobilization of stakeholders that recognize the three dimensions of sustainable development in a comprehensive set of goals and targets. The 2030 agenda allows us to move from theory to practice.
Achieving a climate-resilient sustainable development is a major challenge, but the world is full of transformative experiences showing that by engaging institutions, the private sector, and governments, this challenge can be overcome. Synergies already exist but need to be explored to a level never experimented before. Many around the world are working hard on regulatory issues, measuring financial flows, the role of the private sector on SDG financing, how to implement potential projects, what are innovative business cases, how to engage stakeholders, how international cooperation can be enhanced, and how science must be made more useful (see, for instance, Heller 2013; Kiron et al. 2017; New Climate Economy Report 2018; Townsend et al. 2013).
Climate change hits the poor disproportionately as they are more vulnerable to the effects of extreme events and have fewer resources for adaptation. Eradication of poverty is of utmost importance for the international community (Gates Foundation 2018). Developing countries should continue on their development path seeking for resilience and lifting vulnerable populations from poverty. Investments aimed at ecosystem protection, agriculture development, and poverty eradication are a clear example of addressing simultaneously climate change and the implementation of the SDGs.
Brazil, for instance, that has lifted millions out of poverty, is undertaking the construction of a climate-resilient society: it had significantly reduced greenhouse gas emissions and deforestation of the Amazon forest and the savannas and had created conditions and capacities to support people that live in vulnerable situations by reducing exposure and vulnerability to climate-related extreme events and other environmental disasters (Federative Republic of Brazil 2015; OECD 2015).
Agriculture and agri-food systems are at the core of the SDGs (Lipper et al. 2018; Robele 2017). For its realization, a new political relationship between agricultural development and environmental conservation must be developed. Promoting productivity must gain importance along with ecosystem function and conservation. The formulation of a contemporaneous land use agenda requires a pragmatic and conciliatory positioning from both the environmental and agriculture constituencies, based on solid science, that lead to an innovative decision-making toward solutions.
In the remaining of this entry, I will use the ongoing transformation in one of the most challenging savannas of the world, the Cerrados of Brazil, where this new political relationship between agriculture and ecosystem conservation is being built.
The Role of Tropical Savannas for Achieving the SDGs: A Production and Protection Agenda
Savannas are tropical ecosystems characterized by a continuous grass layer and an open, discontinuous layer of trees and shrubs (Fig.
1
) (Hill and Hanan
2011
; Sarmiento
1984
; Solbrig et al.
1996
; Staal et al.
2016
; Veenendaal et al.
2018
). These ecosystems cover extended areas of Africa, Asia, Australia, and South America, occupying around 40% of the tropical land surface (Solbrig
1991
). Seasonal drought and fire are normal ecological factors in these ecosystems.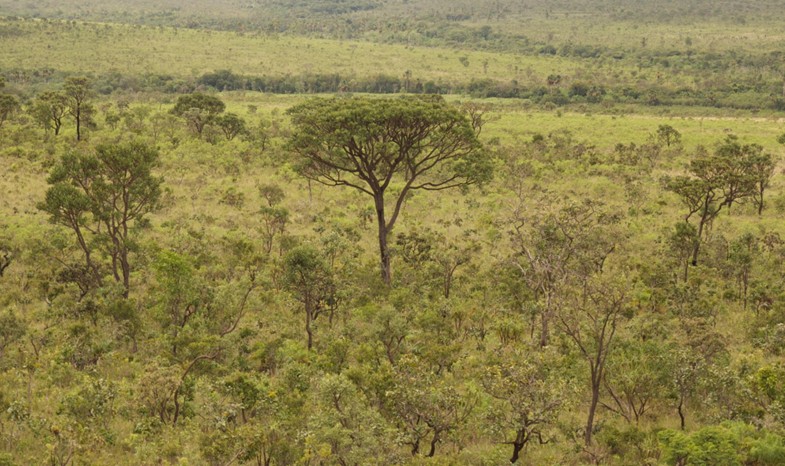 Tropical savannas are under profound modification in their composition and productivity around the world. These alterations may adversely affect their capacity to support humans, their activities, and the ecosystem services they provide. These changes are part of the wider global environmental changes related to deforestation, changes in land cover, species extinction, and global warming (Millennium Ecosystem Assessment 2005).
Over the past decades, several academic syntheses have tried to establish a basis for the use and management of savannas (Frost et al. 1986; Hill and Hanan 2011; Sarmiento 1984; Solbrig et al. 1996; Staal et al. 2016; Veenendaal et al. 2018; Young and Solbrig 1993). A revisit to this enormous amount of information is beyond the scope of this entry. Rather our message here is to show that to achieve the implementation of the SDGs (and the Nationally Determined Contributions, the NDCs), we must move beyond the mere pursuit of further enhancing our scientific knowledge about how tropical savanna ecosystem functions, but build an operational agenda that gives the due importance to economic development and ecosystem conservation simultaneously.
For this, the available scientific knowledge must be combined with stakeholders' and institutions' engagement, particularly the private sector and business, and adequate finance must be deployed (Assunção and Chiavari 2015; Clapp and Scott 2018; EIU 2017; Newell et al. 2018). The goal is to create and disseminate a production and protection agenda for the use and conservation of savannas, both in the public and the private domains.
The increasing global demand for food and the need to address climate change require efficient land use and conservation of ecosystems simultaneously (Assunção and Chiavari 2015). Well-functioning markets and policies can create an opportunity for mitigation of climate change risk if embedded in an overall strategy for developing the rural economy and addressing the increasing food demand in the world (Assunção and Chiavari 2015). Tropical savannas and particularly the Cerrado savannas of Brazil will be at the core of this challenge.
A Case Study on the Making: The Cerrado Savannas of Brazil Current Land Use and Future Needs
Brazil's NDC to the COP21 Paris climate change agreement marks the first time a major developing country commits to an economy-wide, absolute reduction of emissions, which represents a major political signal for the global response to climate change (Federative Republic of Brazil 2015). The strategic focus of Brazil's NDC is that achievements in reducing emissions from deforestation must now be enhanced by a low-carbon economy strategy. It puts a strong focus on low-carbon agriculture, renewable energy, and large-scale carbon uptake from the atmosphere through goals of forest restoration and reforestation (12 million hectares by 2030).
The Brazilian agriculture, forestry (pulp and paper), and bioenergy sectors have been under major structural changes for the last 15 years. The centuries-old pattern of agricultural exploitation based on the abundance of cheap land is being replaced by a technology-based business and gains in yield (Assunção and Chiavari 2015; Chaddad 2015).
Brazil is an ideal place for a more sustainable agriculture, from both small and larger famers, and large-scale forest restoration due to its large tracts of degraded pastureland, a highly competitive agribusiness, a vigorous commercial timber industry, an innovative nascent economic restoration business, an advanced research and development (R&D) capacity, and an extraordinary policy window afforded by the new forest code, the NDC and the national policy on climate change, a proven scientific and technical capacity to monitor ecosystems and deforestation, and the national strategy for reducing emissions from deforestation and forest degradation (REDD+). All of these are at the core of Brazil's policies on climate change and the SDGs (Brasil Presidência da República 2016; Federative Republic of Brazil 2015; OECD 2015).
The challenge for Brazil and other savanna countries is to promote the right combination of well-functioning policies, markets, and incentives for the full implementation of their goals.
Savannas cover approximately three million Km2 in the Neotropics, and the Cerrado savannas are two million km2 in area (Sarmiento 1984). The Cerrado is the locus of both the most extensive transformation in the savannas of the world for agriculture expansion and one of the greatest opportunities where strategies of economic growth with environmental conservation can be combined at scale.
The Cerrado savanna harbors a great diversity of plants, animals, and habitats and is one of the world's hotspots for biodiversity conservation. The biological wealth of Cerrado comes from its diversity of vegetation types, consisting mostly of woodlands, tropical savannas, grasslands, forests, and dry forests. Due to its extension, habitat heterogeneity, and proximity to other tropical biomes, the Cerrado has a rich and usually unappreciated biodiversity: the number of vascular plant species exceeds that of most floras in the world; the current number of herbs, shrubs, trees, and lianas is over 12,000 species, of which 44% is endemic, that is, they are unique to the region, which makes the Cerrado the richest among the world's tropical savannas. Cerrado endemic plants represent 1.5% of the globe's total flora (Klink and Machado 2005; Oliveira and Marquis 2002).
Its main ecological aspect is its environmental diversity in soil types, geology, geomorphology, climate, and biodiversity. Most soils are clay, highly weathered, acidic, low organic matter, low nutrient concentration, and high concentration of iron and aluminum; soils are deep and well drained on gentle slopes, commonly less than 3%. To become productive, soils should be fertilized and corrected with lime (Oliveira and Marquis 2002).
Cerrado has a seasonal tropical climate with an average of 1,500 mm of rain per year. Ninety percent of the precipitation occurs during the wet season (October through March); the extent of the dry season (usually from April through September) determines the biological productivity of Cerrado and can be a major environmental constraint to rain-fed crops. The accumulation of fuel (dead vegetation biomass), low humidity, and farmer's use of fire at the end of the dry season promotes widespread burning in the region (Oliveira and Marquis 2002).
Land use is inherently a trade-off between meeting basic human needs and ecosystem consequences (DeFries and Nagendra 2017). Land use transformations possibly affect the following ecosystem functions in the Cerrado (many consequences are poorly known): agricultural production, biodiversity, carbon sequestration, water availability, climate feedbacks, and human health and nutrition (DeFries et al. 2005).
Over the past five decades, the Cerrado has become Brazil's largest source of soybeans and pastureland, and a significant producer of rice, corn, cotton, sugarcane and ethanol. Usually cash crop farming in the Cerrado is capital-intensive, large-scale, mechanized, and technological. Small farmers' practices that consist of use of a variety of plants and agricultural systems are crucial for food security. The Cerrado is also home for a rich socio-diversity represented by several indigenous peoples and local communities that depend on the traditional use of natural resources to maintain their livelihoods (Klink and Machado 2005; Silva et al. 2006).
A recent estimate (Scaramuzza et al. 2017) shows that of its original 204 million hectares (roughly 22% of Brazil's area), 45.4% has already been deforested, for cultivated pastureland (60 million hectares, equivalent to the area of Ukraine), agriculture (23.8 million hectares, equivalent to the area of the UK), and eucalyptus and pine forestry (3 million hectares, equivalent to the area of Belgium). The remaining 54.6% of standing native vegetation (around 111 million hectares, equivalent to the area of Colombia) makes the Cerrado one of the most promising opportunities to leverage and scale up production and protection business and policies.
Markets and businesses are more willing to incorporate the evaluation and assessment of Cerrado ecosystem services as part of their land use decision-making. Thirteen percent of Cerrado is currently under public protection (8% under protected areas and 5% under indigenous lands); there is an estimated 44 million hectares of native Cerrado in private lands (equivalent to the area of Morocco) that falls outside of the public conservation domain. Legal requirements to conserve the Cerrado in private lands are smaller compared to the Amazon, but still are a significant portion of 20–35% of land that needs to be set aside for sustainable use and conservation purposes. The Rural Environmental Register (CAR) (Serviço Florestal Brasileiro 2018) is giving the first outlook of the opportunities for driving sustainable land use (a combination of agriculture production and ecosystem conservation) for this enormous amount of land in the Cerrado.
Concrete Examples of Production and Protection in the Cerrado
Brazil still contains a major part of its territory under natural vegetation: 154 million hectares of protected areas (18% of the territory), 118 million hectares of indigenous lands (14%), and an estimated 174 million hectares of natural vegetation in private lands (MMA 2015; OECD 2015; Sparovek et al. 2016). For comparison, the agricultural and pastureland of the country is around 250 million hectares, 70 million for agriculture land and the remaining in pastures (MMA 2015; OECD 2015).
Much of the pastureland is degraded with low productivity (Câmara et al. 2015; Harfuch et al. 2016; Sparovek et al. 2015) and therefore represents a major opportunity for agriculture, bioenergy, and beef production without compromising environmental goals. In several locations, low-productivity extensive pastureland is being replaced by more intensive techniques and knowledge. This transition should reduce the pressure for new deforestation in the country.
One such transition has been the expansion of sugar cane and ethanol production in Cerrado areas of the state of Mato Grosso do Sul. Between 2005 and 2012, the existing 8 ethanol plants in 2005 used 137,000 hectares of land for sugarcane plantation; in 2012 there were 22 plants that used 559,000 hectares. This expansion had profound effects on the economy of the municipalities of the region: an increase in 30% of GDP; gains in the agriculture, industry, and services sectors; 31% increase in income; and 10% increase in population (Assunção et al. 2016).
Other crops as soy and corn also benefited from gains in the productivity (because of improved services, storage, transportation, inputs, financial services), and the cattle herd decreased for sugarcane was expanded in areas of degraded pasturelands. Deforestation decreased due to improved productivity and better compliance with environmental norms (Assunção et al. 2016).
In the past 20 years, there has been an expressive expansion of agricultural activities in the Matopiba region that is considered the last Cerrado frontier (Bolfe et al. 2016; Garcia and Vieira Filho 2017). Matopiba is responsible for 10% of grain production in Brazil, mostly soy, corn, and cotton. Between 1995 and 2012, the planted area increased 3.6% and production 140%. Production increased both by expansion of agriculture land and by change from production of rice to soy. As in Mato Grosso do Sul, intensification reduced cattle herd since degraded pastureland were replaced by crops. IDH and GDP increased significantly too (Bolfe et al. 2016).
Environmentally, a new consortium was created for the region (the Matopiba 2020), by the Conservation International and the Brazilian Foundation for Sustainable Development with the goal to avoid new deforestation from the soy supply chain, funded by the GEF (www.thegef.org/project/taking-deforestation-out-soy-supply-chain). Using the policy setting, mainly the forest code of Brazil, the goals are to divert expansion to already deforested and degraded areas; increase the amount of protection of natural vegetation (from the 20% required by the forest code to 40%); forest restoration; increase the low-carbon agriculture program; engagement of producers, industry, processors, and consumers; landscape planning; and strategic communication. The most important objective of the program is to show that it is possible to build the landscape to contemplate agriculture production and ecosystem conservation, at scale in the Cerrado.
A recently published study demonstrated that planning the landscape can substantially increase the effectiveness of the forest code. In an area of approximately 400,000 hectares, in the Cerrado of Minas Gerais state, the study demonstrated a reduction of cost to farmers if the forest code is implemented at the landscape level, with significant gains in biodiversity, carbon, and water quality. The study concluded that an adequate economic planning aligned with environmental objectives allowed for the agriculture expansion and conservation of biodiversity and ecosystems (Kennedy et al. 2016).
What these examples show is that through implementation of effective mechanisms, supported by public policies, and the private sector engagement, profound transformation of the reality of landscapes is possible, a pattern that started to be seen in the beef sector where improvements through sustainable practices without new deforestation can create significant finance benefits (Whelan et al. 2017).
These examples also give support to actions and strategies for business coalitions already in place in Brazil. Approaches to quantify and evaluate environmental risks from agriculture practices are gaining momentum in the market. The initiatives are seeking private sector engagement and it is worth mentioning the Collaboration for Forests and Agriculture (CFA, sponsored by the Gordon & Betty Moore Foundation, www.moore.org); the Strategic Committee Soy Brazil (CESB, www.cesbrasil.org.br); the Forest Investment Program (FIP, a program of the Climate Investment Funds, www.climateinvestmentfunds.org/country/brazil); the Beef Working Group (GTPS, www.gtps.org.br); the Initiative for Land Use (INPUT, www.inputbrasil.org); the Soy Moratorium (www.abiove.org.br; www.greenpeace.org); the Round Table on Responsible Soy (RTRS, www.responsiblesoy.org); the Soja Plus certification (www.sojaplus.com.br); the Sustainable Trade Initiative (IDH, (www.idhsustainabletrade.com); the Transparency for Sustainable Economies (TRASE, (www.sei-international.org/trase); the Tropical Forest Alliance 2020 (TFA, www.tfa2020.org); and most recently the Statement of Support to the Cerrado Manifesto (corporate.marksandspencer.com/documents/plan-a/statement-of-business-support-for-cerrado-manifesto-2017).
From the list, it is clear the strong engagement of business entities for a sustainable agriculture, though implementation of actions still poses challenges. A recent analysis on a few of these governance practices at the supply chain level that aim to reduce deforestation in the tropics has shown that to improve effectiveness, both private and public policies must seek complementarity and should avoid fragmentation or antagonistic actions (Lambin et al. 2018).
Some Concluding Remarks
For an adequate production and protection strategy for the Cerrado and other tropical savannas, to guarantee the maintenance of ecosystems, innovative arrangements and inclusion of the private sector are going to be necessary. This will require the combined use of "carrots and sticks" (policy setting aligned with finance, innovation, engagement, analytic capacity, and dissemination of knowledge).
Brazil could serve as a model and be a global leader on the production and protection framework, for the country is a major protagonist in the global agricultural market, has experience in producing sophisticated technologies, has built capacity to debate and propose global standards, and has leadership on the global environmental agenda.
Both in their NDCs and the SDGs, many countries committed to further engagement in South-South cooperation. Brazil, for instance, is using its own funds from the Amazon Fund to support all the Amazon Basin countries to improve and develop forest-monitoring systems to protect natural resources and help maintain forest coverage (Amazon Fund 2018). It has been advocated that the successes of the Cerrado agriculture should be extended to other tropical savannas of the world (Rada 2013; The Economist 2010). However much still needs to be developed in this area for fulfilling these expectancies (see, for instance, Shankland and Gonçalves 2016).
The public image of agribusiness, in Brazil and the whole tropics, is that of a main driver of deforestation, which restrict access to international finance and markets. These are legitimate preoccupation; therefore the private and business sectors should join forces with academia, the civil society, and governments to improve practices and supply the raising demand of agriculture products from a sustainable basis.
Part of SDG 17 (means of implementation) finance must be at the top of priorities for production and protection. Not only lack of finance should be the focus but how funding and finance instruments lead to market transformations, how to develop a vision of partnership between investors and business operators, mapping of what is already available in the market, identification of commercial projects with strong public allocation and efficient use of public funding (creation and strengthening of public-private partnerships), how to diversify the base of investments, and impact communication.
A production and protection vision will improve the competitiveness and diffusion of best practices. International investors usually bring better finance and capital structures to native companies and that can boost the capacity of farmers (small and large) to operate in international markets where evaluation of environmental, social, and climate change risks are becoming more necessary.
Notes
Acknowledgments
Some of the insights presented in this entry are being developed in the project "Cerrado ecosystem service knowledge Centre," funded by CIFF Children's Investment Fund Foundation (grant R-1603-01190) and logistic support from the University of Brasilia and the Climate Policy Initiative (CPI-Rio). Funding and support are much appreciated.
Copyright information
© Springer Nature Switzerland AG 2019
Section editors and affiliations