Migrant Entrepreneurship Under Institutional Voids
Living reference work entry
DOI:
https://doi.org/
10.1007/978-3-319-71058-7_93-1
Definitions
Migrant entrepreneurship is defined as migrants engaging in business venture creation, and institutional voids refer to political and economic systems, trade policies, and product, labor, and capital market deficiencies that imply the absence of specialized intermediaries, regulatory systems, and contract-enforcing mechanisms. They create higher transaction costs for doing business and are commonly found in emerging markets.
Introduction
The number of international migrants stood at 258 million in 2018, up from 173 million in 2000 (IOM 2018). This makes the virtual country of migrants to be the fifth largest in the world. The extraordinary flow of migrants in the twenty-first century has been spurred by both pull (choice) and push (force) factors. Many migrants leave their home countries by choice for educational or economic reasons and play an important role in the social and economic development of both host and home countries through temporary, circular, and permanent migration (Barnard et al. 2019; Christensen et al. 2019). Many, however, are pushed from their home countries due to economic, social, political, and environmental hardships (Reade et al. 2019).
Since the 2000s, there has been an increasing rate of South-South migration between developing countries. Many of the resulting migrants have been involved in venture creation in their host countries (Martinez et al. 2015; Mickiewicz and Olarewaju2020). A migrant entrepreneur is usually defined as a person who identifies an economic opportunity within the country of residence (host country) or a cross-border opportunity between the country of residence and a foreign country and exploits or acts in relation to the exploitation of such an opportunity (Emontspool and Servais 2017; Mickiewicz and Olarewaju 2020). Migrant entrepreneurship in respect of South to South (in contrast to North to South or South to North) movements may involve institutional voids in the host countries.
"Institutional voids" result in the higher transaction costs commonly found in emerging markets representing the geographical regions of Africa; East, South, and Western Asia; Latin America; and the Caribbean (UN 2014). These voids relate to political and economic systems, trade policies, and product, labor, and capital markets and denote the absence of specialized intermediaries, regulatory systems, and contract enforcement mechanisms. Institutional voids make the transaction costs of doing business higher for both market exchange and for new firm entry (Khanna and Palepu 2010).
Recognizing that global migration governance requites broad stakeholder partnerships, the United Nations has called upon the private sector to collaborate with governments and non-governmental organizations (NGOs) to address both migration challenges in the host countries and the drivers of migration in the home countries (Reade et al. 2019; UN 2020). This entry synthesizes theory on how migrant entrepreneurs respond to institutional voids in host countries.
Institutions and Entrepreneurship
Institutions refer to the humanly devised constraints that structure political, economic, and social interactions (North 1990). Williamson (2000) integrates the theory on institutions and categorizes institutions into three levels distinguished by the pace at which they change, each placing constraints on the ones beneath and jointly determining national and organizational resource allocation. Informal institutions include the norms, values, and beliefs that shape notions of social acceptability and provide some localized structures to support economic activity. These are placed at the top of Williamson's hierarchy. Informal institutions influence the effectiveness of the rules and formal controls at the lower levels. Formal institutions are placed at the second level, and they include codified laws, regulations, and supporting apparatuses that define the legal rules of the game, provide incentives and controls to encourage legal compliance, and establish the infrastructure for facilitating market transactions and allocating society's scare resources. A market is any arrangement that enables buyers and sellers to get information and do business with each other. At the third level, governance represents the particular structures adopted by organizations and individuals to manage transactions (Estrin et al. 2019).
The entrepreneurship literature highlights the importance of institutions for entrepreneurial activity and securing business performance (Reynolds et al. 2005). Informal institutions are denoted by social embeddedness. Authors also define these as culture, or shared values, norms, and practices of societies. Stephan and Uhlaner (2010) find that it is a particular aspect of what they term "cultural collectivism," so-called socially supportive cultures, which are rich in weak-tie social capital, that enables entrepreneurship. Estrin et al. (2016) show that entrepreneurial activity benefits from strong institutions that protect property rights via the rule of law. Such institutions support entrepreneurship by lowering uncertainties and the threat of expropriation of any returns that entrepreneurs may generate.
Entrepreneurs are also usually classified into necessity-driven and opportunity-driven types. Necessity-driven entrepreneurs are those who are pushed into starting businesses because they have no other source of income. Opportunity-motivated entrepreneurs are those who enter business ownership primarily to pursue an opportunity. In terms of entrepreneurship prevalence rates, relating to the percentage of the working-age population of countries and in terms of economic development, the pattern is of a U-shaped curve, with entrepreneurship rates highest in less developed countries, going down in middle-income countries, and then increasing again in the most developed economies. The dynamics of entrepreneurship can be vastly different depending on institutional context and level of economic development. The nature and structure of entrepreneurial activities varies across countries as reflected by, for example, the relative volumes of necessity and opportunity entrepreneurship (Acs and Varga 2005), gender norms (Georgellis and Wall 2005; Olarewaju 2019), and social and human capital (Reynolds et al. 2005). Institutional and environmental factors may also be important for explaining country variation in the extent to which entrepreneurship is export-oriented (Acs et al. 2008).
Institutional Voids and Entrepreneurship
Society establishes rules and structures that influence how entrepreneurs complete transactions for the purpose of operating their ventures, and institutions provide the foundation for long-run national economic performance by structuring human exchange and interaction. Emerging economies are often described as having underdeveloped institutions in terms of there being institutional voids (Mair and Marti 2009; Khanna and Palepu 2010).
The first type of institutional voids is those that hinder market functioning, typically due to the lack of intermediaries and weakly developed capital, labor, and product markets. However, such voids in turn offer opportunities for (highly skilled) entrepreneurs to create businesses, bridging these voids. The second type of institutional voids hampers not just the functioning of markets but also their development in the first place. When constitutional-level provisions are not enforced, the rules of exchange are uncertain, and market development stalls (Estrin et al. 2013). Entrepreneurs in emerging economies deal with these two types of institutional voids by relying on informal institutions, especially social networks.
The third type of institutional void refers to those that impede market participation (Mair and Marti 2009; Mair et al. 2012). Because institutional arrangements are either absent or weak, they prevent individuals and firms from participating in market exchange in the first place. Examples include the lack of physical infrastructure that prevents individuals from being able to travel to marketplaces and the presence of informal institutions that exclude women from partaking in economic activity (Estrin and Mickiewicz 2011; Olarewaju 2019). Such voids are widespread in the least developed countries, but they also exist for rural entrepreneurs and for entire segments of society in thriving emerging market economies such as India (Tamvada 2010; Bhagwati and Panagariya 2013).
The fourth type of institutional void occurs where there is a demand for social entrepreneurs, and this type encourages individuals to take steps to create social enterprises but hampers the creation of operating social enterprises in the absence of supportive informal institutions (Stephan et al. 2016).
Migrant Entrepreneurial Activity
The level of entrepreneurial activities in an economy is determined by the interaction of the demand (product market) and supply (labour market) sides of entrepreneurship (Audretsch et al. 2007). Together with resource availability and individual capabilities, they lead to the formation of entrepreneurial intention and consequently result in entrepreneurial behaviour (Kautto 2019). From the demand side, technology and shifts in demand lead to the formation of the capacity of the market in terms of available business opportunities. From the supply side, various demographic characteristics define the entrepreneurial capacity of the labor market in terms of perceptions of entrepreneurship and preferences for it (Verheul et al. 2001).
For example, the propensity to become an entrepreneur is significantly higher in countries with a lower workforce median age (Liang et al. 2014) or among individuals with immigrant backgrounds (Kerr and Kerr 2020). If the necessary resources and individual capabilities are present, the identification of business opportunities by individuals with favorable perceptions of entrepreneurship leads to the formation of entrepreneurial intention (Verheul et al. 2001; Kautto 2019), which is also influenced by options available through paid employment (Olarewaju et al. 2019).
A migrant individual with an entrepreneurial intention first identifies a potential opportunity, then conducts a feasibility and desirability assessment, and finally decides whether to engage in entrepreneurial behavior in the form of opportunity exploitation. Because migrant entrepreneurs are foreign to the host country, the quality of the institutional environment, knowledge spillovers, and access to markets and resources shape peculiarly their initial country assessment (Efendic 2016). Varying institutional settings attract or form different types of migrant entrepreneurial ventures.
In the twenty-first century, migrants consistently have higher entrepreneurship rates when compared to indigenous citizens, and entrepreneurship is perceived as a potential employment choice for migrants and refugees due to both push and pull factors (Rath and Schutjens 2015b). The literature also agrees that migrant entrepreneurs contribute significantly to their host nations, generating income, employment, innovation, and larger economic outreach (Rath and Schutjens 2015a). Migrant entrepreneurship is nevertheless fraught with many difficulties. Apart from the challenges that indigenous entrepreneurs face, migrant entrepreneurs face the additional liability of outsidership, and they could also be disadvantaged in terms of financial, human, and social capital. Migrant entrepreneurs often have to navigate between starkly different institutional and business environments, especially in the global South (Fiedler et al. 2017; Mickiewicz and Olarewaju 2020).
Entrepreneurs and Bricolage
Several studies have investigated entrepreneurship under institutional void conditions (Mair and Marti 2009; Desa and Basu 2013; Khoury and Prasad 2016), with recent studies focusing on migrant entrepreneurship under void conditions (Heilbrunn 2019; Mickiewicz and Olarewaju 2020; Riddle et al. 2010). The concept of bricolage has been essential in all findings involving migrant entrepreneurs in relation to institutional voids. Bricolage as a notion was first introduced by Levi-Strauss (1966) and was given a prominent role in the entrepreneurship literature by Baker and Nelson (2005). The term is broadly used to describe how actors "make do" by applying combinations of resources at hand to new problems and opportunities.
Making do implies improvisation in terms of creative problem solving (Di Domenico et al. 2010). Migrant entrepreneurs need to access and combine resources when taking on novel tasks. It is via bricolage and a refusal to be constrained by economic, political, and institutional limitations that migrant entrepreneurs eventually find a path to success under institutional void conditions. In the pursuit of bricolage, migrant entrepreneurs can also compensate for institutional voids by using context-specific contracting, informal institutions, or other relational mechanisms of economic exchange, including the use of cultural, political and family connections, to gain access to vital resources. When this occurs with reasonable predictability, consistency, and stability, the result is a functionally new institutional environment jointly created by entrepreneurs and other actors, leading to institutional entrepreneurship.
Institutional Entrepreneurship
Institutional entrepreneurship refers to the activities of actors who have an interest in institutional arrangements and who lever resources to create new institutions or to transform existing ones (Hardy and Maguire 2017). The mobilization of support, acceptance, and legitimation of new institutional arrangements may follow one of the three distinct processes: leverage, accumulation, or convening. Leverage means that politically skilled actors mobilize support and acceptance (Rao 1998); accumulation implies that support and acceptance emerge as the uncoordinated actions of countless actors which probabilistically converge (Van de Ven and Garud 1993); and convening suggests institutional change jump-started by the creation of collaborative arrangements (Lawrence et al. 2002).
Institutional entrepreneurship belongs to a wider category of "institutional strategies." The latter are described as the ways in which individuals and organizations purposefully and strategically shape their institutional environment to enhance their competitive advantage (Marquis and Raynard 2015). Such strategies can be classified as relational, infrastructure-building, and sociocultural bridging. Migrant entrepreneurs often need to exhibit characteristics of institutional entrepreneurship and frequently form coalitions of stakeholders with local citizens, who act together and become embedded in specific organizational forms to fill the institutional voids present in their environments (Mickiewicz and Olarewaju 2020). Migrant entrepreneurs are, however, not always welcome to act as institutional entrepreneurs.
Migrant Entrepreneurship Challenges and Strategies
The literature on bricolage and institutional entrepreneurship describes how migrant entrepreneurs make do or change institutions when faced with institutional voids. This entry will not be complete without throwing light on some peculiar challenges faced by migrant entrepreneurs in relation to institutional voids and the corresponding strategies to overcome such challenges.
Successful Operation
Institutional voids impact greatly on the quality and quantity of migrant entrepreneurial ventures. Synthesizing the literature on migrant entrepreneurship under institutional voids and following a case study of the successful Shonga Farms migrant entrepreneurial venture in Nigeria, Mickiewicz and Olarewaju (
2020
) delineate a model of successful operation for migrant entrepreneurial ventures under conditions of institutional voids that is presented in Fig.
1
. This model can be adapted for migrant developmental entrepreneurship or public-private partnerships involving migrant entrepreneurs under such conditions (Mickiewicz and Olarewaju
2018
).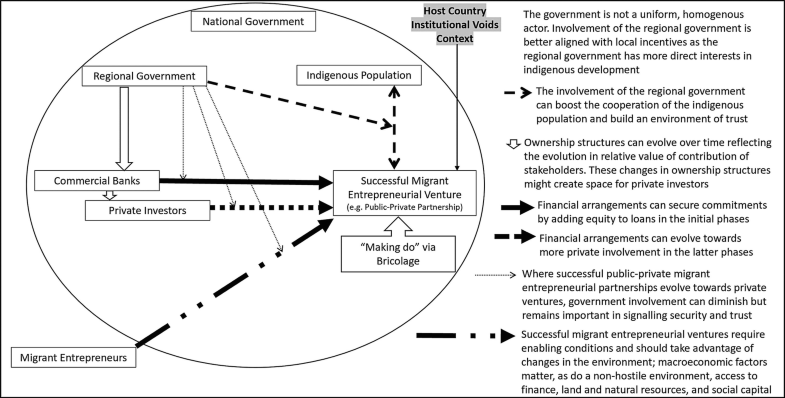 Certain salient dimensions in the literature relating to migrant entrepreneurial partnerships also require mentioning. First, for migrant entrepreneurial partnerships to be successful under institutional void conditions, financial arrangements need to (a) secure commitments by adding equity to loans, and (b) evolve toward more private involvement. This evolving financial arrangement helps to secure long-term commitments, especially during adverse conditions.
Second, continued government involvement in public-private migrant entrepreneurial ventures provides an additional layer of security for investments made under conditions of institutional voids. Where successful public-private migrant entrepreneurial partnerships evolve toward private-dominated ventures in such contexts, government involvement diminishes, yet remains important in signaling security and building trust for private investors, who bridge the financial gap for migrant entrepreneurs.
Third, the ownership structures for migrant entrepreneurial partnerships within emerging markets with institutional voids can change over time, reflecting the evolution of the relative value of the contributions of the respective stakeholders (Driffield et al. 2016). These changes in ownership structures might create space for private investors.
Fourth, successful migrant entrepreneurial partnerships require enabling conditions in the environment and need to take advantage of the changes in the environment (Fuentelsaz et al. 2018; Mickiewicz and Olarewaju 2020). Macroeconomic and banking stability, combined with conditions for locally anchored political accountability, matter especially strongly under institutional void conditions.
Fifth, institutional voids call for regional government support for effective migrant entrepreneurship. It might also be important to distinguish between the roles of central and regional governments. The government is not a uniform, homogeneous actor in its involvement with migrant entrepreneurs. In addition to the support of the central government, the involvement of the regional branch of government is also important as it is associated with better alignment of local incentives. Related to this, decentralization and democratization create incentives for regional government.
Finally, migrant entrepreneurs will need to engage with different actors to enhance their chances of success, including central and regional governments, financial actors, other indigenous entrepreneurs, and the local population. These actors will need to be engaged with closely, even if temporarily, to enhance the chances of success. All these dimensions could also be related to the activities of bricolage and institutional entrepreneurship.
Concluding Summary
The migrant entrepreneurship literature is increasingly drawing attention to variations: that although migrants can bring new knowledge and products to host countries, migrant entrepreneurship could differ in terms of impact (Parker 2018). Studies have shown that migrant entrepreneurial ventures contribute disproportionately to the creation of new jobs, the generation of innovations, and the development of economic regions (Henrekson and Johansson 2010). In developed regions, first- and second-generation migrant entrepreneurs have founded more than 40% of the Fortune 500 companies (Kautto 2019).
People will continue to migrate, and migrants will continue to create new ventures in conditions where formal and informal institutions are underdeveloped. The institutional voids perspective plays an explicit role in the emergence, strategies, and performance of migrant entrepreneurial ventures in this regard. The actions of private actors, non-governmental bodies, charities, central and regional governments, and migrant entrepreneurs themselves influence the formal and informal institutional environments that migrant entrepreneurs work in.
To effect change in the level of migrant entrepreneurial activity, governments could undertake policy interventions directed at different elements of the demand or supply sides of migrant entrepreneurship. Policy interventions to increase the demand for migrant entrepreneurial activities could involve protection of migrant rights, competition legislation, venture establishment and bankruptcy legislation, labor market legislation, and the stimulation of market and cross-border activity. Policy interventions to increase the supply of migrant entrepreneurial activities could be through immigration policy, financial and resource provision, local interest-led regional development, business information and education, stimulating integration with indigenous populations, and reinforcing positive attitudes toward migrant entrepreneurs (Crush et al. 2015; Kautto 2019; Mickiewicz and Olarewaju 2020).
Migrant entrepreneurs are a very diverse group of people and the fact that they create entrepreneurial ventures in foreign environments where institutional voids exist should be lauded rather than vilified. Indigenous entrepreneurs can learn from the pathways followed by individuals who are alien to the home environment. This can help with knowledge spillovers through observational learning and competition, generating secondary positive effects for the host nation.
Copyright information
© Springer Nature Switzerland AG 2020
Section editors and affiliations