Follicular Dendritic Cells
Living reference work entry
DOI:
https://doi.org/
10.1007/978-3-319-69892-2_65-1
Definition
Follicular dendritic cells (FDCs) are non-hematopoietic cells of the follicles (B-cell rich zones) of the secondary lymphoid tissues in mammalians (including humans) that form the scaffolding of follicles and promote the follicular colonization, expansion, and survival of B cells during immune responses associated with antibody production upon antigenic stimulation.
Overview
Identification, Functions, and Cellular Characteristics of FDCs
The ability of the mammalian immune system to mount effective humoral immune responses with high-affinity antibody production coupled with the establishment of immunological memory (the capacity to elicit prompt reaction upon secondary antigenic encounter) critically depends on the organized microstructure of peripheral lymphoid tissues. These include the spleen, a unique singular lymphoid organ to combat blood-borne pathogens; lymph nodes, forming an extensive network of encapsulated organs arranged in a chain-like fashion filtering interstitial fluid throughout the body; and various forms of lymphoid aggregates in the gastrointestinal and genitourinary mucosa and in the airways.
After their production in the bone marrow, B cells expressing cell surface immunoglobulin recirculate between various peripheral lymphoid tissues where they accumulate within the follicles, separately from the bulk of T cells. Although they constitute the vast majority of cells dwelling in these regions, other hematopoietic cells, including some T cells, macrophages, and dendritic cells that can take up or recognize antigens, can also be found here. Pivotal studies in the 1960s using radioisotope-labeled antigens performed on rodents demonstrated that, following their entry, antigens accumulate within the follicles (Miller and Nossal
1964
) in a clumped arrangement (Nossal et al.
1968
; Szakal and Hanna
1968
). According to ultrastructural studies, this deposition of antigens represents their retention mediated by non-phagocytic (i.e., macrophage) cells. These cells possess extensive filiform membrane extensions (henceforth named as follicular dendritic cells; Chen et al.
1978
) or dendrites with bead-like microsphere structures (Schnizlein et al.
1985
; Szakal et al.
1985
), which can be transferred to B cells as immune complex containing the antigens together with antibody and complement fragments (Szakal et al.
1988
). The general structure of lymph node follicles is illustrated schematically in Fig.
1a
.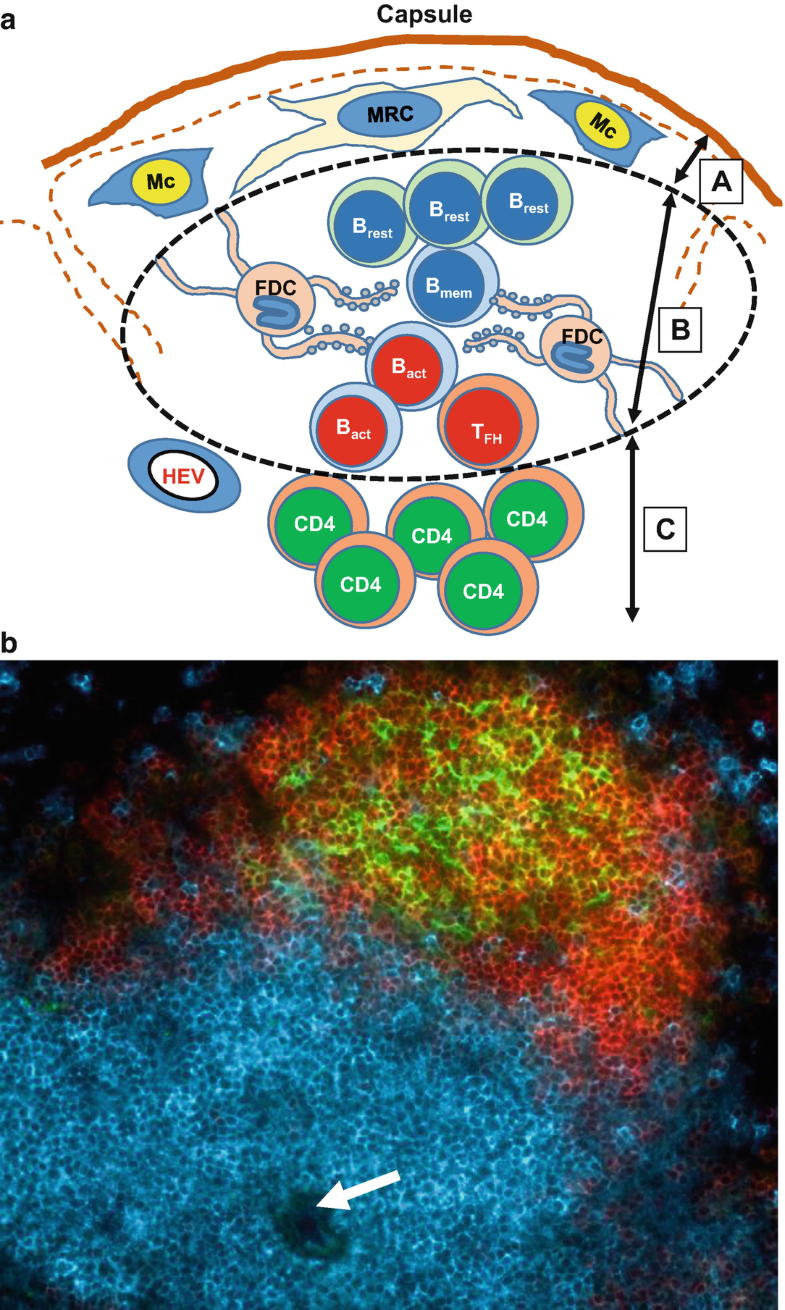 The FDCs are rather uniformly distributed within the primary follicles, whereas following antigenic stimulation they are typically confined to the light zone of secondary follicles containing germinal centers (Szakal et al. 1989; MacLennan 1994).
Given the difficulties of selectively locating FDCs within the follicles overwhelmed by B lymphocytes using traditional staining, the identification of FDCs by immunohistological labeling represented an important advance for their subsequent analyses. In mice, they were found to express FcγRIII/FcγRIIB (CD16/32; Schnizlein et al. 1985; Kosco et al. 1986), followed by the demonstration of complement receptor 1/2 (CD21/35) display (Yoshida et al. 1993), similarly to humans (Reynes et al. 1985; Johnson et al. 1986). Although these markers are not specific for FDCs, their increased production compared to that of B cells has further strengthened the hypothesis of their involvement in converting and presenting immune complexes into a highly immunogenic form by FDCs as a critical element for supporting recall immune responses (Qin et al. 1998; Qin et al. 2000). Figure 1b shows a typical FDC cluster in a primary follicle using multicolor immunofluorescence with specific antibodies against T cells, B cells, and FDCs.
To strengthen antigen-specific interactions with antigen-stimulated B cells during immune responses, FDCs also demonstrate enhanced adhesion with B cells by increased expression of several adhesion molecules (including VCAM-1, ICAM-1 and MAdCAM-1), which further increase during immune responses, demonstrating the inducible capacities of FDCs (Koopman et al. 1991; Kosco et al. 1992; Szabo et al. 1997; Balogh et al. 2002).
Development of FDCs and their Pre-immune Role in the Formation of Follicles
The origin of FDCs remained a contested issue for decades. Their restricted presence in the follicles of secondary lymphoid tissues suggested hematopoietic origin, in a close dependence with the presence of B cells, as the elimination of B cells resulted in the loss of FDCs (Cerny et al. 1988), although unlike the hematopoietic cells, FDCs are radioresistant (Humphrey et al. 1984). Subsequently, congenitally severe immunodeficient (SCID) mice lacking B-and-T-cells were found to lack FDCs, but capable of generating FDCs upon transfer of mature B cells with increased expression of FcγR and complement receptors involved in long-term immune complex retention (Kapasi et al. 1993; Yoshida et al. 1994). Thus, the absence of FDCs in SCID mice offered a feasible in vivo experimental system to study the emergence of FDCs. In this approach, the origin of FDCs was defined either as local host-derived (Yoshida et al. 1994) or could also at least partly be supplied by the bone marrow (Kapasi et al. 1998). Using several advanced cell-lineage tracing in vivo experimental systems, the tissue origin of FDCs is now generally accepted as local mesenchymal derivatives from undifferentiated perivascular precursors (Krautler et al. 2012) also present at the periphery of lymph nodes as marginal reticular cells (Jarjour et al. 2014), also serving as expansion pools for FDCs in immune responses. However, possible peripheral lymphoid tissue-specific features distinguishing between the spleen and different types of peripheral lymph nodes may exist (Wang et al. 2011; Castagnaro et al. 2013).
The discovery of the role of lymphotoxin α (LTα) represented a seminal finding, opening the road to define critical molecular elements of lymphoid organogenesis generally, and the development of FDCs particularly (De Togni et al. 1994). LTα-deficient mice lack lymph nodes and Peyer's patches, and their spleen demonstrated impaired T/B distribution, coupled with the lack of FDCs, also resulting in defective germinal center formation upon immunization (Matsumoto et al. 1996). Analyzing similar roles for other members of the expanding tumor necrosis-lymphotoxin (TNF-LT), it turned out that, in addition to LTα that can be generated as a soluble LTα3homotrimer, the appearance of FDCs also requires the related member LTβ, complexed in an LTαβ2 heterotrimeric form that binds to a separate receptor LTβR (Androlewicz et al. 1992; Crowe et al. 1994). Several subsequent studies have established that splenic FDC development requires LTβR engagement via its heterotrimeric LTαβ2 ligand (Koni et al. 1997; Fütterer et al. 1998), whereas their follicular maturation is dependent on TNF, both supplied by B cells (Pasparakis et al. 1996; Endres et al. 1999; Pasparakis et al. 2000). Importantly, even fully developed FDC network can be dissolved by disrupting LTβR-mediated signaling using a soluble decoy receptor analogue (Mackay and Browning 1998), indicating the continued need for LTαβ2 ligands also for the maintenance of FDCs.
The general feature of lymphoid cell segregation within the peripheral tissues into T- and B-cell zones raised the issue of the mechanism of this separation. This segregation is sensitive to pertussis toxin blocking G-protein-coupled receptor-mediated (GPCR) signalization (Lyons and Parish 1995; Cyster and Goodnow 1995). Subsequent discovery of the GPCR member chemokine receptor CXCR5 (originally denoted as BLR1) on B cells as a key molecule for their follicular recruitment represented a major progress in defining the mechanism of follicular build-up (Förster et al. 1996). As its ligand, CXCL13 (originally named B-lymphocyte chemoattractant/BLC) produced by FDCs, was identified (Gunn et al. 1998). After its discovery, CXCL13 was demonstrated to be able to induce the upregulation of LTαβ2 heterotrimer on B cells, thus suggesting the existence of a positive feedback relationship between the FDCs (or their precursors) expressing LTβR and producing CXCL13, and the B cells generating the pair of complementary ligand and receptor LTαβ2 and CXCR5, respectively (Ansel et al. 2000). The process of CXCL13-driven follicular movement of B cells leading to the follicular segregation is linked to the follicular conduit as a physical platform, a nonvascular drainage system, formed by follicular stromal cells, possibly FDCs (Nolte et al. 2003).
An important aspect for follicular organization and B-cell responsiveness is the B-cell survival within follicles, promoted by another member of TNF family BAFF (B-cell activating factor; Schneider et al. 1999) and its analogues TACI and BCMA (Gross et al. 2000). This function is probably performed by a subset of non-hematopoietic cells (possibly related to T-zone fibroblastic cells/FRCs) producing BAFF within the follicles distinct from the FDCs, and these two cell types jointly control follicular B-cell recruitment (via FDC-derived CXCL13) and survival (via follicular FRC-derived BAFF; Cremasco et al. 2014).
Age-Associated Deviations of FDC Functions in Supporting Humoral Immune Reactions and Memory Responses
Aging has been characterized by declining immune responsiveness, and enhanced frequency of autoimmunity and malignancies "Human Immune System in Aging". As long-term preservation of FDC-associated antigen is necessary for the maintenance of memory, the aging-related decline of FDCs to sustain germinal center reactions has been known to impair humoral immune responsiveness, including reduced preservation of immunological memory and the capacity to mount recall responses (Szakal et al. 2002; McElhaney and Effros 2009; Ciabattini et al. 2018) "Cytomegalovirus and Human Immune Aystem Aging" and "Influenza Vaccination in Older Adults". Unlike the studies performed on isolated aged T and B cell subsets, however, similar analyses addressing the impact of aging on purified FDCs are notoriously difficult to perform in mice, owing to the technical difficulties in their isolation. Moreover, such cells are beyond availability in humans unless some invasive procedure (in most cases lymph node biopsy or tonsillectomy) is employed. Nevertheless, histological analyses and in vivo cell murine experiments via transfer of young lymphocytes into aged recipients have been informative in revealing significant functional impairment of FDCs in old animals.
Initial observations indicated substantially reduced germinal center formation in aged mice (Hanna et al. 1967; Kosco et al. 1989). Subsequent immunohistochemical analyses demonstrated that, although the size of FDC reticulum was not significantly different between aged and young mice, the time-course for upregulating FcγR (inhibitory type FcγRIIB) by FDCs was substantially reduced, associated with the FDCs' reduced capacity to retain antigen. Using in vitro experimental approaches to combine young or old B cells and young and old FDCs, a significant reduction in the co-stimulatory capacity of old FDCs was noted, and explored in details (reviewed by Aydar et al. 2004). According to the hypothesis based on these findings, FDCs in young mice efficiently upregulate and dominantly grab immune complexes via inhibitory-type FcγRIIB receptors, precluding their suppressive effect prevailing on antigen-stimulated B cells which, in turn, will preferentially utilize complement receptors (CR1/2), thus delivering potent co-stimulatory signals. In contrast, in aged FDCs such upregulation of FcγRIIB is defective, thereby antigen-stimulated B cells will not be rescued from having their FcγRIIB engaged by immune complexes (Szakal et al. 2002; Aydar et al. 2002; Aydar et al. 2003). Using immune complexes for immunization resulted in an enhanced in vivo responsiveness, increased antibody formation coupled with long-lived plasma cell differentiation, and accumulation in the bone marrow (Zheng et al. 2007).
In the spleen, the acquisition of immune complexes requires the shuttling of marginal zone (MZ) B cells into the follicles, delivering the antigen in immune complex form on the surface of FDCs (Cinamon et al. 2008). It was found that this shuttling of MZ B cells is impaired, probably resulting in a reduced amount of available immune complex to be deposited onto FDCs (Turner and Mabbott 2017). In aged mice, the splenic distribution of CXCL13 chemokine production was also notably different from that of the young mice, which may be implicated in the reduced mobility of MZ B cells transporting antigens into the follicles (Wols et al. 2010).
Of the key morphogenic members of the TNF/LT family for FDC differentiation, up to date no significant alteration associated with aging has been reported either in mice or humans. On the other hand, various autoimmune diseases affecting synovium, kidney, and other target organs have been described to be associated with ectopic (tertiary) lymphoid neogenesis, including the local appearance of FDCs within the affected tissues (Aloisi and Pujol-Borrell
2006
; Bombardieri et al.
2017
). Thus while the fitness of differentiated FDCs within secondary lymphoid tissues may deteriorate locally, the organism's general capacity to produce such cells is retained. This uncertainty (possible reduction in secondary lymphoid tissues, and increased appearance ectopically) may also hinder their laboratory analysis in patients through measuring soluble mediators (like BAFF or CXCL13) due to their undeterminable origin. Using recent advances in lineage-related cell tracing combined with multiparameter analysis of purified stromal cells, including FDCs (Rodda et al.
2018
), the eventual changes of mRNA profile of purified FDCs from old mice can shed light on vital alterations associated with aging. Figure
2
illustrates the possible elements contributing to the decline of FDC functions in aging.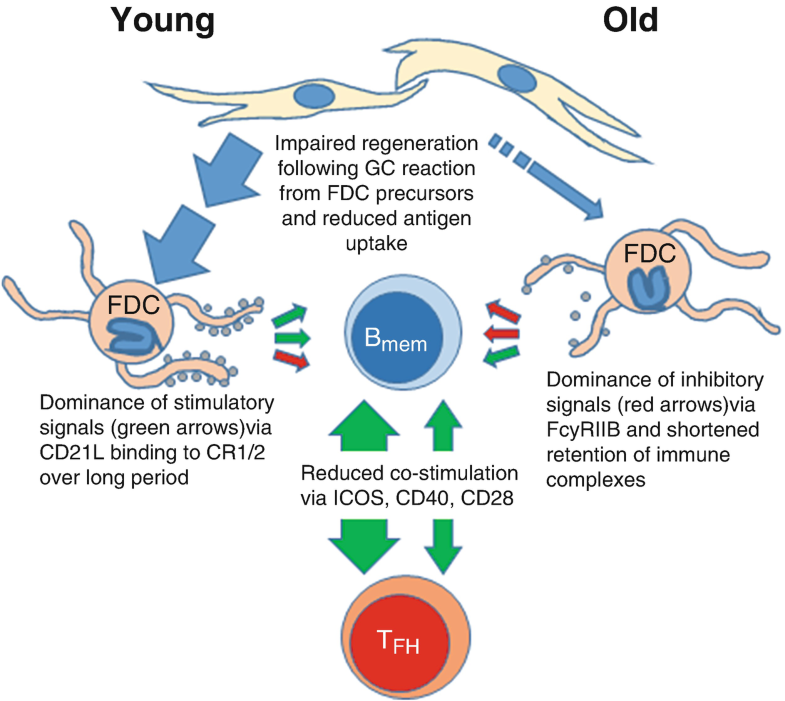 While the overwhelming majority of findings point to a negative impact of aging on FDC functions involved in humoral immune responsiveness, the decline of FDCs appear to reduce the transmission and neurodegeneration induced by scrapie agents (Brown et al. 2009). FDCs are necessary for initial prion replication (Brown et al. 1999), and their inactivation through the blockade of LTβR by soluble decoy receptor treatment resulted in blocked prion propagation (Mabbott et al. 2000; Montrasio et al. 2000), before the translocation of prion agent(s) to the central nervous system via the vegetative innervation of peripheral lymphoid tissues (Glatzel et al. 2001). Although this blunted spreading may be perceived as a positive consequence of FDC impairment associated with aging, it also warrants caution for the possibility of more frequent occurrence of subclinical transmissible spongioform encephalopathy amongst aged individuals.
Key Research Findings
FDCs develop from local non-hematopoietic cells of the peripheral lymphoid tissues that create suitable microenvironment for B cells and promote their follicular clustering by chemotactic stimuli. To perform their functions throughout life, the FDCs' persistence requires several members of TNF/LT family. In their interactions with B cells, FDCs utilize different types of receptors for antigen retention, which also determines the resulting signal preference (activating or inhibitory) of the partnering B cells, which alters during aging.
Future Directions of Research
As FDCs may derive from different precursors in various peripheral lymphoid tissues, the identification of tissue-specific factors affecting the formation of FDCs in different peripheral lymphoid tissues and at ectopic location may reveal possible means for their manipulation in a tissue-specific manner. Further studies should reveal whether aging-related impairment of FDCs can be reversed, by enhancing their encounter with B cells to promote the stimulatory effects or by overcoming inhibitory signals. As FDCs are usually inaccessible for in vitro analyses, monitoring their functionalities necessitates the development of novel laboratory diagnostic approaches.
Summary
FDCs are non-hematopoietic cells with significant role for, and dependence upon, B cells, in promoting high-affinity antibody responses and establishing a highly ordered lymphoid tissue architecture. Their development requires recognition of several members of TNF/LT family produced by B cells or other lymphoid cells. The FDC:B cell-clustering B cells involves the production of CXCL13 chemokine by FDCs. Upon antigenic encounter FDCs retain antigen for activated B cells as immune complexes in a favorable proportion of receptor binding to circumvent B-cell suppression. In contrast, in aged FDCs this preference is altered, so aged FDCs can no longer shield B cells from receiving inhibitory signals, thus leading to premature termination of B-cell expansion and antibody production. While aging causes a progressive loss of FDC support capacity, autoimmune disease often manifest in the ectopic appearance of FDCs, which may potentially perpetuate tissue damage of the affected organ.
Copyright information
© Springer Nature Switzerland AG 2019
Section editors and affiliations