Danish Centenarians Studies
Living reference work entry
DOI:
https://doi.org/
10.1007/978-3-319-69892-2_1001-1
Projects Goals
Since World War II, a substantial demographic change has occurred with an increasing proportion of old and oldest-old people in high-income countries. This change is attributed to three major factors: improved survival of older people, the large post-World War II birth cohorts ("The Baby Boomers") entering the old age segment, and declining birth rates (Christensen et al. 2009). In many countries the number of centenarians has increased exponentially since the 1950s, mainly explained by declines in oldest-old mortality (Robine and Cubaynes 2017). Increased welfare, education, and socioeconomic conditions as well as medical achievements and improved medical treatment regimes are likely explanations for the decline in mortality. However, this raises also a question of whether more recent birth cohorts of centenarians have survived in a more frail state and with higher levels of disability and disease compared to their age peers from earlier centenarian birth cohorts ("Failure of success hypothesis") or whether the improved survival reflects a healthier condition with less disability and disease ("Success of success hypothesis") (Gruenberg 1977), thereby augmenting the chances of survival.
Through the history of mankind, centenarians have always been shrouded by myths, mainly praising the extreme good health of these long-lived individuals. Centenarians have even been declared as examples of healthy aging (Franceschi and Bonafe 2003), which is counterintuitive to the general knowledge that increasing age is associated with increased morbidity and functional decline. The aim of the first Danish centenarian study (the 1895 birth cohort) was therefore to undertake an epidemiological study of a nationwide birth cohort of all 100-year-old persons with no eligibility criteria. To assess whether centenarians are healthy survivors, the study included a thorough assessment of cognitive and physical functions as well as a medical examination and venous blood samples. The 1895 birth cohort study was followed by further three cohort studies of 99–100-year-old Danes born in 1905, 1910, and 1915, which allowed for the assessment of secular trends in health and functioning.
Study Designs
Eligible persons were identified through the Danish Civil Registration System (CRS) (Pedersen et al. 2006), which is a nationwide register of all persons living in Denmark, and there were no exclusion criteria.
Figure
1
presents an overview of the four cohorts. While identification was similar in the four studies, participants' age at baseline, number of follow-ups, and interview method differed (Table
1
).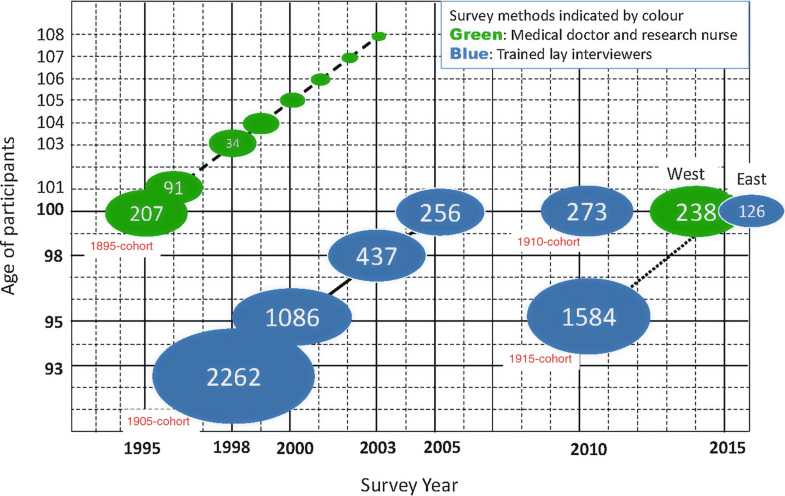 Table 1
Characteristics of the four Danish centenarian cohort studies: 1895, 1905, 1910, and 1915
 

1895 birth cohort

1905 birth cohort

1910 birth cohort

1915 birth cohort

Survey year and time of visit

1995–2004 visited consecutively after turning age eligible

August–October

1998–2000–2003–2005

September–November 2010

September–November 2010–2015

Birth cohort born

April 1, 1895–May 31, 1896

January 1–December 31, 1905

January 1–December 31, 1910

January 1–December 31, 1915

Interviewer mode (first visit)

Geriatrician + geriatric nurse

Trained lay interviewers

Trained lay interviewers

Trained lay interviewers

Geographical area first visit

Denmark

Denmark

Denmark

Denmark

Age (y) at first visit

100

92–93

99–100

94–95

Geographical area at follow-up

Denmark

Denmark

Denmark

Jutland and Funen (West)

Zealand (East)

Age (y) at follow-up

101.5, 103, 104, 105, 106, 107, 108

94–95, 97–98, 99–100

n.a.

100

99–100

Interviewer mode

Geriatrician + nurse

Trained lay interviewers

Trained lay interviewers

Trained lay interviewers

Geriatrician + nurse

Eligible at age 100 (N)

276

439

428

303

195

Participation at age 100 n (%)

207 (75%)

256 (58%)

273 (64%)

238 (79%)

126 (65%)

Male participation (age 100)

22%

16%

22%

18%

16%

Proxy interviews at age 100

15%

26%

28%

22%

19%
The 1895 birth cohort was first surveyed at age 100 (baseline) and followed almost yearly until the cohort was extinct. The 1905 birth cohort had its baseline interview at age 92–93 years, and surviving cohort members were interviewed at follow-ups at ages 95–96, 97–98, and 99–100. The 1910 birth cohort had only a baseline interview at age 99–100. The 1915 birth cohort was surveyed for the first time at age 95–96. At follow-up at age 99–100, the participants of the 1915 cohort were split into two parts based on which geographical region they lived in: west or east of The Great Belt (1915 West and 1915 East).
In the 1895 cohort (baseline and all follow-ups) and the 1915 West cohort (follow-up), interviews and assessments were carried out by a geriatrician and a geriatric nurse, and all participants were visited within 3 months after their 100th birthday. In the 1905 cohort, the 1910 cohort, the baseline survey of the 1915 cohort and the follow-up of the 1915 East cohort, interviews and assessments were carried out by trained lay interviewers from the Danish Institute of Social Research, who visited the participants in a predefined survey period of about 3 months.
Proxy interviews were used when a participant was considered unable to participate. All participants were visited in their homes, including nursing homes, and informed consent was collected at the start of the visit. All surveys were approved by the Scientific Ethical Review Board and the Danish Data Protection Agency.
What Has Been Measured?
All four cohort studies included similar questions regarding sociodemographic factors, lifestyle, and activities of daily living (ADL scales by Avlund et al. (
1993
) and Katz et al. (
1963
)), as well as questions regarding a list of specified common diseases in old age and medication (see Table
2
). Cognition was assessed by the Mini-Mental State Examination (MMSE) (Folstein et al.
1975
).
Table 2
Questionnaire items and assessments in the Danish centenarian cohorts born 1895, 1905, 1910, and 1915
 

Items and assessments

1895

1905

1910

1915 age 94–95 and 1915 East

1915 West

Socio-demography

Education

+

+

+

+

+

Previous work

+

+

+

+

+

Lifestyle

Alcohol and tobacco

+

+

+

+

+

Physical function

Activities of daily living

+

+

+

+

+

Health

Self-reported health

+

+

+

+

+

Clinical examination

+

−

−

−

−

Medication

+

+

+

+

+

Cognition

MMSE

+

+

+

+

+

Composite scorea

−

+

+

+

+

Clinical Dementia Ratingb

+

−

−

−

−

Depression

Camdex

−

+

+

+

+

Physical tests

Gait speed

−

+

+

+

−

Grip strength

−

+

+

+

+

Chair stand

−

+

+

+

+

Other physical testsc

+

+

−

−

−

Lung function

Peak flow/spirometry

−

+

+

+

+

Cardiovascular

Blood pressure

+

−

−

−

+

Ankle brachial index

+

−

−

−

+

Electrocardiogram

+

−

−

−

+

Echocardiography

−

−

−

−

+

Orthostatic bl. press.

−

−

−

−

+

Pulse measure

+

+

+

+

−

Thyroid

Ultrasonographyd

+

−

−

−

−

Biological sample

Venous blood sample

+

+/−e

−

−

+

DNA: blood spot/cheek swab

−

+

+

+/−

−
But there were also differences. With the exception of the 1895 cohort study, the three other cohort studies included additional five cognitive tests (McGue and Christensen 2002) and questions regarding symptoms of depression (Cambridge Mental Disorders of the Elderly Examination (CAMDEX) (McGue and Christensen 1997; Roth et al. 1986)). Also, measurements of peak flow, chair stand, grip strength, and gait speed were carried out (Christensen et al. 2013). For details, see Table 2.
In the 1895 cohort, both an instrumental ADL scale (Lawton and Brody 1969) and a short physical performance test were also carried out. Furthermore, a dementia diagnosis and rating of dementia severity was carried out using clinical information and Clinical Dementia Rating (Hughes et al. 1982).
Being carried out by clinicians, the 1895 and the 1915 West birth cohorts were invited to undergo various clinical examinations: electrocardiogram, blood pressure measurements at the arm and the ankle, and lung function tests. In the 1895 birth cohort, a medical and a neurological examination was added, while an echocardiography was carried out in the 1915 West birth cohort.
Biological material was collected either by venepuncture (1895 and 1915 West birth cohort; subsamples of the 1905 birth cohort) or by dried blood spots on filter cards (1905, 1910, and 1915 birth cohorts (only at baseline)). Cheek swaps were used to collect DNA as an alternative to finger pricking for dried blood spots.
Major Findings
The cohort studies aimed at assessing health and physical and cognitive abilities of nonagenarians and centenarians with a focus on trajectories of health within and between cohorts. Until 2019 the cohorts have been the basis for more than 110 scientific publications. Among the key findings of these studies are:
Future Plans
Work in progress includes comparison of cohorts using the same interview methodology, i.e., cohort differences in health and physical and cognitive functions between 1905, 1910, and 1915 East birth cohorts and further comparative analyses between the 1895 and the 1915 West birth cohorts regarding health and cognitive functions.
Summary
The Danish centenarian studies include four population-based nationwide Danish birth cohorts: the 1895, 1905, 1910, and the 1915 East and West birth cohorts (Rasmussen et al. 2017a). They were launched to assess health, including physical and cognitive abilities, in nonagenarians and centenarians longitudinally and over cohorts. There were no exclusion criteria and participation rates varied between 58% and 79%. All studies included a comprehensive interview, cognitive and physical testing, and collection of biological material. In the 1895 cohort and 1915 West cohort, a clinical examination was included. Moreover, complete follow-up was achieved through national health and mortality registers. The main results show that at age 100, individuals have many diseases and chronic conditions, and a large proportion are dependent in activities of daily living and suffers from cognitive dysfunction. Yet, they may at earlier ages have benefited from better health compared to their cohort peers. Also, cohort comparisons show improvement in activities of daily living in the most recent cohorts, thus supporting the notion that improved survival is a result of better health assessed by physical functioning.
Notes
Acknowledgments
We thank Signe Høi Rasmussen, MD, PhD, and Mikael Thinggaard, MSc, PhD, for their substantial contribution to the Danish centenarian cohort studies. Danish National Research Foundation; U.S. National Institute on Aging – National Institutes of Health [Grant PO1-AG08761]; Danish Health Insurance Foundation [Grant 2006B139]; Danish Agency for Science, Technology and Innovation; Danish Interdisciplinary Research Council; The Danish Council for Independent Research – Medical Science [Grant 09–070081]; the Novo Nordisk Foundation; the Faculty of Health Sciences, University of Southern Denmark; the Clinical Institute of Research, University of Southern Denmark; the Agnes and Knut Mørk Foundation; The Health Foundation (Helsefonden) [Grant nr.16-B-0271]. The Danish Aging Research Center is supported by a grant from the VELUX FOUNDATION.
Copyright information
© Springer Nature Switzerland AG 2019
Section editors and affiliations