G-Protein-Coupled Receptor Kinase 1 (GRK1)
Reference work entry
DOI:
https://doi.org/
10.1007/978-3-319-67199-4_589
Historical Background
The activity of G-protein-coupled receptor kinase 1 (GRK1) was first observed in the light-dependent phosphorylation of rhodopsin in rod outer segment (ROS). As GRK1 was unstable during biochemical manipulations, isolating it in sufficient quantity and quality was proven to be difficult over a period of 30 years (Maeda et al. 2003). The GRK1 gene was cloned in the early 1990s (Lorenz et al. 1991), and many findings regarding its roles in phototransduction recovery, light and dark adaptation, and stationary night blindness of human Oguchi disease took place in the following decade (Chen et al. 1999; Lyubarsky et al. 2000; Khani et al. 1998; Cideciyan et al. 1998). GRK1 is posttranslationally modified by isoprenylation and phosphorylation, and its catalytic activity can be regulated by other proteins such as recoverin (Chen et al. 1995) and protein kinase A (Horner et al. 2005). It is now firmly established that GRK1 is essential for deactivation of activated visual pigments in rod and cone photoresponses. GRK1 crystal structure has recently become available (Singh et al. 2008). The most recent discoveries and unsolved questions on GRK1 are summarized here.
Introduction
G-protein-coupled receptors (GPCR) with heptahelical transmembrane domains are the largest group of integral proteins enabling a cell to sense its outside environment by coupling to heterotrimeric G-proteins. A wide range of physiological processes such as senses, hormonal actions, and neurotransmission employ GPCRs. The deactivation of GPCR signaling requires phosphorylation of C-terminal Serine and/or Threonine residues and this is catalyzed by G-protein-coupled receptor kinases (GRKs). Following GPCR phosphorylation, the interaction with G-protein is weakened and the affinity for arrestin is heightened. The binding of arrestin to phosphorylated receptors prevents coupling to G-proteins. In many cells, arrestin binding initiates receptor endocytosis to prolong and enhance desensitization (Dorn
2009
). Keeping GPCR activity at bay by this simple but elegant deactivation mechanism is important, as loss-of-function mutations in GRKs have led to a variety of pathologic conditions. There are seven members in the GRK family that can be further subdivided into three groups: GRK1-like, GRK2-like, and GRK4-like. GRK1-like group consists of GRK1 and GRK7, which are expressed specifically in retinal photoreceptors. GRK2-like group contains GRK2 and GRK3, which are ubiquitously expressed. GRK4-like group is comprised of GRK4, GRK5, and GRK6. GRK4 expression is restricted to kidney, cerebellum, and testis, while GRK5 and GRK6 are expressed ubiquitously. All GRKs share a central kinase domain of approximately 270 amino acids, typical to that of other Ser/Thr kinases. The N-terminus of GRKs contains an RGS homology (RH) domain, which is found in regulators of G-protein signaling (RGS) proteins (Ribas et al.
2007
; Dorn
2009
). The RH domain of GRK1 and GRK2 has ~20–25% homology to that of the R7 subgroup of RGS proteins (data not shown). The physiological function of GRK1 RH domain remains unclear. The C-terminal regions of GRKs are most dissimilar with varying sizes and different protein motifs that contribute to the diversity of GRKs. GRK2 is critical in cardiac physiology, as its inactivation leads to cardiac abnormality and embryonic lethality in mice (Dorn
2009
). GRK1 and GRK2 are the most extensively studied GRK members. GRK1 is required for visual pigment deactivation in rod and cone (Chen et al.
1999
; Lyubarsky et al.
2000
). Because of its unique expression pattern in retinal photoreceptors, knowledge stemming from studying GRK1 (Fig.
1
) has contributed much to our understanding of GRK function in general.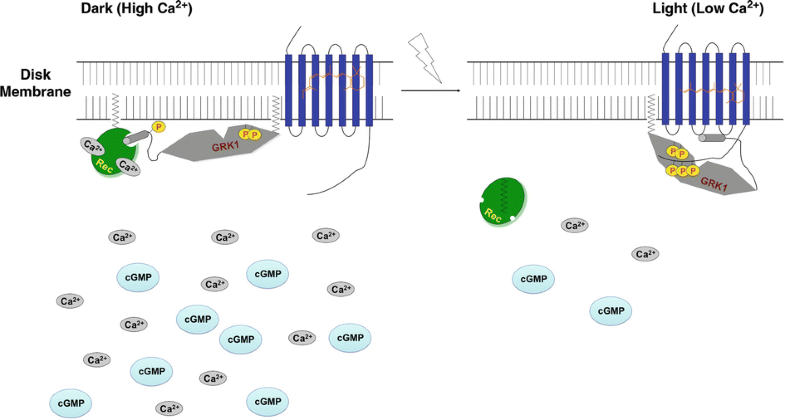 In retinal rod, the phototransduction cascade is initiated when 11-cis-retinal, covalently linked to a Lysine residue in rhodopsin, is photoisomerized to all-trans-retinal. This induces a series of conformational changes in rhodopsin, leading to an active conformation called Metarhodopsin II (R*), which is capable of catalyzing the exchange of GTP for GDP on the a subunit of heterotrimeric G-protein transducin (Gat). The GTP-bound transducin a subunit (Gat-GTP) activates phosphodiesterase 6 (Pde6) and results in rapid reduction of cGMP level and the closure of cGMP-gated (CNG) channels located on ROS plasma membranes. The reduction of cation influx leads to membrane hyperpolarization and a transient cessation of glutamate release at synaptic terminal. To reset a rod to detect additional photons, all active molecules during phototransduction, including R*, must be deactivated in a timely fashion. For R*, this is mediated by a two-step process, the first of which is phosphorylation of up to six Ser/Thr residues at the C-terminal tail by GRK1. Phosphorylated-R* is then recognized and bound by arrestin, preventing further receptor/G-protein coupling and allowing R* to decay (Chen 2005). More than a decade ago, a close relative of GRK1, called GRK7, was cloned from mammalian species (Weiss et al. 1998) and was subsequently suggested to be a cone opsin kinase. While GRK1 is expressed in both rod and cone, GRK7 is expressed only in cone and not in rod for human (Chen et al. 2001; Weiss et al. 2001). In species such as pigs and dogs, their cones only express GRK7. In rodents, GRK7 is absent and both rods and cones rely on GRK1 for receptor deactivation. Studying the differences between GRK1 and GRK7 has provided insights into the structure/function relationship of GRKs and the pathological mechanism of human Oguchi disease.
Role of GRK1 in Phototransduction, Oguchi Disease, and Light-Dependent Degeneration
Photoreceptors without GRK1 need longer time to dark adapt. In GRK1−/− photoreceptors, receptor deactivation is so slow that it becomes the slowest step that dominates the overall recovery phase of rod and cone phototransduction (Chen et al. 1999; Lyubarsky et al. 2000). Inactivating one copy of GRK1 also causes a noticeable delay in rod recovery, suggesting that GRK1 level may be critical in setting the duration of rod's photoresponses. However, while loss-of-function approach demonstrates the importance of GRK1 in rod recovery, it lacks the power to reveal whether R* phosphorylation dominate the recovery time course under normal conditions. Using a gain-of-function approach, Krispel et al. generated several transgenic mouse lines with varying levels (up to fourfold) of GRK1 and found in them that rods showed no statistically significant acceleration of recovery. Using a similar approach where the ternary GTPase accelerating protein (GAP) complex of R9AP/Gß5-L/RGS9-1 is overexpressed, the recovery can be dramatically sped up. Together, this indicates that transducin deactivation is the overall rate-determining step in normal rod (Krispel et al. 2006). With transducin turn-off identified as the slowest step, is rhodopsin deactivation mediated by GRK1 the second slowest step in recovery? One strategy to identify the second rate-limiting step is to sufficiently speed up transducin GTP-hydrolysis until the second step becomes the slowest step. Another strategy is to use rods with much less GRK1 (Chen et al. 2010), whereas rod recovery was found to be faster than GRK1−/− but slower than that in normal rods. Under such condition the presence of background light was found to speed up rod recovery. Interestingly, the effect of background light depends on recoverin, a calcium-dependent GRK1 regulator (see below).
Photoreceptor degenerates in the presence of light delivered at high intensity or for a prolonged period (Hao et al. 2002). Genetic manipulation in mouse in recent years has identified several proteins that protect photoreceptors from light damage and GRK1 is one of them (Chen et al. 1999). Photoreceptor lacking arrestin also degenerates under intense light exposure. In double knockout (GRK1−/−/Arrestin−/−) mice, photoreceptors become extremely sensitive to light damage, which can occur as short as 1 min of light exposure (Choi et al. 2001; Hao et al. 2002; Krishnan et al. 2008). The susceptibility to light damage in GRK1−/−, Arrestin−/−, and double knockout photoreceptors presumably arises from the prolonged activation of rhodopsin. The degeneration in these animal models has been shown to activate both transducin-dependent and transducin-independent pathways to cause cell death (Hao et al. 2002; Fan et al. 2010). In the presence of bright light, photoreceptor without transducin still degenerates in a pathway that signals through activated rhodopsin. In contrast, the degeneration seen in GRK1−/− and Arrestin−/− photoreceptors under dim light condition is mediated by constant transducin activation. By mating these animals with GNAT1−/−, the degeneration under dim light can be prevented (Hao et al. 2002). These evidences showcase the protective properties of GRK1 and arrestin in rods against light damage by timely rhodopsin deactivation.
Since the loss of GRK1 leads to prolonged rhodopsin lifetime and cell death, can increasing GRK1 protect photoreceptor against degeneration? In a recent study by Whitcomb et al., BAC transgenic technique was used to overexpress GRK1 in rod photoreceptor to approximately threefold (GRK1+). Correspondingly, rhodopsin phosphorylation is also increased in GRK1+ rods. Retinal morphology in GRK1+ animals is similar to WT under regular illumination. However, when the animals are exposed to intense light (10,000 lux) for 12 h, GRK1+ photoreceptors display faster degeneration (Whitcomb et al. 2010). These data are contrary to what one may expect because GRK1 overexpression does not provide protection against light-induced degeneration, instead, hyperphosphorylation of rhodopsin may accelerate an unknown signaling event that leads to cell death. GRK1 concentration apparently needs to be maintained optimally within photoreceptors as an increase or loss of GRK1 can accelerate light-induced photoreceptor degeneration. While retinal degeneration has been described in many mouse strains in which they become useful models of human macular degeneration and retinitis pigmentosa, the cellular mechanisms that trigger apoptosis have been less understood. Future studies are needed to determine the signaling pathway(s) leading from rhodopsin light absorption to photoreceptor cell death to shed light into these dark and debilitating human conditions.
It is evident from animal studies that the loss of GRK1 results in severe defects in photoreceptors. Similarly, mutations in GRK1 and arrestin genes have been found in human patients with Oguichi disease, a rare form of stationary night blindness (Yamamoto et al.
1997
). Color vision in Oguchi patients is typically normal, which indicates that cone function is unaffected. ERG analyses of Oguchi patients demonstrate severe delay in scotopic recovery and elevated rod thresholds, while their photopic responses are by and largely unaffected (Carr and Gouras
1965
; Cideciyan et al.
1998
; Zhang et al.
2005
). Various GRK1 mutations have been identified and are listed in Table
1
. Ectopically expressing GRK1 with Oguchi mutations (V380D, Ser536 (4-bp del), and exon 5 deletion) in COS7 cells has demonstrated a reduced ability to phosphorylate R* (Cideciyan et al.
1998
; Khani et al.
1998
). However, these mutations may also destabilize GRK1 in photoreceptors and this remains to be tested. As losing kinase activity or protein expression lead to defective rhodopsin phosphorylation and a prolonged dark adaptation time in Oguchi disease patients, one interesting discrepancy is worth noting here. Mouse without GRK1 has severe recovery defects in both cone and rod, while cones of most Oguchi disease patients appear spared. This is because of the expression of GRK7 (Maeda et al.
2003
) in human cones. It is also interesting to note that cone ERG responses are diminished in patients with P391H GRK1 mutation, suggesting that this particular mutation may have a dominant effect in these cones affecting both GRK1 and GRK7 (Hayashi et al.
2007
). The possibility that the photoreceptors with P391H mutation suffer some degree of degeneration leading to the cone defect remains, as shown in GRK1
−/−
mouse photoreceptors. The clinical presentation of Oguchi patients seems indistinguishable across the different mutations, although the molecular consequences of these mutations to GRK1 may be different.
G-Protein-Coupled Receptor Kinase 1 (GRK1), Table 1
GRK1 mutations in Oguchi disease reported to date
Patient

Mutation

Protein

Cone/rod function

Gender/age

Family history

References

#303-301

Exon 5 deletion

Frameshift mutation: premature stop codon

Normal/delay

Male

Jewish ancestor Hungary/Ukraine

Yamamoto et al. (1997)

#303-302 (Case 3: NIH#03-37-33)

V380D, Ser536(4 bp-del)

Compound heterozygous (negative charge in catalytic domain/loss of last 22 residues involving isoprenylation)

Normal/delay

Female, 16

Hungary, sister with #303-304

Carr and Gouras (1965), Yamamoto et al. (1997), Khani et al. (1998)

#303-303 (Case 1: NIH#05-49-42)

Exon 5 deletion

Frameshift mutation: premature stop codon

Normal/delay

Female, 36

Jewish ancestor Hungary/Ukraine

#303-304

V380D, Ser536(4 bp-del)

Compound heterozygous (negative charge in catalytic domain/loss of last 22 residues involving isoprenylation)

Normal/delay

Female, 13

Hungary, sister with #303-302

Carr and Gouras (1965), Yamamoto et al. (1997), Khani et al. (1998)

 

Exon 5 deletion

Frameshift mutation: premature stop codon

Normal/delay

Male, 6

Ashkenazi Jewish

Cideciyan et al. (1998)

Family 61029 (#11)

c.827 + 623_883del

Partial exon 3 deletion (1.1 kb)

Normal/delay

Male, 19

Pakistan

Zhang et al. (2005)

Family 61029 (#13)

c.827 + 623_883del

Partial exon 3 deletion (1.1 kb)

Normal/delay

Female, 16

Pakistan

Family 61029 (#15)

c.827 + 623_883del

Partial exon 3 deletion (1.1 kb)

Normal/delay

Female, 13

Pakistan

JU#0008 (III-2)

P391H

Mutation in catalytic domain

Reduced/delay

Male, 35

Japanese

Hayashi et al. (2007)

JU#0008 (III-3)

P391H

Mutation in catalytic domain

Reduced/delay

Female, 31

Japanese

Family RP19

c.614 C > A; p.S205X

Nonsense mutation: premature stop codon

Normal/delay

8 affected individuals, age 3–66

Pakistan

Azam et al. (2009)

Yamamoto, Nobouski

Unknown

Unknown (shorter OS)

Normal/delay

Male, 31

Japanese

Hashimoto and Kishi (2009)
Structure/Function of GRK1
Crystal structures of GRK1 have been solved to provide structure and function insights (Singh et al. 2008). Recent studies have further revealed the molecular interaction between GRK1 and recoverin, its calcium-dependent regulator. The NMR structure of the first 25 amino acid of GRK1 (RK25) in complex with Ca+2-bound recoverin is solved. Residues 4–16 of RK25 form an amphipathic α-helix, where the hydrophobic surface interacts with a conserved groove lined with hydrophobic residues in recoverin. This N-terminal groove of recoverin, comprised of nine hydrophobic residues conserved across other neuronal calcium sensors, is implicated in target recognition (Ames et al. 2006). This N-terminal groove is exposed through the Ca2+-myristoyl switch to allow recoverin binding to GRK1. The residues in GRK1 responsible for binding recoverin are V9, V10, A11, A14, and F15, which form a network of hydrophobic interactions to confer a Kd of 1.4 μM with recoverin. In addition, the N-terminal residues of GRK1 are required for rhodopsin binding (Higgins et al. 2006). Taken together, the binding of recoverin to GRK1 at the N-terminal domain prevents GRK1 from association to rhodopsin when Ca2+ level is high. As the calcium level drops in photoreceptors upon illumination, the myristoyl group on recoverin is sequestered within the hydrophobic groove, resulting in dissociation of recoverin from GRK1 and allowing GRK1–rhodopsin interaction.
Several crystal structures of a truncated GRK1 were reported in various distinct conformations to demonstrate the key elements important for activity and interaction with R* (Singh et al. 2008). The kinase domain is similar to a typical Ser/Thr kinase (AGC Kinase), which contains a large (residues 181–268) and small (residues 269–454) kinase lobe and a C-terminal kinase extension. The active site is formed within a cleft between the large and small kinase lobe and complex with two Mg2+ and the nucleotide, ATP or ADP. At the active site, the surface of the large lobe is lined with basic residues to bind with rhodopsin's C-terminal peptides. The small lobe contains the phosphate-binding loop (P-loop) to interact with the triphosphate of ATP. However, the P-loop (Gly-rich B1-B2 turn) in GRK1 is observed to shift away from the nucleotide-binding site when compared to GRK2 and GRK6 and resembles more closely to the structure in Protein Kinase A without any bound nucleotide (Apo-PKA). In the apo-GRK1 structure, the kinase domain adopts a more flexible conformation as compared to nucleotide-bound GRK1. It is hypothesized that the kinase domain adopts a rigid conformation upon nucleotide binding and become fully closed and active upon binding to R* at the second and third cytoplasmic loops.
Residues 455–511 form the C-terminal kinase extension domain in GRK1 and contain three regions: the C-terminal (large) lobe tether (residues 455–471), an active site tether (AST, residues 472–480), and an N-terminal (small) lobe tether (residues 498–511). The N-terminal and C-terminal lobe tethers have been previously described, while AST has not, due to its sequence variability among GRKs and AGC kinases. GRK1's AST can only be observed in the nucleotide-bound structure and becomes disorder in the apo-kinase, similar to the one in PKA. GRK1 AST includes the "tail loop" (Asp472-Tyr477), which packs closely to the active site, and is predicted to participate in substrate stabilization. The AST is connected to the N-terminal lobe tether through residues 481–489, which contains the autophosphorylation sites (Ser488/Thr489). The phosphorylation status of the two residues is unclear in the structure, although they are phosphorylated in mass spectrometric analysis in the presence of ATP (Singh et al. 2008). It is speculated that the autophosphorylation may participate in electrostatic interaction with Arg222 and Lys221 to stabilize the kinase domain.
The N-terminal structure of the truncated GRK1 is visible in one of the six crystals (form I, PDB 3C4W). The N-terminus (up to residue 32) forms extensive contacts with the RH domain and some with the kinase domain. Two novel phosphorylation sites at Ser5 and Thr8 are identified, but only Ser5 is phosphorylated in native bovine GRK1. Whether phosphorylation of these sites affects GRK1 activity during phototransduction remains to be determined. Interestingly, the N-terminal structure determined by crystallography is different from the RK25 amphipathic helix determined by NMR that complex with Ca2+-recoverin. Recently, a more ordered GRK6 structure revealed the N-terminal region as a helix that interacted with the C-terminal kinase extension (C-tail) to stabilize the large and small kinase lobe and adopt a near-active conformation (Boguth et al. 2009). A set of residues from the small lobe (Arg190), N-terminal helix (Ala8, Asn9, Leu12, and Leu13), and C-tail (Ile472 and Lys475) forms a network of hydrophobic interactions and hydrogen bonds to stabilize the kinase. As these residues are highly conserved in GRK1, it is likely a similar intramolecular network is required for GRK1 to become activated. It is also possible that the amphipathic helix formation of GRK1 requires the presence of recoverin, the GPCR, or other cofactors. Further study is required to resolve the structure and interaction of N-terminus with other regions during GRK1 activation.
The RH domain of GRK1 is made up of nine α-helices that are typical of the RGS domain, with two additional GRK-specific helices. Other than serving as a GAP for transducin, the RH domain may have a role in GRK1 dimerization, but both speculations await experimental confirmation.
Regulations of GRK1 Activity
Several molecules have been identified to regulate GRK1 function in photoreceptors. As demonstrated through biochemical and structural analysis, recoverin interacts with GRK1 and negatively regulates GRK1 in a light-dependent manner (Fig. 1). In the dark, high level of cGMP opens the CNG channel on the plasma membrane and maintains a high Ca2+ concentration in the OS. The high Ca2+ level induces exposure of the myristoyl group of recoverin and allows it to translocate to OS. At the disk membrane, recoverin inhibits GRK1 activity through interactions of the N-terminal domains. As light stimulation leads to a drop in calcium concentration, the myristoyl group of recoverin becomes embedded within the protein and recoverin loses its ability to associate with the membrane and perhaps diffuses out of OS (Strissel et al. 2005). Without calcium, the inhibition of GRK1 is relieved to allow R* phosphorylation. While studies have shown that recoverin myristoylation is not required for its inhibition on GRK1, it does enhance the cooperative effect of recoverin on GRK1 (Chen et al. 1995). In mouse photoreceptors lacking recoverin, the recovery is faster compared to wild-type rods (Makino et al. 2004). To further test whether recoverin influences R* lifetime through regulating GRK1, Chen et al. underexpressed GRK1 to make rhodopsin deactivation the slowest step in rod recovery. Under such a condition, the presence of background light accelerates rod recovery but this effect disappears when recoverin is removed from photoreceptors. In the absence of recoverin, the inhibitory control on GRK1 is removed and rhodopsin phosphorylation occurs faster (Chen et al. 2010). Thus recoverin is indeed a negative regulator of GRK1 in photoreceptors.
In addition to recoverin regulation, PKA has also been found to phosphorylate and negatively regulate GRK1 (Horner et al. 2005). In vitro, GRK1 is phosphorylated at Ser21 when incubated with the catalytic subunit of PKA or PKA-holoenzyme stimulated with cAMP. Furthermore, urea-stripped ROS incubated with GRK1 and PKA has a 50% decrease in rhodopsin phosphorylation. The importance of Ser21 phosphorylation is seen with the phospho-mimetic mutation (S21E) of GRK1, which has decreased activity toward rhodopsin. In contrast, S21A GRK1 is resistant to PKA inhibition and constitutively phosphorylates rhodopsin. These evidences suggest a role of PKA in phosphorylating and regulating GRK1 in photoreceptor. Under high Ca2+ influx in the dark, calmodulin is activated and stimulates cAMP synthesis in photoreceptor. High cAMP level activates PKA to stimulate its phosphorylation on GRK1 at Ser21. Since the N-terminal residues of GRK1 are important in rhodopsin interaction, the phosphorylation at Ser21 introduces a charge residue and obstructs receptor-kinase recognition. Future studies are required to test PKA's action on GRK1 activity in vivo and its modulation on phototransduction.
One of the posttranslational modifications on GRK1 is isoprenylation, which is the covalent attachment of an isoprenoid group to a C-terminal cysteine residue. The modification allows the protein to associate with and function at the membrane. Isoprenylation occurs at the CaaX box motif (C, cysteine; a, any aliphatic residue; X, the residue that determines the type of isoprenoid group attached) (McTaggart 2006). The very C-terminus of GRK1 contains a CaaX box motif (C558VLS) to promote isoprenylation (Inglese et al. 1992). The last three residues are proteolytic removed and a farnesyl group (15 carbon unit) is covalently linked to cysteine through a thioester bond. A methyl group is then added to complete the reaction events. In COS7 cells, GRK1 isoprenylation is abolished by the C558S mutation, and the protein loses its ability to associate with the plasma membrane. In addition, GRK1 without isoprenylation has reduced (~25%) R* phosphorylation activity, indicating that GRK1 isoprenylation is needed for full activity by anchoring the kinase to the disk membrane. It is unclear whether GRK1 isoprenylation and membrane association affects the intrinsic kinase activity, which can be examined by measuring the degree of autophosphorylation of the C558S GRK1 mutant. By changing the terminal serine to leucine at position 561 (Ser561Leu), the farnesylation of GRK1 can be changed to geranylgeranylation (20 carbon unit). When incubating geranylgeranylated GRK1 with urea-stripped ROS extract, the kinase is found to constitutively anchor to the disk membrane independent of light condition, whereas farnesylated GRK1 only localizes to membrane in the presence of light. Activated rhodopsin may serve as a docking site for farnesylated GRK1 to associate to the disk membrane, whereas geranylgeranylated GRK1 is self-sufficient to anchor to the membrane.
Similar to other kinases, GRK1 is found to be autophosphorylated at two residues, Ser488 and Thr489, at the C-terminus. Over the years, experiments studying GRK1 have used the autophosphorylation status as a method to assess the intrinsic kinase activity and compare it to the kinase's capability to phosphorylate R* (Horner et al. 2005; Higgins et al. 2006). To test the effect of autophosphorylation on GRK1, a synthetic peptide that corresponds to the autophosphorylation region is incubated with purified GRK1. The peptide did not affect GRK1's ability to phosphorylate rhodopsin as the kinase has low activity toward it. This suggests that the autophosphorylation domain in GRK1 does not serve as an autoinhibitory domain, which makes GRK1 unique among the protein kinases. Unphosphorylated GRK1 (Ser488 and Thr489 to alanines) have been shown to preferentially phosphorylate Ser338 on R*, whereas regular GRK1 phosphorylates Ser338 and Ser343. It is speculated that autophosphorylation influences the affinity and enhances the dissociation of GRK1 from phosphorylated rhodopsin to allow arrestin binding, but its exact physiological role remains to be elucidated.
Summary
As the kinase responsible for light-dependent rhodopsin phosphorylation, GRK1 is essential for timely R* deactivation during phototransduction recovery. The regulation of GRK1 through posttranslational modification (phosphorylation and isoprenylation) and other signaling molecules (PKA and recoverin) are important as slowing it down can change the rate-limiting step in rod recovery. Understanding the structure–function relationship of GRK1 is not complete and requires the crystal structure of a full length and active kinase preparation. As already demonstrated in several studies, changes in GRK1 level can have significant consequences in phototransduction recovery and may lead to sensitivity to light damage. More studies are needed to reveal the signaling events leading to photoreceptor degeneration in the absence of GRK1 and additional roles GRK1 may play in photoreceptors.
Copyright information
© Springer International Publishing AG 2018