NK Receptor
Reference work entry
DOI:
https://doi.org/
10.1007/978-3-319-67199-4_421
Historical Background
Natural Killer (NK) cells are a major component of the innate immune system, providing surveillance against infected or transformed cells without the requirement of prior host sensitization. NK cells were first discovered by their cytotoxic potency against tumor cells (Kiessling et al. 1975), and their importance was demonstrated early on in herpes viral infections, usually mild or localized, which become severe and life-threatening in NK-deficient patients. NK cell effector functions are governed by the balance of potentially opposing signals from a diverse array of both activating and inhibitory receptors on the cell surface that are not rearranged from germ-line receptor segments, unlike B and T cell receptors (BCRs, TCRs) on lymphocytes. While NK cells are now well characterized in terms of their origin, differentiation, and receptor repertoire, advances are still being made in NK cell receptor modulation, ligand recognition, and signaling and activation mechanisms which greatly enrich our understanding of NK cell biology: an important component of a complex immune system that remains incompletely understood.
Function and Signaling
Because of their potent cytolytic activity, the function of NK cells needs to be tightly regulated to limit potential autoreactivity. Molecular events driving activation occur at the NK immune synapse (NKIS), the surface of contact between NK and potential target cells. The NKIS comprises an array of molecular interactions including receptor–ligand pairs, adhesion molecules, signaling adaptors, signaling effectors, membrane lipid rafts, and cytoskeletal molecules (MacFarlane and Campbell 2006). NK cells kill sensitive target cells by release of cytotoxic granules that contain perforin and granzymes; perforin polymerizes and forms a transmembrane pore that allows the delivery of granzymes and associated molecules into the cytosol where they initiate various apoptotic death pathways. NK cells express a variety of receptors that serve either to activate or to suppress their cytolytic activity (Lanier 2005). NK cell surface receptors are commonly divided into activating and inhibitory receptors, but they can also be structurally classified into C-type lectin-like receptors and immunoglobulin (Ig)-type receptors.
The functional response of an NK cell is the result of the integration of signals transduced by the set of activating and inhibitory receptors engaged upon target cell interrogation (Bryceson and Long
2008
). The majority of known activating receptors transduce signals through their association with one or two of four transmembrane-spanning accessory proteins: the DNAX-activating proteins with molecular weights of 10 kDa (DAP10) or 12 kDa (DAP12),
CD3ζ
, or the Fcε-receptor γ-chain (FcεRIγ; Table
1
). All four accessory adaptor proteins exist as disulfide-linked homodimers, but CD3ζ and FcεRIγ can also form disulfide-linked heterodimers. Electrostatic interactions link activating receptors and accessory adaptor molecules through either an arginine or lysine residue in the receptor or an aspartic or glutamic acid residue on the accessory protein. The cytoplasmic domains of DAP12, CD3ζ, and FcεRIγ all contain one or more immunoreceptor tyrosine-based activation motifs (ITAMs) containing a sequence signature: YxxL/I (x denotes any amino acid). Two of these motifs are typically separated by six to eight amino acids in the tail of the molecule [YxxL/Ix(6–8)YxxL/I]. Receptor–ligand binding leads to phosphorylation of tyrosine residues within these motifs by membrane proximal Src kinase family molecules. This in turn leads to recruitment of protein tyrosine kinases (PTKs) of the spleen tyrosine kinase (Syk) family, such as Syk and ζ-associated protein of 70 kDa (
ZAP-70
). Subsequent downstream signaling pathways can involve phosphatidylinositol 3 kinase (
PI3K
), Vav, phospholipase Cγ (PLCγ), protein kinase C (PKC), and extracellular signal-regulated kinase (ERK). PLCγ activation leads to intracellular calcium flux. Activation of PLCγ, PKC, Vav, and PI3K, as well as elevation of cytosolic calcium concentrations is an important event for initiation of the cytolytic functions by NK cells. Activation of ERK is important for granule-mediated cytotoxicity and
IFN-γ
production.
NK Receptor, Table 1
Ectodomain structure, ligand information and endodomain signaling motifs are catalogued for a series of NKRs
| Activating | Structure | Ligand | Signaling |
| --- | --- | --- | --- |
| NKG2D | C-type lectin homodimer | MICA/B, ULBP1-6 | DAP10 |
| NKG2C/E-CD94 | C-type lectin heterodimer | HLA-E | DAP12 |
| CD16 | Ig monomer | IgG | FcεRIγ, CD3ζ |
| NKp46 (NCR1) | Ig monomer | Influenza hemagglutinin | FcεRIγ, CD3ζ |
| NKp44 (NCR2) | Ig monomer | Influenza hemagglutinin | DAP12 |
| NKp30 (NCR3) | Ig monomer | B7H6, BAT3, viral pp65 | FcεRIγ, CD3ζ |
| KIR2DS1 | Ig monomer | HLA-Cw2,4,5,6 (C2 epitope) | DAP12 |
| KIR2DS4 | Ig monomer | HLA-A, C | DAP12 |
| KIR3DS1 | Ig monomer | HLA-Bw4? | DAP12 |
| KIR2DL4 | Ig monomer | HLA-G? | FcεRIγ, 1 ITIM |
| 2B4 | Ig monomer | CD48 | ITSM, SAP |
| NTB-A | Ig monomer | NTB-A | ITSM, SAP |
| CRACC | Ig monomer | CRACC | ITSM, SAP |
| DNAM-1 | Ig monomer | CD112, CD155 | Protein kinase C |
| NKp80 | C-type lectin homodimer | AICL | Undefined |
| Inhibitory | Structure | Ligand | Signaling |
| NKG2A/B-CD94 | C-type lectin heterodimer | HLA-E | 1 ITIM |
| KIR2DL1 | Ig monomer | HLA-Cw2,4,5,6 (C2 epitope) | 2 ITIM |
| KIR2DL2 | Ig monomer | HLA-Cw1,3,7,8 (C1 epitope) | 2 ITIM |
| KIR2DL3 | Ig monomer | HLA-Cw1,3,7,8 (C1 epitope) | 2 ITIM |
| KIR3DL1 | Ig monomer | HLA-A, B (Bw4 epitope) | 2 ITIM |
| KIR3DL2 | Ig homodimer | HLA-A3, A11 | 2 ITIM |
| LIR1 (ILT2) | Ig monomer | HLA class I, HLA-G, UL18 | 4 ITIM |
| LIR2 (ILT4) | Ig monomer | HLA-G | 3 ITIM |
| NKR-P1A | C-type lectin homodimer | LLT1 | 1 ITIM |
| LAIR1(CD305) | Ig monomer | Collagen | 2 ITIM |
| CEACAM1 | Ig monomer | CEACAM1, CEA | 2 ITIM |
| SIGLEC7 | Ig monomer | α2,8 disialic acid | 1 ITIM |
| SIGLEC9 | Ig monomer | α(2,3)- & α(2,6)-disialic acid | 1 ITIM + 1 ITSM |
| IRp60 | Ig monomer | Undefined | 4 ITIM |
Alternatively, the cytoplasmic signaling domain of DAP10 contains a YINM motif, which may lead to the association of DAP10 with PI3K or the adaptor molecule Grb2, as opposed to Syk or ZAP70. Significant differences have emerged that distinguish DAP10-mediated activation signals from those downstream of ITAMs (Billadeau et al. 2003). This may lead to divergent effector functions: DAP10 can stimulate cytotoxicity, but not IFN-γ production by NK cells, whereas DAP12 can trigger both responses. Multiplicity of activating signals results in complex functional cross talk, leading to the integration of different receptor–ligand interactions directing NK-mediated cell killing.
NK cells are also activated in response to interferons or macrophage-derived cytokines, including IL-2, IL-12, and IL-15. Activated NK cells in turn release cytokines such as TNF-α and IFN-γ, which can promote cellular resistance to infection and influence adaptive immunity resulting in infection clearance. NK cells also express the Fc receptor (FcR) molecule (CD16), an activating receptor that binds the Fc portion of antibodies. This allows NK cells to target cells against which a humoral response has been mobilized and to lyse cells through antibody-dependent cellular cytotoxicity (ADCC).
Although the extracellular domains of NK cell inhibitory receptors are diverse, the cytoplasmic signaling motifs of these transmembrane receptors are remarkably similar. The cytoplasmic tails of inhibitory receptors have one or more copies of conserved sequence motifs (V/IxYxxL/V) known as immunoreceptor tyrosine-based inhibitory motifs (ITIMs). Binding of ligands to inhibitory receptors activates  Src family kinases that phosphorylate ITIM tyrosine residues, leading to the recruitment of other enzymes, such as SH2 domain-containing protein tyrosine phosphatases SHP-1 and SHP-2, or the inositol phosphatase,  SHIP. These tyrosine phosphatases are able to dephosphorylate protein substrates of tyrosine kinases linked to activating NK cell receptors. Recruitment and activation of SHP-1 by some inhibitory receptors has been functionally implicated in delivery of the dominant inhibitory signal in human NK cells. NK cells tolerate normal, autologous cells by sensing appropriate levels of surface-expressed self-MHC class I molecules that induce an inhibitory signal. Infection or transformation often alters MHC class I cell surface expression, typically as part of a strategy to evade T cell responses, which is then detected by NK cells. This "missing-self" hypothesis was first proposed by Karre and colleagues (Karre et al. 1986) and subsequently demonstrated by Yokoyama and colleagues (Karlhofer et al. 1992). MHC class I–mediated inhibition is therefore crucial to the role played by NK cells.
Specificities and Recognition Mechanisms: Inhibitory Receptors
Major inhibitory NK receptors in humans include inhibitory isoforms of the Killer Immunoglobulin Receptors (KIRs, also CD158), the lectin-like receptor CD94/NKG2A, and the Leukocyte Immunoglobulin-like Receptors (LIRs, also CD85), which all recognize classical or nonclassical MHC class I molecules, and some less well-characterized inhibitory receptors that bind non-MHC class I molecules, such as the lectin-like receptor Natural Killer Receptor P1 (NKR-P1, also KLRB1 or CD161). In mice, the KIRs are replaced with the structurally distinct, C-type lectin-like Ly49 family of NK receptors. Inhibitory receptors that recognize classical and nonclassical MHC class I proteins limit signals through activating receptors. In this way, recognition of normal MHC class I expression dominantly suppresses NK attack of normal cells, whereas a lack of self-MHC class I shifts the balance toward targeted cell killing. Structural and functional studies of inhibitory Ly49 and H-2 complexes provided among the first detailed insights into NK cell recognition (Tormo et al.
1999
). The homodimeric Ly49A receptor binds to H-2D
d
at two distinct sites, one of which involves the α1 and α2 domains of MHC class I, whereas the second interaction site spans the underside of the platform domain (α1 and α2), α3 domain and β
2
-microglobulin (Figs.
1
and
2
). The second site is considerably more extensive than the first site and also overlaps the CD8 binding site on MHC class I molecules. The first binding site is consistent with
trans
interaction between NK and target cells where the second, more extensive contact site is likely a regulatory
cis
interaction between Ly49 and class I molecules on the same NK cell. Both binding sites are distinct from that of the TCR.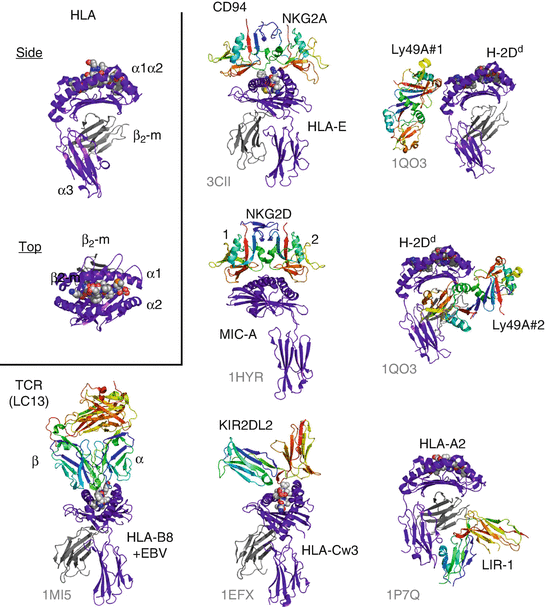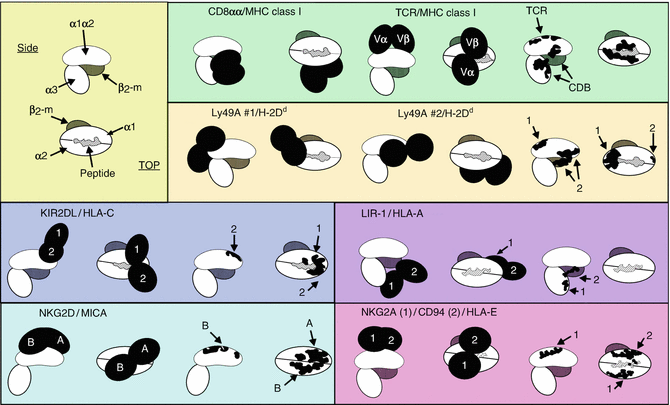 The highly polymorphic KIR family of human NK receptors consists of at least fifteen active genes and two pseudogenes. KIRs are either activating or inhibitory and contain either two or three extracellular Ig-like domains (named D0, D1, and D2). KIR nomenclature is based on the number of extracellular Ig domains (2D versus 3D) and the size of their cytoplasmic tails. Receptors possessing an ITIM-containing long cytoplasmic tail are designated by an L, whereas activating receptors with a short cytoplasmic tail are designated by an S. The cytoplasmic region of activating receptors does not contain an ITIM, but instead contains a positively charged residue that can interact with adaptor molecules such as DAP12. The KIRs are known to show allotypic specificity toward different HLA alleles (Table 1). The best characterized KIR–ligand interactions come from two complex crystal structures of two-domain inhibitory KIRs: KIR2DL2/HLA-Cw3 and KIR2DL1/HLA-Cw4 (Boyington et al. 2000; Fan et al. 2001). KIR2DL1/2 binds to HLA-C with a similar docking orientation as TCRs, with the D1/D2 domains contacting the α1/α2 helices of the MHC peptide–binding cleft and positions P7 and P8 of the bound peptide (Figs. 1 and 2). The KIR2DL1/2/HLA-C interface is dominated by charge complementarity and is mediated by six loops; three loops from D1 contact the α1 helix and bound peptide while one hinge loop and two loops from D2 contact the α2 helix. Allotypic specificity of KIR2D toward HLA-C alleles is determined by a dimorphism at residues 77 and 80 of HLA and a reciprocal dimorphism in KIR2D at position 44. For example, KIR2DL1 (M44) will recognize the C2 epitope (N77/K80) of HLA-C, whereas KIR2DL2 (K44) will recognize the C1 epitope (S77/N80). In the absence of any KIR3D structures, a KIR3DL1/ligand complex model has been proposed, but remains to be confirmed. Analogous to the KIR2D complex structure, the D1/D2 domains contact the α1/α2 helices of HLA and position 8 of the bound peptide. The D0 domain contacts the α1 helix, stabilized by hydrophobic contacts with D1 and D2, consistent with the finding that D0 contributes to avidity. KIR3DL1 is known to recognize HLA-A and -B molecules with the Bw4 epitope (residues 77–83). Several lines of evidence also point to the importance of residue 80 of the Bw4 epitope for KIR interaction.
Besides receptors for classical MHC class I molecules, NK cells can indirectly gauge MHC class I expression on target cells through the NKG2x/CD94 receptor complexes. The NKG2x/CD94 receptors, which include both the inhibitory NKG2A/CD94 and activating NKG2C/CD94 receptors, contain C-type lectin-like ectodomains and recognize HLA-E, a nonclassical MHC class I molecule that presents MHC class I leader peptides. As with the KIR and Ly49 receptors, the inhibitory NKG2A/CD94 receptor binds the ligand with a higher affinity than the activating NKG2C/CD94 receptor. There are few conformational changes in either CD94-NKG2A or HLA-E upon binding, which reflects a typical "lock and key" recognition in innate receptor–ligand interactions (Petrie et al. 2008). A patch of amino acids (residues 167–170) of NKG2A account for the approximately sixfold-higher affinity of the inhibitory NKG2A/CD94 receptor compared to its activating counterpart. These residues do not contact HLA-E or peptide directly but instead form part of the heterodimer interface with CD94. An evolutionary analysis reveals that residues at the CD94 interface have evolved under positive selection, suggesting that the evolution of these genes is driven by an interaction with pathogen-derived ligands. Consistent with this possibility, data show that NKG2C/CD94, but not NKG2A/CD94, weakly but specifically binds to the CMV MHC-homologue UL18 (Kaiser et al. 2008).
NK cells can also be inhibited by members of the LIR (or immunoglobulin-like transcript (ILT)) family. Some members of LIRs (including LIR1-3) are inhibitory receptors with intracellular ITIM motifs, while others (including LIR6-7) are activating receptors associated with adaptor proteins for signaling. LIR-1 and LIR-2 are receptors for a broad range of class I molecules, including nonclassical molecule HLA-G. HLA-G is highly expressed in the trophoblast, and the inhibitory function of LIR-HLA-G interaction has been implicated in immunological tolerance of the fetus. The LIRs show a distinct recognition mode with regard to its class I HLA-A2 or nonclassical MHC HLA-G ligand (Figs. 1 and 2). Both complex structures of HLA-A2 bound to LIR-1 and HLA-G bound to LIR-2 (Willcox et al. 2003; Shiroishi et al. 2006) showed the LIR binds at a site bridging the α3 and β2m domains. The overall orientation of the MHC molecules with regard to LIR receptors resembles somewhat the cis binding site of Ly49A on H-2Dd, though none of the LIR domains are in contact with the underside of the platform domain of the MHC molecules (Figs. 1 and 2). The LIR-1 binding site on HLA-A2 overlaps with the CMV UL18 binding site. Binding sites on LIR-1 and LIR-2 similarly comprise residues at the interdomain hinge and a patch at the tip of domain 1. The overall geometry of the LIR receptor–MHC ligand complex is most consistent with a trans interaction involving recognition of an MHC class I protein on a target cell by a LIR receptor on an opposing NK cell.
Although the binding of an inhibitory receptor to MHC class I represents the major mechanism for inhibition and prevention of NK cell autoreactivity, there are other inhibitory receptors which bind to non-MHC class I ligands. NKR-P1 binds to lectin-like LLT1 molecules in humans. More information on the regulation of NKR-P1 ligands expression is required to determine the functional implications of this receptor–ligand interaction. Leukocyte-associated immunoglobulin-like receptor 1 (LAIR-1) is an inhibitory receptor that binds to collagen and is widely expressed on immune cells. Several members of the sialic acid binding Ig-like lectin (Siglec) family of receptors, which bind sialyl groups with various specificities, carry ITIMs in their cytoplasmic tail. Presumably, Siglec molecules function as inhibitory receptors; yet, the biological significance remains elusive.
Specificities and Recognition Mechanisms: Activating Receptors
Activating receptors include  NKG2D, CD16, natural cytotoxicity receptors (NCRs), activating KIRs, the signaling lymphocyte-activation molecules (SLAM) family of receptors, and DNAX accessory molecule-1 (DNAM-1). One of the best characterized NK-activating receptors is NKG2D (Gonzalez et al. 2006). It is a type II integral membrane protein associated with the adaptor protein DAP10. NKG2D binds several ligands, including MHC class I chain–related A/B (MICA/B) and the UL16-binding proteins, 1-6 (ULBP1-6). Expression of these ligands is upregulated in a variety of epithelially derived tumors and virally infected cells. Currently, the mechanisms that upregulate NKG2D ligand expression on cancer cells are not well understood. While NKG2D provides an important defense mechanism against tumors and viral infection, it can also contribute to autoimmunity. For example, MICA and MICB are dramatically upregulated in rheumatoid arthritis synoviocytes and are capable of activating autoreactive autologous T cells in an NKG2D-dependent manner. MICA/B and ULBP1-6 are class I homologs that are not encoded by genes in the MHC complex and do not function as peptide-binding structures to present antigens to T cells. Multiple crystal structures of the receptor alone and three complexes (human NKG2D/MICA, NKG2D/ULBP3, and murine NKG2D/Rae-1β) show that NKG2D interacts with its MHC class I homologs in a manner very similar to how TCRs interact with classical MHC class I molecules (Strong and McFarland 2004; Figs. 1 and 2). Unlike KIR and Ly49A interactions at the first binding site, the NKG2D binding sites are much less dominated by charge–charge interactions. Both homodimer-related binding sites on NKG2D contribute approximately equally to the interactions in both complexes, reflecting a binding site that has evolved to bind multiple target sites without side-chain rearrangements. The considerable recognition degeneracy of NKG2D, accommodating structurally divergent, polymorphic families of ligands, is enabled not by a conformationally plastic binding site ("induced fit" or "conformer selection"), but rather by a "rigid adaptation" mechanism.
Another NK-activating receptor is the low-affinity receptor for IgG, CD16, which mediates ADCC and signals through adaptors containing cytoplasmic ITAMs. Several receptors, which activate antibody-independent, natural cytotoxicity are also associated with ITAM-containing signaling adaptors (Table 1). These receptors include NKp30, NKp44, and NKp46, which are referred to as NCRs (Biassoni 2009). CD16, NKp30, and NKp46, all use both FcεRIγ and CD3ζ as signaling adaptors. NKp44, on the other hand, partners with DAP12. Both  NKp46 and NKp44 have been reported to bind viral hemagglutinin on infected cells while their cellular ligands have not been identified. NKp46 also contributes to enhanced killing of mitotic cells by NK cells, suggesting a role of NK cells in controlling the expansion of rapidly dividing cells. A recent study identified a tumor cell surface molecule that belongs to the B7 family that triggers NKp30-mediated activation of human NK cells (Brandt et al. 2009). This molecule, designated as B7H6, was not detected in normal human tissues but was expressed on human tumor cells. The expression of stress-induced self-molecules such as MICA/B and B7H6 associated with cell transformation serves as a mode of cell recognition in innate immunity. NKp30 also mediates killing of immature dendritic cells by NK cells. A nuclear factor, human leukocyte antigen-B-associated transcript 3 (BAT3), was also described as a ligand for NKp30. This ligand is released from tumor cells and plays an important role in tumor rejection in a multiple myeloma model via NKp30-mediated cytotoxicity. In addition, the main tegument protein (pp65) of human cytomegalovirus (HCMV) was proposed as an exogenous viral ligand as it inhibits NKp30-mediated cytotoxicity.
The specificity of the activating KIR family members has not been extensively characterized as compared with those of the inhibitory ones (Lanier 2005). KIR2DS1 and KIR2DS4 recognize HLA-C or HLA-A molecules weakly and KIR3DS1 is thought to recognize HLA-B with the Bw4 epitope, while ligands for other activating KIR receptors are undefined. The high sequence similarity between several pairs of activating and inhibitory KIR suggests they arose by gene duplication. However, in general, the activating KIRs either do not bind the cognate HLA class I, or bind with an affinity much weaker than that of the paired inhibitory KIR. The activating KIR receptors all have short cytoplasmic tails, and they transduce signals and trigger function through the ITAM-bearing adaptor DAP12. The exception is KIR2DL4. It has a functional ITIM in its cytoplasmic tail, yet it also associates with the FcεRIγ adaptor protein, a feature for an activating receptor. Despite the presence of an ITIM, ligation of KIR2DL4 with its specific monoclonal antibody (mAb) leads to cytotoxicity and IFN-γ production in IL-2-activated NK cells. Soluble HLA-G has been described as its ligand.
Other activating receptors signal through motifs in their own cytoplasmic tail, or through pathways that have not been well characterized. 2B4, NK-T-B-antigen (NTB-A), and CD2-like receptor-activating cytotoxic cells (CRACC), all belong to the SLAM family of receptors (Veillette 2006). They are predominantly expressed on hematopoietic cells and regulate both innate and adaptive immunity. They are members of the Ig superfamily that consist of multiple Ig-like domains in the extracellular region, a transmembrane segment, and a cytoplasmic domain containing multiple tyrosine-based motifs. Comparing with other ITAM-based activating receptors, SLAM receptors have distinct activation pathways. In humans, activation through these receptors is accompanied by the phosphorylation of unique TxYxxV/L/I sequence–based immunoreceptor tyrosine-based switch motifs (ITSMs) in their cytoplasmic tails and the recruitment of SLAM-associated protein (SAP) as adaptors. SAP couples SLAM family receptors to FYNT, a Src-related PTK that is expressed by hematopoietic cells. In mice, however, 2B4 apparently functions as an inhibitory receptor. It is unclear if 2B4 itself can independently trigger effector functions or rather serves as a costimulatory receptor. The strongest evidence supporting an activating role in human NK cells comes from the demonstration that transfection of CD48, its ligand, into certain NK-resistant target cells renders them susceptible to NK-mediated cytotoxicity and triggers the production of IFN-γ by the human NK cells. Such action can be blocked by anti-CD48 mAb and anti-human 2B4 mAb. Adaptor protein SAPs appears to play important roles in SLAM receptor functions. In patients with certain mutations in SAP, NK cells can no longer be activated through the 2B4 receptor. Furthermore, immature human NK cells express 2B4 receptors that mediate inhibitory function, presumably because these immature NK cells lack SAP. 2B4 may, therefore, be a multifunctional receptor in both human and mice, displaying different functions depending on factors such as NK cell differentiation and activation. The complex crystal structure between the N-terminal domains of mouse 2B4 and CD48 reveals that they interact in a mode related to, yet distinct from, that of the homophilic NTB-A dimer of the same SLAM family. Binding is accompanied by the rigidification of flexible 2B4 regions containing most of the polymorphic residues across different species and receptor isoforms (Velikovsky et al. 2007).
Other activating NK receptors, such as DNAM-1 and NKp80, have been implicated in various immune functions. DNAM-1 receptor is a member of the Ig superfamily that is expressed in a variety of human lymphocytes including NK cells. It has been implicated in cell adhesion and in triggering NK- and T-cell-mediated cytolysis. CD112 and CD155, which are components of cellular adherens junctions, have been identified as ligands for DNAM-1. These ligands are frequently upregulated, and interaction between DNAM-1 on NK cells and CD112 and CD155 on tumor cells augments NK cell–mediated cytotoxicity and cytokine production. The interaction of NK cell receptors with members of the nectin-like molecules indicates the importance of adhesion in the triggering of NK cell function. Physical association of DNAM-1 with LFA-1 is necessary for NK and T cell triggering. NKp80 is another NK-activating receptor with unknown signaling properties. The cellular ligand of NKp80 was recently identified as activation-induced C-type lectin (AICL). AICL is expressed on myeloid cells, and is upregulated by inflammatory stimuli. Thus, NKp80–AICL interactions may be important for NK cell-myeloid cell cross talk during inflammation.
Tumor and Viral Evasion Mechanisms
Tumors use several mechanisms to evade the immune system, including NK-mediated responses. Aberrant loss of the activating receptor NKG2D in cancer is a key mechanism of immune evasion (Groh et al. 2002). Production of soluble, secreted NKG2D ligands or growth factors, such as TGF-β released from tumors, is a mechanism for downregulating NKG2D expression. TGF-β may also play an important role in the conversion of normal T cells into regulatory T cells (Treg), a population of T cells that is found in high levels in the tumor microenvironment. Treg cells reduce NKG2D expression, suppress NKG2D-mediated NK cell cytotoxicity, and accelerate the progression of tumors.
Although the expression of MICA/B may result in tumor elimination, MICA shedding, through directed proteolysis from the surface of tumor cells, into the plasma is a common characteristic of many epithelially derived tumors. The process of shedding is mediated by interactions between MICA and a protein disulphide isomerase, endoplasmic reticulum protein 5 (ERp5 or PDI-P5). ERp5 forms a transitory complex with MICA and reduces an inaccessible disulfide bond in the α3 domain, which must induce a conformational change that is essential for the proteolytic cleavage of MICA (Kaiser et al. 2007).
Epigenetic repression of NKG2D ligand transcription, such as limiting the accessibility of promoter sequences to transcription factors or micro-RNA-induced repression of gene expression, is another tumor evasion mechanism. Transcription of MICA/B and ULBP1 is mainly regulated by ubiquitous transcription factors including Sp1, Sp3, and NFY. However, the binding of these transcription factors to their promoters may be regulated by the histone deacetylases (HDACs) and the structure of chromatin. HDACs remove the acetyl groups of histone to form compacted chromatin, which restrains the accessibility of promoter sequences to transcription factors. HDACs are overexpressed in many cancer types, and they participate in the repression of numerous proteins with tumor-suppression activities (Lopez-Soto et al. 2009). Micro-RNAs may also target the MICA/B 3′-untranslated region to repress expression (Stern-Ginossar et al. 2007).
Viral immune modulatory mechanisms also manipulate NK receptor and ligand expression (Wilkinson et al. 2008), and virus-derived decoy ligands for inhibitory receptors are used as viral evasion mechanisms. HCMV encodes an inhibitory decoy glycoprotein ligand, UL18, which is structurally similar to MHC class I proteins, including a peptide-binding groove and association with host β2-microglobulin. UL18 is used to evade NK detection by binding to the inhibitory NK receptor LIR-1 with high affinity. Selective upregulation of inhibitory MHC class I antigens is another viral evasion mechanism; viral proteins that bind MHC class Ib proteins and upregulate their expression, while differentially downregulating CD8+ T cell activating MHC class Ia antigens, include HCMV-encoded UL40, US2, US11, and HIV-encoded Nef. A nine amino acid sequence (VAMPRTLIL) in HCMV UL40, identical to HLA-C leader sequences, binds to HLA-E and allows its surface expression when MHC class I expression is repressed by other viral mechanisms. On the other hand, HCMV-encoded US2 and US11 have been shown to selectively downregulate HLA-A surface expression without interfering with HLA-E expression. Similar evasion mechanisms are also observed with the HIV-encoded Nef protein, which directs HLA-A and B for lysosomal degradation while sparing HLA-C and HLA-E.
Viral proteins that directly interact with NK-activating ligands are also deployed by viruses to evade NK surveillance by sequestering and retaining ligands intracellularly. HCMV UL16 sequesters the NKG2D ligands MICB, ULBP1, and ULBP2 and downregulates their surface expression. Another HCMV-encoded protein, UL142, uses similar mechanism to downregulate MICA. Various serotypes of human adenovirus also encode proteins that are used to modulate surface expression of NK-activating receptors: The E3/19 K protein sequesters MICA/B proteins in the ER, downregulating surface expression. Expression of NK-activating ligands is also modulated by virus-derived micro-RNAs. The HCMV-encoded miRNA, hcmv-miR-UL112, selectively downregulates the NKG2D ligand MICB (Stern-Ginossar et al. 2007). Viruses also manipulate components of the host ubiquitin pathway to protect infected cells from NK responses. The KSHV-encoded immune evasion proteins, K3 and K5, have E3 ubiquitin ligase activity, possess a variant RING domain, and downregulate surface expression of NKG2D ligands MICA/B by ubiquitination of conserved lysine residues in the cytoplasmic tail of MICA/B which result in its trafficking from the cell surface to an intracellular compartment.
Summary
NK cells are capable of recognizing and destroying multiple pathogenic cell targets. This broad specificity is mediated by multiple activating and inhibitory surface receptors and intracellular signal transduction molecules. NK receptors are regulated in a spatial and temporal fashion at the NK synapse where adhesion molecules and NK receptors interact with their ligands on the target cell. Healthy cells expressing MHC class I will engage NK inhibitory receptors and thus be spared, whereas infected or transformed cells, that have an aberrant expression of MHC class I and cell stress markers, become susceptible to attack. Significant progress has been made in the identification of many activating and inhibitory receptors, their ligands, and signaling pathways. However, many receptors, such as NCRs and activating KIRs, have poorly defined or unknown ligands. The signaling mechanisms of receptors such as NKp80 and many of the mechanisms governing the regulation of receptor expression also remain unknown. Furthermore, the interplay between the complex array of activating and inhibitory receptors leading to NK cell function needs to be defined. Future studies aimed toward identifying unknown ligands and understanding the dynamic interactions between receptor signaling and its effect on cellular function will help in the understanding of NK cell biology and the role that NK cells play in the immune system.
Copyright information
© Springer International Publishing AG 2018