OCT4 (Octamer-Binding Transcription Factor 4)
Reference work entry
DOI:
https://doi.org/
10.1007/978-3-319-67199-4_101982
Historical Background
OCT4 is a member of the class 5 POU (Pit-Oct-Unc) family of homeodomain transcription factors. It is so named because of its specific binding to the canonical octamer motif (with consensus sequence ATGCA/TAAT) at target gene promoter or enhancer regions. OCT4 was originally discovered in mouse embryonal carcinoma cells (ECCs) (Lenardo et al. 1989), embryonic stem cells (ESCs) (Okamoto et al. 1990), and primordial germ cells (PGCs) (Scholer et al. 1989). Early studies focused on its roles in mouse embryogenesis at the preimplantation development stage (Pesce and Scholer 2001; Wu and Scholer 2014). With the success of culturing human ESCs, the mechanisms by which OCT4 cooperates with other key pluripotency factors (such as SOX2, NANOG) in maintaining the self-renewal and pluripotency of ESCs have been unfolded to a large extent (Li and Belmonte 2017). Since the groundbreaking discovery that a set of transcription factors including OCT4 can reprogram mouse fibroblasts to induced pluripotent stem cells (iPSCs) (Takahashi and Yamanaka 2006), much efforts have been made in understanding at the molecular level how OCT4 acts as a pioneer factor in initiating the reprogramming (Zaret and Mango 2016).
Gene and Protein Structure
OCT4 is encoded by the
POU5F1
gene. Mouse
Pou5f1
gene is mapped between the Q and T regions in the major histocompatibility complex (MHC) on chromosome 17, and human
POU5F1
gene is located in close proximity to MHC on chromosome 6p21.3 that shares 87% amino acid sequence identity with mouse
Pou5f1
. Mouse
Pou5f1
gene comprises five exons and four introns, while human
POU5F1
gene contains four exons and three introns (Fig.
1a
) (Jerabek et al.
2014
).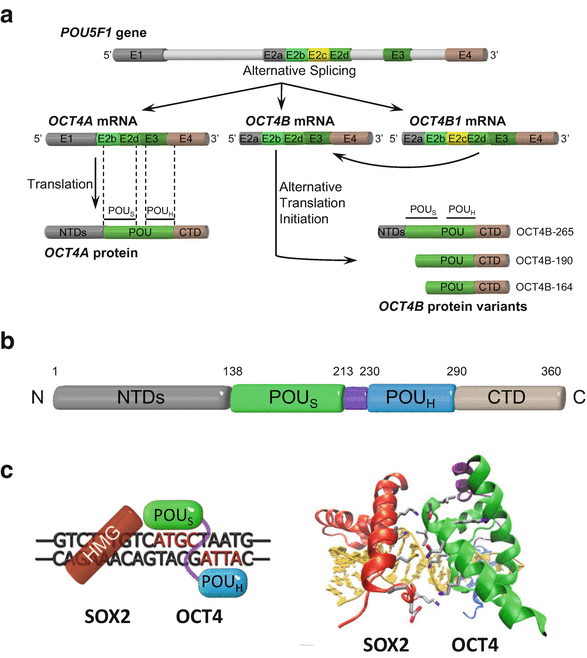 Human OCT4 protein has 360 amino acids and consists of an N-transactivation domain (NTD, 137-amino acids), a POU domain (152-amino acids), and a C-transactivation domain (CTD, 71-amino acids). The POU domain contains two structurally independent DNA-binding domains (an N-terminal 75-amino acid POUS (POU specific) domain and a C-terminal 60-amino acid POUH (POU homeo) domain) that are connected by a linker of 17 amino acids (Fig. 1b). POUS and POUH domains can independently and flexibly bind half sites of the canonical octamer motif (ATGCA/TAAT) through which OCT4 recognizes the promoter or enhancer regions of its target genes (Fig. 1c). This flexibility allows OCT4 to form heterodimers with other transcription factors (such as SOX2, Fig. 1c) and to form homodimers in PORE motif (ATTTGAAAT/GGCAAAT)- or MORE motif (ATGCATATGCAT)-binding conformation, depending on the positioning of POUS and POUH domains relative to each other (Jerabek et al. 2014).
Expression and Regulatory Mechanisms
In vivo, OCT4 is mainly expressed in unfertilized oocytes, zygotes, early embryos (two-cell to blastocyst stage), and PGCs and silenced during gastrulation and restricted to the germ cells in adults. In culture system, OCT4 is abundantly expressed in ESCs and ECCs. A predominant nuclear localization of OCT4 in the abovementioned cells has been established despite it can shuttle between the nucleus and the cytoplasm (Yang et al. 2014). However, the detection of OCT4 in adult stem cells, somatic cancer tissues, and their derived cancer cell lines still remains controversial (Wang and Herlyn 2015). Studies in ESC self-renewal and somatic cell reprogramming indicated that an optimally intermediate level of OCT4 is associated with maximal stemness or pluripotency, either higher or lower levels of OCT4 can lead to differentiation (Karwacki-Neisius et al. 2013; Niwa et al. 2000). The expression of OCT4 is tightly controlled at multiple levels as follows.
Epigenetic and Transcriptional Regulation
The upstream of the transcription start site of the mouse Pou5f1 gene harbors three regulatory elements for its transcription, namely, distal enhancer (DE), proximal enhancer (PE), and proximal promoter (PP) (Kellner and Kikyo 2010; Pan et al. 2002) . The two enhancers are activated differentially during the development of mouse embryos, with the DE driving Pou5f1 expression in the inner cell mass (ICM), ESCs and PGCs, while the PE activating Pou5f1 expression in epiblast cells. Several nuclear orphan receptors bind to the three regulatory elements to activate or suppress Pou5f1 transcription in mouse ESCs. The best studied example is germ cell nuclear factor (GCNF) that is rapidly upregulated during retinoic acid-induced ESC differentiation. GCNF suppresses Pou5f1 transcription through binding to the PP and mediating its methylation catalyzed by DNA methyltransferases DNMT3A and DNMT3B. Several histone modifications take place in the vicinity of the PP when Pou5f1 becomes inactive during early differentiation of mouse ESCs and ECCs. The methyltransferase G9A (EHMT2) catalyzes the di- and trimethylation of lysine 9 on histone H3 (H3K9me2 and H3K9me3) through its SET domain, which then recruits HP1 and trigger heterochromatin formation at the Pou5f1 locus. Also, G9A can recruit DNMT3A and DNMT3B via its ankyrin repeat to induce the DNA methylation of the three regulatory elements and thus the silencing of the Pou5f1 gene. When somatic cells are dedifferentiated and acquire pluripotency, their POU5F1 locus is expected to become demethylated and reactivated.
Alternative Splicing and Translation Initiation
The human POU5F1 transcript can generate three main isoforms by alternative splicing (Fig. 1a), namely, OCT4A (often referred to as OCT4), OCT4B, and OCT4B1 (Wang and Dai 2010). OCT4A is by far the most studied isoform given its crucial roles in early development, pluripotent stem cell (PSC) maintenance, and somatic cell reprogramming. In recent years, there has been increasing interest in OCT4B, which cannot sustain PSC self-renewal but may respond to cell stress. In some cancer cell lines, OCT4A and OCT4B mRNA were co-expressed, and OCT4B can modulate OCT4A expression as a noncoding RNA, mimicking the way that microRNAs function. OCT4B1 is a more recently discovered OCT4 spliced variant. Although it has been considered as a putative marker of stemness, its definitive function remains unclear.
OCT4B and OCT4B1 proteins mainly differ from OCT4A at the N-terminal region (Fig. 1a). The OCT4B transcript contains the exon 2a instead of the exon 1 sequence that introduces an internal ribosomal entry site and different start codons to allow for alternative translation initiation (Jerabek et al. 2014). Therefore, the OCT4B transcript can be translated into three different gene products, OCT4B-265, OCT4B-190, and OCT4B-164, that share identical POUH domains and C-terminal regions. OCT4B-265 has an N-terminal domain that is different from that of OCT4A, while OCT4B-190 and OCT4B-164 do not have an N-terminal domain.
Posttranslational Modifications
Posttranslational modifications (PTMs) refer to chemical modifications of a protein by covalently and reversibly adding a functional group or a protein to its specific amino acid residue(s). A variety of PTMs including phosphorylation, ubiquitination, sumoylation, and glycosylation have been identified as important regulatory mechanisms for OCT4 present in ESCs and ECCs (Cai et al. 2012; Shi and Jin 2010; Wang et al. 2014). These PTMs play essential roles in regulating the structure, activity, and localization of the OCT4 protein and its interactions with other cellular components. The reversible PTMs are well placed to sense, relay, and integrate a variety of extracellular and intracellular signals in PSCs. For instance, the phosphorylation of OCT4-T235 by AKT orchestrates the regulation of its stability, subcellular localization, and transcriptional activities, which collectively promotes the survival and tumorigenicity of ECCs (Lin et al. 2012). In an in-depth PTM identification study, 14 phosphorylation sites in OCT4 protein were collectively identified in multiple human ESC samples by liquid chromatography mass spectrometry (Brumbaugh et al. 2012). Such combinatorial PTMs may serve like a bar code and function in concert to allow for the storage and transduction of highly specific signals to control epigenetics-based gene transcription. Future studies will be directed toward a time course-dependent profiling of the OCT4 PTMs in response to certain stimuli in a given cell type and a systematic profiling and comparing of the OCT4 PTMs in different cellular contexts. Such work may assist unraveling the physiological stimuli and the molecular mechanisms that modulate OCT4 oligomerization and its various conformations in vivo.
Target Genes and Main Functions
Genome-wide DNA microarray, chromatin immunoprecipitation (ChIP)-based analyses combined with bioinformatics analyses have identified hundreds of target genes that are transcriptionally controlled by OCT4 in PSCs (Babaie et al. 2007; Boyer et al. 2005; Jung et al. 2010). Six distinct OCT4-binding modules for all the OCT4 target genes have been defined: OCT4-SOX2 motif, OCT4 monomer motif, SOX2 monomer motif, no OCT4-no SOX2 motif, OCT4 PORE motif, and OCT4 MORE motif (Jung et al. 2010). In addition to protein-coding genes, noncoding RNA targets (e.g., miR-302, long noncoding RNA AK028326) of OCT4 have also been found (Li and Belmonte 2017; Shi and Jin 2010). Overall, OCT4, SOX2, and NANOG form a self-reinforcing and intricately connected network to preserve the characteristics of ESCs by activating the self-renewal genes while suppressing the differentiation genes (Li and Belmonte 2017; Ng and Surani 2011; Shi and Jin 2010). In comparison, OCT4 target genes in somatic cancer cells are much less identified (Wang and Herlyn 2015). The main functions of OCT4 are briefly summarized as follows according to the biological processes it participates in.
Summary
OCT4 is a transcription factor mainly present in early embryos and adult germ cells. Its expression is tightly controlled at epigenetic, transcriptional, and posttranscriptional levels, while its functionality is mainly regulated at posttranslational level. It plays an indispensable role in maintaining the pluripotency and self-renewal of early embryonic cells in vivo and PSCs in vitro. By serving as a pioneer factor, OCT4 also functions crucially at the early phase of somatic cell reprogramming. Its involvement in PSC metabolism and cell cycle regulation is implicated in emerging studies. The multiple oligomerization and configuration modes of OCT4 protein and its rather flexible and diversified interactions with hundreds of target genes and binding partners may account for its unique and pleiotropic roles in the above processes.
Notes
Acknowledgments
This work was supported by the National Key Research and Development Program of China (Grant No. 2016YFA0100300) and the National Natural Science Foundation of China (Grant No. 31601103).
Copyright information
© Springer International Publishing AG 2018