Tissue Inhibitor of Metalloproteinase
Reference work entry
DOI:
https://doi.org/
10.1007/978-3-319-67199-4_101950
Historical Background
In mammals, the tissue inhibitor of metalloproteinase (TIMP) family is comprised of four members, TIMP1-4. TIMPs are the primary inhibitors of metalloproteinases, such as the matrix metalloprotease (MMP) family, a disintegrin and metalloproteinase (ADAM) family, and the ADAMs with thrombospondin motifs (ADAMTS) family (Brew and Nagase 2010). TIMPs range in size from 22 to 28 kDA and are variably glycosylated (Murphy 2011). Further, each TIMP contains two distinct domains, an N-terminal and C-terminal domain of ∼125 and 65 amino acids, respectively, connected through six conserved disulfide bonds (Brew and Nagase 2010; Murphy 2011). Each of these domains has critical roles in controlling TIMP function and localization.
The N-terminal domain, which folds independently and is composed of three α helices and five β strands arranged in a twisted β barrel, is critical for the inhibition of metalloproteinase activity (Murphy 2011). Specifically, the N-terminal domain interacts with the active site of metalloproteinases, like a wedge, in a 1:1 stoichiometric enzyme-inhibitor complex (Murphy 2011). The N-terminal domain also mediates TIMP affinity for metalloproteinases. For example, the N-terminal domain of TIMP3 has been found to interact with regions of the C-terminal domains of ADAMTS4 and ADAMTS5 promoting interaction between the enzyme and inhibitor (Brew and Nagase 2010).
The C-terminal domain of TIMPs has been found to mediate additional protein-protein interactions. By binding to latent MMPs, TIMPs have been found to regulate MMP activation. Specifically, the C-terminal domain of TIMP1 and TIMP2 can bind latent MMP9 and latent MMP2, respectively (Murphy 2011). The C-terminal domain in both TIMP1 and TIMP3 also mediate non-metalloproteinase-dependent protein-protein interactions. Specifically, TIMP1 binds to the cell surface of human breast epithelial cells via its C-terminal domain, potentially through interaction with β1 integrin, and this interaction is associated with reduced mammary epithelial cell apoptosis (Chirco et al. 2006). Additionally, TIMP3 binds to the extracellular matrix (ECM), specifically via interactions with sulfated proteoglycans (Stetler-Stevenson 2008). Importantly, this interaction with sulfated proteoglycans makes TIMP3 unique as it localizes TIMP3 to the ECM, whereas TIMP1, TIMP2, and TIMP4 are generally considered to be soluble (Stetler-Stevenson 2008).
TIMP Localization and Expression
TIMPs are constitutively expressed in many mammalian tissues. Additionally, TIMP expression is also induced or inhibited under certain conditions (i.e., during development, following injury or infection, etc.) with the exact role (i.e., beneficial or detrimental) dependent on the specific TIMP and tissue being examined. These changes in TIMP expression are regulated at the transcriptional level by cytokines, growth factors, and microRNAs (miRNAs) (Murphy 2011). Further, TIMP levels in plasma or tissue from patients with different diseases have been used as biomarkers and to correlate with the type and stage of diseases (Lorente et al. 2014; Westhoff et al. 2015).
Metalloproteinase-Dependent Signaling by TIMPs
The most studied role for TIMPs, and often considered their primary function, is the ability to inhibit metalloproteinases. Metalloproteinases, which have a critical role in processing (cleavage and degradation) a variety of extracellular proteins, are endopeptidases requiring a metal ion – primarily Zn2+, but in some cases Ca2+ − in their active site (Khokha et al. 2013). There are many different families of metalloproteinases, but, with respect to TIMPs, the most notable are the MMPs and ADAMs.
There are over 25 different MMPs in mammals, all of which include three common domains: a signal peptide, a pro-peptide region, and a catalytic region (Khokha et al. 2013). Additionally, most MMPs also contain a hemopexin-like C-terminal region, which is connected to the catalytic region by a short, flexible hinge (Khokha et al. 2013). Some MMPs are synthesized in their active form, while others are secreted as inactive (latent) proteins, or zymogens, and are maintained in this inactive conformation through an interaction between a cysteine residue in the pro-peptide domain and the metal ion in the active site of the catalytic region (Brew and Nagase 2010). Once the pro-peptide domain has been cleaved from latent MMPs, the cysteine residue is removed and the metal ion can interact with substrates (Chirco et al. 2006).
Most ADAMs contain both a catalytic domain, which includes a Zn2+ binding site, and a pro-peptide domain (Edwards et al. 2008). Additionally, ADAMs contain a disintegrin-binding domain, which mediates interaction with the ECM, a C-terminal cytoplasmic tail, and a transmembrane region (Edwards et al. 2008). Interestingly, of the 25 human ADAMs, only 13 are considered functional proteases; 4 are considered to be pseudogenes, while the remaining 8 are believed to be involved in mediating protein-protein interactions (Edwards et al. 2008).
All four TIMPs share similar structural properties, and in vitro studies have demonstrated overlapping metalloproteinase inhibition profiles (i.e., which metalloproteinases each TIMP inhibits); however, there are differences that exist between each TIMP in their ability to inhibit specific metalloproteinases. For example, TIMP1 does not appear to be an effective inhibitor of the membrane-type MMPs (MT-MMPs; MMP14, MMP15, MMP16, MMP17, MMP24, and MMP26) (Murphy
2011
). Additionally, TIMP3 is unique from other TIMPs as it is a very strong inhibitor of ADAMs and, currently, is the only known inhibitor of ADAMTSs (Murphy
2011
). In addition to inhibiting MMPs, TIMPs have also been linked to MMP activation through interaction with latent MMPs. Presently, it is known that latent MMP2 can bind TIMP2, TIMP3, and TIMP4 and latent MMP9 can bind TIMP1 and TIMP3 (Murphy
2011
). However, the best characterized of these interactions is the latent MMP2/TIMP2 interaction (Fig.
1
). Specifically, TIMP2 binds MMP14 on the cell surface to form a receptor for latent MMP2. This bound MMP2 is then activated through cleavage of the pro-domain by another free MMP14 (Khokha et al.
2013
). Interestingly, the interaction between MMP2 and TIMP2 appears to be concentration dependent. When TIMP2 is present in low concentrations, it appears to be involved primarily in MMP2 activation; however, when TIMP2 is present at high concentrations, it acts as an MMP2 inhibitor (Khokha et al.
2013
).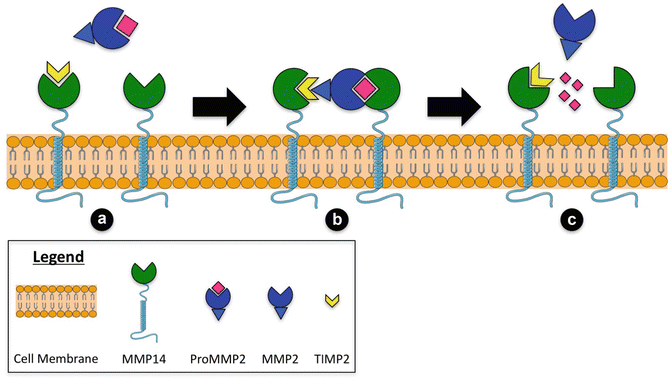 Importantly, MMPs degrade different components of the ECM including collagens, gelatin, fibronectin, laminin, and elastin, which mediates cell-ECM interaction and downstream signaling through integrins; release of cryptic ECM fragments, which activate cell signaling; and release of sequestered growth factors (Gill et al.
2006
; Khokha et al.
2013
). In addition, MMPs are involved in regulation of other cell signaling pathways through chemokine processing leading to activation and degradation of the chemokines, as well as activation of growth factors such as TGFβ (Khokha et al.
2013
). Further, ADAMs, which are described as "sheddases," can mediate cell signaling by cleaving various cytokines and cytokine receptors from the cell surface (Edwards et al.
2008
). Thus, TIMP regulation of metalloproteinase activity regulates many different signaling mechanisms (Fig.
2
, Table
1
). Specific examples of these functions are provided below for each TIMP.

Tissue Inhibitor of Metalloproteinase, Table 1
Tissue inhibitors of metalloproteinases (TIMPs) regulate signaling pathways via metalloproteinase-dependent and metalloproteinase-independent mechanisms
Metalloproteinase-dependent function

TIMP1

TIMP2

TIMP3

TIMP4

MMP inhibition

+

++

++

+

ADAM inhibition

+/−

+/−

++

+/−

MMP activation

+

+

 
 

Inhibits ECM degradation

+

+

+

+

Inhibits inflammatory cell recruitment

++

+

++

 

Inhibits growth factor release/activation

+

+

+

 

Maintains cell-cell interaction

 
 

+

 

Promotes cell proliferation

+

+

+

 

Inhibits cell proliferation

 

+

+

 

Anti-angiogenic

+

+

 
 

Pro-apoptotic

+

 

+

 

Anti-apoptotic

+

 
 
 

Metalloproteinase-independent function

Inhibits tumor progression

+

+

 
 

Cell proliferation

+

+

+

 

Cell growth inhibition

+

+

+

 

Cell migration

 

+

 
 

Anti-angiogenic

 
 

+

 

Pro-apoptotic

 
 

+

 

Anti-apoptotic

+

 
 

+
Metalloproteinase-Independent Signaling by TIMPs
Over the past 20 years, TIMPs have been found to exert control over diverse biological processes through mechanisms independent of metalloproteinase inhibition (Fig. 2, Table 1). These processes include cell growth, migration, apoptosis, and angiogenesis. The metalloproteinase-independent functions of TIMP1 and TIMP2 are the most characterized; however, recently, a number of studies have demonstrated critical metalloproteinase-independent functions for TIMP3.
Summary
TIMPs, once thought to simply regulate the activity of metalloproteinases, are much more complex than initially imagined. Specifically, they are integral regulators of molecular signaling pathways through both metalloproteinase-dependent and metalloproteinase-independent mechanisms. Importantly, there is also great potential for the application of TIMPs as therapeutic tools for many different diseases, especially with the development of engineered TIMPs that display altered specificity for individual metalloproteinases as well as those that allow for the differentiation between the metalloproteinase-dependent and metalloproteinase-independent functions.
Copyright information
© Springer International Publishing AG 2018