AXL
Reference work entry
DOI:
https://doi.org/
10.1007/978-3-319-67199-4_101916
Historical Background
AXL, the founding member of the TAM (TYRO3, AXL, and MER) family of receptor tyrosine kinases, was concurrently discovered and characterized by multiple groups in 1991. In their seminal paper, O'Bryan and collaborators were able to transform fibroblasts transfected with DNA isolated from chronic myelogenous leukemic (CML) cells, subsequently isolating a novel transforming gene, which they named AXL based on the Greek word anexelekto, meaning uncontrolled (O'Bryan et al. 1991). Functional characterization of the product of this gene revealed a protein endowed with tyrosine kinase activity and a hydrophobic transmembrane domain which exhibited significant homology with numerous receptor tyrosine kinases (RTKs). Highlighting the oncogenic nature of this protein, they demonstrated that overexpression of AXL was capable of inducing neoplastic transformation of fibroblasts. In a similar report, Janssen and collaborators described a "novel" protein that resembled a membrane spanning receptor with tyrosine kinase activity (Janssen et al. 1991). Similarly to the O'Bryan et al. report, they identified this protein from transfections of DNA from a patient with a chronic myeloproliferative disorder. The protein they discovered was given the designation UFO, as it was of unknown function. In the same year, two further groups (Lai and Lemke 1991; Rescigno et al. 1991) independently identified the AXL gene and named it Tyro7 and adhesion-related kinase (ARK), respectively. Since its discovery, AXL has garnered increased clinical interest due to its role in the pathophysiology of a wide range of human disorders including cancer, autoimmunity, and cardiovascular disease.
Structure
Gene Structure
Located on the long arm of chromosome 19 (q13.2), the AXL locus is 44 kb in length and contains a total of 20 exons that encode the full length protein. Initially, two mRNA constructs were observed as products of this locus as a result of alternative splicing. In addition to the full-length construct (isoform 1) which incorporates all 20 exons, there is a marginally shorter construct (isoform 2) formed by the exclusion of exon 10, a 27 base pair sequence that is thought to encode part of the second fibronectin type III repeat (Schulz et al. 1993). More recently, a third isoform (isoform 3) of AXL mRNA was identified with the transcript lacking four alternate exons spanning the 5′ coding region and untranslated region resulting in a downstream translation initiation site which gives rise to an even shorter protein (626 aa vs. 894 aa vs. 885 aa). The long isoform of AXL is the most abundant, and although splice variants of this gene have not been well studied, it is thought that the loss of exon 10 has little effect on the functionality of AXL, particularly in relation to its role in cancer as this shorter isoform retains the ability to induce transformation (O'Bryan et al. 1991).
Expression of the AXL gene is controlled by a 2.4 kb promoter region residing upstream of the transcriptional start site. Early work examining this region noted its GC-rich nature and a distinct lack of classical TATA or CAAT boxes (Schulz et al. 1993). It was later revealed that a GC-rich region spanning −556 to +7 forms the core AXL promoter and is required for expression. Additionally, five specificity protein (SP)-binding sites were identified within this GC-rich region, which allow interaction of SP1 and SP3 transcription factors and loss of these binding sites either ablates or significantly reduces the expression of AXL. In addition to the binding sites for SP-transcription factors, binding sites for other factors such as activating protein-2, myeloid zinc finger-1, and cyclic AMP-response element-binding proteins are also present in the promoter region (Mudduluru and Allgayer 2008).
Protein Structure
Upon translation of the full length
AXL
mRNA transcript, a 104 kDa protein is produced. This undergoes post-translational modification in the form of N-linked glycosylation at up to six different sites producing a 120 kDa partially glycosylated form and a 140 kDa fully glycosylated form (O'Bryan et al.
1991
). At the protein level, the structure of AXL can be divided based on its three functional regions, the extracellular ligand-binding domain, the single pass transmembrane region, and the intracellular kinase domain (Fig.
1a
). The C-terminal kinase domain exhibits a defining feature of the TAM family of RTKs, a conserved KW(I/L)A(I/L)ES motif, which in AXL contains isoleucines. The ligand binding domain of AXL consists of two N-terminal immunoglobulin-like (Ig-like) domains and two fibronectin type III repeats, features which are reminiscent of cell adhesion molecules and led to its initial nomenclature as ARK (O'Bryan et al.
1991
; Rescigno et al.
1991
; Lemke and Rothlin
2008
).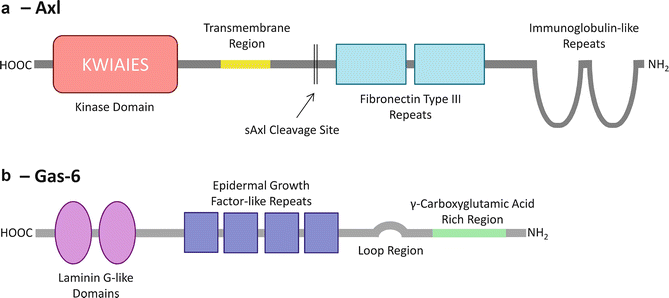 Structurally there is a lot of similarity between AXL and members of other RTK families. When comparing kinase domain motifs, there is much similarity between members of the TAM family and the MET family of kinases (MET and macrophage stimulating 1 receptor; MST1R), in fact AXL and MET are thought to be paralogs. Examining the extracellular features of AXL, the tyrosine kinase with immunoglobulin-like and EFG-like domain (TIE) family (TIE1 and TIE2) both contain similar extracellular immunoglobulin and fibronectin domains. Further aspects of AXL's structure are also found to be similar in fibroblast growth factor receptor (FGFR), vascular endothelial growth factor receptor (VEGFR), platelet-derived growth factor receptor (PDGFR), and insulin receptor (INSR) families (Linger et al. 2008).
Signaling
Ligands
Like most RTKs, the extracellular domain of AXL is responsible for detection and binding to its major ligand, growth arrest-specific 6 (GAS6). GAS6 is a member of the vitamin K-dependent protein family and has a rather unusual structure that holds great importance for its functional activity (Manfioletti et al. 1993). The protein can be divided in to four regions (Fig. 1b), starting at the C-terminal end there is a sex hormone binding globulin-like region which contains two tandem laminin G-like domains. This section of the protein is vital for its ability to interact with the extracellular portion of AXL, and functional studies have shown this region alone is capable of activating AXL kinase activity (Mark et al. 1996). Moving towards the N-terminal end of the protein, adjacent to the laminin-G like domains are four epidermal growth factor-like repeats followed by a loop region. Finally, at the C-terminal end of the protein is a region that is highly enriched with γ-carboxyglutamic acid residues (Gla domain), these residues have been noted to interact with calcium and mediate the binding of GAS6 to negatively charged phospholipids and clotting factors, thereby dictating its localization (Huang et al. 2003).
GAS6 acts as a major ligand for the other member for the other members of the TAM family as well, along with an additional member of the vitamin K-dependent family, Protein S (PROS1), which shares around 44% sequence homology with GAS6. The family of ligands that are capable of interacting with TAM family proteins is ever increasing; recently identified ligands include Tubby, Tubby-like protein 1 (TULP1), and galectin-3 (Wu et al. 2014). However, an important note regarding the ligands that bind to TAM RTKs is their relative binding affinities. GAS6 has shown to bind all three TAM RTKs but has a 3–10 fold higher affinity for AXL compared to MER and TYRO3; however, AXL does not appear to bind to PROS1. Additionally, Tubby and galectin-3 appears to favor binding with MER, whereas TULP1 can bind to all three family members.
Regulation of AXL Activity and Signaling
In the presence of GAS6, AXL undergoes ligand-dependent homodimerization which acts as the standard mechanism of activation. Examination of the structure of AXL and GAS6 complexes has suggested that this dimerization occurs as a two-step process (Fig.
2
). Initially, a high affinity interaction between a monomer of GAS6 and a monomer of AXL allows the formation of a 1:1 AXL/GAS6 complex. These complexes can diffuse laterally within the membrane where they can interact with another 1:1 AXL/GAS6 complex, to form a complex with a 2:2 stoichiometry. Within this 2:2 AXL/GAS6 complex, there is no direct interaction between the two ligands or the two receptors instead crosslinking of the AXL immunoglobulin-like domains by one of the laminin G-like domains of GAS6 can be observed (Sasaki et al.
2006
). The final step in the activation of AXL is auto-phosphorylation of three specific tyrosine residues in the kinase domain of the protein, Y779, Y821, and Y866.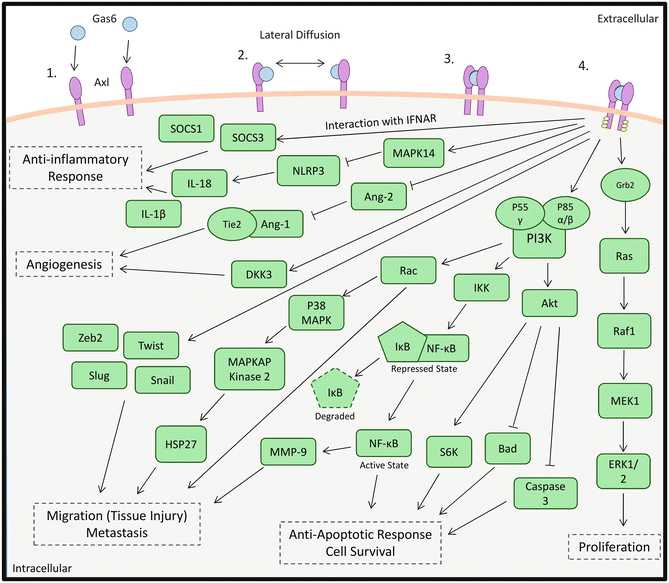 In addition to the GAS6-mediated mechanism of activation, there are numerous alternative mechanisms of activation that have been described and these can be both ligand dependent and independent. Firstly, when overexpressed AXL is capable of homodimerization in the absence of GAS6, this can also occur between AXL receptor expressed on neighboring cells. Heterodimerization of AXL with other members of the TAM family has been reported in different biologic contexts. In macrophages, AXL interaction with GAS6 may enhance activation of MER through heterodimerization; alternatively, in GnRH neuronal cells, AXL and TYRO3 heterodimers were observed in the absence of any ligand. Heterodimerization of AXL with other, non-TAM RTKs has been recently demonstrated, activated epidermal growth factor receptor (EGFR) is capable of activating AXL in the absence of GAS6 (Vouri et al. 2016). Additionally, AXL has been shown to increase activation of fms related tyrosine kinase 3 (FLT3), which is thought to be GAS6 dependent (Park et al. 2013). Finally, AXL phosphorylation has been observed in the absence of ligand in response to oxidative stress through reactive oxygen species (ROS).
Due to the range of downstream pathways of AXL, mechanisms for controlling and attenuating the signaling output of the receptor are vital and thus far several different inhibitory mechanism for control of AXL activity have been described. Firstly there is control of the initial activation of AXL which is thought to occur through a soluble form of the protein (sAXL). sAXL is formed by proteolytic cleavage on the extracellular side of the protein in the region encoded by exon 11; this cleavage event is mediated by disintegrin and metalloproteinase domain-containing protein 10 (ADAM10). The product of cleavage is the release of the extracellular domain containing the Ig-like and fibronectin type III repeats. sAXL therefore retains GAS6 binding ability and it has been suggested to regulate activation of membrane bound AXL by sequestering GAS6 (Budagian et al. 2005). Additional regulation of AXL occurs postactivation, through GAS6-mediated negative feedback. Activation of AXL, by GAS6, is suggested induce activation of c-Cbl and promote its interaction with AXL, leading to ubiquitination, endocytosis, and finally degradation of the receptor within the lysosome (Valverde 2005). Alternatively control of AXL activity by de-phosphorylation has been postulated. C1 domain-containing phosphatase and TENsin homologue (C1-TEN) can directly interact with the cytoplasmic domain of AXL and is capable of negatively regulating phosphatidylinositol-3-kinase (PI3K)/AKT signaling, a downstream pathway of AXL (Hafizi et al. 2002). However, direct de-phosphorylation of AXL by C1-TEN has not been proven in mechanistic studies.
Downstream Signaling Pathways
As with all tyrosine kinase receptors, the basic function of AXL is to perceive an external signal and relay this to enact a cellular response, the auto-phosphorylated residues within the kinase domain acts as the basis for this transduction. This event is vital for the formation of "docking" sites at which interactions occur between AXL and various adaptor molecules or phosphorylation targets that assist with signal transduction. To date, between the three phosphorylated tyrosine residues, numerous binding partners have been identified including p55γ, p85α, and p85β – regulatory subunits of PI3K, phospholipase C (PLCγ), growth factor receptor-bound protein 2 (GRB2), SRC, LCK, RanBPM, NCK2, and the previously mentioned C1-TEN (Korshunov 2012). The interaction with regulatory subunits of PI3K forms a major axis of the downstream signaling of AXL, as this can lead to further activation of AKT, ribosomal protein S6-kinase (S6K), Rho, Rac, NF-κB, and suppression of pro-apoptotic proteins (BCL2 associated agonist of cell death; BAD and caspase-3) linking AXL activation with cell survival and cell motility (Fig. 2). Additionally, interaction with GRB2 has been shown to propagate activation to the MAPK/ERK pathway which links AXL with cell proliferation. The range of adaptors that AXL can interact with gives an idea of the scope of its downstream signaling however, the nature of response to AXL activation varies based on a host of integrated factors such as cell and tissue type, modulation of/by other signaling molecules, and the cells microenvironment (Axelrod and Pienta 2014).
Functions
AXL is widely expressed amongst numerous cell types of mesenchymal, epithelial, and hematopoietic origin and as such retains many different functions, some of which overlap with other members of the TAM family of receptors. To date, much of the functional characterization of AXL has been examined through its role in pathological states of various natures or through examination of mouse knockout models, either individually or together with other TAM receptors.
Phagocytotic Clearance and Innate Immune System
One of the earliest phenotypes of TAM receptor triple knockout (TKO) mice is infertility of the males (Lu et al. 1999), which was found to be due to a buildup of apoptotic cells in the seminiferous tubules. In healthy mice, clearance is usually performed by Sertoli cells; however, loss of TAM receptors from the surface of these cells disrupts this clearance and the buildup leads to the death of germ cells during spermatogenesis. It has been suggested that the loss of Sertoli cells' ability to clear apoptotic cells is due to a failure to recognize and engage them (Kawasaki et al. 2002). In healthy cells, this recognition occurs downstream of loss of flippase activity in the cell undergoing apoptosis. Prior to initiation of apoptosis, phosphatidylserine (PtdSer) is retained in the inner leaflet of the plasma membrane by the activity of flippases; however, when cells undergo apoptosis, this activity is lost and PtdSer is able to move to the outer leaflet and is exposed to extracellular environment. At this point, GAS6 can associate with PtdSer through its Gla domain which preferentially binds to negatively charged phospholipids. When associated with the plasma membrane of the apoptotic cell, it can mediate binding with AXL expressed on the surface of Sertoli cells. Although AXL is implicated in this recognition process, evidence would suggest that MER is actually responsible for triggering the process of phagocytosis (Lemke and Rothlin 2008).
Further to this, the lack of apoptotic clearance in the testes of TKO mice is mirrored within cells of the innate immune system, such as macrophages and dendritic cells. It would appear that AXL functions to aid recognition of apoptotic cells by macrophages, similar to the process described above; however, there appears to be more reliance on AXL for mediation of phagocytosis in dendritic cells. This loss of this ability to phagocytose apoptotic cells has been linked with a strong autoimmune phenotype that is developed by TKO mice, which exhibit conditions such as rheumatoid arthritis and lupus. Removal of apoptotic cells is vital for attenuation of inflammation, especially in assisting the clearance of granulocyte and lymphocyte apoptotic bodies. Loss of this functionality has been suggested to encourage necrotic cell death which can contribute to production of self-antigens and a source of autoimmunity (Lemke 2013).
This is not the only role AXL plays in the resolution of an inflammatory response; in fact AXL functions directly as part of a negative feedback loop that opposes the pro-inflammatory cytokine response that occurs after detection of molecules indicating pathogenic insult, such as lipopolysaccharide from the cell wall of Gram-negative bacteria. Normally pathogen-derived molecules would be detected by antigen presenting cells, such as dendritic cells expressing Toll-like receptors (TLRs). Activation of TLR leads to downstream activation of the type I interferon receptor (Ifnar) and Jak-Stat1, the latter of which is capable of upregulating expression of AXL. Once upregulated AXL binds to Ifnar through its R1 subunit, this new interaction leads to the expression of suppressor of cytokine signaling 1 and 3 (Socs1 and Socs3). Socs1 and 3 bind to Jaks and mediate their degradation or inhibit their kinase activity, effectively ceasing pro-inflammatory signaling (Paolino and Penninger 2016). When TAM receptors are lost, the inflammatory response mediated by TLRs becomes unopposed, therefore contributing to generate immunopathology.
A further link between AXL and the immune system is its role in the differentiation and maturation of natural killer (NK) cells. All three TAM receptors are expressed by immature NK cells, both GAS6 and Pros1 are expressed by the surrounding stromal cells of the bone marrow, and it is believed that TAM receptors interact with cytokine receptors to mediate NK cells maturation. Further to this, NK cells from TAM-deficient mice show poor cytotoxic activity, which may be due to their immature state. Examination of AXL-specific roles in NK development has indicated that an interaction with FLT-3 may be important for NK establishment from CD34+ hematopoietic progenitor cells (Park et al. 2013). Further studies investigating the specific role of AXL in gene expression of maturing NK cells have found that AXL activity increased the expression of numerous markers for mature NK cells as well as genes such as Perforin, IL-15Rα and IFN-γ (Kim et al. 2016). This was accompanied by increased proliferation of developing NK cells and increased cytolytic activity against tumor cells.
Platelet Aggregation
AXL, as well as other members of the TAM family, appears to have an important role in platelet aggregation, although the full extent of their involvement in this process remains fairly understudied. Early work in animal models demonstrated GAS6-deficient mice suffer from reduced platelet aggregation, seemingly through a reduction in the irreversible aggregation stage (Linger et al. 2008). The lack of stability appears to be linked to a loss of three TAM-dependent processes: dense-granule secretion, phosphorylation of β3 integrin, and activation of the PI3K/Akt pathway (Lemke 2013).
Cellular and Tissue Homeostasis
The biological role of AXL in tissue maturation extends to a number of cell lineages arising from the hematopoietic compartment. GAS6 is highly expressed on the surface of supportive bone marrow stromal cells and induction of its expression in nonsupportive cell lines renders them capable of facilitating hematopoiesis. AXL and MER combine to regulate erythropoiesis in mice, and deficient mice appear to lack correct differentiation of erythroid progenitors (Axelrod and Pienta 2014).
As well as a role in differentiation and cell renewal, AXL has been investigated as a mediator of tissue repair following injury, particularly in the liver, vascular smooth muscle cells (VSMCs), endothelial cells, and the central nervous system. Following vascular injury, GAS6 and AXL are upregulated by thrombin, angiotensin II, or ROS produced during oxidative stress. AXL activation then propagates an anti-apoptotic signal, through activation of the PI3K/Akt and NF-κB pathways as well as Bcl-2 stimulation, to promote survival of vascular cells (endothelial and VSMCs) (Melaragno et al. 2004). As well as this protective effect, AXL also helps to mediate increased migration of these cells to aid vascular remodeling following injury. Due to these roles in regulation of blood vessels, aberrant AXL expression has been linked with cardiovascular disease. In particular, loss of AXL/Gas6 signaling has been linked with atherosclerosis, and polymorphisms of GAS6 have been linked with an increased risk of cerebrovascular events in humans.
In the liver, AXL is expressed by hepatic stellate cells. Similar to the functions described above, AXL is again activated following liver damage by induction of GAS6, triggering activation the PI3K/Akt, and providing an anti-apoptotic signal for these cells. As well as providing a survival signal, AXL/GAS6 has been implicated in activation of stellate cells after which they undergo a phenotypic change and become myofibroblast-like, a key mechanism underlying the pathogenesis of liver fibrosis (Barcena et al. 2015). Finally, AXL has been linked with inducing autophagy in the macrophages present in the liver in order to negatively regulate inflammation. AXL activates Mapk14 leading to inhibition of the Nlrp3 inflammasome which is known to activate caspase-1 which in turn activates interleukin 1β and 18α (Han et al. 2016).
AXL is also expressed within several different cell types of the central nervous system. TAM-deficient mice have reduced neural stem cell survival, proliferation, and differentiation. Survival is likely mediated through similar PI3K/Akt pathway activation seen in other tissue types; however, induction of proliferation and differentiation in neuronal stem cells are dependent on TAM-mediated regulation of nerve growth factor and brain-derived neurotrophic factor (Axelrod and Pienta 2014). TAM receptors, in particular MER and AXL, are important for the function of the microglia (Fourgeaud et al. 2016). Similar to their role in myeloid cells, TAM receptors in this context play an important role in mediating migration to sites of damage in the brain, phagocytosis of apoptotic cells, and attenuation of inflammation.
The Role of AXL in Human Pathology
Throughout the study of AXL, there have been persistent links with different disease states. Interestingly, a unifying trait across the diverse disease states where AXL is pathogenic, gene mutation seldom occurs, whereas dysregulation of its expression levels or activity is generally responsible for its pathogenic role. A wide range of mechanisms resulting in AXL overexpression have so far been described, each one being highly context specific.
As previously mentioned, the AXL promoter region contains numerous transcription factor binding sites and SP1/SP3 are vital regulators of gene expression. However, SP1/SP3 binding is heavily dependent on the CpG methylation status of the regions surrounding their binding sites, with increased methylation leading to decreased binding and lower AXL expression. Additionally, three micro-RNAs (miRNAs) have been found to repress AXL expression through post-transcriptional regulation; miR-34 and miR199-a/b target the 3′-UTR of AXL mRNA to inhibit expression (Mudduluru et al. 2011). An additional layer of regulation is afforded by control of miRNA expression; methylation at their promoters has been shown to inversely correlate with their expression and positively correlate with AXL expression.
Summary
AXL plays a central role in numerous homeostatic functions and appears important in the pathogenesis and progression of a widening range of pathologies. The wide-reaching effects of AXL activity make this an appealing target for pharmacological therapy, and early clinical trial data suggest AXL inhibition to be well tolerated and warranting further evaluation in prospective studies across various indications. Understanding the context-specific cross-talk between AXL and other receptors appears to be relevant for numerous functions and is crucial to better understanding the physiological relevance of AXL. Although the race for an AXL targeted inhibitor is predominantly driven by its role in cancer, the application of these compounds could be relevant to several of the different pathological states. However, disrupting AXL signaling will not be suitable for treatment of the full range of pathologies discussed, and alternative therapeutic strategies should be explored to account for decreased expression of AXL, sAXL interference, and other cases of reduced AXL activity contributing to altered physiological state.
Copyright information
© Springer International Publishing AG 2018