SLC28 and SLC29
Reference work entry
DOI:
https://doi.org/
10.1007/978-3-319-67199-4_101838
Historical Background
Pyrimidine and purine nucleosides and their derivatives play critical roles in physiology and have diverse pharmacological applications (Young et al. 2013). As central "salvage" metabolites, they can be converted to nucleotides, which serve as the energy-rich currency of intermediary metabolism and are the precursors of nucleic acids. The nucleoside adenosine is also a key signaling molecule that modulates multiple physiological processes through interaction with cell-surface P1 purinergic receptors. Clinically, nucleoside and nucleobase drugs are widely used to treat cancer and viral infections.
Nucleosides and their derivatives are generally hydrophilic in nature, and their availabilities within cells and in the extracellular environment are primarily determined by specific nucleoside transporter (NT) proteins, which facilitate their movement across plasma membranes and some organellar membranes. Thus NTs play key roles in nucleoside physiology and pathophysiology and in the therapeutic actions of many nucleoside drugs.
Early studies of radiolabeled nucleoside uptake in mammalian cells revealed the presence of both inwardly directed Na
+
-dependent concentrative transport processes and bidirectional Na
+
-independent equilibrative transport activities. The proteins responsible for these different types of transport belong to two evolutionarily unrelated protein families: the "concentrative nucleoside transporters" (CNTs), corresponding in humans to the SLC28 family, and the "equilibrative nucleoside transporters" (ENTs), corresponding to the SLC29 family (Young et al.
2013
). Some SLC29 proteins, but not SLC28 proteins, also transport nucleobases or, in the case of SLC29A4, monoamines. Both families are evolutionarily old, CNTs being found in a wide range of Eubacteria and eukaryotes, although not in plants. ENTs are confined to eukaryotes, where they are widely distributed and appear to be distantly related to other members of the ubiquitously distributed major facilitator superfamily of transporters. The human genome encodes three SLC28 (CNT) proteins and four SLC29 (ENT) proteins (i.e., hCNT1–3 and hENT1–4) (Table
1
). Both transporter families are involved in cellular uptake of nucleoside drugs, and hENT1 and, to a lesser extent hENT2 are pharmacologic targets for high-affinity NT inhibitors.
SLC28 and SLC29, Table 1
Human nucleoside transporter families SLC28 and SLC29
Gene

Protein name

Locus

Length (aa)

Permeant selectivity

Transport mode/cation coupling stoichiometry

SLC28A1

hCNT1

15q25.3

649

Pyrimidine nucleosides and adenosine

Na+ dependent

1:1 sodium:nucleoside

SLC28A2

hCNT2

15q21.1

658

Purine nucleosides and uridine

Na+ dependent

1:1 sodium:nucleoside

SLC28A3

hCNT3

9q21.32–

9q21.33

691

Purine and pyrimidine nucleosides

Na+/H+ dependent

2:1 sodium:nucleoside

1:1 proton:nucleoside

SLC29A1

hENT1

6p21.1

456

Purine and pyrimidine nucleosides and nucleobases

Facilitated diffusion

SLC29A2

hENT2

11q13.2

456

Purine and pyrimidine nucleosides and nucleobases

Facilitated diffusion

SLC29A3

hENT3

10q22.1

475

Purine and pyrimidine nucleosides and adenine (pH 5.5)

Possibly H+ coupled

SLC29A4

hENT4/PMAT

7p22.1

530

Adenosine (pH 5.5) and organic cations, including serotonin

Possibly H+ coupled
SLC28 (hCNT) Nucleoside Transporters
Typically most abundant in epithelia and other specialized cells, hCNT1–3 serves as nucleoside and nucleoside drug import pumps (Young et al.
2013
). All three hCNTs transport uridine, but have different preferences for other permeants, hCNT1 exhibiting selectivity for pyrimidine nucleosides (and, with lower fluxes, adenosine), hCNT2 for purine nucleosides, and hCNT3 for both purine and pyrimidine nucleosides. Among the nucleosides transported by hCNT1–3 are anticancer and antiviral nucleoside drugs. hCNT3 has a wider tissue distribution than hCNT1/hCNT2 (Young et al.
2013
) as well as possible roles in intracellular compartments (Errasti-Murugarren et al.
2009
). hCNT1–3 shows higher apparent permeant affinities (as indicated by lower
K
m
(Michaelis constant) values) than hENTs (Table
2
), but the turnover number of transport is an order of magnitude lower (10 vs 200 uridine molecules per transporter per s for hCNT1 and hENT1, respectively).
SLC28 and SLC29, Table 2
Permeant selectivities and Km values of SLC28 and SLC29 transporters produced in Xenopus oocytes
Gene

Transporters

Permeants

Km (μM)

SLC28A1

hCNT1

Uridine

33

Cytidine

23

Thymidine

27

Inosine

5

SLC28A2

hCNT2

Uridine

40

Adenosine

8

SLC28A3

hCNT3

Uridine (Na+)

15

Uridine (H+)

62

Cytidine

15

Thymidine

21

Adenosine

15

Inosine

53

Guanosine

43

SLC29A1

hENT1

Uridine

240

Hypoxanthine

6000

Adenine

3200

Thymine

6300

SLC29A2

hENT2

Uridine

200

Hypoxanthine

1500

Adenine

1800

Thymine

6000

Uracil

2600

SLC29A3

hENT3

Uridine

2000

SLC29A4

hENT4

Adenosine

780
hCNT3 is unique among CNTs in coupling nucleoside translocation to cotransport of both Na+ ions and H+ (Smith et al. 2005). For Na+, the cation-to-nucleoside coupling ratio is 2:1 (vs 1:1 for Na+-specific hCNT1/2) and for H+ it is 1:1 (Smith et al. 2007). Na+ and/or H+ binds to the transporter first, increasing its affinity for the nucleoside molecule, which binds next. The 2:1 Na+:nucleoside coupling ratio of hCNT3 compared to 1:1 for hCNT1/hCNT2 implies a greater ability to transport nucleosides and nucleoside drugs against their concentration gradients, thereby achieving higher levels within cells.
The hCNT3 cation-to-nucleoside coupling ratio of 1:1 for H+ changes to 2:1 in the presence of both Na+ and H+ (Na+-containing medium at acidic pH) (Smith et al. 2005, 2007). Given that the apparent affinity of hCNT3 for H+ is much higher than for Na+ (K50 values (concentration required to achieve 50% of maximum rate) of 0.5 μM and 10 mM, respectively (Slugoski et al. 2008)), it is likely that in these conditions, a proton replaces one of the two Na+ ions transported, producing a composite Na+: H+:nucleoside coupling ratio of 1:1:1.
Na+- and H+-bound versions of hCNT3 have markedly different permeant preferences, suggesting differing cation-induced conformations of the nucleoside-binding site and/or translocation pathway (Smith et al. 2005; Slugoski et al. 2008). For example, Na+-coupled hCNT3 transports both pyrimidine and purine nucleosides/nucleoside drugs, whereas the H+-coupled transporter is more selective and does not transport the antiviral nucleoside drug zidovudine (AZT, azidothymidine) (Smith et al. 2005). Uridine Km values for Na+- and H+-bound hCNT3 also differ (Table 2). In the acidic conditions found physiologically in the kidney, intestine, and some intracellular compartments and pathologically in other tissues under conditions of ischemia or within the hypoxic microenvironment of tumors, the Na+-/H+-activated form of the transporter is likely to be found, which has selectivity characteristics similar to Na+-bound hCNT3.
SLC29 (hENT) Nucleoside Transporters
Present in most cell types and tissues, hENT1 and hENT2 transport a broad range of purine and pyrimidine nucleosides (Young et al. 2013). hENT2 and, to a lesser extent, hENT1 additionally transport nucleobases (Yao et al. 2011). hENT3 is also widely distributed and has broad permeant selectivity, but functions predominantly intracellularly, where it is located in lysosomal (Baldwin et al. 2005) and mitochondrial (Govindarajan et al. 2009) membranes. hENT4 is found in plasma membranes and transports adenosine and monoamines in the brain and heart (Barnes et al. 2006; Zhou et al. 2010).
hENT1 and hENT2 are distinguished functionally by the higher sensitivity of hENT1 to inhibition by S-(4-nitrobenzyl)-6-thioinosine (NBMPR) and by the greater ability of hENT2 to transport nucleobases (Yao et al. 2011). NBMPR inhibits hENT1-mediated transport at nM concentrations, whereas hENT2–4 are either unaffected or inhibited only by μM concentrations. hENT1/hENT2 is also inhibited by dipyridamole and dilazep and some other coronary vasodilator drugs. Like NBMPR, these inhibitors bind within or closely adjacent to the outward-facing conformation of the permeant-binding site (Young et al. 2013). Less potent inhibitors of hENT1/hENT2 include tyrosine and serine/threonine kinase inhibitors and benzodiazepines (Young et al. 2013). Dipyridamole, dilazep, the organic cation transporter inhibitor decynium-22, and the dopamine transporter inhibitor GBR125935 are low-affinity inhibitors of hENT4 (Barnes et al. 2006).
Permeant selectivities and affinities for recombinant hENT1–4 produced in Xenopus laevis oocytes are compared with hCNT1–3 in Table 2. The apparent affinities of hENT2 for nucleobases are lower (as indicated by higher Km values) than those for nucleosides, but are compensated for by higher Vmax values, such that the kinetic efficiencies of nucleoside and nucleobase transport (defined as the ratio Vmax:Km) are similar (Young et al. 2013). Using the enhanced Xenopus expression vector pGEM-HE, it has been established that hENT1 also transports nucleobases, albeit generally less well than hENT2 (Yao et al. 2011).
hENT1/hENT2 transports a diverse array of therapeutically important anticancer nucleoside and nucleobase drugs (Yao et al. 2011), hENT2 also transporting a broad range of antiviral nucleosides (Yao et al. 2011). However, much less is known about the physiology and pharmacology of hENT2 than of hENT1, largely because the former is normally found in cells along with hENT1 and usually with lower activity. Even less is known about hENT3 and hENT4: while nucleoside fluxes probably attributable to hENT3 have been described in human fibroblast lysosomes (Baldwin et al. 2005), hENT4 was first identified from genome sequencing rather than as a functionally characterized transport process.
hENT3 differs from hENT1/hENT2 in possessing a very long (51 residue), hydrophilic N-terminus. This region contains a dileucine motif characteristic of endosomal/lysosomal targeting sequences. Consistent with an intracellular location, hENT3 cannot be functionally expressed at the surface of Xenopus oocytes unless the dileucine motif residues are either mutated to alanine or removed by N-terminal truncation of the protein (Baldwin et al. 2005). hENT3 is broadly selective for purine and pyrimidine nucleosides and also transports adenine and some anticancer nucleoside drugs (Baldwin et al. 2005). Unlike hENT1/hENT2, hENT3-mediated transport is markedly enhanced at acidic pH, a characteristic similar to ENT family H+/nucleoside cotransporters from kinetoplastid protozoa, suggesting that hENT3 may also be H+ coupled. Located in the acidic late endosomal/lysosomal compartment, hENT3 probably plays a role in the release of nucleosides and nucleobases produced by nucleic acid breakdown in the lysosomal interior (Baldwin et al. 2005). A mitochondrial location has also been reported for hENT3, where it likely functions in the uptake of nucleosides and nucleoside drugs (Govindarajan et al. 2009).
Evolutionarily divergent from hENT1–3, hENT4 mediates low-affinity transport of adenosine (Table 2). Adenosine transport is activated at low pH and so, like hENT3, hENT4 may be H+ coupled (Barnes et al. 2006). Also known as PMAT (plasma membrane monoamine transporter), hENT4 additionally functions as a polyspecific organic cation transporter (Barnes et al. 2006; Zhou et al. 2010). The ENT4 protein is abundant in the human brain (Zhou et al. 2010) and heart (Barnes et al. 2006) and is detectable in other tissues. Under the acidotic conditions associated with ischemia, hENT4 may contribute to regulation of extracellular adenosine concentrations in the brain and heart (Barnes et al. 2006). hENT4 may also provide growth and survival advantages to cancer cells in the usually hypoxic and acidic microenvironment of tumors. Transport of nucleoside drugs by hENT4 remains to be explored, but the marked upregulation of hENT4 transcription in desmoplastic small round cell tumor cells, and their hENT4-derived sensitivities to cladribine and fludarabine (Li et al. 2008), suggests a potential importance in cancer chemotherapy.
Nucleoside Homeostasis and Regulation of Adenosine Levels
NTs have important functions in nucleoside homeostasis through provision of nucleosides and nucleobases derived from the diet or produced by tissues such as the liver for salvage pathways of nucleotide synthesis in tissues and cells deficient in de novo biosynthetic pathways. The latter include the brain, muscle, erythrocytes, leukocytes, and bone marrow cells (Young et al. 2013). The coexistence in many cell types of hENT1 and hENT2, both of which transport hypoxanthine (Table 2), may reflect the latter's importance as a source of purines for salvage; in the bone marrow, the concentration of hypoxanthine can reach 30 μM. Similarly, hENT2's ability to transport hypoxanthine, and its higher apparent affinity for inosine compared to other nucleosides, may reflect a role in efflux and/or uptake of these adenosine metabolites during muscle exercise and recovery. Once inside cells, nucleosides and nucleobases are converted by enzyme-mediated salvage pathways to nucleotides, which in turn function in intermediary metabolism, in cell signaling pathways, in phospholipid and oligosaccharide synthesis, and as precursors for nucleic acid biosynthesis. As well as facilitating uptake and/or release of nucleosides and nucleobases from cells, the presence of hCNT3 splice isoform hCNT3ins (Errasti-Murugarren et al. 2009) and hENT1 and hENT3 in intracellular membranes suggests roles for NTs in movement of nucleosides and nucleobases between subcellular compartments. In humans, dietary nucleotides (and hence nucleosides and nucleobases) are conditionally essential nutrients. Renal handling of nucleosides and nucleobases is also a major determinant of plasma levels and tissue availabilities.
NTs also have profound effects on a diverse and important array of mammalian physiological functions by influencing the concentration of adenosine available to cell-surface receptors (Young et al. 2013). Cellular signaling by adenosine is mediated by specific G-protein-coupled P1 receptors, four subtypes of which, A1, A2A, A2B, and A3, have so far been described. The relative affinities of these receptors for adenosine differ, as does their distribution and coupling to signal transduction pathways, such that adenosine exerts a multiplicity of effects in different tissues. Processes regulated by adenosine include coronary blood flow, myocardial O2 supply-demand balance, inflammation, and neurotransmission (Young et al. 2013). Brain conditions involving, or potentially involving, nucleosides (and human NTs) include epilepsy, neurodegenerative disorders, various psychiatric conditions, and cerebrovascular ischemia (Parkinson et al. 2011). Studies of mENT1-null mice demonstrate that mENT1 plays an important role in ethanol preference and consumption (Nam et al. 2011), anxiety-related behavior (Chen et al. 2007), and cardioprotection during ischemia (Rose et al. 2010), as well as sleep-wake regulation (Kim et al. 2015). hENT1 transgenic mice exhibit greater response to ethanol and reduced response to caffeine (Kost et al. 2011). These changes can be explained by altered ENT1-mediated control of adenosine levels and adenosine receptor signaling, and, consistent with this, mENT1-null mice have elevated plasma levels of adenosine (Rose et al. 2010).
Nucleoside Transporters in Diseases
A number of complex broad-spectrum autosomal recessive disorders, including H syndrome, pigmented hypertrichosis with insulin-dependent diabetes (PHID) mellitus syndrome, Faisalabad histiocytosis syndrome (FHC), and Rosai-Dorfman disease (RDD), have been attributed to rare mutations in the gene encoding hENT3 (Kang et al. 2010). Showing severe overlapping clinical manifestations, including cutaneous hyperpigmentation and hypertrichosis, hepatosplenomegaly, cardiac anomalies, sensorineural hearing loss, hypogonadism, short stature, joint deformities, histiocytosis, and insulin-dependent diabetes and resembling lysosomal and mitochondrial disorders, the mutations variously cause hENT3 transport alterations, mistrafficking, or altered protein stability (Kang et al. 2010). mENT3-null mice exhibit lysosomal nucleoside accumulation that results in perturbed lysosome function and macrophage homeostasis, providing a molecular and cellular basis for the human conditions (Hsu et al. 2011).
Structures of SLC28 and SLC29 Proteins
The determination of the structure of a Na+-linked CNT from the bacterium Vibrio cholerae with bound uridine and sodium (Johnson et al. 2012), coupled with extensive functional investigations in Xenopus oocytes of chimeras between human and other CNTs and of site-directed mutants of human CNT1 and CNT3, has yielded considerable insight into the key mechanisms of substrate recognition and energy coupling in the SLC28 family (Young et al. 2013). The bacterial transporter is homo-trimeric, each monomer containing eight transmembrane helices (TM1–8), three interfacial helices (IH1–3), and two reentrant helical hairpins (HP1 and HP2) that have opposite orientations in the membrane. Both termini are periplasmic, and TM4 and TM7 are discontinuous, with central unwound regions reminiscent of structures involved in cation/permeant binding in several other transporter types. The homologous human proteins (hCNT1–3) have extended extracellular C-terminal regions containing multiple sites of N-linked glycosylation, plus an additional three TMs at their N-termini which, however, are not required for transport activity (Young et al. 2013). The human and bacterial proteins show 38% sequence identity in the region of overlap.
The bacterial transporter structure, and by analogy those of its human homologues, can be subdivided into an outer or "scaffold" domain comprising TM1 and TM2, IH1, and TM 3 and TM6, which surrounds an inner or "transport" domain, so-called because it contains many of the residues identified as functionally important from investigations of its eukaryotic counterparts. The transport domain can itself be divided into two structural subdomains that are related by an internal twofold pseudosymmetry. The first subdomain comprises IH2, HP1, TM4, and TM5, while the second comprises IH3, HP2, TM7, and TM8. Residues contributing to uridine binding are from both subdomains, in particular at the tips of HP1 and HP2 and in the unwound regions of TM4 and TM7. The crystal structure has also provided insights into the mechanism of energy coupling in that a sodium-binding site has been identified between the tip of HP1 and the unwound portion of TM4 (Fig.
1
).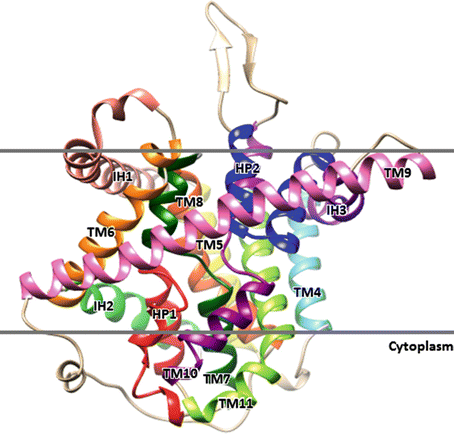 The originally proposed membrane architecture of hENT1, with 11 TMs, a cytoplasmic N-terminus and an extracellular C-terminus, is common to ENTs in other eukaryotic species and has been confirmed by use of antipeptide antibodies as topological probes in combination with glycosylation scanning mutagenesis. hENT1 is N-glycosylated at a single site, and hENT2 at two sites, in the large extracellular loop linking TMs 1 and 2, but glycosylation is not required for activity or for plasma membrane targeting of either protein (Young et al. 2013). hENT3 and hENT4 also have potential glycosylation sites, in the TM 1–2 loop and C-terminal tail region of the proteins, respectively (Young et al. 2013). Chimeric studies with different human and rat ENT proteins revealed that the regions encompassing TMs 3–6 contain residues responsible for sensitivity or resistance to NBMPR and to coronary vasodilator inhibitors. Similarly, the TMs 1–6 region plays a key role in transport of 3′-deoxynucleosides by human and rat ENT2, while TMs 5–6 have been implicated in nucleobase transport (Young et al. 2013).
Site-directed and random mutagenesis studies of human and other ENTs have established that (i) residues in TM1, TM8, and TM11 of ENT1 are functionally important components of binding sites for coronary vasodilator inhibitors; and (ii) residues in TMs 2, 4, 5, 7, and 8 are involved in permeant translocation and/or NBMPR binding, with TMs 5 and 8 showing the greatest concentration of operationally important residues. Currently, no ENT crystal structure is known, although both
ab initio
and homology 3-D models of human and other ENTs have been generated (Parkinson et al.
2011
), the latter based upon the crystal structures of bacterial members of the major facilitator superfamily (MFS) of transporters, with which ENTs may share a common evolutionary origin (Young et al.
2013
) (Fig.
2
).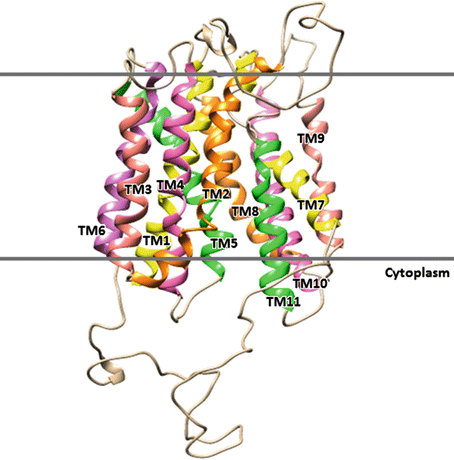 Summary
Nucleoside transport in humans is mediated by members of two unrelated protein families, the SLC28 family of cation-linked concentrative nucleoside transporters (hCNTs) and the SLC29 family of energy-independent, equilibrative nucleoside transporters (hENTs). These families contain three and four members, respectively, which differ both in the stoichiometry of cation coupling and in permeant selectivity. Together, they play key roles in nucleoside and nucleobase uptake for salvage pathways of nucleotide synthesis. Moreover, they facilitate cellular uptake of nucleoside and nucleobase drugs used in cancer chemotherapy and treatment of viral infections. Thus, the transporter content of target cells can represent a key determinant of the response to treatment. In addition, by regulating the concentration of adenosine available to cell-surface receptors, nucleoside transporters modulate many physiological processes ranging from neurotransmission to cardiovascular activity. This mini-review describes the molecular and functional properties of the two transporter families, with a particular focus on their physiological roles and relevance to disease.
Copyright information
© Springer International Publishing AG 2018