NEDD4
Reference work entry
DOI:
https://doi.org/
10.1007/978-3-319-67199-4_101703
Historical Background
NEDD4 (neural precursor cell expressed developmentally downregulated 4) was first identified in a screen for genes that are downregulated during development of the mouse brain (Kumar et al. 1992). Further characterization showed that mouse NEDD4 is a HECT type of ubiquitin ligase, comprising three WW domains (involved in protein-protein interactions) and a C2 calcium/phospholipid binding domain (Staub et al. 1996; Kumar et al. 1997). Discovery of the HECT domain gave the initial clues as to the function of NEDD4, as this domain was first identified in the papilloma virus oncoprotein E6-associated protein (E6-AP) and shown to be involved in the ubiquitination of p53 (Boase and Kumar 2015). The HECT family of ubiquitin ligases is found in all eukaryotic organisms, with NEDD4 the founding member of the NEDD4 family of HECT ligases, which contains nine human proteins (Scheffner and Kumar 2014).
NEDD4 Conservation, Structure and Expression
NEDD4 is found in all eukaryotes and is a highly evolutionarily conserved protein (Fig.
1a
). The
NEDD4
gene encodes for a protein of about 120 kD in humans. All orthologs display a similar domain structure consisting of an N-terminal C2 domain, 3–4 WW domains, and a C-terminal HECT domain (Fig.
1b
) (Boase and Kumar
2015
). The C2 domain functions to target proteins to phospholipid membranes in a calcium-dependent manner. The WW domains contain two conserved tryptophan (W) residues, separated by 21 amino acids. WW domains bind to PPXY (PY), LPXY or variations of these motifs in target/regulatory proteins and this is the main determinant of substrate specificity. The catalytic activity of NEDD4 is imparted by the C-terminal HECT domain which acts as an acceptor of ubiquitin to then transfer it onto substrates (Rotin and Kumar
2009
). NEDD4 is expressed in most tissues and cell types and throughout animal development (Boase and Kumar
2015
).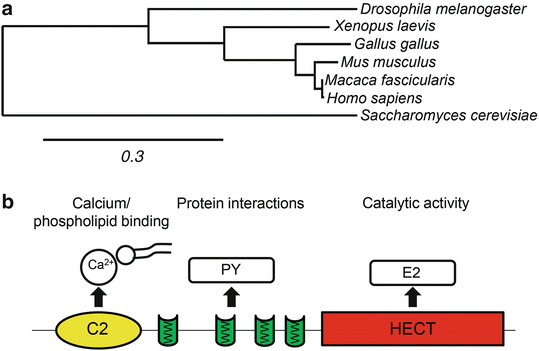 NEDD4 Functions
Ubiquitination is a three-step process that involves the formation of a thioester bond between ubiquitin and an internal cysteine residue of a ubiquitin-activating enzyme (E1) (Rotin and Kumar
2009
). The ubiquitin is then transferred to a cysteine residue of a ubiquitin-conjugating enzyme (E2). Finally, ubiquitin ligases (E3s) facilitate the transfer of ubiquitin to one or more lysine residues in the target protein. HECT E3s, such as NEDD4, have a conserved cysteine residue that forms an intermediate thioester bond with the ubiquitin C-terminus before catalyzing substrate ubiquitination. The precise functions of NEDD4 are dictated by the substrates it targets for ubiquitination (discussed below, and see Fig.
2
). There are over 60 NEDD4 targets identified to date, however only a few have been validated by in vivo studies (Boase and Kumar
2015
). Most of the physiologically relevant functional information on NEDD4 is derived from mouse knockout studies.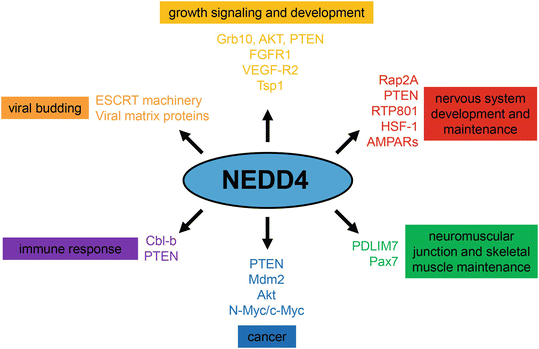 Regulation of NEDD4
NEDD4 is regulated in a number of ways, including by accessory proteins, post–translational modifications (such as phosphorylation), oxidative stress, and auto-ubiquitination (Boase and Kumar 2015). Ndfip1 and Ndfip2 are adaptor proteins that contain three PY motifs which interact with NEDD4 to facilitate its binding to substrate proteins that do not contain their own PY motifs (Foot et al. 2011). Post–translationally, NEDD4 can be phosphorylated by multiple proteins, including casein kinase 1δ (which then allows its regulation by the SCFβ-TRCP complex), and by c-Src to enhance its catalytic activity (Boase and Kumar 2015). Upregulation of NEDD4 has been reported by the Ras signaling pathway, and by the transcription factor FOXM1B (Forkhead box protein M1B) in response to oxidative stress (Boase and Kumar 2015).
Auto-ubiquitination also plays a major role in the regulation of NEDD4. In the absence of calcium, the enzymatic activity of NEDD4 is suppressed by its C2 domain binding to the HECT domain (Wang et al. 2007). Many factors have been shown to disrupt this autoinhibition, allowing NEDD4 to conduct its ubiquitin ligase activity. These include the presence of calcium, phosphorylation by c-Src, or when the adaptors proteins Ndfip1 and Ndfip2 bind the WW domains of NEDD4. Additional NEDD4 binding proteins such as p34 and Cbl-b also inhibit this autoubiquitination (Boase and Kumar 2015). Negative regulation of NEDD4 has been reported by the interferon inducible ISG15 and heclin (HECT ligase inhibitor) by preventing ubiquitin transfer or formation of thioester bonds. Other proteins shown to inhibit NEDD4 include the proto-oncogene ΔNp63α and PTEN (Boase and Kumar 2015).
Summary
NEDD4 is a member of the HECT E3 ubiquitin ligase family. It is highly conserved during evolution and is likely to be the most ancient member of the NEDD4 family. In vivo studies in mouse reveal the importance of this gene in the regulation of growth signaling and the immune response as well as development and function of the nervous system, muscle, and heart. In addition, there is much evidence implicating NEDD4 as a critical regulator of components and pathways leading to tumor initiation and progression. Given the pathological conditions involving misregulation of this protein, or its substrates, the opportunities for therapeutic interventions utilizing NEDD4 are extensive.
Copyright information
© Springer International Publishing AG 2018