Focal Adhesion Kinase (FAK)
Reference work entry
DOI:
https://doi.org/
10.1007/978-3-319-67199-4_101628
Historical Background
Focal adhesion kinase (FAK), a non-receptor protein-tyrosine kinase found in virtually all mammalian cells (Mitra et al. 2005; Frame et al. 2011) and crucial to integrin-based signaling (Alanko and Ivaska 2016). FAK was originally identified in 1990 as an ~125 kDa (p125/pp125) phosphoprotein (Kanner et al. 1990). FAK was later shown to be a cytosolic protein mostly accumulated at focal adhesions at the cell-matrix interface, and it was designated pp125FAK (Schaller et al. 1992). An increase in tyrosine phosphorylation of pp125FAK was detected during cell adhesion to fibronectin (Hanks et al. 1992). Furthermore, cells treated with a specific protein-tyrosine kinase inhibitor herbimycin A led to a decrease in focal adhesion and stress fiber formation (Burridge et al. 1992). These earlier observations thus illustrate that tyrosine phosphorylation of FAK plays a role in cytoskeletal organization induced by adhesion of cells onto extracellular matrix (ECM). Subsequently, protein-protein interactions between FAK and Src via the Src-homology 2 (SH2) domain (Cobb et al. 1994) and the binding of the p85 subunit of phosphatidylinositol 3-kinase (PI3K) to FAK (Chen and Guan 1994) were reported. Also, Tyr397 (Y397) in FAK was shown to be the principal autophosphorylation site, providing new insight in understanding the regulation of FAK intrinsic activity (Schaller et al. 1994). FAK knockout (KO) mice were generated in 1995 (Ilic et al. 1995), and considerably reduced motility was noted in fibroblast-like cells or mesodermal cells isolated from FAK-deficient embryos, which was likely the result of disorganized actin-based cytoskeleton in these cells (Ilic et al. 1995). Changes in actin-based cytoskeleton were shown to be associated with integrin signaling, and a direct interaction between the cytoplasmic domain of β1-integrin and FAK was demonstrated based on an in vitro study (Schaller et al. 1995). An overexpression of FAK was also noted in epithelial and mesenchymal tumors (Owens et al. 1995, 1996). Since then, studies on FAK and the associated signaling pathways under both physiological and pathological conditions have greatly expanded, and FAK has been shown to be involved in cell cycle progression (Zhao et al. 1998; Klein et al. 2009; Mui et al. 2015), cell migration (Cary et al. 1996; Sieg et al. 1999; Slack et al. 2001; Chen and Chen 2006), cell survival (Frisch et al. 1996; Ashton et al. 2010), cell proliferation (Owens et al. 2001), cell morphology (Dunty and Schaller 2002), as well as regulation of cell junctions (Siu et al. 2003, 2011; Lie et al. 2012).
Structure
FAK is comprised of three major domains along its polypeptide sequence, FERM domain, intrinsic kinase domain, and FAT domain, as shown in the schematic diagram of human FAK
(
Fig.
1
)
. The N-terminal FERM (band 4.1, ezrin, radixin, moesin) domain is also found in a number of cytoskeletal-associated proteins (e.g., ezrin, radixin, moesin, talin, Janus tyrosine kinases (JAKs), protein-tyrosine phosphatases (PTPNs)) within the protein 4.1 superfamily (Chishti et al.
1998
; Jung and McCarty
2012
). The FERM domain in FAK consists of three subdomains called the F1, F2, and F3 which interact with multiple proteins, including tumor suppressor p53 (Lim et al.
2008
), murine double minute-2 (Mdm-2) (Lim et al.
2008
), ezrin (Poullet et al.
2001
), Ekt (Chen et al.
2001
), GATA4 transcription factor (Lim et al.
2012
) and hepatocyte growth factor receptor c-Met (Chen and Chen
2006
), and many others (Fig.
1
). Thus, FAK can create a giant regulatory protein complex by recruiting other regulatory proteins via its FERM domain.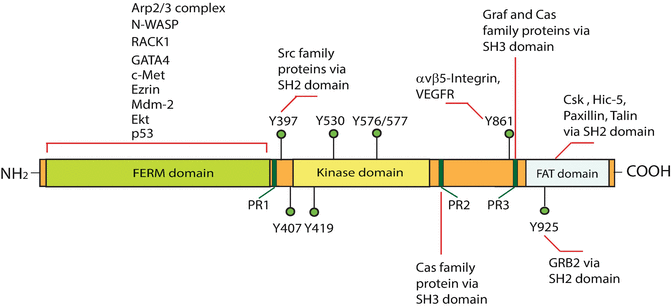 A stretch of ~160 amino acid residues at the C-terminal region of FAK constitutes the focal adhesion targeting (FAT) domain (Hildebrand et al. 1993). The FAT domain is required for efficient localization of FAK to focal adhesions at the cell-matrix interface where integrin clusters reside, partially through its interaction with other focal adhesion adaptor proteins such as paxillin (Brown et al. 1996) and talin (Chen et al. 1995). Tyr925 (Y925) in the FAT domain is a putative site to be phosphorylated by Src family kinases, and it is essential to the binding of FAK to the SH2 domain of growth factor receptor-bound protein 2 (GRB2) (Schlaepfer et al. 1994).
The intrinsic catalytic kinase domain resides in-between the FERM and the FAT domains. FERM domain and the kinase domain can form an auto-inhibitory interaction (Cooper et al. 2003), involving F2 subdomain in FERM and Phe596 on the C-terminal region of the intrinsic kinase domain (Frame et al. 2011). This inhibitory interaction hinders the activation of the catalytic kinase domain, thereby blocking the intrinsic activity of FAK. The binding of the cytoplasmic domain of β1-integrin to FAK FERM domain can disrupt the interaction between the kinase domain and FERM, thereby stimulating FAK activity.
Besides the three major domains, there are three proline-rich (PR) regions called PR1, PR2, and PR3 in FAK. The N-terminal PR1 serves as a docking site for SH3-containing proteins, whereas the C-terminal PR2 and PR3 act as binding sites for a number of other SH3 domain-containing proteins such as p130Cas (Polte and Hanks 1995) and Graf (Taylor et al. 1998).
Regulation of FAK Phosphorylation
Regulation of FAK activity is mediated by phosphorylation through at least one of the several putative phosphorylation sites in FAK as shown in Fig. 1 (Schaller et al. 1994; Parsons 2003; Frame et al. 2011). Initial activation of FAK begins with the release of FERM domain-kinase domain interaction that blocks FAK activation. Autophosphorylation of FAK on Y397 located within a linker region between the FERM and kinase domain is considered the most crucial step of FAK activation. Autophosphorylation of FAK at Y397 creates a binding site for SH2-containing proteins such as phosphatidylinositol 3-kinase (PI-3K), Grb7, and Src (Schaller et al. 1994; Xing et al. 1994; Chen et al. 1996; Han and Guan 1999). The FAK-Src complex further phosphorylates the Y576/577 site in the kinase domain, which causes conformational changes in FAK by blocking FERM domain-mediated intramolecular inhibition (Calalb et al. 1995; Cai et al. 2008). Phosphorylation of Y925 provides a binding site for the SH2 domain of GRB2, which is able to mediate ERK1/2 activation through the Ras pathway (Schlaepfer et al. 1994). Y861 is another crucial Src-mediated phosphorylation site on FAK (Calalb et al. 1996). Y861 phosphorylation may associate with enhanced cell motility (Slack et al. 2001). It also potentiates FAK phosphorylation at Y397. In this context, it is of interest to note that phosphorylation of FAK at Y407 negatively affects FAK autophosphorylation at Y397, illustrating the significant but antagonistic relationship between these two phosphorylation sites. Studies have shown that overexpression of a constitutively active p-FAK-Y397 mutant, p-FAK-Y397E, in the testis delays the timely remodeling of the F-actin-based cytoskeleton in the adluminal compartment of the seminiferous epithelium so that adhesion proteins that anchor spermatids to the epithelium (e.g., nectin 2, nectin 3) persistently remain at the Sertoli cell-spermatid interface, delaying the event of spermiation at stage VIII of the epithelial cycle in the rat testis (Wan et al. 2013). These findings thus illustrate that p-FAK-Y397 is crucial to support spermatid adhesion, consistent with earlier reports that p-FAK-Y397 is highly expressed at the Sertoli-spermatid interface until shortly before spermiation (Siu et al. 2003; Beardsley et al. 2006). Interestingly, overexpression of p-FAK-Y397E in Sertoli cells with an established functional TJ permeability barrier perturbs the TJ-barrier function, making it "leaky," whereas overexpression of p-FAK-Y407E, a constitutively active phosphomimetic mutant of p-FAK Y407, protects the TJ-barrier function (Lie et al. 2012), illustrating p-FAK-Y397 and p-FAK-Y407 are having antagonistic effects on cell adhesion function in the testis.
It should be noted that multiple serine phosphorylation sites (e.g., S722, S840, S843, and S910) and threonine phosphorylation sites (e.g., T406) are also found in FAK (Ma et al. 2001; Grigera et al. 2005). FAK can be phosphorylated at S910 through binding of platelet-derived growth factor (PDGF) to its receptor via an ERK-dependent pathway (Hunger-Glaser et al. 2004). Cell detachment and disruption in actin cytoskeleton induced by chemicals lead to phosphorylation of FAK at S843 (Jacamo et al. 2007). Phosphorylation at S843 is able to repress FAK phosphorylation at Y397 (Jacamo et al. 2007), suggesting a cross talk between serine and tyrosine phosphorylation sites. Phosphorylation of FAK at S732 by cyclin dependent kinase 5 (Cdk5) promotes the organization of microtubule fork near the nucleus, regulating neuronal migration, and may play a role in the regulation of centrosome function during mitosis (Xie et al. 2003; Park et al. 2009).
Physiological Function
FAK is found in virtually all mammalian cells and is known to be involved in a number of normal cellular events and also in pathogenesis of diseases. These include maintenance of cell matrix and cell junction network homeostasis, blood-tissue barrier (e.g., blood-testis barrier) function, cell cycle progression, cell survival, wound healing, and carcinogenesis (Cheng and Mruk
2009
; Frame et al.
2010
; Alanko and Ivaska
2016
; Byron and Frame
2016
; Kanteti et al.
2016
; Leavitt et al.
2016
). These diverse functional roles of FAK in multiple cellular events are due to the extensive signaling network mediated by FAK as illustrated in Fig.
2
. Herein, we summarize the role of FAK in several major cellular events in mammals.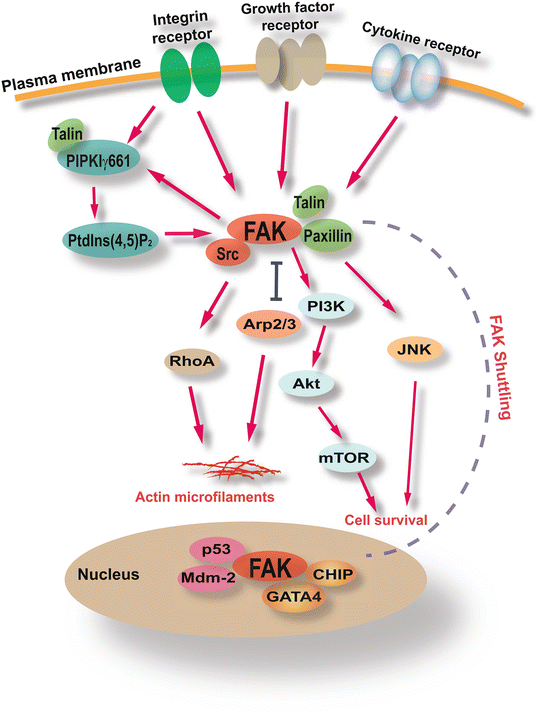 Pathological Function
FAK is also involved in the pathogenesis of a number of diseases, most notably carcinogenesis. Here is a brief summary of the findings regarding the role of FAK in cancer biology and other pathological conditions.
FAK in Cancer
FAK mutations, phosphorylation, and overexpression have been implicated in tumor progression and metastasis (Owens et al. 1995, 1996; Pylayeva et al. 2009; Park et al. 2010; Yom et al. 2011; Yoon et al. 2014). For instance, a deletion of the entire exon 33 of FAK transcript has been identified in some cancerous tissues (Fang et al. 2014). An increase in metastatic potential in invasive human prostate cancer cells correlates with an upregulation of FAK expression, plus an overall increase in tyrosine phosphorylation on Y397 and intrinsic FAK activity (Slack et al. 2001). Due to the inherent effects of FAK in modulating cell movement and cell adhesion as discussed above, it is not unexpected that an upregulation on FAK expression or its overall enhanced intrinsic activity positively correlates with the potential in cancer metastasis. Additionally, because of the intimate functional and structural association between FAK and Src, these two non-receptor protein kinases (and oncogenes) are also the therapeutic target of chemotherapy (Brunton and Frame 2008; Kratimenos et al. 2014).
Apart from its involvement in regulating cell adhesion and migration, the ability of FAK to promote cell survival also confers its supporting role in tumorigenesis. Specific KO of FAK in skin tissues hinders chemically induced, Ras-dependent papilloma (a benign epithelial tumor) formation, and FAK deletion from benign papillomas leads to an upregulation of caspase 3, an apoptosis indicator (McLean et al. 2004). Furthermore, cell adhesion-independent but FADD (Fas-associated death domain)-, caspase 8-, and/or caspase 3-dependent apoptosis is noted in human breast cancer cells following perturbed FAK function and degradation of FAK (Xu et al. 2000). The role of FAK to support cancer cell survival is further confirmed in a study in which deletion of FAK considerably reduces the number of newly formed breast tumors induced by p53 deletion or p53 point mutation (van Miltenburg et al. 2014), suggesting FAK as a crucial regulator of mammary epithelial cell proliferation and survival in p53-mediated mammary tumor development. The ability of FAK to maintain tumor cell proliferation may be partly due to Src-mediated phosphorylation of p130Cas since expression of a dominant negative form of p130Cas prevents FAK-mediated tumor cell proliferation and knockdown of FAK or p130Cas leads to growth arrest of breast cancer cells in a Ras- or PI3K-dependent fashion (Pylayeva et al. 2009).
Another likely mechanism by which FAK promotes tumorigenesis relies on its ability to maintain cancer stem/progenitor cell population since targeted ablation of FAK in mammary epithelium reduces the pool of cancer stem/progenitor cells in primary tumors and impairs their self-renewal and migration (Luo et al. 2009). Cancer stem cells (CSCs) are rare cells with proliferative potential capable of promoting tumor formation and growth (Reya et al. 2001; Jayachandran et al. 2016). A group of CSCs found along the tumor-stroma interface in cutaneous squamous cell carcinomas show high α6β1-integrin expression. TGF-β/TβRII and integrin/FAK signaling act in opposing manner to control the self-renewal and tumor-initiation capabilities of those CSCs with high CD34 expression (Schober and Fuchs 2011).
The pathological significance of FAK in tumor formation and metastasis makes it an important target for the development of cancer therapeutics. A number of FAK inhibitors have been developed and probed for their suitability as anticancer drugs (Figel and Gelman 2011; Kanteti et al. 2016). For instance, an ATP analog TAE-226 from Novartis is a low molecular weight FAK inhibitor earlier shown to inhibit glimoa cell proliferation and adhesion (Shi et al. 2007). PF-573,228 from Pfizer is another ATP analog capable of hindering the migration of REF52 fibroblasts dose dependently (Slack-Davis et al. 2007). Some of these inhibitors have displayed promising antitumor activities in clinical trials (Infante et al. 2012; Yoon et al. 2014).
FAK in Other Pathological Conditions
FAK is required for intestinal regeneration following 14 Gy γ-irradiation since almost no signs of proper regeneration were detected in the small intestines of FAK-deficient mice (Ashton et al. 2010). However, activation of Akt signaling pathway, independently of FAK, is able to rescue the failed regeneration caused by FAK deletion, illustrating that Akt signaling may be an integrated component of the FAK signaling network as illustrated in Fig. 2. Moreover, phosphorylation of mTOR, the downstream signaling molecule of Akts, is also considerably downregulated in FAK knockout models (Ashton et al. 2010). Thus, it is likely that FAK plays an important role in intestinal regeneration via the Akt/mTOR signaling pathway.
Summary
FAK is a self-regulating scaffolding protein and non-receptor protein-tyrosine kinase that binds to a number of receptors, kinases, lipids, and other regulatory proteins through its FERM domain, FAT domain, and proline-rich regions, creating a giant regulatory protein complex in mammalian cells/epithelia in response to changes in environment. Its autophosphorylation and interactions with other biochemical complexes are vital for signaling output and cell fate under both physiological and pathological conditions. Due to the multiple roles of FAK in regulating cell adhesion, migration, proliferation, and survival, as well as junction dynamics, FAK is also a crucial target for clinical therapies especially chemotherapy for different cancers. Emerging evidence has shown that FAK exerts its regulatory function inside the nucleus also offers new possibilities for enhancing FAK translocation into the nucleus to modulate transcriptional regulation of genes. An expanded research on FAK will likely bring new treatment to many diseases in the years to come.
Notes
Acknowledgments
This work was supported by grants from the National Institutes of Health, NICHD, R01 HD056034 to C.Y. C., and U54 HD029990 Project 5 to C.Y.C.
Copyright information
© Springer International Publishing AG 2018