BAFF/BLyS Family
Reference work entry
DOI:
https://doi.org/
10.1007/978-3-319-67199-4_101556
Synonyms
Cytokines
APRIL: A proliferation-inducing ligand
Synonyms:  TNFSF13a;  TALL-2;  TRDL-1;  CD256
BAFF/BLyS: B cell-activating factor of the TNF family/B lymphocyte stimulator
Synonyms:  TNFSF13b;  TALL-1;  zTNF-4;  THANK;  CD257
Receptors
BCMA: B cell maturation antigen
Synonyms:  TNFRSF13a;  TNFRSF17;  CD269
TACI: Transmembrane activator and calcium modulator and cyclophilin ligand interactor
BAFFR/BR3: BAFF receptor/BLyS receptor 3
Overview
The BAFF/BLyS family includes two cytokine ligands and three receptors, all of which are members of the TNF/TNF receptor superfamily. Members of the BLyS family play critical and varied regulatory roles among cells of the B lymphocyte lineage: they control the selection and survival of pre-immune B cells, govern aspects of selection and differentiation among activated B cells, and impact formation and survival of antibody-secreting plasma cells. General features of these ligands and receptors are summarized in Table
1
, and receptor expression patterns on B cell subsets are summarized in Table
2
and Fig.
1
. In this entry, we provide a brief history of the discovery and nomenclature of the receptors and ligands, followed by a treatment of their molecular structure, ligand-receptor interactions, and consequent signaling. We then provide an overview of physiological and pathophysiological relevance, with emphasis on their roles in the biology of B lymphocytes. Both BAFF/BAFFR and BLyS/BR3 nomenclatures are in common use for this ligand-receptor pair; herein we use the latter.
BAFF/BLyS Family, Table 1
BLyS family ligand and receptor family member characteristics (mice)
 
 

Ligands

Receptors

BLyS

APRIL

BR3

TACI

BCMA

Molecular characteristics

Molecular structure(s)

Soluble trimer,

60-mer

Soluble trimer

Type III transmembrane proteins

Molecular weight (kDa)

31

31

18

27

20.4

Cellular characteristics

Binding partner(s)

TACI

BCMA

BR3

TACI

BCMA

BLyS

APRIL

BLyS

APRIL

BLyS

NF-kB signaling

 
 

Noncanonical (NF-kB2)

Canonical (NF-kB1)

Canonical (NF-kB1)

B cell defects in mutants or knockouts

Reduced mature B cell numbers; impaired GC selection

Impaired TI responses

Reduced mature B cell numbers; impaired GC selection

Increased pre-immune pool; increased autoantibody production; CVID

Reduction in BM plasma cells
BAFF/BLyS Family, Table 2
BLyS receptor distribution and ligand requirements of B cell subsets (mice)
B cell subsets

Location

Subset

T ½ (days)

Production rate (106 /day)

Steady-state size (106)

Receptor(s)

Cytokine requirement

Developing and pre-immune

Bone marrow

Pro

 

15

5

None

None

Pre

3.5

15

50

None

None

IMM

3

10–15

30–40

BR3, TACI

?

Circulation, secondary lymphoid organs

TR

2–4

1.5

~10

BR3, TACI

BLyS

FO

90–100

0.4–0.5

30–40

BR3, TACI

BLyS

MZ

45–156

0.5

7–10

BR3, TACI

BLyS

Spleen, peritoneal cavity

B1

16–17 (splenic)

Variable

Variable

BR3, TACI

Partial APRIL dependence

Antigen-experienced

Spleen, lymph node

GC

15

Variable

Variable

BR3

BLyS

Spleen, blood, bone marrow

SLPC

3–5

Variable

Variable

TACI, BCMA

?

LLPC

≥20 weeks

Variable

Variable

BCMA

APRIL

(BLyS?)

Bmem

≥20 weeks

Variable

Variable

TACI, BCMA

?

ABC

Weeks–months

Variable

Variable

BR3, TACI

BLyS independent; APRIL unknown

Historical Background
Ligands
Both BLyS and APRIL were discovered through genome-wide homology searches. BLyS was identified simultaneously by multiple groups and, as a result, has appeared in the literature under the different names listed above. Many of these acronyms are misnomers, because they erroneously ascribe direct costimulatory or mitogenic activity to BLyS. This arose from observations that BLyS caused B cell hyperplasia in vivo and augmented the abundance of proliferating cells following BCR ligation in vitro. While these findings were consistent with the notion that BLyS had mitogenic or costimulatory properties, subsequent work has definitively established that the primary action of BLyS is survival rather than activation or mitogenesis. Similarly, the initial characterization of APRIL was done in cell lines derived from malignancies, and the major focus was thus on proliferation. However, as with BLyS, it appears that APRIL acts primarily as a survival and differentiation factor, rather than a direct activator.
Receptors
BCMA, TACI, and BR3 are the three BLyS family receptors. BCMA was discovered within a chromosomal translocation in a human T cell lymphoma. TACI derives its name from the ability to interact with calcium-modulating cyclophilin ligand (CAML). BR3 (a.k.a. BAFFR) is the most recently discovered member of the receptor trio. Early research indicated that neither TACI nor BCMA deficiency substantially impacts B cell compartments, despite the profound effects of BLyS. This accordingly led to the search for a third receptor that could interact with BLyS and/or APRIL. Studies of the A/WySn mouse, which has a severe reduction in mature B cells, led to the discovery of the third receptor, BR3 (initially termed Bcmd, for B cell maturation defect).
Molecular Structure and Binding Relationships of BLyS Family Members
Ligands
BLyS and APRIL share about 50% structural homology with each other, but only 20–30% with other members of the TNF family. Both are produced as Type II transmembrane proteins and then undergo furin cleavage to be released as soluble proteins, though in some instances BLyS may remain membrane anchored, as can a mutated form of APRIL lacking the furin cleavage site (Bossen and Schneider 2006; Vincent et al. 2013). Soluble BLyS forms multimers. BLyS trimers are most commonly associated with biological activity, as are the 60-mers, which may engage many receptors at a single site. Despite its structural similarity to BLyS, APRIL has not been reported to form 60-mers, although there is evidence that APRIL multimerizes by binding to sulfated proteoglycans, effectively concentrating APRIL or APRIL signaling at a local site (Sindhava et al. 2013). BLyS-APRIL heterotrimers are observed, and, although their in vivo role is not yet ascertained, they are biologically active and correlate with autoimmunity (Stohl et al. 2011).
Receptors
The BLyS family receptors are Type III transmembrane proteins (Bossen and Schneider
2006
; Coquery and Erickson
2012
). Structurally, the BLyS family receptors present considerable differences from other TNF receptor family members but share several motifs among themselves. For instance, all contain one (BR3, BCMA) or two (TACI) cysteine-rich domains, essential for receptor-ligand interactions. Similarly, the cytoplasmic domains of all three BLyS family receptors have one or more TNF receptor-associated factor (TRAF)-binding domains and interact with one or more TRAF proteins to transduce signals as shown in Fig.
2
(Rickert et al.
2011
).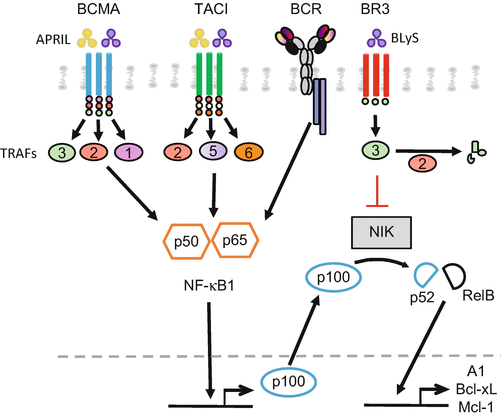 Binding Relationships
BCMA and TACI can bind both BLyS and APRIL, but the BR3 receptor binds only BLyS (Table 1). These differential binding capacities, coupled with distinct patterns of receptor expression in different B cell subsets (Table 2), allow considerable breadth in the targets and activities of the two ligands (Cancro 2004; Vincent et al. 2013). Crystallographic analysis of BLyS and APRIL has presented us with an electrostatic model for the basis of interaction between this subfamily's cytokines and receptors (Bossen and Schneider 2006). BR3 is heavily positively charged, whereas the putative binding sites in BLyS and APRIL have negatively versus positively charged residues, respectively, which may explain why BLyS binds BR3 strongly but APRIL does not bind to this receptor. Furthermore, the TACI and BCMA combining sites have mixed electrostatic charges, which is consistent with their abilities to interact with both BLyS and APRIL, albeit with differing affinities.
Overview of Primary B Cell Development and Characteristics
BLyS, APRIL, and their receptors are now well established as survival and homeostatic factors for cells within the B lymphocyte lineage. This is evidenced by the phenotypic features of mice and humans with mutations or deficiencies in BLyS receptors and ligands (Table 1), indicating the scope of B cell function affected by this family. Accordingly, a brief discussion of B cell development and differentiation is necessary to place BLyS family members into their biological context and to better understand their physiological roles. Table 2 summarizes key features and receptor-ligand interactions for B cell developmental and activation subsets (Cancro 2004; Srivastava et al. 2005; Anderson et al. 2006; Amanna and Slifka 2010).
B cells arise from hematopoietic stem cells in the bone marrow (BM), where they undergo immunoglobulin heavy and light chain gene rearrangements during the pro-B and pre-B cell stages, and then express a complete B cell antigen receptor (BCR) on the surface. At this point, they are termed immature (IMM) B cells. A young adult mouse produces almost 15 million immature B cells per day (Table 2), which undergo extensive negative selection, resulting in the elimination of cells with BCRs that either do not meet minimal tonic signaling thresholds or that interact strongly with self-antigens. The 10% of IMM B cells that survive this checkpoint migrate to the periphery and pass through the transitional (TR) developmental stage. Negative selection based on BCR specificity also occurs at the TR stage, such that only about 30% of TR B cells initially exiting the bone marrow survive to join the mature FO or MZ pools. Residence in all of these pools is brief; developing B cells transit the bone marrow stages in 2–3 days, and the recent bone marrow emigrés in TR pools either die or join the mature FO and MZ B cell pools within 3 days. In contrast, FO B cells have a life span of about 100 days and thus comprise 75–80% of peripheral B cell pool, whereas MZ B cells have a life span of about 1 month. The immunoglobulin isotype of BCRs on these preimmune B cell subsets is IgM and IgD.
BLyS Family Members Govern Pre-immune B Cell Homeostasis
BR3 and TACI are first expressed on TR B cells (Table 2); their levels increase through the TR stages and are highest on FO and MZ B cells. Accordingly, cells in the pro- and pre-B cell compartments have no functional reliance on either BLyS or APRIL. The primary role of the BLyS/BR3 signaling axis is readily surmised from the phenotype of BLyS or BR3 knockout mice and BR3 signaling mutants such as the A/WySn strain, which have a 90% reduction in FO B cells and virtually no MZ B cells. Likewise, humans with BR3 deficiency have very few mature naïve B cells (Darce et al. 2007). In contrast, BCMA or APRIL knockout mice have no disturbances in their peripheral pool, but TACI knockouts slowly accumulate more B cells in the FO and MZ pools, implying a regulatory role for this receptor.
Despite continuous turnover, the total number of cells within the FO and MZ B cell subsets remains relatively constant in normal adults. This steady-state situation is a function of the rate at which newly formed cells enter these mature B cell pools and their life span within the pool. Thus, stringent selection controls the number of immature B cells entering from the bone marrow to the periphery, and competition for survival factors helps to regulate life span thereafter. BLyS is the key survival factor, and systemic BLyS determines homeostatic "space" for pre-immune B cells. Radiation-resistant stromal cells – primarily among so-called fibroblastic reticular cells – are the main sources of systemic BLyS (Cremasco et al. 2014), supporting the notion that BLyS availability is linked to organism size: larger organisms produce more BLyS and therefore have a larger steady-state primary B cell pool size.
Interplay between BCR and BLyS-BR3 signals is required to pass the TR checkpoint. This checkpoint is flexible, with systemic BLyS acting as a rheostat to control the extent of BCR specificity-based selection at the TR checkpoint. Higher systemic BLyS relaxes selection by rescuing cells with BCR signal strength that falls above the threshold for negative selection or below the tonic signaling threshold for positive selection. Lower systemic BLyS makes TR selection more stringent, because only those cells with optimal tonic BCR signaling pass the checkpoint. B cells that fail to signal through either BCR or BR3 die, indicating a signaling integration to ensure survival, and Stadanlick et al. showed that the NF-kB signaling pathway may integrate signals downstream of these two receptors (reviewed in Stadanlick and Cancro (2006)). BR3 signals primarily via the noncanonical or NF-kB2 pathway and relies on availability of the p100 precursor to NF-kB. Although the BCR itself does not signal through the NF-kB2 pathway, p100 is a target of BCR signaling. Thus, BCR signaling replenishes p100, which is in turn used by BR3 signaling, which in turn induces expression of antiapoptotic genes (Fig. 2). This may in part explain why both a functional BCR and a functional BR3 are necessary for pre-immune B cell survival. More recent studies have shown that some downstream intermediates of BCR and BR3 signaling may be shared, further suggesting a complex relationship that mediates the interplay between BCR-mediated selection and BLyS-mediated survival.
In contrast to the B-2 lineage that is the focus of this encyclopedia entry, cells of the B-1 lineage are generated from fetal liver precursors, self-renew in the periphery, have a limited BCR repertoire, and are more common in coelomic cavities and mucosal interfaces than in secondary lymphoid organs. There is increasing evidence that BLyS family members play key roles in survival and homeostasis of B-1 B cells and may in fact integrate homeostasis of the two lineages (reviewed in (Sindhava et al. 2013)).
Overview of Antigen-Experienced B Cell Development and Characteristics
Antigen encounter results in the activation of FO and MZ B cells, leading to proliferation and further differentiation. Some activated B cells quickly differentiate into antibody-secreting cells termed short-lived plasma cells (SLPC), which afford rapid antibody formation early in the immune response and persist for several days (Table 2). A later and more antigen-focused antibody response results from the germinal center (GC). Some B cells activated by antigen initiate GCs in the spleen and lymph node after receiving cognate T cell help. GC B cells undergo successive rounds of somatic hypermutation (SHM) of immunoglobulin genes and selection, culminating in BCRs with greatly improved affinity for the antigen. As GCs progress and resolve, they yield memory B cells (Bmem) and long-lived plasma cells (LLPC), both with lifespans measured in months or years (Table 2). During immmune responses, activated B cells may undergo "class switching" from IgM and IgD to other Ig heavy chain isotypes, such as IgG or IgA. In general, SLPC display limited class switching and primarily secrete IgM antibody, whereas Bmem and LLPC show extensive class switching.
BLyS Family Roles among Antigen-Experienced B Cell Subsets
BLyS receptor profiles change with activation and subsequent differentiation (Table 2), yet the consequences of BLyS ligand and global receptor knockouts/mutations are generally more subtle for antigen-experienced compared to pre-immune B cell subsets (Table 1). Part of the challenge in studying BLyS family roles for antigen-experienced subsets involves the primacy of the BLyS-BR3 axis in generating and maintaining their preimmune precursors. For example, knockouts of either BLyS or BR3 yield a paucity of FO and MZ B cells and a limited BCR repertoire. Thus, sophisticated mouse models and experimental systems are needed to parse the roles of BLyS family cytokines and receptors in the differentiation, selection, and survival of antigen-experienced B cells.
Recent investigations into the role of BLyS in shaping GC dynamics used both wild-type inbred and chimeric mouse models to reveal that this cytokine is spatially segregated, and the main driver of this separation is TACI (reviewed in (Goenka et al. 2014)). Upon antigen binding and cognate interactions, a GC is seeded, and these signals along with IL-21 from T follicular helper (TFH) cells lead to proliferation and TACI downregulation by GC B cells. In contrast, FO B cells continue to express TACI, allowing them to bind and sequester BLyS. The GC is thereby "insulated" from systemic BLyS and is a BLyS-poor microenvironment relative to the surrounding follicle. However, TFH themselves secrete BLyS, serving as a local source of the cytokine within the GC that is required for efficient selection of high-affinity GC B cell clonotypes - and thus, ultimately, for optimal generation of Bmem with high-affinity BCRs and LLPC that secrete antibody with high affinity for the antigen. These observations are reminiscent of the selection process that occurs at the transitional stage during primary B cell development, with the added aspect of localized BLyS production that promotes survival of B cells with appropriate affinity.
TACI-APRIL interactions are key to T-independent (TI) responses (reviewed in Oropallo et al. 2011). Whereas APRIL knockout mice show muted TI responses and reduced class switching to IgG and particularly IgA, APRIL transgenics show enhanced and more durable production of IgM, IgG, and IgA. TACI knockouts likewise have impaired antibody responses to some TI antigens, and fail to maintain wild-type levels of flu-specific plasma cells or IgM, IgG, and IgA antibody following flu infection.
As noted above, TACI, BR3, and BLyS all play key roles in effective T cell-dependent immune responses. LLPC, one product of the GC, require BCMA for generation and maintenance. Both BLyS family ligands are important for this subset: BLyS neutralization has little effect on LLPC, whereas when both BLyS and APRIL are neutralized or eliminated, there is a marked reduction in LLPC numbers (reviewed in (Cancro et al. 2009, Stohl et al. 2011)). The ability to salvage survival through either BLyS or APRIL likely offers a competitive advantage for LLPC over pre-immune subsets in anatomic locales such as bone marrow. Consistent with the idea that APRIL is the primary mediator of plasma cell persistence, SLPC and LLPC are observed in close proximity to cells that elaborate APRIL, such as myeloid cells, macrophages, and osteoclasts.
Memory B cells in mice express TACI and/or BCMA, but not BR3, and those from humans have been reported to express all three BLyS receptors; yet Bmem persistence appears to be largely independent of BLyS and APRIL. Nevertheless, unswitched (IgM+ IgD+) Bmem are somewhat sensitive to BLyS neutralization in mice, while IgG+ Bmem are unaffected. BLyS clearly plays roles in the development and persistence of human B cell memory (reviewed in Karnell and Ettinger (2012)), although, somewhat paradoxically, long-term BLyS depletion does not significantly affect existing memory in SLE patients (Chatham et al. 2012). Together, these observations suggest differences in key BLyS family receptor-cytokine interactions for the persistence of different Bmem subsets.
A recently described B cell subset termed age-associated B cells (ABCs) accumulates with age and is associated with autoimmunity in both mice and humans (reviewed in Naradikian et al. (2016)). While the ABC subset is heterogeneous, a shared characteristic is expression of and dependence upon the transcription factor T-bet. ABCs display SHM, suggesting they are antigen-experienced. Although ABCs express both BR3 and TACI (Table 2), they appear to be largely BLyS independent, similar to conventional Bmem.
Pathophysiological Roles for BLyS Family Members
Malignant B cells, like their normal counterparts, may also depend on BLyS or APRIL for survival. Myeloma cells are sustained by APRIL produced by osteoclasts; and often, transformed B cells themselves are a source of BLyS, thereby perpetuating their own persistence. Therapeutic antibodies targeting B cells were initially developed with a view to treating B cell malignancies; some, including anti-CD20 (rituximab) and an antibody targeting BLyS (belimumab), have proven useful in treating autoimmune disorders.
A clear link between BLyS and autoimmunity is conclusively demonstrated by studies of murine transgenics, knockouts, and mutants: BLyS overexpression leads to SLE-like disease, including autoantibody formation, immune complex deposition, and proteinuria, while BLyS reduction improves disease symptoms. Likewise, serum BLyS levels are elevated and may correlate with clinical disease in several human rheumatologic disorders including rheumatoid arthritis, Sjogren's syndrome, and inflammatory bowel disease. Intensive research on BLyS as a therapeutic target culminated in development of belimumab, an anti-BLyS antibody therapy approved in 2011 for treatment of SLE (Stohl et al. 2011).
Peripheral tolerance risks are posed by both T cell-dependent and T cell-independent antigen activation (Oropallo et al. 2011; Goenka et al. 2014). Dysregulated GC selection and/or resolution could result in autoreactive clonotypes in Bmem and LLPC pools, where they may persist for years. In the case of TI activation via Toll-like receptors (TLRs), signaling cross talk between the BCR and TLR pathways normally leads to an early death as the early SLPC response wanes and the affinity-matured antibody response comes into play; however, there is mounting evidence that an inappropriately prolonged SLPC response, particularly in the context of elevated BLyS, may result in the rescue and recruitment of self-reactive cells into long-lived effector pools. Given the evidence that antigen-experienced subsets such as Bmem and LLPC are BLyS independent and therefore not affected by belimumab (Cancro et al. 2009; Chatham et al. 2012), the need for more targeted therapies is apparent.
The ABC subset is associated with autoimmunity in both mice and humans, although causality has yet to be established (Naradikian et al. 2016). Nevertheless, there is mounting evidence in mouse models that ABCs develop in response to antigens that engage the BCR and nucleic acid sensing TLRs, within an inflammatory cytokine milieu. Hence, ABCs may be generated in response to viral antigens as well as self-antigens such as chromatin or apoptotic debris. Their accumulation with age may simply reflect appropriate immune responses to pathogens, whereas in autoimmune-prone genetic backgrounds, they may result from inadvertent or dysregulated SLPC or GC responses.
Mice overexpressing APRIL, and APRIL knockouts, do not exhibit overt pathophysiology; however, this does not preclude a potential pathogenic role for this cytokine. As noted above, APRIL is a survival factor for plasma cells and thus may help to maintain autoreactive clones, thereby contributing to pathogenic autoantibody production. Furthermore, LLPC are recalcitrant to B cell ablation therapies as they lose some of the surface markers targeted by such agents. Therefore, understanding the role of BLyS and APRIL in mediating the survival of potentially long-lived autoreactive LLPC can aid in the development of better therapies. Indeed, mouse studies point to important roles for BCMA in controlling B cell homeostasis, regulating plasma cell differentiation, and maintaining tolerance in an autoimmune-prone context (Coquery and Erickson 2012). For example, mouse models of lupus that are BCMA deficient display exacerbated symptoms and increased SLPC and LLPC in secondary lymphoid organs. Mutations in TACI are associated with CVID (common variable immune deficiency), and some of these mutations also promote autoimmunity (Romberg et al. 2013). In summary, it is likely that mutations in any of the three BLyS family receptors could contribute to the development, heterogeneity, and penetrance of a range of human autoimmune diseases.
Notes
Summary
The BLyS family of receptors and ligands plays a pivotal role in maintaining peripheral homeostasis of B cells in both mice and humans. Their influence on differentiation and maintenance of antigen-experienced subsets is also beginning to be appreciated. Apart from regulating selection and life span, the BLyS/BR3 axis is relevant in autoimmunity and is a current therapeutic target.
Copyright information
© Springer International Publishing AG 2018