Primitive Neuroectodermal Tumor
Reference work entry
DOI:
https://doi.org/
10.1007/978-3-319-57111-9_150
Definition
Primitive neuroectodermal tumors (PNET) are the most common central nervous system (CNS) tumors that afflict children, accounting for nearly 15–30% of all pediatric brain tumors (Fig.
1
, Packer et al.
1999
). They are primarily found in the fourth ventricle and cerebellum, although PNET can also present in the cerebral cortex and infratentorial regions. The common clinical symptoms associated with PNET include intracranial pressure, emesis, papilledema, hydrocephalus, and persistent migraines. Since these tumors are primarily malignant, aggressive treatment is necessary to enhance curative potential. Surgery and radiotherapy comprise standard treatment for PNET although radiotherapy is a recognized risk factor for disease development.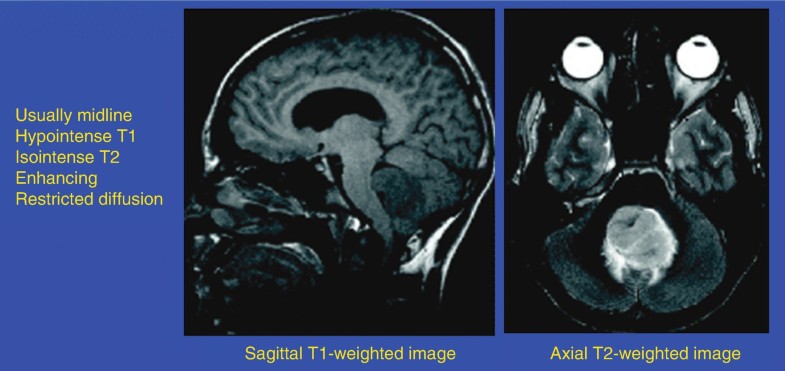 References and Readings
Packer, R. J., Goldwein, J., Nicholson, H. S., Vezina, L. G., Allen, J. C., Ris, M. D., et al. (1999). Treatment of children with medulloblastomas with reduced-dose craniospinal radiation therapy and adjuvant chemotherapy: A Children's Cancer Group Study.

Journal of Clinical Oncology, 17

, 2127–2136.

CrossRef

Google Scholar
Copyright information
© Springer International Publishing AG, part of Springer Nature 2018