Lewy Bodies
Living reference work entry
DOI:
https://doi.org/
10.1007/978-3-319-56782-2_503-2
Definition
Lewy bodies (LBs) are an abnormal aggregation of protein that develops inside the cytoplasm of neuronal cells. LBs contain ubiquitin, alpha-synuclein, and other associated enzymes (see section "
Cell Biology
" below for more detail) (McKeith
2000
). LBs can vary in size from 8 μm to 30 μm in diameter. There may be a single LB or multiple LBs in a particular neuron (Masterman and Swanberg
2003
). They are identified microscopically using histologic staining techniques and typically appear as spherical masses that have a dense core with a surrounding halo (see Fig.
1
).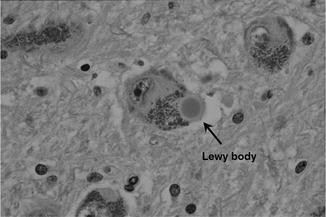 Copyright information
© Springer International Publishing AG 2018