Conservation of Coastal Sites
Living reference work entry
DOI:
https://doi.org/
10.1007/978-3-319-48657-4_97-2
Conservation of coastal resources has been practiced throughout human history as communities have endeavored to manage the food, water, and other resources of the coast in ways which ensure that each season or year will bring at least comparable bounty from the sea and the land. Protection of coastal sites in the historic past usually meant protection of areas to be used for elite recreation or as locations where coastal resources were to be conserved. Only in recent centuries, however, have communities begun to take specific action to conserve coastal sites for their natural flora and fauna. This has meant that some areas of coastal land and water have been designated as more important for conservation than others. This may have led to distortions in the behavior of coastal ecosystems which are just as important as the distortions which conservation is intended to prevent.
What does "conservation" mean? Usually, it means management in ways which protect the inherent natural and human features and processes of an area. Conservation is often confused with "preservation," but natural features change. Change is normal, but it is usually a means by which sites retain their resilience.
There are many different types of coastal sites which are conserved, including archaeological, biological, cultural, geological, geomorphological, and zoological sites. There is also a wide variety of approaches to their identification, designation, and protection (Table
1
).
Table 1
Typology of coastal conservation sites
Level of designation

Features of importance for designation

Exemplar categories

Exemplar sites

Global

Having features of ecological, biological, geological, cultural, archaeological significance at international level

World Heritage Site

Great Barrier Reef (Australia)

Biosphere Reserve

Danube Delta (Rumania)

Ramsar Site

Karavasta Lagoon (Albania)

Regional

Habitats of regional significance sites of importance for migrating birds

European SACs

Chesil and the Fleet (UK)

European SPAs

Wadden See (NL, D, and DK)

National

Key habitats or species

NNRs

Studland (UK)

Biological Reserve

Isla del Caño (Costa Rica)

National Wildlife Refuge

Kodiak (USA)

Protection of fauna and flora with extensive recreational activities

National Parks

Fuji-Hakone-Izu (Japan)

 

Protection of fauna and flora with limited recreational activities protection of marine areas

National Monument

Fort Jefferson (USA)

Marine Parks

Oshimoto (Japan)

Marine Sanctuary

Farallon Islands (USA)

MPA

Milieuzone Noordzee (NL)

Marine Life Conservation District

Waikiki (USA)

Protection of sensitive estuarine areas

National Estuarine Research Reserve

South Slough (Oregon, USA)

Protection of site of scientific importance (geological or biological)

SSSI

Dungeness (UK)

 

Site

Anse du Gris-Nez (France)

Recreational site with ecological significance

National Recreation Area

Oregon Dunes (USA)

Protection of archaeological, anthropological, or historic site

Area of Archaeological Importance (AAI)

Hengistbury Head (UK)

Anthropological Reserve

Cota Brus (Costa Rica)

National Historic Site

San Juan Island (USA)

Local

Protection of locally important habitats or species

Local Nature Reserve (LNR)

Lundy Island (UK)

Ecological Reserve

Tomales Bay (USA)

Protection of fauna and flora and provision for recreational activities

State Park

Humboldt Lagoons (USA)

Local protection of marine habitats with extensive recreational activities

Municipal Marine Park

Balicasag Island (Philippines)

State Seashore

Del Norte (USA)
Conservation for Biological Reasons
Ehrenfeld (1976) argued that protection of ecosystems was usually justified by two purposes: scientific and human. Typically, these include research and education, the need to protect genetic information, and as parts of the worldwide and interconnected pattern of ecosystems. Often, however, they have been protected because of the perceived importance of particular species. Usually, these are rare and, commonly, higher plants and animals. Conservation was often a response to particular lobby or pressure groups, sometimes even individuals, whose concern about losses of species and habitats led them to establish groups to provide protection to pressure governments into protecting vulnerable species. This was particularly the approach in nineteenth century North America and Europe. Today, the responsibility lies more with government bodies or conservation nongovernmental organizations (NGOs).
Conservation for Geological or Geomorphological Reasons
Geological and Geological and geomorphological sites are usually protected so that stratotypes, fossil assemblages, or structures can be observed and studied or so that specific important features are preserved and protected. The coast is a particularly good location for the observation and investigation of geological features because erosion constantly exposes new strata and because large sections can be observed without excavation. In many countries, the coast provides an accessible location for earth sciences research and education. Sites may also be important because they demonstrate the processes which mold the landscape both now and in the past. Geological sites commonly fall into two groups: "process" sites and sites which display features of geological significance. The British Geological Conservation Review which describes all designated geological and geo- morphological sites of national and international importance in Great Britain refers to "process" and "integrity" sites (Table
2
). Most fossil locations or stratotypes are integrity sites. At Dungeness, for example, the ridge sequence provides a time sequence which is an integral part of recent coastline history. If it disappears that part of the history goes with it, hence it is an "integrity" site. In contrast, chalk cliffs of the Seven Sisters exemplify well the processes which occur at the coast and so this is predominantly a "process" site.
Table 2
Selected geomorphological coastal conservation sites
 

Dungeness

Chesil beach and the fleet

Seven Sisters and Beachy Head

North Norfolk coast

Feature

Cuspate shingle foreland

Shingle tombolo and lagoon

Chalk cliffs

Barrier beaches and spits

Key geomorphological importance

Shingle ridges in sequence from c 5,500

Large coastal fringing tombolo

Rapidly retreating

Barrier islands

Chalk cliffs

Complex spits and

Years BP

Sediment grading

Intertidal platforms

Recurves

Archaeological importance

Reclamation from

 

Cliff-top Iron Age settlements

Reclamation from mediaeval times

Roman period to present

Biological importance

Holly (Ilex aquifolium) wood invertebrates

Little terns (Sterna albifrons) intertidal and subtidal organisms

Rock-boring organisms intertidal flora and fauna

Salt marshes

Conservation status

SSSI

SSSI

SSSI

SSSI

Geological

GCR

GCR

GCR

Conservation review

SAC

SAC

SAC

Site (GCR) SPA

SPA

 

SPA
Archaeological and Historical Sites
Archaeological and historical sites include major buildings and structures located at the coast as well as sites where artifacts have been identified and excavated. Some sites are now well removed from their original coastal location by the effects of emergence, whereas others have been submerged. In shallow coastal waters, there are often very important submarine archaeological sites associated with wrecks, especially in the more active sea lanes. Some archaeological sites are at risk of disappearance as erosion cuts into them. Unless the site has considerable architectural or historical importance, erosional sites are usually not protected.
Conservation Legislation
Although the purpose of conservation laws is usually the same, that is, the protection of features or processes of high scientific or cultural value, the detailed legislation depends upon the legal framework of each nation or state. France, the United States, the United Kingdom, and Japan each have well-developed systems of conservation legislation which lay down specific procedures for the identification, designation, and management responsibility for scientifically important sites. These include coastal sites. The way in which management takes place also depends upon local tradition and legislation. Thus in Britain, coastal conservation is carried out both by statutory bodies such as English Nature (a government body) and by NGOs such as the National Trust and the Royal Society for the Protection of Birds (RSPB). In addition, smaller local bodies such as Wildlife Trusts also own or lease land so that they can conserve and manage areas in which rare or endangered habitats or species occur. However, the statutory bodies often are advisory organizations rather than owners of the sites. Site management depends upon the landowner or occupier of the site. This means that there may be many different organizations involved on conservation of coastal sites within short distances of each other. Their conservation policies and practices may conflict.
In many countries, there is little or no tradition of nongovernmental conservation bodies practicing coastal conservation and so responsibilities lie with government. Thus in France, the government sponsored body, the Conservatoire de l'Espace Littoral et des Rivages Lacustres (CELRL) was established to make coastal lands more accessible at the same time as protecting landscapes and properties of national importance. Modeled in part on the UK's National Trust, it is a governmental body rather than a nongovernmental membership body such as the National Trust. In some locations, First Peoples have traditionally regarded coastal lands as sacrosanct, but have no tradition of legislation to protect these lands. As a result, there are conflicts in conservation practice between traditional views of the value of coastal sites and their legal protection. Examples include the conflicts between European-based legislation and traditional approaches of the Maori in New Zealand. Legislation derived from British law conflicts with traditional law.
There may also be differences between local, national, or international legislation. Thus in the United States, both federal and state legislatures can define sites of coastal conservation and in Europe, the system of Directives which are mandatory on all member states may supplement or even override national conservation practices. The European Union's Birds (European Commission 1979) and Habitats (European Commission 1997) Directives have established Europe-wide networks of sites including many at the coast. These are known as Special Protection Areas (SPAs) and Special Areas of Conservation (SACs). In Britain, the seaward boundary of coastal sites such as National Nature Reserves (NNRs) and Sites of Special Scientific Interest (SSSIs) established under the national legislation lies at Low Water Mark, but the boundaries of SACs and SPAs can extend to the territorial limit. There is a very wide range of types and levels of conservation designations worldwide which includes World Heritage Sites, Biosphere Reserves, and Ramsar Sites designated at international level, National Parks, and Marine Sanctuaries at national level and local nature reserves (Table 1).
Conservation Measures in Different Countries
In Europe, there are considerable differences in the history of coastal conservation, usually as a result of the relative importance of government and nongovernmental involvement and action at the coast. Furthermore, there has been considerable conservation action in the past decade as a result of initiatives by the European Community.
France has the longest established nature conservation legislation in Europe. Protection of sites is the responsibility of the Ministère des Affaires Culturelles, with advice provided by the Commission Supérieure des Sites, Perspectives et Paysages and the Commissions Départmentales des Monuments Naturels et des Sites. Decisions at local level must be approved by the national Commission Supérieure. The designation of sites followed the Laws of May 2, 1930 and July 10, 1976, which identified the following criteria for classification of sites as nature reserves:
1.

The preservation of animal and plant species and habitats which are either in danger of extinction in all or part of the national territory or have outstanding characteristics;

 

2.

The restoration of animal or plant populations or habitats;

 

3.

The conservation of botanical gardens and arboreta forming reserves for plant species which are rare, unusual, or nearing extinction;

 

4.

Preservation of biotopes and outstanding geological, geomorphological, or speleological features;

 

5.

Preservation or establishment of staging points on the great migration routes;

 

6.

Scientific and technical studies necessary for the development of human knowledge;

 

7.

Preservation of sites of particular interest for studies of the evolution of life and the activities of mankind.

 
This approach is reflected within the European Union Directives on Birds and Habitats both of which include important coastal areas.
The largest of the French coastal nature reserves is the Camargue (13,171 ha) on the Rhone delta. In contrast, when it was designated as a Site in 1930, Port Cros, a small island off the coast of Provence, had an area of only 140 ha. The initial designation was based on landscape protection, as more was known about the newly protected site, especially its flora and fauna, the significance of the surrounding seas was acknowledged. The site was extended in 1963 to include the surrounding sea, and became the first Marine Protected Area in the Mediterranean. The inclusion of the surrounding sea recognized the importance of such species as Neptune Grass (Posidonia oceanica) and Grouper (Epinephelus marginatus). This example typifies the development of coastal conservation as sites are first identified to protect a particular species or habitat and then expanded to account for improved understanding of the site and its surroundings. However, conservation can be very slow in practice. For example, at Port Cros the conservation objectives have been restricted by the impact of over half a million visitors annually and local resistance to conservation measures, such as a ban on angling from the shore which restricts traditional coastline activities.
The 62 coastal Départments may designate for protection the habitats of protected species that are threatened and acquire land financed through the Taxe Départmentale des Espaces Naturels Sensibles (TDENS: Departmental Tax for Sensitive Natural Areas), often in association with the CELRL (Meur-Férec 1997). The Law of May 2, 1930 allows for designation of either Site Classé (classified site) or Site Inscrit (listed site) for sites of special natural and built importance and has been used extensively in the protection of coastal sites (Meur-Férec 1997). The 1986 Loi Littoral (Coastal Law) provided a statutory framework which recognized the economic, social, and heritage importance of the coast and the unique nature of the coastal zone (Cicin-Sain and Knecht 1998). This provided a context for individual sites, including, for example, a setback zone of 100 m wide for the whole coast, in which development is prohibited. Marine areas can be declared protected under the 1968 Law of Maritime Hunting, essentially to protect wildfowl! In many countries with long-established traditions of hunting, conservation of these species has often meant controlled management of habitats. Although there are some strongly held objections to game conservation, it is important to emphasize that without these conservation measures many sites which are valued today for their biodiversity would not exist. The 1960 Loi Relative à la Création de Parcs Nationaux (Law for the Creation of National Parks) includes Marine Protected Areas (MPAs) by allowing the terrestrial parks to extend into the maritime region (IUCN 1994). European Union (EU) regulations and directives further supplement the national policies. Under the Birds (1979) and Habitats (1992) Directives, 133 sites have been proposed for inclusion within the European Community-wide Natura 2000 network of sites.
Two government bodies also have a role in French coastal conservation. The most important is the CELRL established in 1975. It is a public body charged with acquiring coastal and lakeside land, maintaining its ecological character and allowing public access to its sites (Cicin-Sain and Knecht 1998; European Union for Coastal Conservation 1995). Once purchased, the land is managed by the CELRL on behalf of the state in perpetuity. However, any acquisition has to take account of the area development plans and prior consultation with the Départements and Communes. This is because the day-to-day management and costs of an acquired site are handed back to the commune(s) or relevant landowner after purchase (EUCC 1995). It currently owns over 49,000 ha along 650 km of coastline (Meur-Férec 1997), including the D-Day beaches in Normandy and the Domaine de Certes at Arcachon. The Office National des Forêts (ONF, the National Forestry Office) manages 100,000 ha along 500 km of coastline, mainly forested dunes, such as the Landes. It works with the CELRL and other related administrative bodies to produce management plans for the forests. In the coastal region, ONF's work is more social and ecological than its predominantly economic role on the inland forests (Favennec 2000). In particular, it is responsible for dune stabilization work, where it often has to balance the needs of conservation with tourism and public access. Thus at Pointe d'Arçay it has implemented a management plan devised with public participation and at Cap-Ferrat has successfully reintroduced marram grass (Ammophila arenaria) to the dunes.
Coastal conservation in Britain started, as so often there, with voluntary bodies such as the National Trust and the Royal Society for the Protection of Birds. Previously, conservation measures were largely in the hands of individual land-owners or the Crown and were mainly concerned with management of game or food resources. In 1949, the National Parks and Access to the Countryside Act established the Nature Conservancy as well as the national parks. The Nature Conservancy and its successors (three country agencies: English Nature, the Countryside Council for Wales (CCW), and Scottish Natural Heritage) were concerned with the geological and biological importance of sites for research and education. National Nature Reserves were established together with areas designated as SSSIs. The Royal Commission on Historical Monuments describes and studies sites of historical and archaeological importance, including many coastal sites. The Ancient Monuments and Archaeological Areas Act 1979 provides for the protection of archaeological sites and monuments and does appear to extend into territorial waters, although there is no record of designations at sea. These Acts and bodies are generally empowered only to deal with sites above Low Water Mark. However, the European Directive on Habitats specifies Marine SACs and so specific attention now has to be given to subtidal and submarine sites around the UK coastline. The Directive has force for the coastal waters of all European member states, although the detailed legislation is made at national level.
Submarine and marine sites are dealt with under different legislation. The Merchant Shipping Act 1995 deals with wrecks and salvage, requiring reporting of finds and the Protection of Wrecks Act 1973 provides some protection for important or dangerous wrecks or their sites. War graves may be designated under the Protection of Military Remains Act 1986: diving on and interference with a designated war grave is an offence. International agreement to protect graves in civilian shipwrecks in international waters was given effect in the Merchant Shipping and Maritime Security Act 1997.
The biological sites were reviewed in detail by Ratcliffe (
1977
) and coastal geomorphological and geological sites have been the subject of a major national review (the Geological Conservation Review [GCR]) which has identified almost 100 coastal geomorphological sites (May and Hansom
2003
), plus a number of coastal landslide sites and several hundred geological sites. The Nature Conservation Review (Ratcliffe
1977
) described three stages in site classification:
1.

Recording the features of each site to describe the range of ecosystem variation in terms of environmental and biological characteristics;

 

2.

Comparing the quality of these sites; and

 

3.

Choosing a series of nationally important sites.

 
The criteria used in both assessment and selection of key sites were
1.

 

2.

 

3.

 

4.

Naturalness, that is, areas which have been modified least by humans in so far as they are identifiable;

 

5.

Fragility: habitats which are highly fragmented, rapidly decreasing in number and/or area, difficult to recreate or threatened with extinction;

 

6.

 

7.

The recorded history of the site;

 

8.

The position within an ecological or geographical unit;

 

9.

The potential natural value of a site;

 

10.

The intrinsic appeal of a site.

 
The Nature Conservation Review identified 140 coastal SSSIs with a mean area of 1,957 ha; 8 sites exceeded 10,000 ha in area. At the same time, France had 131 sites of average size 456 ha. 78% French sites were less than 100 ha in area, whereas 42% British sites exceeded 1,000 ha. For coastal geomorphological sites, criteria have included not only the specific importance of the site, but also the processes affecting particular rock-types or structures. As a result, sites with comparable geological conditions have been selected with micro- and meso-tidal ranges and different wave climates. There are 100 geomorphological sites which include large shingle structures such as Dungeness, major landslides such as the west Dorset coast, major dunes such as Morrich More on the east coast of Scotland, and world-renowned features such as Lulworth Cove and the stack of the Old Man of Hoy.
Although their coastal conservation is based upon different traditions both in coastal use and in their laws, France and Great Britain show very well how complex the legislation and administration of coastal conservation has become. Countries with shorter experience have been able to adopt different, and sometimes more efficient, approaches. Furthermore, the European Community has adopted its own framework for conservation in order to establish a community-wide network of related sites.
Funding of coastal conservation is similarly complex and depends upon receiving levels of funding which allow management to be carried out. The British model relies heavily upon voluntary support, membership, industrial support, bequests, and fundraising (Fig.
1
).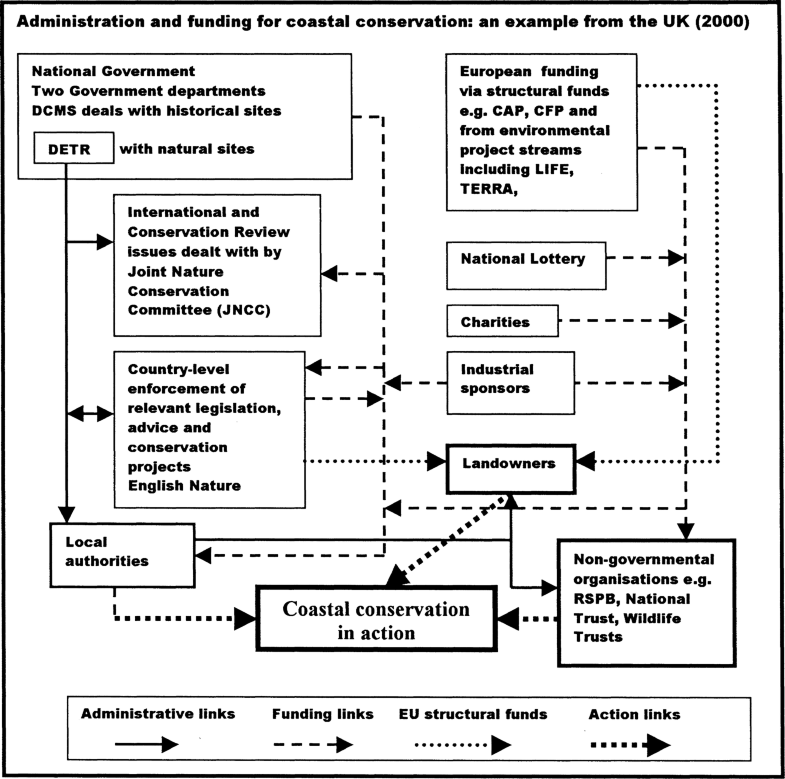 Typically, the largest voluntary bodies have strong marketing and sales departments. Funding from national and local government is limited in amount and has to be competed for. Such funding is often restricted in time. In contrast, in France or the United States, for example, conservation is predominantly funded by official sources, with the national and local governments largely responsible for both funding and operation of the conservation sites. The manner and volume of funding may change with a change of government. Thus, although the arrangements shown in Fig. 1 for government funding applied in 2000, a reorganization of government departments following a General Election in June 2001 altered some of the responsibilities. In Britain, local authorities have only limited inputs into conservation funding, whereas the French Départements have considerable fiscal and legal tools at their disposal. They may, for example, acquire land financed through the TDENS (Departmental Tax on Sensitive Sites). Often these acquisitions are made in conjunction with the CELRL, and all the 62 coastal Départements have used these powers to purchase land (Meur-Férec 1997). The day-to-day management and costs of an acquired site are handed back to the commune(s) or relevant landowner after purchase (EUCC 1995). The majority of funding comes from the state but legacies and public/corporate donations also help with the acquisition and management of sites. Apart from the State, the CELRL is France's second largest landowner but interestingly, its budget is one-fifth of the National Trust's, a British NGO that operates a similar protection by acquisition policy (Meur-Férec 1997).
At the time of the French Law of 1976, many European countries had hardly established relevant legislation. Greece, for example, had very good legislation concerning its archaeological sites, but was only just beginning to identify natural sites (May and Schwartz 1981). Similarly, Norway's Nature Conservation Act of 1970 initiated action to preserve and protect plants, animals, and birds and areas of importance to nature conservation which, within a decade, established a network of 13 national parks, almost 200 nature reserves and over 200 locations which were of natural scientific importance. Many are at the coast. In contrast, Poland created its first National Park inland at Bialowieza in 1932 and there are now eight protected coastal areas including two National Parks, the Slowinski (founded 1967: present area 18,619 ha) to the west of Gdansk and the Wolinski Park near the German border (founded 1960: present area 10,937 ha). The Polish Environmental Protection Bill 1992 provides for three "levels" of designation: Strict (usually no admission to the public: 22% of sites), Partial (where management controls are flexible: 59%), and Landscape Protection (where so-called "soft laws" apply: 19%). This recognizes that although some areas must have strict controls over access in order to protect sensitive areas and species other areas are more resilient and more appropriate for human activities such as recreation. National ecological policy requires that 30% of Polish territory (including coastline) should eventually be designated as "protected," 22% of the area had been designated by 1997. Coastal conservation in Poland is thus a national responsibility rather than a regional or local one. This is a typical pattern of many countries which have relatively recently begun to conserve coastal sites. The strength of national legislation often, but not always, ensures that designation and appropriate funding occur.
Spain combines national and local approaches to conservation. It has a long history of environmental legislation but the first specific conservation (in its modern sense) legislation was the 1975 Law on Espacios Naturales Protegidos (ENPs: Protected Natural Areas). This proposed four categories of protected area: national park, natural park, natural area of national importance or interest, and reserve of scientific interest. Other later laws have established over 25 different categories (WCMC 1992). The national body responsible for administration of protected areas is the Instituto Nacional para la Conservación de la Naturaleza (ICONA: National Institute for the Conservation of Nature). Set up in 1971, its functions include the encouragement of renewable resource use and maintenance of ecological balance; the creation and administration of national parks and sites of national interest; and the development and exploitation of inland fishing and hunting assets. With decentralization of the government in 1978, responsibility for many conservation issues passed to Spain's 17 autonomous communities (Comunidades Autonomas) which are responsible inside territorial waters for the protection of marine and coastal areas from human activities. The 1989 Law on the Conservation of Natural Areas, Flora, and Wildlife strengthened this responsibility further. The protection of coastal areas is covered by the Ley de Costas (the Shore Act: July 28, 1988) based on the French model (Barragan 1997). The Shore Act requires protection of the sea up to 100 m offshore and restricts the number of road and pedestrian routes to the coast. It also defines a zone extending 500 m inland which affects land and urban planning as well as prohibiting the disposal of waste in this area (WCMC 1992). As in France, this provides a national framework within which conservation of coastal sites may take place. Laws concerning sustainable use and conservation of living marine resources have been adapted from the Directives of the European Community since these require member states to bring them into force.
The Waddensee: An Example of International Cooperation in Coastal Conservation
International cooperation is sometimes essential if the integrity of coastal ecosystems is to be protected, one of the best examples being the Waddensee in the southern North Sea. The Wadden Sea is the largest unbroken stretch of intertidal mudflats in the world and is extremely productive. With a biomass considered equivalent to rainforests, it is recognized as one of the most important wetland areas in the world. Up to 30 km wide, the Waddensee extends from the northeast Netherlands through Germany to the southwest coast of Denmark and includes low barrier islands, tidal flats, salt marshes, sand dunes, woodland and grassland, and low barrier. It is a very important breeding and overwintering area for a high proportion of the coastal birds of the North Sea. It is also, however, an area of reclamation, oil and gas extraction, commercial fisheries, and resort development. The three countries have cooperated in its conservation since 1978 using a joint memorandum which provides the basis for planning, conservation, and management of the area. In 1997, they adopted the Waddensee Plan, which was developed by involving all stakeholders and has as its focus the conservation, restoration, and development of all the region's ecological features. The interests of the local population, traditional uses of the area, and habitat conservation must be balanced with the other needs of sustainable management and preservation. Seven principles have been used to bring about regulation of activities that threaten its environment and to provide for active intervention as necessary, namely (de Jong et al.
1999
):
Careful decision making – based on using the best available information

Avoidance – avoiding potentially damaging activities

Precautionary principle – avoiding damaging activities, even if there is insufficient scientific evidence to link them to specific impacts

Translocation – moving damaging activities to areas where they will cause a reduced impact

Compensation – using compensatory measures to offset unavoidably damaging activities

Restoration – restoring areas which have been damaged

Best available techniques and best environmental practice should be adopted.
The most important lessons are that international cooperation is essential for the conservation of some vital sites, that there must be agreed targets and procedures, and that local people must be involved especially when their traditional activities form part of the ecosystem as a whole.
In contrast, although some of the less-developed countries of eastern Europe have taken few steps to conserve coastal sites, the role of international conventions such as the Ramsar Convention on Wetlands of International Importance, 1971 and international cooperation in species protection, especially for marine turtles, have had an impact. In some respects, the significance of tourism as an economic driver for conservation has been overlooked although tourism provides a very strong incentive for conservation and sustainable activities. In Albania, for example, the isolation and centralization of the economy and society over the last 50 years affected community behavior as local communities were excluded from the planning process and decision making about natural resources upon which they depended. Not surprisingly, they consider that conservation and habitat protection have ignored their needs and imposed restrictions without providing benefits.
Albania designated its first Ramsar site in 1994 (RAMSAR 1996, 2001), comprising the Karavasta Lagoon and adjacent Divjaka National Park. In the 1960s, much of the wetland was drained for agriculture, affecting the biodiversity of the lagoon, as well as the surrounding catchment, the Divjaka forest and hills, and its human communities. The total area of the site is 20,000 ha, made up of native forest of Pinus pinea, a species unique to the Albanian coast, and the lagoon itself (5,800 ha) which is a brackish water system connected to the sea by artificially maintained channels. The freshwater input to the lagoon comes from runoff from the surrounding agricultural land and Divjaka hills. Karavasta Lagoon has the only coastal breeding population of the Dalmatian pelican (Pelecanus crispus) along the Adriatic and Ionian coasts, supporting up to 5% (700–1,000 individuals) of the total world population. A significant proportion of the European breeding populations of Little Tern (Sterna albifrons) and Collared Pratincole (Glareola pratincola) use the Karavasta wetlands during migration, as well as large numbers of waterfowl, gulls, and terns, including the globally threatened pygmy cormorant, and white-headed duck.
Despite its designation as a Ramsar site, the lagoon has been seriously threatened by inappropriate tourism development which has often damaged fragile coastal habitats upon which its wildlife depend. Pollution and overfishing have added to the stresses on the lagoonal ecosystem. Some of the reclaimed wetlands are affected by high levels of salinity and so are of limited agricultural value. The area is state-owned and managed jointly by the General Directorates of Forestry and Fisheries (both part of the Ministry of Food and Agriculture). In practice, management depends upon a small number of rangers with limited experience of specialized wetland management, training, or equipment. Future strategies include improved planning and management of the lagoon to both protect the ecosystem and its biodiversity (including the pelicans) and derive economic benefits for local communities. A management plan for the site was prepared with international, technical, and financial cooperation through the European Union's PHARE program (PHARE 1996). The Karavasta Lagoon is an example of where there is a need to involve local communities in biodiversity conservation activities and demonstrate their benefits. Karavasta exemplifies the problem that conservation of coastal sites depends upon management of the human systems which decide how the area will be sustained.
The United States of America
A very wide range of different designations are used in the United States, many within the framework of the National Parks legislation. They range from areas such as National Parks where they exist for both preservation of natural and cultural features and for recreation to specialized research areas, such as the National Estuarine Research Areas that are devoted to research (Table 1). There is a wide network of sites at state and federal level, but the initial establishment of important sites depended upon very strong individual lobbying of the federal government and the role of individuals such as John Muir in getting presidential support. Coastal sites were generally established later than inland sites.
The origins and variety of the coastal sites is well illustrated by the coastline north of San Francisco (Table
3
). From very humble beginnings, some sites such as the Farallones Islands have grown to major national coastal and marine sites. Designations overlap so that within the Point Reyes National Seashore, for example, there are not only marine and terrestrial reserves, but also historic ranches within the Philip Burton Wilderness Area (California Coastal Commission
1987
). State, county, and private parks and reserves also occur. However, there are few sites owned or managed by private organizations. Estuaries, such as San Francisco Bay, have been extensively reclaimed with the accompanying loss of wetland habitat. This is a worldwide feature of coasts and serious concerns about the loss of biodiversity and productivity have been expressed within the United States for many decades. Since 1850, reclamation has cut off over half of the bay's tidal marshes and open water from tidal action and 95% of the original wetland habitat has been lost (California Coastal Commission
1987
). Nevertheless, San Francisco Bay contains 90% of the coastal wetlands of California and remains a major part of the Pacific coast bird migration route. Responsibility for the wetlands is divided between the Bay Conservation and Development Commission (tidal wetlands) and the US Corps of Engineers (nontidal wetlands), a division which does not recognize the natural hydrological links between them.
Table 3
Coastal conservation in the United States – California examples
Site

Designation

Responsible authority

Key features

Area (ha)

Southeast Farallon Island

Bird Reservation (1909)

Presidential order following pressure initiated by Director of California Academy of Sciences

Major seabird nesting site protection to prevent large-scale damage to birdlife by commercial egg companies

26

Southeast Farallon Island

Farallon Reserve (1911)

Re-designation. First statutory protection

Public concern over wildlife endemic Farallon weed major seabird nesting site

26

Farallon Islands

National Wildlife Refuge (1972)

US Fish and Wildlife Service and Point Reyes Bird Observatory

300,000 birds in 12 species nest annually. Over 350 species of birds migrate via the islands

40

 
 
 

World's largest nesting populations of ashy storm petrels, Brandt's cormorants and western gulls northernmost breeding site for northern elephant seals

 

Farallon Islands and surrounding waters (up to 6 nautical miles offshore between bodega head and rocky point and waters within 12 nm of the islands)

Gulf of the Farallones National Marine Sanctuary (1982)

Gulf of the Farallones National Marine Sanctuary (Federal Agency)

Diverse productive marine ecosystem based on upwelling

 

Point Reyes National Seashore

National Seashore

National Parks Service

San Andreas fault very diverse ecosystems >360 bird species recorded

Almost 29,000

Limantour Estero

Reserve (within National Seashore)

National Parks Service

Estuarine habitats: removal of all life forms prohibited without permit

202

Bodega dunes

Sonoma Statem Beach

State Department of Parks and Recreation

Dunes up to 50 m high

364

Bodega

Marine Reserve

University of California statewide Natural Reserve System State Department of Fish and Game

Undisturbed habitat for research

132

Marine Life Refuge

Marine area up to 330 m offshore

Duxbury reef

Marine Reserve

State Department of Fish and Game

Largest exposed shale reef in state

ca. 16

Endemic acorn worm and one of only two sites for burrowing anenome (Halcampa crypta)

Tomales Bay

Ecological Reserve

State Wildlife Conservation Board

Wetlands and salt marsh

>200

Tomales Bay

State Park

State Department of Parks and Recreation

Sand beaches

 

Bolinas lagoon Olema

Nature preserve

Marin County

Marsh habitats and species privately owned research and wetland restoration project

485

Audubon

Marsh

Not designated

Canyon Ranch

Freshwater marsh

16
In many less-developed countries, funding for conservation is largely provided through tourism receipts, or by international aid programs and funding from international bodies such as the World Wide Fund (WWF) for Nature. Pressure for conservation action and designation typically comes from pressure groups. The implications of conservation action and site or species protection are not always well considered. For example, a ban on turtle fishing along the Pacific coast of Mexico had immediate impacts upon the local economy and knock-on effects to other parts of the coastal ecosystem. The contrast between the approach in many less-developed, but biologically rich, regions is well demonstrated by two examples, Costa Rica and the Mexican state of Oaxaca.
Costa Rica
The Central American country of Costa Rica has a well-established system of designation and protection of its ecosystems and biodiversity, including coastal sites. As the examples in Table
4
show, these sites include very large areas of land and sea which protect different habitats and some small sites which are most important for particular species. These sites are all nationally designated and form part of a network of sites designed to represent and preserve Costa Rica's wide biodiversity.
Table 4
Examples of the variety of coastal conservation sites in Costa Rica
Location

Cabo Blanco

Isla del Caño

Manuel Antonio

Ostional

Status

Strict nature reserve

Biological reserve

National Park

National Wildlife Refuge

Area

1,172 ha

300 ha land 5,800 ha marine

682 ha

162 ha land

587 ha marine

Key faunal features

Largest Brown booby (Sula leucogaster) colony in Costa Rica

Coral reefs

Major nesting site for Brown booby

One of the world's most important nesting sites for

109 species of mammal, 184 bird species, 10 species of sponge, 19 coral, 24 crustacean, 17 algae, 78 fish

Olive Ridley turtle (Lepidochelys olivacaea) on beach only 900 m in length

Also important for Pacific green (Chelonia mydas) and leatherback turtles (Dermochelys coricea)

102 bird species

Key plant features

Mainly evergreen forest with especially spiny cedar (Bombacopsis quinatum), chicle tree (Manilkara chicle), and Espave (Anacardium excelsum)

Tall evergreen forest dominated by cow tree (Brosimum utile) coral reefs

Range of habitats: primary and secondary forest, mangrove swamp, marsh and littoral woodland and lagoons major nesting site for Brown booby

Forest includes deciduous trees (especially Frangipani: Plumeria rubra), mangrove, cacti and succulents.

Acanthocerus pentagonus cactus grows on beaches and provides shelter for ctenosaurs (Ctenosaura similes)

Archaeological importance

 

Pre-Columbian cemetery

Pre-Columbian turtle trap

 

Geological and geomorphological importance

Plate tectonics: subduction of Cocos plate beneath Caribbean plate along middle American trench

Sand tombolo
Mazunte: An Example of Conservation in Action
Mazunte on the Oaxacan coast of Mexico is, unlike the Waddensee, in one of the poorest areas of the world. It shows how changes in conservation policy can be accompanied by local community involvement in coastal conservation especially when this is focused upon sustainable development. However, it also demonstrates the tenuous nature of much coastal conservation in less-developed areas.
For more than 30 years, Mazunte (the name comes from a Nahuatl word meaning "please lay eggs") was dependent upon turtle catching and canning. Most people in the village were either fishermen or worked in the cannery. A Presidential decree in 1990 banned all turtle fishing following significant lobbying by WWF. The immediate effect was to remove the community's main source of income, as the local community express it, throwing "our people into misery!" Protection of one species (turtles) was enacted at the cost of another. Some local people abandoned the area and moved inland to occupy land within the coastal dry forest, the associated clearance having potentially damaging effects on coastal lagoons as sedimentation increased. The turtle populations were recognized as being under stress from poaching, predators, and disease. The Mexican Center for Marine Turtle Research (CMT) was established in late 1991, using the buildings of the former Society of Industrial Fisheries of Oaxaca, and now has a unique role as the only center which studies seven out of the eight species of marine turtle. In addition, a community-based project known as Ecosolar and a Reserva Ecologica Campesina were established. Within Mazunte itself, a small ecotourism project was based upon sustainable principles and designed to provide accommodation for mainly foreign visitors to the area. Further to the south, the large-scale resort development of Huatulco had a major impact on the unusual dry coastal forest and the coastal beaches and lagoons.
The attempts to conserve not only the turtles and their nesting beaches but also to build a sustainable community have not proved easy, for both human and natural intervention have conspired to threaten the coastal ecosystem. In the aftermath of an uprising in 1994 in Chiapas, there was considerable local unrest which affected Huatulco in August 1996. This had a serious impact on the turtle ecology because, when police were sent to the resort, up to 200 poachers went to local beaches where Olive Ridley turtles were arriving to lay eggs. It is estimated that up to one million eggs were lost and large numbers of turtles killed. In October 1997, the area was struck by Hurricane Pauline which caused serious damage to both the CMT and other buildings but also devastated the nesting beaches. 806,000 nests were affected, with half all the nests on Escobilla beach, four million eggs and up to ten million hatchlings lost. Nevertheless, the turtles continue to nest on these beaches. The CMT carries out detailed studies of turtle behavior and ecology both in the Center and on the beaches and the growth of the resort of Huatulco has brought increasing numbers of visitors to Mazunte. The concept of the Reserva Ecologica Campesina is unusual in that it links deliberately the human community with the coastal ecosystem. Knowledge which once served the commercial interest of turtle canning has been harnessed to develop an approach to sustainable development which has shown itself to be very resilient to significant human and natural disruption. The financial support for the CMT is very small, less than US$70,000 annually, and receipts from the ecotourism project are also small. Conservation here is not about conservation of a site, so much as conservation of a whole ecosystem (including its human occupants). For many communities, this will be the future for coastal conservation for it is firmly based in local knowledge, the needs of the local community, and their own initiatives.
Conclusion
The conservation of coastal sites takes many different approaches, often with detailed legal and administrative frameworks for designation and protection, but also in relatively informal ways with the involvement of NGOs and private ownership. In some countries, it has only been through the effective active involvement of individuals and NGOs that conservation has been put into practice. The example of Mazunte is a modern, but more community-based, expression of people's wish to protect and conserve features of their environment which they value which was expressed in different words and actions by the founders of the National Trust or John Muir and the Sierra Club. Once established, such initial routes to coastal conservation need the support of the national and international communities to make sure that they are truly sustainable and not threatened by external political, economic, and social pressures. Although coastal conservation is well established in practice, there are nevertheless enormous threats to many sites from urbanization, resource extraction, tourism, pollution, large-scale coastal projects such as barrages, and reclamation and neglect. Sea-level change and climate change also threaten many sites, although their history shows that most sites are resilient to change provided that human activities allow natural resilience.
Note
The International Union for the Conservation of Nature (IUCN) World Conservation Monitoring Centre (WCMC) in Cambridge, England, is the most important source of information regarding protected sites.
Copyright information
© Springer International Publishing AG, part of Springer Nature 2018