Mobilty in Multicast
Living reference work entry
DOI:
https://doi.org/
10.1007/978-3-319-32903-1_16-1
Definitions
Mobility in multicast means the technical ability to provide mobility support in IP multicast communications. IP multicast session can be resumed after the change of point of attachment by a mobile terminal, without mobility management consideration. But the traditional IP multicasting has two technical issues in a mobility event; one is that the multicast session will be disrupted. Second, a join procedure for the multicast session takes a considerable time for the multicast membership update and multicast routing path update after the IP connection is established. To avoid such time-consuming procedure and session disruption by mobility in IP multicast communication, mobility support mechanisms for IP multicast are required. Depending on mobility management protocol such as Mobile IP or Proxy Mobile IPv6, or other mobility protocols over which IP multicast works, design criteria for mobility management extension are considered.
Historical Background
IP multicast is a well-known transmission technique that efficiently can deliver an IP packet from a sender to multiple receivers by duplicating the packet over IP multicast-enabled networks, without creation and management of multiple IP sessions per content request. Setting up a multicast session is powered by two main technologies: (i) multicast membership group management and (ii) multicast routing. A multicast group is a set of network devices identified by a common multicast address. For the receivers interested in receiving the IP packets of a certain multicast group, it is required to subscribe the membership group using Internet Group Management Protocol (IGMP) for IPv4 (Cain et al.,
2002
) or Multicast Listener Discovery (MLD) for IPv6 (Vida and Costa,
2004
). After the interested multicast group information is gathered by the local multicast router, it should send a join message with the multicast group information to the upstream multicast router for establishing a multicast branch between the two multicast routers on the requested multicast group, using multicast routing protocol such as PIM-SM and PIM-DM (Fenner et al.,
2016
; Adams et al.,
2005
) or IGMP/MLD Proxy (Fenner et al.,
2006
) (Fig.
1
).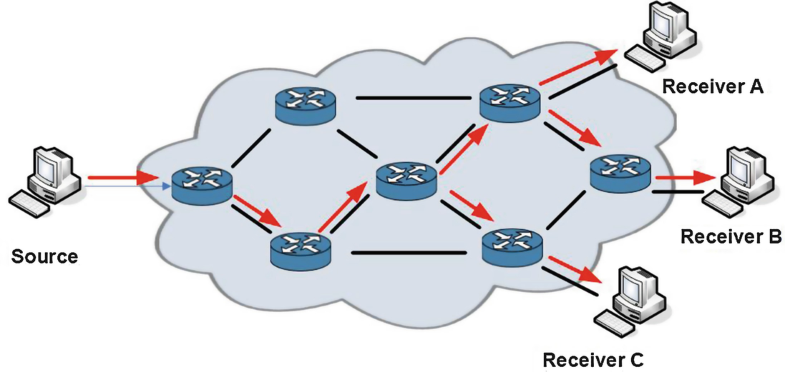 As wireless/mobile network is evolving and growing with the demand of IP multimedia service, mobility in multicast began to study in earnest with the advent of Mobile IP for the IP session continuity support of a mobile terminal. There are a variety of solutions for mobility in multicast, addressing and/or mitigating the tunnel convergence issue, join latency, point of failure, and so on. In Romdhani et al. (2004), IP multicast support mechanisms over mobile networks were comprehensively investigated, dealing with technical challenges and solutions for mobile source and mobile receiver over Mobile IP (MIP) and its variants such as Fast Mobile IPv6 (FMIPv6) and Hierarchical Mobile IPv6 (HMIPv6).
As Proxy Mobile IPv6 (PMIPv6) addressing the limitations of the host-based mobility protocols (i.e., Mobile IP) appeared (Gundavelli et al.,
2008
), the design approach for IP multicast support over PMIPv6 has been investigated in IETF Multicast Mobility (MULTIMOB) WG, with the aim of specifying IP multicast support and optimization solutions aligned with PMIPv6 networks (Schmidt et al.,
2011
; Zuniga et al.,
2013
) and handling the behavior of IGMPv3/MLD for wireless networks and mobility (Asaeda et al.,
2012
). All the produced RFCs in IETF MULTIMOB WG are as follows:
RFC 6224: Base Deployment for Multicast Listener Support in Proxy Mobile IPv6 (PMIPv6) Domains

RFC 6636: Tuning the Behavior of the Internet Group Management Protocol (IGMP) and Multicast Listener Discovery (MLD) for Routers in Mobile and Wireless Networks

RFC 7028: Multicast Mobility Routing Optimization for Proxy Mobile IPv6

RFC 7261: Proxy Mobile IPv6 (PMIPv6) Multicast Handover Optimization by the Subscription Information Acquisition through the LMA (SIAL)

RFC 7287: Mobile Multicast Sender Support in Proxy Mobile Ipv6 (PMIPv6) Domains

RFC 7411: Multicast Listener Extensions for Mobile IPv6 (MIPv6) and Proxy Mobile IPv6 (PMIPv6) Fast Handovers
For tackling the problems and limitations of the centralized mobility management, i.e., MIP and PMIPv6, Distributed Mobility Management (DMM) has appeared in IETF DMM WG, analyzing the issues of centralized mobility management and extracting the requirements (Chan et al., 2014). In the requirements, IP multicast issues and problems in the centralized mobility management are analyzed, and design considerations for IP multicast over DMM are given.
Key Points
For IP multicast deployment over the mobile networks, it is essentially required to install one of the two IP multicast agents or both into the mobility management entities. The one is an Internet Group Management Protocol (IGMP)/Multicast Listener Discovery (MLD) Forwarding Proxy (in short IGMP/MLD Proxy) (Fenner et al.,
2006
); the other is a multicast routing protocol. Both or each of them can be used for providing multicast service over wireless/mobile networks. Though the mobile network can be deployed with both multicast membership protocol and multicast routing protocol, the multicast membership protocol can solely be used and installed in the mobility management entities, and the multicast traffic distribution in the core network can be implemented and deployed by an operator-specific solution. On the other hand, the multicast routing infrastructure can solely be used for multicast packet distribution over the multicast core network, while the subscription of a certain multicast group can be implemented by an operator-specific solution. The IGMP/MLD Proxy provides an available option to associate the mobile network with a multicast infrastructure. It is lightweight compared to the multicast routing protocol and does not require the multicast routing protocol support. Due to the reason, it has been tried to use IGMP/MLD Proxy in PMIPv6 networks (Schmidt et al.,
2011
; Zuniga et al.,
2013
). In any cases chosen from the deployment options, mobility management in multicast should consider the following design issues and KPIs.
Multicast Traffic Duplication

: IP multicast works per group, not per terminal, while IP mobility management is provided and handled per terminal with a tunneling method. IP multicast aims to provide an efficient transmission of the same packet for multiple terminals. Suppose that there are multiple terminals attached at the same mobility access router and they are supported by the IP tunnels from their home networks in an IP mobility architecture. IP multicast subscription on the same multicast channel for individual mobile terminal will be delivered through each tunnel and multicast traffic will be duplicate. This problem was described in PMIPv6-based networks with a proposed solution to tackle the problem in Jeon et al. (

2009

), which has been contributed for an optimized IP mobile multicast solution (Zuniga et al.,

2013

). This problem has been identified in a distributed mobility environment, as analyzed in Jeon et al. (

2012

) (Fig.

2

).

Open image in new window

Fig. 2

Multicast traffic duplication problem in a mobile IP-based network

Join Latency: To receive a copy of IP multicast packet, a receiver should join a group by initiating a multicast membership request when it learns of the group using the membership subscription protocol (IGMP or MLD). The IP multicast router sends a join message to the upstream multicast router to join the group requested from the receiver. Then, an IP multicast branch is established between the two multicast routers. This process takes a considerable time, so reducing the join latency is of importance for seamless service continuity in IP mobile multicast. For addressing the issue, tuning the behavior of IGMP and MLD protocols is required, since the behaviors and parameters of the protocols are originally specified for wired networks (Asaeda et al., 2012). Sending the IP multicast context information to a predicted mobility access router was suggested by extending mobility protocol (Jeon et al., 2009; Figueiredo et al., 2015) or using context transfer protocol (Von Hugo and Asaeda, 2013).
Key Applications
Mobile IPTV: Mobile IPTV is a popular application where mobility in multicast can be provided. Nowadays, for receiving multimedia streaming such as drama, movie, and news, IP multicast with mobility can be considered for watching streaming contents, particularly in commute time.

Personal Broadcasting Service (PBS): personal broadcasting service where a mobile sender broadcasts the real-time streaming in a street or moving car is going to be popular. The multicast mobility architecture for PBS was designed and demonstrated in Medieval (2012).

Multimedia Broadcast/Multicast Service (MBMS): MBMS is the 3GPP-based multicast/broadcast platform, which enables multicast/broadcast services for mobile terminals. MBMS aims for efficiency of multimedia traffic transmission on the same region covered by a base station (BS). However, due to the economies of channel popularity per BS region and dedicated MBMS radio frequency, it is somewhat deprecated.
Copyright information
© Springer Nature Switzerland AG 2019
Section editors and affiliations