E-government to Smart E-governance: Korean Experience and Challenges
Living reference work entry
DOI:
https://doi.org/
10.1007/978-3-319-31816-5_3814-1
Definitions
Smart

The term "smart" originally comes from the acronym "Self-Monitoring, Analysis, and Reporting Technology" but smart technology goes beyond just the normal sending and receiving of information and the traditional turning things on and off. Instead, it offers the people much more interaction and control, which is always connected, through the use of the Internet, smart phones, smart cars, Internet of Things (IoT), and other smart devices. It implies both the device and network connectivity.

Smart E-governance

A highly intelligent governance system that redesigns existing administrative practices and procedures based on the smart technologies and social networks, and enables government and businesses, citizens, and local communities to share knowledge and information. It is also a governance system that aims to serve as a cooperative partner by providing a platform for public relations that helps social actors to generate productive and democratic added value through mutual transactions among the community people.
Introduction
The current smart society suggests the beginning of a post-information society which is beyond the technology-driven and system building initiatives during the information society. Government-driven ICTs policies could not pull out individuals' creative ideas and thoughts in the stage of agenda setting and decision-making cycles. A smart society more focuses on the deliberation process of agreement among governments, citizen, and private sector organizations through the advanced ICTs and social media.
The government now should carefully listen to the people's opinion and quickly respond to the demand of various stakeholders. The government in a smart society must have the capability of multi players like politician, public officials, and mediator of the social conflict agendas under the cross-checking mechanisms enabling people's use of smart technologies. Information asymmetry between government policy initiatives and policy implementations cannot be allowed in this hyper-connected society in which people get information more quickly through a variety of information resource channels then the blocked government built in the period of e-government building which has worked somewhat efficiently enough in a silo and centralized data management environments. Unfortunately, many governments including Korean government mistakenly believe that e-government services will work again in a smart society and eventually have failed to transform their e-government into e-governance and smart e-governance.
The purpose of this chapter is to discuss the paradigm of e-government by introducing a smart e-governance perspective. Firstly, it looks at the history and success factors of e-government building in Korea. Secondly, it discusses a paradigm shift from e-government to smart e-governance based on a contingency theory. And finally, a new perspective based on smart e-governance is introduced which entails both consensus processes and effective implementation of balancing democracy and efficiency in the fourth industrial revolution.
Brief History and Success Factors of E-Government in Korea
Korea has strategically planned and implemented policies for building ICT infrastructure and e-government systems from the 1980s. Korea has become as one of the world's best countries for ICT and e-government, ranking it at the top of the United Nations E-Government survey done in 2010, 2012, and 2014.
The Table
1
shows the government-driven e-government initiatives and ICT policies which have seldom been found in other competing nations. Particularly, the 11 e-government initiatives of Kim Dae-Jung's government (1998–2002) was a citizen-centered e-government by which citizens can access to online applications for government services without redundant processes and documentations. The Roh Moo-Hyeon's government (2003–2007) has more focused on integration of government portals and citizen participation by carrying out 31 roadmap projects for E-government as well as laying the groundwork for linking and integrating multiple government departments and agencies.
Table 1
Development stages of E-government in Korea
Stages

Major Actions

Inception

(mid 1980s~mid 1990s)

Building five National Basic Information Systems (NBIS)

Act on Computer Network Expansion and Usage Promotion (1987)

Foundation

(mid 1990s~2000)

Building foundation for high-speed information and

communications and promoting the Internet

Enacting the Framework Act on Informatization Promotion (1995)

Launch

(2001~2002)

Carrying out 11 major initiatives for e-government

Enacting the Act on E-Government (2001)

Diffusion

(2003~2007)

Carrying out 31 roadmap projects for E-government

Laying the groundwork for linking and integrating multiple

government departments and agencies

Convergence

(2008~present)

Establishing Master Plan for National Informatization (2008)

Carrying out tasks (12) for e-Government based on the principles

of openness, sharing, and cooperation

Smart Government

(2011~present)

Initiating the future e-Government blueprint, Smart Government

(2011~2015)
The success factors in Korean e-government building are analyzed as a strong government leadership, aggressive investment based on clear goal-setting, effective informatization governance framework and structure (MOSPA 2013b: 16–17). Firstly, the Korean government established a supervising and coordinating body in the area of informatization policies under the strong president's leadership to oversee and manage the process. For example, "Invest first, settle later method" supported by laws including the Act on Computer Network Expansion and Usage Promotion (1987), the Information Infrastructure Protection Act (2001), Informatization Promotion Framework Act (1995), and the Electronic Government Act (2001) is an example of presidential leadership. Secondly, the government strategy of "choice and focus" was successfully been applied for the construction of the Korean broadband network, the aggressive investments in e-government projects which resulted in the improvement administrative efficiency and quality of citizens' life. Thirdly, an informatization governance framework was established for mutual benefit and cooperation between the public and private sectors. Experts in the private sector played important roles in overseeing, coordinating, reviewing, and advising organizations on informatization policy and e-government projects.
Contingency Model of E-Government
Contingency approaches provide more flexible perspectives to IT management and e-government studies. This is especially useful for the study of ICT management in government organizations because there is greater interdependency within and between departments or higher levels of governments, more accountability to the public. For example, "reinforcement politics" theory (Kraemer 1990, p. 530) argues that decision-making power over the ICT use varies from setting to dominance of particular groups contingent on the local political system and its specific configuration of dominant of values, interests, and actors.
Contingency model of e-government is shown in Fig.
1
. The vertical axis (e-government for what) indicates the objective values for building e-government, which include efficiency or productivity, transparency, and power. The horizontal axis (e-government for whom) indicates the target of e-government systems and services whether it is citizen-oriented or designed for the sake of government itself. The contingency model of e-government shows how the e-government changes according to the shifting social paradigm and political environments, which can be classified by six types of e-government based on the conceptual model of e-government.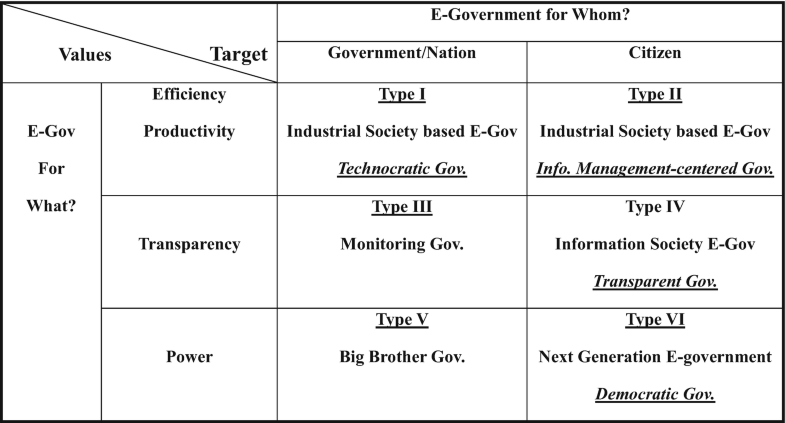 Industrial Society-Based E-Government (Type I, II) – "Technocratic E-Government and Information Management-Centered E-Government" (Type I, II)
Technocratic E-Government (Type I)
E-government is in a stage where it has little direct connection with civil society in which citizens participate in the policy decision-making process and is still very exclusive to the external groups of stakeholders while the information is shared among a small number of people in the government. The type of e-government at this stage, then, can be defined as "Technocratic E-government."
Information Management-Centered E-Government (Type II)
E-government in this stage where the level of social pluralism is still fairly low, and the civil society still rather passive should be classified as e-government centered on information disclosure. E-government is applied, in other words, to disclose government-held information to civil society and thereby honor citizens' right to know. The type of e-government also focuses on building information systems based upon the provider-oriented design and structure, then, can be classified as "Information Management-centered E-government."
Information Society E-Government – "Transparent and Participatory E-Government" (Type IV)
E-government in this stage, where there is an active civil society and considerable progress has been made toward a more pluralistic society, in which citizens find out access channels and begin to express their opinions in government portals. In this stage, the scope of application of e-democracy is extended so that the government takes part in the government's decision-making process but it is still limited to the provider-driven portals. In other words, there is a two-way exchange between the government and citizens. The e-government model in this stage can, then, called "Transparent and Participatory E-government."
Next Generation E-Government – "Democratic and Governance-Type E-Government" (Type VI)
In this stage of social development, society is highly pluralistic and civil society, which has a capacity of self-governance, is highly active enough to decide the agenda in a local community. E-government in this stage is, therefore, pluralistic e-democracy enabling active e-voting not only between different sections of the government but also between the government and the various sectors of society. An optimal level of democracy and transparency is reached in the government's decision-making process, and the views are exchanged by people from all walks of life through a far and wide-reaching network and platforms. In this stage, e-government systems will finally assume a model adapted for the next-generation society and may be defined as "Democratic and Governance-type E-government." The role of government is now shifting from the role of a "decision-maker" to that of a "coordinator" who gathers the opinions of people from everyday life, serving as a mediator to reconcile differences between interest groups and stakeholders. Meanwhile, the fourth industrial revolution, accompanying the shift in the government's role, is causing a shift also in the service paradigm in the public sector. Convergence of ICT, such as the Internet of things (IoT), artificial intelligence (AI), Big Data, and blockchain sweeping across society has not only assigned a new role to the government, but is also transforming government services, and improving accessibility as well as the overall technology environment and shown in Table
2
. It compares the successive models of e-government in Korea in terms of services, accessibility, and technology environment and proposes future strategies. E-government is more system-oriented and has built-in government initiatives in the earlier stages of e-government building in the industrial and information society. E-governance is more about communication-oriented and integrating various stand-alone systems and services between government-to-citizen (G2C), government-to-government (G2G), government-to-employees (G2E), as well as back-office processes and interactions within the entire government framework (Saugata and Masud
2007
). Through e-governance, government services are made available to citizens in a more convenient, efficient, and transparent manner. The three main target groups are government, citizens, and businesses/interest groups. In e-governance, there are no distinct boundaries (Garson
2006
).
Table 2
Evolution and elements of e-government model
 

Industrial-society e-government

Information-society e-government

Next generation e-government

E-government generation

E-government

E-governance

Smart E-governance

Services

One way service

Digitalization of services

Limited amounts of information is closed

Services subject to temporal and spatial constraints

Intersection of government and private-sector services

Creation of new values through new services

Two-way information exchange

Extended range of information disclosure

Mobile services

Personalized and customizable services

Proactive, intelligent services

Interactive information exchange

Real-time information disclosure

Uninterrupted supply of services

Accessibility

Government-centered

First-stop-shop

Single portals

Citizen-centered

One-stop-shop

Service integration

Individual-centered

My Gov

Personalized government service portals

Technological environment

Channels

Fixed Internet

Fixed and wireless Internet

Integration between fixed-wireless Internet and mobile devices (channel integration)

Process Integration

Processing of unit tasks

Process integration (public/private sector collaboration)

Service integration

Enabling technology

Browser, web storage

Broadband, rich link/content models

Semantic technology, sensor networks
Next Generation E-Governance: Smart and Platform E-Governance
A smart society focuses on the process of mutual communication and the incorporation of each individual's thoughts into some social agreement. With the rise of smart society, "smart e-governance," as a new model for e-government, is a system where the government strengthens the cooperative partnership with people and the private sector. Figure
2
shows the change of e-government from e-government to smart e-governance from the perspective of governance including the role of each actor, the goal of e-government services, and the environmental changes to ICT and demand. In the era of smart e-governance, the Internet, and SNS have already established their influence in the most powerful information-sharing media in history, playing immeasurable roles in globalization, in the spread of democracy around the planet, in economic growth, and in education. Democratic and governance-type e-government, based on smart e-governance, constitute the phase in which the main progress consists in enabling active participation by citizens in the affairs of the government and their open communications with it. These systems are expected to upgrade gradually to platform-based systems, espousing the new e-government paradigm for the next-generation smart society.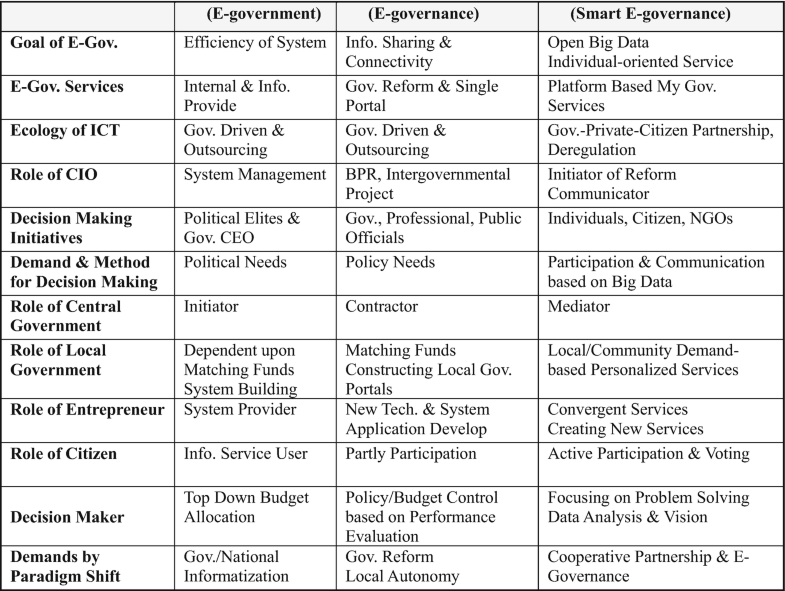 As ICT develops, e-government evolves and evolves into a form of public information that maximizes accessibility through people-oriented public information, public-private-public cooperation, and information convergence. The future e-government will be transformed into a new government role paradigm, not traditional government intervention, while strengthening the link between government and enterprise. It is possible to define the function of the government that can change the state of the future government as the platform function. We can define the type of future government as follows (Myeong 2011, pp. 77–79).
Firstly, based on the interconnection function of the platform, it is a cooperative government as a future platform government functioning centering on the strengthening factors of government-citizen-private cooperation. Cooperative governments have the potential to increase the value added of the government to various resources that are generated when citizens and companies access the platform and re-enter the platform mechanism for the re-service and increase social added value. The origin of cooperative governments is correlated with changes in the economic system. The social value has been added to the public sector. Therefore, we create value through mutual cooperation with other private sector entities. In the existing public sector, the government has led many policies to resolve social conflicts and regional balances. However, the private recruitment of the local community and the strengthening of the civil society in the public domain require a partnership relationship with the government.
Secondly, it is an intelligent government as a future government functioning to strengthen the more controlled and data-driven administrative services for the people's demands based on the ability to connect and strengthen the existing ones. The intelligent government provides services by constructing an active service system to visit individual citizens and customize the service to accommodate the diversity of the people. The ability to have such a function of activeness, acceptance of diversity, and conflict resolution is possible because the provider and the consumer simultaneously approach the platform.
And thirdly, as a future platform, government functioning centering on cross-checked communication, participation among each individual, and trust based on the value added through the platform, it can be said as a transparent government. A transparent government platform provides the basis for transparent mutual transactions through the disclosure and sharing of information, and monitors violators who break this order with other surveillance systems (individuals, communities, civic groups, international communities, etc.). In other words, the government does not maintain control over the collective information of the people but maintains the government system by providing transparent transaction base and faithfully monitoring. It will be a mediator for a fair game and a referee for securing transparency.
Conclusion
E-government initiatives in Korea in the period of information society have been quite successful under the paradigm of the New Public Management (NPM). The Korean government introduced a broad range of public sector reforms through e-government initiatives which aimed to provide more customer-oriented services based upon automated administration system and data networks. In the earlier stage of information society, information management-oriented e-government may prevail when the level of social pluralism is still fairly low while the bureaucratic government and system operate more efficiently under the provider-oriented mechanism. When society is highly pluralistic and civil society is highly active, active electronic transactions occur in this stage among various sectors of society and people want to get timely information for engaging with the deliberation focused more on the interests of the general public rather than those of the bureaucratic elite.
In that regard, a new perspective based upon the critical analysis of the fundamental and instrumental means of e-government is necessary to go beyond NPM or post-NPM, which relies heavily on economic and management theories (De Vries and Kim 2011). As Wachhaus (2011) pointed out, an anarchist orientation may adjust the way we look at society. A network is organic rather than mechanical. E-government is already an organic and thus e-government study should not fall in the dichotomy between "science" and "art." Advocates of e-government in the future should take both consensus processes and effective implementation for balancing democracy and efficiency. A new perspective based on a smart e-governance is now required to seriously look at a new position in the fourth industrial revolution, which is a decentralized self-service model in a tightly engaged network and platform.
Copyright information
© Springer Nature Switzerland AG 2019