Ewing Sarcoma
Living reference work entry
DOI:
https://doi.org/
10.1007/978-3-319-28845-1_5000-1
Definition
Ewing sarcoma (ES) is a high-grade round cell translocation-associated sarcoma, showing varying degrees of neuroectodermal differentiation.
Macroscopy
Grossly ES appears as a solid mass, with a white-gray cut surface, often with foci of hemorrhage and necrosis. Tumors measure up to 15 cm. Invasion of the renal vein can be identified in kidney tumors.
Microscopy
ES consists of a closely packed uniform population of round cells with scant cytoplasm and round to oval nuclei containing condensed chromatin and small nucleoli (Fig.
1
). A second population of dark cells, possibly undergoing apoptosis, can be interspersed within the main neoplastic population. Glycogen deposits resulting in cytoplasmic clearing are often present. Homer-Wright rosettes can be seen in ES with a greater degree of neural differentiation. Areas of necrosis and brisk mitotic activity are usually detected.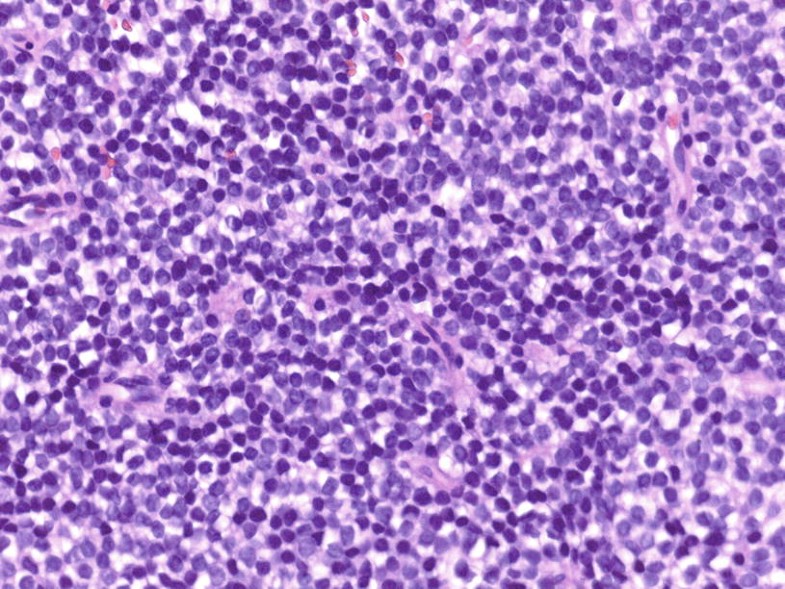 Immunophenotype
ES is positive for CD99 with a strong diffuse membrane staining. However this marker is not entirely specific, being expressed in lymphoblastic lymphoma, synovial sarcoma, desmoplastic small round cell tumor, and rhabdomyosarcoma, albeit with a weaker and/or focal staining pattern. FLI1 is also positive in the majority of ES, but its specificity is low. The NKX2.2 gene, which is a target of the EWSR1-FLI-1 fusion protein, is positive in 95% of ES, but also in some small cell carcinomas, synovial sarcomas, mesenchymal chondrosarcomas, and melanomas (Yoshida et al. 2012). Occasionally, ES may also show positivity for S100, NSE synaptophysin, CD56, and cytokeratins.
Molecular Features
ES presents a recurrent genetic alteration, the t(11:22) between the genes EWSR1 (22q12) and FLI-1 (11q24). This translocation has been detected in 72% of kidney ES (Risi et al. 2013). Less frequently, other genes of the ETS (erythroblastosis virus-associated transforming sequences) family, like ERG, FEV, ETV1, and ETV4, have been reported as translocation partners of EWSR1.
Differential Diagnosis
The differential diagnosis of ES is with other small round cell malignancies, including lymphomas, alveolar rhabdomyosarcoma, poorly differentiated synovial sarcoma, desmoplastic small round cell tumor, and neuroblastoma. These entities share similar morphology and the expression of some immunohistochemical markers, including CD99.
Among hematologic malignancies, lymphoblastic lymphoma is a close mimic of ES, being also positive for CD99 and FLI1. Thus, the immunohistochemical panel should also include terminal deoxynucleotidyl transferase (TdT), as well as B- and T-lymphocyte markers.
Alveolar rhabdomyosarcoma is positive for desmin and myogenin and presents the PAX3/PAX7-FOXO1A rearrangements. Poorly differentiated synovial sarcoma shares positivity for CD99 with ES, and it is also at least focally positive for EMA and cytokeratins. The best way to separate poorly differentiated synovial sarcoma from ES is to search for SYT-SSX1/2 translocation. Desmoplastic small round cell tumor shows diffuse expression of cytokeratins and EMA, is positive for WT1 with antibodies against the carboxyl-terminal domain of the WT1 protein, and usually does not show the diffuse membrane positivity for CD99 seen in ES. When considering the differential diagnosis between ES and desmoplastic small round cell tumor, it should be remembered that break-apart FISH analysis of EWS gene is not diriment between the two.
In the kidney, an important differential diagnosis of ES is with blastemal-predominant Wilms tumor. This is usually negative for CD99 and FLI-1 and positive for WT1. However, since the specificity of these markers is not absolute, search for EWSR1 gene rearrangement is useful. Neuroblastoma occurs in patients younger than 18 months, which would be exceptional for ES. Moreover, neuroblastoma lacks CD99 expression and translocations involving the EWSR1 gene.
References and Further Reading
Copyright information
© Springer Nature Switzerland AG 2019