Spermatic Cord Desmoplastic Small Round Cell Tumor
Living reference work entry
DOI:
https://doi.org/
10.1007/978-3-319-28845-1_4944-1
Definition
Desmoplastic small round cell tumor (DSRCT) is a high-grade aggressive round cell tumor of uncertain histogenesis, associated with prominent stromal desmoplasia and polyphenotypic differentiation.
Clinical Features
Incidence

Paratesticular DSRCT is very rare with approximately 20 such cases reported in the literature.

Age

Like DSRCT at other sites, it is seen in older adolescents and young adults.

Treatment

Surgical resection, often with orchiectomy, is the preferred local treatment. Radiotherapy may also be used. Chemotherapy is part of the standard therapy, both in the neoadjuvant and adjuvant setting.

Outcome

The overall survival is poor, ranging between 15% and 30% at 5 years. However, tumors in the paratesticular location have a better survival, possibly because they are detected earlier and they are more amenable to complete surgical resection.
Macroscopy
DSRCT usually appears as a multilobulated or multinodular mass, with a firm cut surface, often with foci of hemorrhage and necrosis.
Microscopy
DSRCT consists of multiple nodules, each composed of nests of uniform round cells with scant cytoplasm, separated by dense bands of collagen (Fig. 1). Areas of necrosis and brisk mitotic activity are usually detected.
Immunophenotype
Immunohistochemically, this tumor is polyphenotypic, staining for vimentin, keratins, EMA, desmin, and NSE. Myogenin, CD99, CD3, CD45, CD20, and inhibin are negative.
Molecular Features
DSRCT is characterized by a recurrent t(11;22) (p13;q12) resulting in the fusion of the Ewing sarcoma gene, EWS, on 22q12 and the Wilms tumor gene, WT1, on 11p13.
Differential Diagnosis
The differential diagnosis of DSRCT is with other small round cell sarcomas, especially Ewing sarcoma/PNET and rhabdomyosarcoma. Diffuse expression of cytokeratins and EMA strongly supports the diagnosis of DSRCT, which in turn usually does not show the diffuse membrane positivity for CD99 seen in Ewing sarcoma/PNET. When considering the differential diagnosis between Ewing sarcoma/PNET and DSRCT, it should be remembered that break apart FISH analysis of EWS gene is not diriment between the two. Rhabdomyosarcoma is positive for myogenin, which is not detected in DSRCT.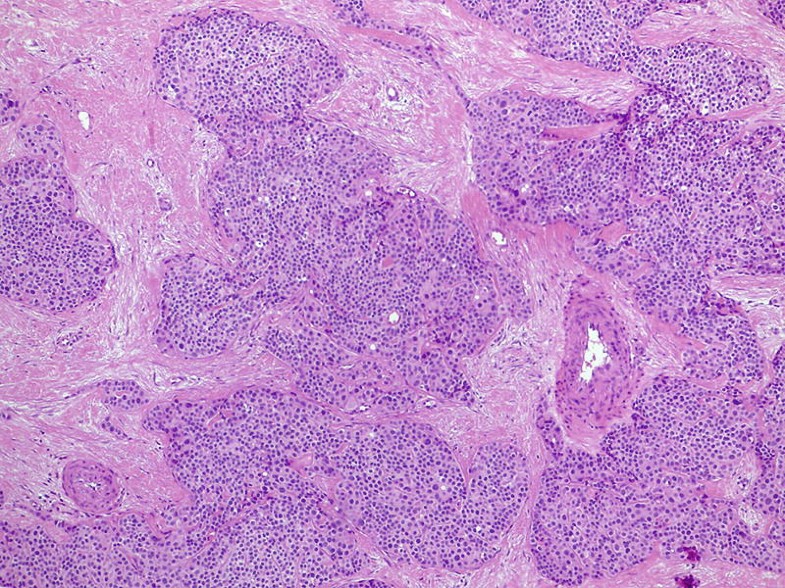 References and Further Reading
Cummings, O. W., Ulbright, T. M., Young, R. H., Dei Tos, A. P., Fletcher, C. D., & Hull, M. T. (1997). Desmoplastic small round cell tumors of the paratesticular region. A report of six cases.

The American Journal of Surgical Pathology, 21

, 219–225.

CrossRef

Google Scholar

Thuret, R., Renaudin, K., Leclere, J., Battisti, S., Bouchot, O., & Theodore, C. (2005). Uncommon malignancies: Case 3. Paratesticular desmoplastic small round-cell tumor.

Journal of Clinical Oncology, 23

, 6253–6255.

CrossRef

Google Scholar
Copyright information
© Springer Nature Switzerland AG 2019