Postsurgical Necrobiotic Granuloma of Urinary Bladder
Living reference work entry
DOI:
https://doi.org/
10.1007/978-3-319-28845-1_4899-1
Definition
Lesion composed of spindle and epithelioid histiocytes arranged in a palisaded pattern with central necrosis, in which multinucleated giant cells are also present.
Clinical Features
Incidence

It is a common finding in bladders following transurethral tumor resection.

Age

Fifth to sixth decade

Sex

Male preponderance

Site

Common in bladders following transurethral bladder resections of urothelial carcinoma (Spagnolo and Waring 1986; Eble and Banks 1990)

Most cases reported in the prostate follow transurethral resection of the prostate due to benign prostatic hyperplasia (Eyre et al. 1986). This type of granulomas is, therefore, rare, in other genitourinary locations.

Treatment

The lesion when properly diagnosed microscopically does not require treatment.

Outcome

Benign
Macroscopy
Lesions measuring 0.5–2 cm, single or multiple
Immunophenotype
CD68-positive immunohistochemical staining of palisaded histiocytes
Differential Diagnosis
The lesions may mimic cancer clinically. Lesions with epithelioid histiocytes with nuclear atypia and prominent nucleoli mimicking carcinoma are rare. The positivity to CD68 and the negativity with cytokeratins reveal the correct diagnosis, in particular in small biopsies.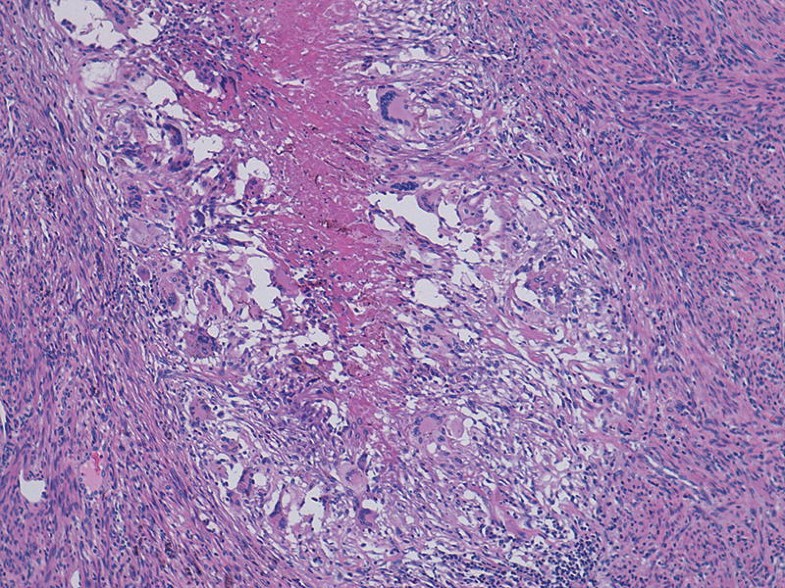 References and Further Reading
Copyright information
© Springer Nature Switzerland AG 2019