Perivascular Epithelioid Cell Tumor
Living reference work entry
DOI:
https://doi.org/
10.1007/978-3-319-28845-1_4895-1
Definition
It is a neoplasm with smooth muscle and melanocytic differentiation which arises from perivascular epithelioid cells.
Clinical Features
Incidence

Very uncommon tumors. No association with tuberous sclerosis

Age

Most reported cases between 19 and 48 years

Sex

No sex predilection

Site

Most cases arise in the kidney (angiomyolipoma) that should be described elsewhere, but with anecdotal cases described in the bladder or prostate (Martignoni et al. 2015).

Treatment

Surgery

Outcome

The majority of the cases have shown a benign course with only a few malignant cases with metastatic disease.
Macroscopy
PEComa shows typically a solid well-circumscribed or infiltrative tumor with a size range of 0.5–9 cm in greatest dimension.
Microscopy
The tumor may show two patterns, epithelioid and spindled, with one dominant pattern. Epithelioid pattern is arranged in nests and spindled pattern in fascicles. The epithelioid component is associated with blood vessel. Tumor cells show clear or eosinophilic cytoplasm. The tumor involves the bladder wall, and the covering urothelium is unremarkable (Fig. 1); in the prostate gland, the tumor is surrounded by normal appearing glands. Necrosis may be present, a finding related to malignant behavior in one case (Pan et al. 2003; Weinreb et al. 2007; Sukov et al. 2009).
Immunophenotype
Tumor cells stain with melanocytic markers HMB45 (Fig. 2) and MART1, muscle-specific actin, tyrosinase, cathepsin K, and TFE3.
Molecular Features
TFE3 gene rearrangement has been reported (Williamson et al. 2013).
Differential Diagnosis
Differential diagnosis includes urothelial carcinoma (positive for epithelial markers), paraganglioma (PS100 positive), epithelioid leiomyosarcoma (positive for smooth muscle lineage markers), and inflammatory myofibroblastic tumor (different histologic appearance and ALK positive). The immunohistochemical stainings are helpful to achieve the correct diagnosis.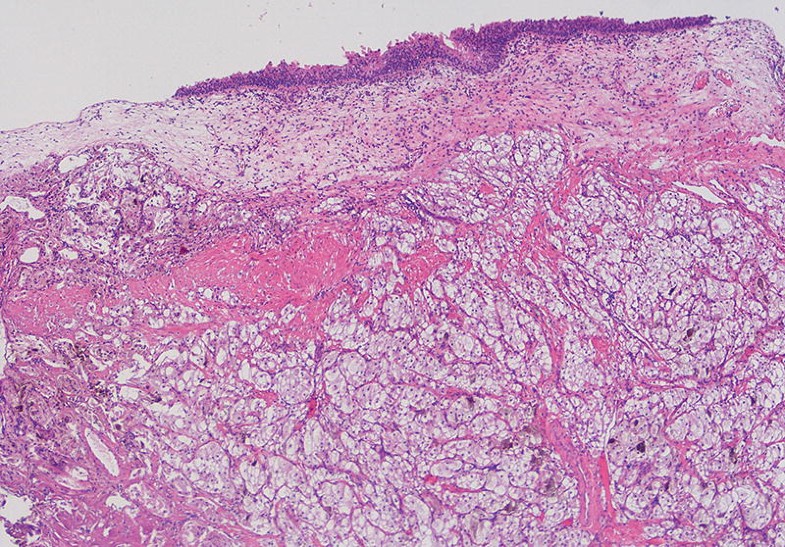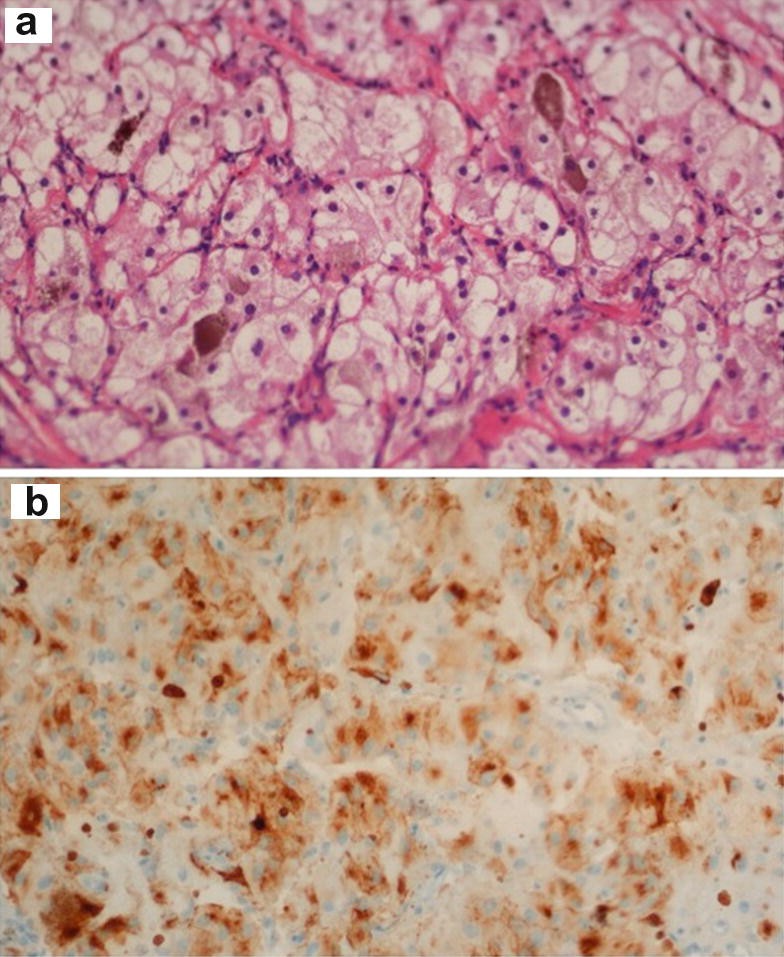 References and Further Reading
Copyright information
© Springer Nature Switzerland AG 2019