Papillary Adenoma
Living reference work entry
DOI:
https://doi.org/
10.1007/978-3-319-28845-1_4869-1
Definition
Papillary adenoma is unencapsulated tumor composed of cells with low ISUP/WHO grade arranged in papillary or tubular architecture and 15 mm in diameter or smaller (Umbreit and Thompson 2011). A diagnosis of papillary adenoma on needle biopsy should be made with extreme caution.
Clinical Features
Incidence

In autopsy series, papillary adenomas have been reported in approximately 10% of individuals (Caliò et al. 2019).

Age

The frequency of papillary adenomas increased throughout adulthood.
Sex

Papillary adenomas are roughly five times more frequent in men than in women.

Site

There is no site predilection.

Treatment

Papillary adenoma is a clinically silent and incidental finding; a therapeutic approach is not required.

Outcome

Papillary adenoma is a benign tumor.
Macroscopy
Papillary adenomas arise in the renal cortex and often are subcapsular.
Microscopy
Papillary adenoma shows a papillary, tubular, or tubulopapillary architecture (Fig.
1
).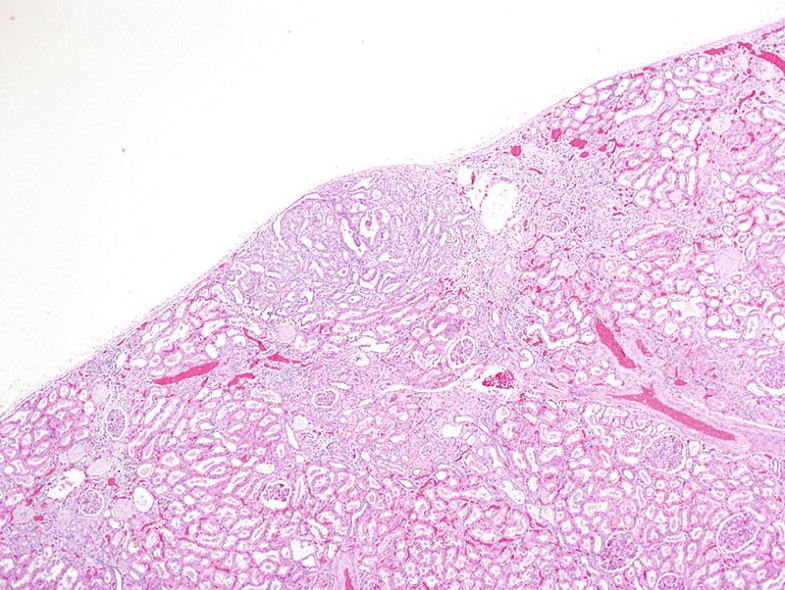 The cells have predominantly pale and scanty cytoplasm with round nuclei and inconspicuous nucleoli. Foamy macrophages and psammoma bodies may be present.
Immunophenotype
Papillary adenoma expresses CK7 and racemase.
Molecular Features
Papillary adenomas frequently show trisomy 7 and 17 and loss of the Y chromosome (Brunelli et al. 2003).
Differential Diagnosis
The most important differential diagnosis is papillary renal cell carcinoma based on dimension and presence/absence of capsule.
References and Further Reading
Brunelli, M., Eble, J. N., Zhang, S., et al. (2003). Gains of chromosomes 7, 17, 12, 16, and 20 and loss of Y occur early in the evolution of papillary renal cell neoplasia: A fluorescent in situ hybridization study.

Modern Pathology, 16

, 1053–1059.

CrossRef

Google Scholar

Caliò, A., Warfel, K. A., & Eble, J. N. (2019). Papillary adenomas and other small epithelial tumors in the kidney: An autopsy study.

The American Journal of Surgical Pathology, 43

(2), 277–287.

CrossRef

Google Scholar

Umbreit, E. C., & Thompson, R. H. (2011). Metastatic potential of the small renal mass: Why can't we agree?

European Urology, 60

, 983–985.

CrossRef

Google Scholar
Copyright information
© Springer Nature Switzerland AG 2019