Endocervicosis
Living reference work entry
DOI:
https://doi.org/
10.1007/978-3-319-28845-1_4807-1
Definition
Lesion with endocervical-type mucinous epithelium involving the wall of the urinary bladder.
Clinical Features
Incidence

Uncommon.

Age

Reproductive age.

Sex

Female.

Site

Bladder posterior wall or posterior dome.

Treatment

Partial cystectomy may be required.
Macroscopy
2–5 cm mass of the bladder wall.
Microscopy
Benign appearing or slightly atypical endocervical-type mucinous glands irregularly disposed in an extensively involved bladder wall. Some endocervical-type glands are cystically dilated. Peri-glandular fibrosis and edema may be present in some cases, and extravasated mucin may be in association with ruptured glands. The glands in endocervicosis are typically lined by cuboidal or flattened cells with eosinophilic cytoplasm (Fig.
1
). One case showed extravesical pelvic soft tissue involvement (Young and Clement
1992
).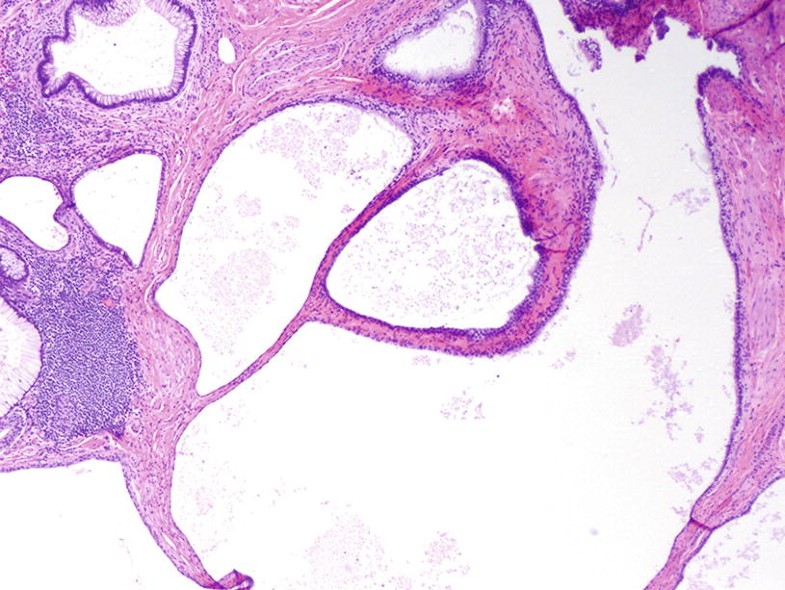 Immunophenotype
Immunohistochemically, the endocervicosis is positive for cytokeratin (CK) 7, estrogen receptor, CKAE1/AE3, CAM5.2, and CA19-9, and negative for CK20, CDX2, MUC5AC, and progesterone receptor.
Differential Diagnosis
The differential diagnosis of bladder endocervicosis includes bladder adenocarcinoma and glandular cystitis. Both pathologic features and the immunohistochemical profile can be of assitance. Rarely, primary adenocarcinoma may arise in endocervicosis (Nakaguro et al. 2016).
References and Further Reading
Nakaguro, M., Tsuzuki, T., Shimada, S., et al. (2016). Adenocarcinoma arising in urinary bladder endocervicosis.

Pathology International, 66

, 108–113.

CrossRef

Google Scholar

Young, R. H., & Clement, P. B. (1992). Endocervicosis of the urinary bladder. A report of six cases of a benign mullerian lesion that may mimic adenocarcinoma.

The American Journal of Surgical Pathology, 216

, 533–542.

Google Scholar
Copyright information
© Springer Nature Switzerland AG 2019