Oncocytoma
Living reference work entry
DOI:
https://doi.org/
10.1007/978-3-319-28845-1_3804-1
Definition
Oncocytoma is a benign renal cell tumor with mainly solid-nested architecture composed of predominantly large eosinophilic cells packed with mitochondria.
Clinical Features
Oncocytomas are sporadic tumors; cases in association with Birt-Hogg-Dubé (an autosomal dominant disease associated with mutation of the folliculin gene) have been reported.
A group of patients with multiple oncocytic lesions called oncocytosis has been described. Some of these lesions have a hybrid morphology between oncocytoma and chromophobe renal cell carcinoma, suggesting that these neoplasms can be related.
Incidence

They comprise 5% of adult renal epithelial tumors in surgical series.

Age

The peak incidence is in the seventh decade of life.

Sex

Its male-to-female ratio is 2:1.

Site

There is no prevalence of site.

Treatment

Partial or radical nephrectomy, based on the tumor size, is the standard. In selected cases, active surveillance may be an option.

Outcome

Renal oncocytomas are benign neoplasms.
Macroscopy
Tumor is a well-circumscribed uniform mahogany brown color mass; when large it frequently displays a stellate central scar. Foci of hemorrhage can be observed, but necrosis is constantly absent. They are usually solitary, but could be multifocal and/or bilateral.
Microscopy
Oncocytoma shows a compact solid or nesting arrangement of large cells in an edematous and hyalinized stroma. Neoplastic cells have abundant granular eosinophilic cytoplasm (Fig. 1), reflecting the presence of numerous mitochondria visible at the ultrastructural analysis. The nuclei of renal oncocytoma cells are regular, round with a nucleolus often evident. Rarely, occasional degenerative bizarre nuclei or scattered nests of small cells, so-called oncoblast, can be observed. A tubulocystic pattern of growth may be prevalent in a few cases. The extension of oncocytoma cells into perirenal adipose tissue can occur in rare cases.
Immunophenotype
Immunohistochemical profile of oncocytomas is characterized by vimentin and CK7 negativity in contrast with the expression of CD117, S-100A1, and parvalbumin. Staining for CD10 may be observed, whereas CD13 is constantly negative.
Molecular Features
Oncocytomas are usually characterized by normal karyotype; monosomy of chromosomes 1 and 14, often with Y chromosome loss, and structural abnormalities of 11q13 can be observed.
Differential Diagnosis
The most common differential diagnoses of oncocytoma include chromophobe renal cell carcinoma, succinate dehydrogenase (SDH)-deficient renal cell carcinoma, oncocytic papillary renal cell carcinoma, epithelioid angiomyolipoma, eosinophilic solid and cystic carcinoma, and tubulocystic renal cell carcinoma. However the most challenging differential diagnosis is chromophobe renal cell carcinoma, especially eosinophilic variant, in which expression of S100A1 and negative immunostain for CK7 are useful. In approximately 10% of cases, FISH analysis can be a useful diagnostic tool. Tumors with mixed features of oncocytoma and chromophobe renal cell carcinoma have been viewed as "hybrid oncocytoma–chromophobe tumor." However, some pathologists use it in the context of an apparent syndrome (multiple tumors), others use it only with mosaic or mixed morphology, and some others use it for any tumor with borderline features between oncocytoma and chromophobe renal cell carcinoma.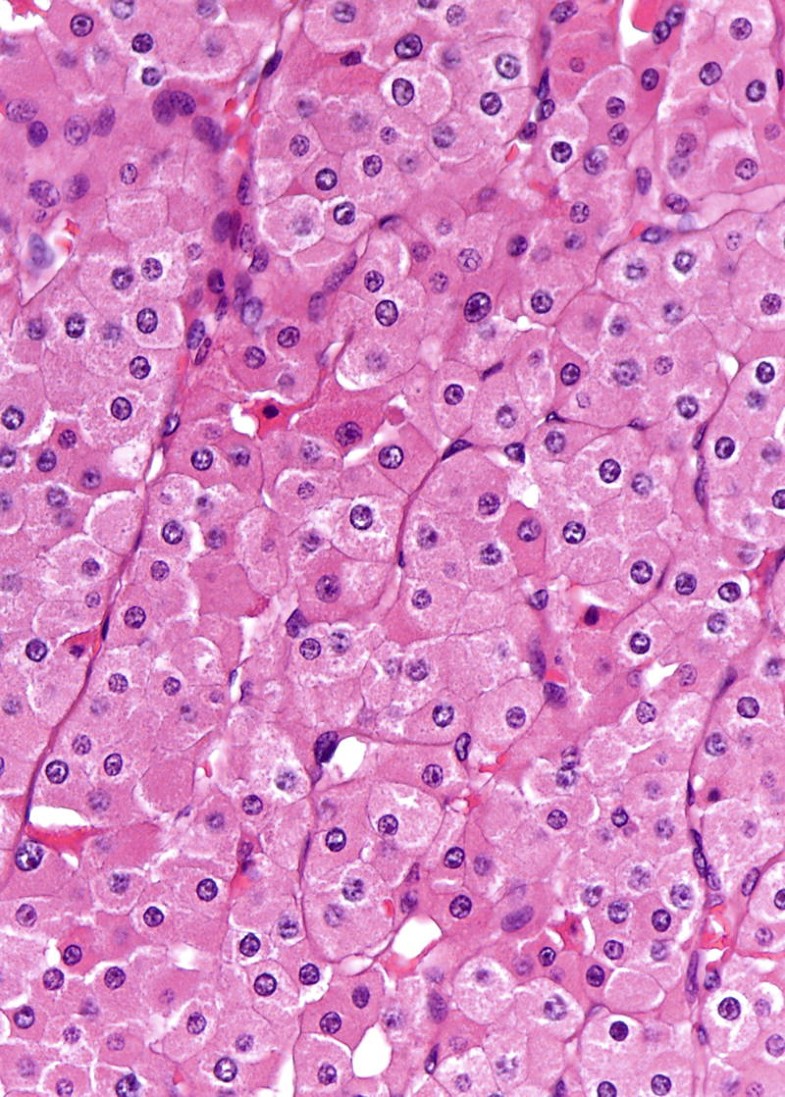 References and Further Reading
Copyright information
© Springer Nature Switzerland AG 2019