Epithelioid Sarcoma
Living reference work entry
DOI:
https://doi.org/
10.1007/978-3-319-28845-1_3743-1
Definition
Epithelioid sarcoma (ES) is a malignant tumor.
Clinical Features
Incidence

ES of the genitourinary tract is rare, and literature consists mainly of single-case reports.

Age

ES is a tumor of young adults, but the proximal type occurs mainly in older adults (median age around 40 years).

Sex

There is a male gender predilection.

Site

ES typically originates in the distal extremities, but the proximal variant involves also the perineum and the genital tract, mainly localizing in the penis and the scrotum.

Treatment

Wide surgical excision is the mainstay of treatment, but more conservative surgery followed by radiotherapy has also been used.

Outcome

ES is an aggressive tumor often with a protracted clinical course, characterized by repeated local recurrences. Metastases may develop after several years and involve primarily the lungs, but lymph nodes may be involved as well.
Macroscopy
ES presents as a hard nodule or multiple nodules with ill-defined borders and central areas of necrosis and hemorrhage.
Microscopy
The tumor is composed of epithelioid cells, or less frequently of an admixture of spindle and epithelioid cells, with abundant eosinophilic cytoplasm and nucleus containing vesicular chromatin and small nucleoli (Fig. 1). Neoplastic cells form aggregates with central necrosis resulting in a pseudogranulomatous appearance. In the proximal type, neoplastic cells are larger, often with a rhabdoid morphology, and organized in solid nodules, without the granuloma-like appearance of the distal variant.
Immunophenotype
Tumor cells show consistent diffuse immunoreactivity for EMA and keratins of different molecular weights, but usually not for cytokeratin 5/6. CD34 is also often positive. Loss of INI1 expression is seen in 90–95% of the cases. Muscle markers FLI1, CD31, and p63 are negative.
Molecular Features
The SMARCB1 tumor suppressor gene located at 22q11 is inactivated in both distal- and proximal-type ES, which correlates with the loss of protein expression by immunohistochemistry.
Differential Diagnosis
ES must be distinguished from squamous cell carcinoma, which is positive for cytokeratin 5/6, p63 and negative for CD34 and retains the expression of INI1. Epithelioid vascular tumors, including epithelioid hemangioma, epithelioid hemangioendothelioma, and epithelioid angiosarcomas, can be confused with ES because they are also positive for cytokeratins and CD34. However, EMA is negative, other endothelial markers (CD31, FLI1, ERG) are positive, and INI1 expression is retained. Epithelioid melanoma can be excluded based on the positivity for S100 and melanoma markers. Epithelioid malignant peripheral nerve sheath tumor is positive for S100 protein and usually negative for epithelial markers, but loss of INI1 expression has been detected in 50% of the cases. Proximal-type ES shows considerable morphologic and immunohistochemical overlap with extrarenal rhabdoid tumor, but the latter occurs in infants and young children, and histologically it is composed almost exclusively of rhabdoid cells. Moreover, extrarenal rhabdoid tumor is negative for CD34.
Benign granulomatous conditions can also be included in the differential diagnosis and can be distinguished based on the lack of cytologic atypia and the absence of EMA and cytokeratin immunoreactivity.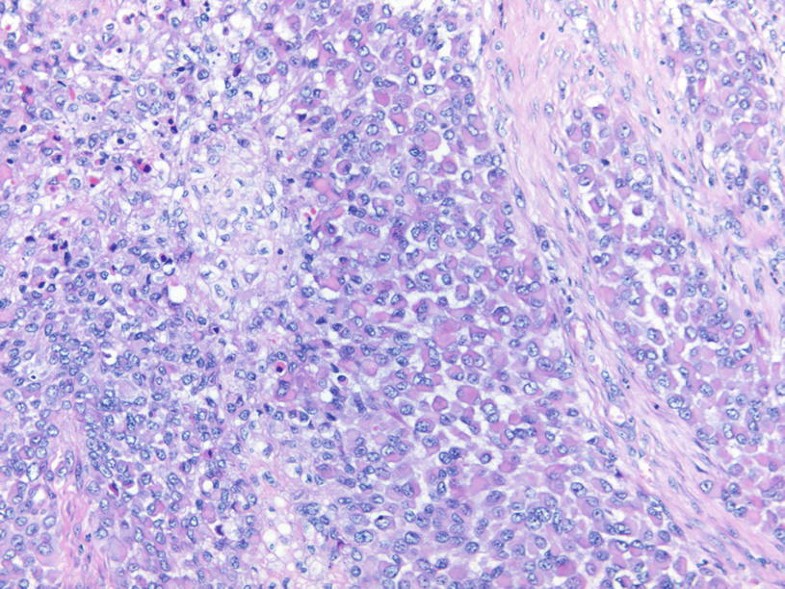 References and Further Reading
Copyright information
© Springer Nature Switzerland AG 2019