Diabetes, Depression, and Cognitive Disorders
Part of the Endocrinology book series (ENDOCR)
Abstract
The interactions between diabetes and the mind are complex; physical illness increases the risk of a number of psychiatric disorders, while mental illness and its treatment also alter the risks of diabetes and worsen both acute metabolic and long-term outcomes of diabetes.
The prevalence of depression is approximately 1.5–2-fold higher in people with diabetes compared with the general population. Approximately 10% of people with diabetes will have a formal diagnosis of depression and around a quarter have significant depressive symptoms. Microvascular and macrovascular complications and treatment with insulin are associated with higher rates of depressive symptoms. The underlying mechanisms are multifactorial and include genetic and environmental factors as well as disease and treatment effects. The presence of depression adversely affects diabetes outcomes; quality of life and glycemic control are worsened, while the rates of microvascular and macrovascular complications and mortality are increased in people with depression. Screening for depression in people with diabetes and prompt treatment, where necessary, are recommended.
Diabetes has modest effects on certain aspects of cognition, including general intelligence, psychomotor speed, and mental flexibility, particularly when diagnosed in children under the age of 7 years.
Diabetes increases the risk of vascular dementia and Alzheimer's disease, even after adjustment for traditional cardiovascular risk factors. Approximately 1 in 15 cases of dementia is attributable to diabetes. Insulin directly affects β-amyloid formation. Dementia impedes the person with diabetes' ability to self-manage their diabetes and mandates a change in glycemic targets and management strategies.
Keywords
Diabetes 
Depression 
Diabetes-related distress 
Cognitive function 
Dementia 
Alzheimer's disease 
Introduction
An effect of diabetes on the mind and vice versa has been recognized for many centuries; in the seventeenth century, Thomas Willis discussed how "diabetes is a consequence of prolonged sorrow" (Willis 1675). As the brain is highly vascular and dependent on glucose for its normal functioning, it is perhaps unsurprising that diabetes affects cognitive function and the risk of mental illness. What is surprising is that clinicians looking after people with diabetes frequently ignore this association. Nevertheless, the effects of comorbid mental illness on someone with diabetes may be profound as the comorbidity worsens the clinical outcomes of both conditions. Quality of life across a broad range of domains is worsened, while the individual's ability to self-manage their diabetes is impaired, ultimately leading to a higher incidence of complications and reduced life expectancy (Holt and Katon 2012).
Despite the pressing clinical need to consider the comorbidity, in many countries, mental and physical health services are not properly integrated; this leaves diabetes services poorly equipped and organized to address both the physical and psychological needs of patients in the same setting (Mitchell et al. 2009). Over the last decade, however, there have been increasing levels of interest in comorbidity from researchers, who have made considerable progress in understanding the epidemiology and underlying mechanisms explaining the association. This is beginning to change clinical practice with national and international guidelines highlighting the importance of assessing and treating the psychological sequelae of diabetes (International Diabetes Federation 2012; National Institute for Health and Care Excellence 2015a, b).
This chapter will first describe the complex relationship between diabetes and depression before considering the effects of diabetes on cognitive function, with particular reference to the association between diabetes and dementia.
Diabetes and Depression
Depression is a mood disorder, which is characterized by persistent low mood and loss of interest or pleasure in life. Other symptoms include weight loss or gain, change in sleep patterns, agitation or retardation, fatigue or loss of energy, feelings of worthlessness or guilt, diminished ability to think or concentrate, and recurrent thoughts of death including suicidal ideation, respcetively.
Depressive symptoms are common in the general population and vary considerably in severity. Consequently, a clinical diagnosis of depression is defined by the number, severity, and duration of symptoms; the most widely used diagnostic criteria in current practice are those of the Diagnostic and Statistical Manual of Mental Disorders, 5th Edition (DSM-5) (American Psychiatric Association
2005
) (Table
1
). This degree of symptomatology is associated with significant disability and dysfunction, but it is important to recognize that less severe depressive symptoms may still adversely affect diabetes self-care and outcomes.
Table 1
The Diagnostic and Statistical Manual of Mental Disorders, 5th Edition (DSM-5): definition of a "major" depressive episode
A. Five (or more) of the following symptoms have been present during the same 2-week period and represent a change from previous functioning; at least one of the symptoms is either (1) depressed mood or (2) loss of interest or pleasure
Depressed mood most of the day, nearly every day, as indicated by either subjective report (e.g., feels sad or empty) or observation made by others (e.g., appears tearful)
• Markedly diminished interest or pleasure in all, or almost all, activities most of the day, nearly every day (as indicated by either subjective account or observation made by others)
• Significant weight loss when not dieting or weight gain (e.g., a change of >5% of body weight in a month) or decrease or increase in appetite nearly every day
• Insomnia or hypersomnia nearly every day
• Psychomotor agitation or retardation nearly every day (observable by others, not merely subjective feelings of restlessness or being slowed down)
• Fatigue or loss of energy nearly every day
• Feelings of worthlessness or excessive or inappropriate guilt (which may be delusional) nearly every day (not merely self-reproach or guilt about being sick)
• Diminished ability to think or concentrate, or indecisiveness, nearly every day (either by subjective account or as observed by others)
• Recurrent thoughts of death (not just fear of dying), recurrent suicidal ideation without a specific plan, or a suicide attempt or a specific plan for committing suicide
B. The symptoms cause clinically significant distress or impairment in social, occupational, or other important areas of functioning
C. The symptoms are not due to the direct physiological effects of a substance (e.g., a drug of abuse, a medication) or a general medical condition (e.g., hypothyroidism)
Epidemiology of Diabetes and Depression
Depression within the general population is common and its prevalence is increasing. It is predicted to become the second leading global cause of disability after heart disease by 2020 (Murray and Lopez 1997). The lifetime prevalence varies widely across the globe from 3% in Japan to 17% in the USA, falling between 8% and 12% in most countries. At any one time, approximately 3–5% of men and 8–10% of women have depression. Given the high prevalence of diabetes and depression, one would expect a degree of comorbidity, but the current evidence suggests that depression occurs more frequently in people with diabetes and vice versa than would be expected by chance (Holt et al. 2014).
Recent meta-analyses have demonstrated that significant depressive symptoms affect approximately 1 in 3–4 adults with diabetes, while a formal diagnosis of depressive disorders is made in approximately 10–15%, equivalent to a 1.5–2-fold increased prevalence (Anderson et al. 2001; Ali et al. 2006). Longitudinal cohort studies report the incidence of depression to be 15–24% higher in people with diabetes compared with those without diabetes (Nouwen et al. 2010; Mezuk et al. 2008). On the other hand, the incidence of type 2 diabetes is also increased by 15–37% among people with depression (Mezuk et al. 2008; Knol et al. 2006), indicating the bidirectional nature of the relationship between these conditions. Episodes of depression appear to be more persistent and more likely to relapse among people with diabetes (Nefs et al. 2012), which may, in part, explain the discrepancy between the relative incidence and prevalence figures.
Although the literature is consistent in showing an increased prevalence of depression in people with diabetes and vice versa, within each of the meta-analyses, there is considerable variation in risk estimates. This variation stems in part from the meaning of the word "depression," which spans from relatively minor, occasional negative mood symptoms to life-threatening disabling conditions (Holt et al. 2014). More recently, papers have started to differentiate between "depressive symptoms" and "depression," and this change in definition partly explains why current risk estimates of "depression" are lower than former ones. Another reason why earlier studies reported higher prevalence rates is because the studies recruited selected patient populations, often drawing from specialist diabetes clinics, where referral patterns and other differences in demographic characteristics, such as ethnicity, may increase the likelihood of depression.
The gold standard diagnostic procedure is a diagnostic interview, such as the Structured Clinical Interview for DSM-IV-TR Axis I Disorders (SCID) interview (First et al. 2002) or the Schedule for Clinical Assessment in Neuropsychiatry 2.1 (World Health Organisation 1999), but these are time-consuming and are unfeasible in most large epidemiological studies. Consequently, many studies have relied on self-rating scores, which tend to overestimate the true prevalence of depression and only provide an estimate of true caseness. These questionnaires may further exaggerate the prevalence of depression because of the overlap of the symptoms of diabetes and depression (Roy et al. 2012).
Depression or Distress
Some authors have argued that much of the psychopathology previously identified as depression is in fact "diabetes-related distress" (Fisher et al.
2016
). This concept captures the emotional distress associated with patients living with diabetes (Fisher et al.
2010
), with the topmost frequently reported problems including:
Worries about the future and the possibility of serious complications.

Feeling guilty or anxious when you get off track with your diabetes management.

Feeling scared when you think about living with diabetes.

Feeling discouraged with your diabetes regimen.

Feeling depressed when you think about living with diabetes.
These symptoms are recognized in up to 60% of people with type 1 diabetes or insulin-treated type 2 diabetes (Polonsky et al. 1995; Sturt et al. 2015) and are negatively associated with diabetes self-care and optimal glycemic control (Polonsky et al. 1995). Indeed HbA1c correlates more closely with diabetes-related distress than depression. These feelings are more likely to develop in those with long-standing diabetes and in those with recurrent severe hypoglycemia. Given the commonality of some symptoms, e.g., low mood and guilt, it is unsurprising that many people are reported to display both diabetes-related distress and depressive symptoms with ~30% overlapping variance. Nevertheless, as well as the distinct association with glycemic control, the association with self-management also differs between distress and depression, strengthening the view that these are two distinct entities.
Specific Populations
Many studies examining the prevalence of depression in people with diabetes have not differentiated between the types of diabetes. This limitation is important because people with type 2 diabetes are generally older and depression prevalence varies with age, the rates of various diabetic complications and other comorbid conditions (e.g., obesity and heart disease) differ, and management strategies are different. Because the prevalence of type 1 diabetes is so much lower than type 2 diabetes, people with type 1 diabetes are underrepresented in depression association studies. One review of depression in type 1 diabetes (Barnard et al. 2006), however, reported that depression was present in 12%, compared with 3.2% in people without diabetes. However, if studies without control groups and interview ascertainment were excluded, the estimated prevalence fell to 7.8%, which was no longer statistically significantly different from people without diabetes (odds ratio [OR] 2.4, 95% CI −0.7 to 5.4). A recent study of 368 individuals with type 1 diabetes found an unexpectedly low rate of major depressive disorder (3.5%) and highlighted the marked difference in estimated prevalence rates using self-rated questionnaires (11.4%) compared with diagnostic interviews, again, perhaps, reflecting an effect of the overlap with diabetes-related distress (Fisher et al. 2016).
Although many of the early studies were undertaken in Western Europe and North America, a recent report including 231,797 adults from 47 countries using data from the World Health Organization World Health Survey found a twofold increase in episodes of depressive symptoms in people with diabetes living in South America, Asia, and Europe (Table
2
) (Mommersteeg et al.
2013
). No increase in depressive symptoms was seen in people living in Africa, but this may reflect less complete case ascertainment because of cultural differences in the understanding of depression.
Table 2
Increased risk of depressive episodes in people with and without diabetes in four continents after adjustment for age, sex, education, BMI, smoking, and physical activity (Mommersteeg et al. 2013)
|   | OR | 95% CI |
| --- | --- | --- |
| World | 2.36 | 1.91–2.92 |
| Africa | 0.86 | 0.54–1.37 |
| South America | 1.98 | 1.46–2.68 |
| Asia | 2.16 | 1.38–3.37 |
| Europe | 2.47 | 1.73–3.52 |
Although there are few data, depression rates (9–26%) also appear elevated in children and adolescents with diabetes (Holt et al. 2014).
Etiology of Diabetes and Depression
Consequences of Depression in Diabetes
People with comorbid depression experience worsened diabetes outcomes and poorer quality of life (Goldney et al. 2004; Jacobson et al. 1997; Carper et al. 2014). While it is clear that those with microvascular complications are more likely to develop depression, recent work has also shown that those with depression are more likely to develop complications. In a 10-year cohort study of individuals with childhood-onset diabetes, in addition to longer duration of diabetes and poor glycemic control, the overall proportion of time that an individual was depressed predicted retinopathy severity (Kovacs et al. 1995). Similarly, in a longitudinal study of people with type 2 diabetes, progression to diabetic retinopathy and to proliferative diabetic retinopathy was more likely in those with high depressive symptom scores at both baseline and 6-year follow-up (Roy et al. 2007). Depression may worsen the pain experienced by those with painful peripheral neuropathy (Katona et al. 2005). Poor glycemic control is not the explanation for the increase in microvascular complications seen in people with comorbid depression as studies have not reported a consistent association between depressive symptoms and HbA1c (Lustman et al. 2000; Hislop et al. 2008; Aikens et al. 2008). Nevertheless, impaired self-care among people with depression may play a role.
Cardiovascular morbidity and mortality are increased in people with comorbid diabetes and depression (Park et al. 2013); in one study, those with diabetes and depression have an annual mortality rate of 8%, which was 2.5-fold higher than those without either condition (Egede et al. 2005).
Management of People with Diabetes and Depression
A greater awareness of the link between diabetes and depression has led several national and international guideline bodies to recommend action to improve the psychological well-being of people with diabetes (International Diabetes Federation 2012; National institute for Health and Care Excellence 2015a, b). There is a responsibility for healthcare professionals to identify depression when it occurs and then institute prompt treatment in order to reduce depressive symptoms and to improve self-care, glycemic control, and diabetes outcomes, respectively (Petrak et al. 2015).
Cognitive Function
Cognitive function can be defined as an intellectual process by which one becomes aware of, perceives, or comprehends ideas. It involves aspects of perception, thinking, reasoning, and remembering. Given the multifaceted nature of cognition, a full assessment of cognitive functioning requires a battery of psychometric tests to obtain an overview of an individual's thinking skills. These tests assess how a person processes information, reasons, and learns in different ways. Cognitive function may be impaired globally or specific components of cognitive function may be affected.
Diabetes and Cognition
As cognitive and affective processes occur in highly linked regions of the brain, it is unsurprising that people with diabetes also experience cognitive deficits. These are relatively modest in most individuals but particularly affect general intelligence, psychomotor speed, and mental flexibility; on average performance in these domains is 0.3–0.7 standard deviations below the population mean (van den Berg et al.
2009
; Brands et al.
2005
; Palta et al.
2014
) and has been likened to the change in cognitive function experienced after a 6–8 h jetlag (Fig.
1
). The effects of diabetes on the brain appear to be age related with children and older adults being most vulnerable, with effects being attributable to both hypoglycemia and chronic hyperglycemia.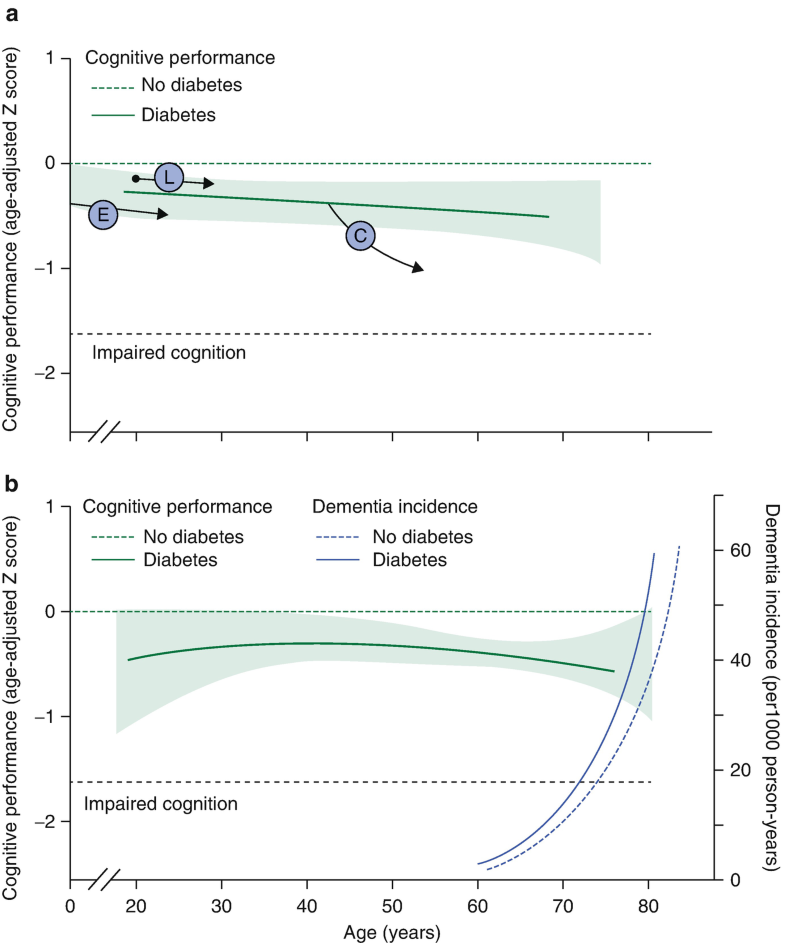 Cognitive Dysfunction in Children and Adolescents
The age of onset of diabetes is a major determining factor for its effect on cognitive function in children. In those diagnosed before the age of 7 years, there is an increased risk of developing cognitive impairment across a range of cognitive domains, including attention, mental flexibility, psychomotor efficiency, learning, memory, problem-solving, and overall intelligence, and which start to be apparent within 2–3 years of diagnosis (Biessels et al. 2008; Gaudieri et al. 2008; Northam et al. 2001, 2006; Hershey et al. 2004). For children diagnosed after this age, the effect is much more modest and is confined primarily to overall intelligence and speed-related tasks, particularly those with a visual-perceptual aspect (Gaudieri et al. 2008). The cognitive impairment seen in children diagnosed before the age of 7 years persists into adulthood and manifests as lower IQ scores and slower information processing (Ferguson et al. 2005).
Academic achievement is lower in children with diabetes, irrespective of the age of diagnosis, but this could relate to school absences or hypoglycemia interfering with learning as much as a direct effect on the developing brain (McCarthy et al. 2003). However, there is evidence from older studies that severe hypoglycemia causes neuropsychological deficits, particularly in children whose onset of diabetes occurred below the age of 6 years (Ryan et al. 1985; Rovet and Ehrlich 1999). Part of the problem is that younger children may not be able to describe their hypoglycemic symptoms, thereby increasing the likelihood of prolonged and severe hypoglycemia. Some support for the hypoglycemia hypothesis comes from a meta-analysis of data from 441 children with recurrent severe hypoglycemia and 560 children without recurrent severe hypoglycemia (Blasetti et al. 2011). This study found that those with recurrent severe hypoglycemia had a modestly reduced performance in the domains of intelligence, language, and memory and learning but motor speed was unaffected (Blasetti et al. 2011). This effect appears to be limited to children, because there was no difference in the cognitive function in adults with type 1 diabetes in the Diabetes Control and Complications Trial with and without a history of severe hypoglycemia after an 18-year follow-up period (Jacobson et al. 2007). Similarly, the Action to Control Cardiovascular Risk in Diabetes-Memory in Diabetes (ACCORD-MIND) study, which recruited adults with type 2 diabetes, found no difference in cognitive function after 20-month and 40-month follow-up, respectively, between those treated intensively compared with standard care despite a threefold increase in the rates of hypoglycemia (Launer et al. 2011).
Cognitive Dysfunction in Adults with Diabetes
Adults with type 1 diabetes show modest nonprogressive cognitive deficits in measures of intelligence, attention, psychomotor speed, cognitive flexibility, and visual perception, but measures of language, learning, and memory are unaffected despite long duration of diabetes (Brands et al. 2005, 2006). With the exception of "crystallized intelligence," the affected domains require a rapid response indicating that diabetes affects mental agility rather than accuracy.
These changes are accompanied by structural changes that are characterized by reduced gray matter volumes in the frontal lobe and the adjacent supramarginal and postcentral gyri (Hughes et al. 2013). These MRI alterations have been linked to disrupted integrity of fiber tracts connecting the main cortical areas of the brain (Koekkoek et al. 2015). Functional studies have demonstrated altered cerebral perfusion with both decreased and increased blood flow (Kodl et al. 2008; Franc et al. 2011; van Duinkerken et al. 2012).
Adults with type 2 diabetes also show mild cognitive deficits affecting memory, processing speed, and executive function, which may lead to the individual to be less able to process unstructured information (van den Berg et al. 2009; Palta et al. 2014). Interestingly, similar deficits are also present in people with newly diagnosed type 2 diabetes and impaired glucose regulation as well as those with features of the metabolic syndrome (Crichton et al. 2012; Lamport et al. 2009; Ruis et al. 2009). Type 2 diabetes is also associated with structural changes in the brain, characterized by a loss of gray matter in the medial temporal, anterior cingulate, and medial frontal lobes, while white matter is lost in the frontal and temporal regions, respectively (Moran et al. 2013).
The mechanisms underlying these changes are not fully understood although studies have not consistently demonstrated an association with cerebral small vessel disease (Koekkoek et al. 2015). The link between glycemic control and cognitive dysfunction in adults with diabetes is less obvious than for children. As previously described, hypoglycemia does not appear to be a major risk factor for cognitive decline in young- and middle-aged adults with diabetes, but hyperglycemia appears to be more important, at least in the case of type 1 diabetes. A recent meta-analysis found a weak negative association between HbA1c and cognitive function, with HbA1c explaining at most 10–15% of the variance in cognitive function (Geijselaers et al. 2015).
The presence of microvascular complications, especially retinopathy and nephropathy, is associated with accelerated cognitive decline (Ryan et al. 2003; Jacobson et al. 2011). Cardiovascular disease and its risk factors are also associated with cognitive decline as they are in the general population, but whether there is any specific interaction with diabetes is uncertain (Koekkoek et al. 2015; Ryan et al. 2003).
Dementia
The term dementia encompasses a broad category of brain disorders that lead to a gradual and progressive decline in cognitive function to the extent that an individual's ability to function on a day-to-day basis is impaired. There are different types of dementia of which the most common are Alzheimer's disease (50–70% of cases) and vascular dementia (up to 25%). Other causes of dementia are shown in Table
3
. There has been a rapid increase in the prevalence of dementia in recent years, with a global prevalence of 22.7 million in 2015. The World Alzheimer Report predicts the prevalence of dementia to rise to 38.5 million by 2030 and 131.5 million by 2050. This increase is largely being driven by an aging population as the prevalence rises from 1.4% in men and 1.9% in women aged 60–64 years to 33.4% in men and 48.3% in women aged >90 years. In 2013, approximately 1.7 million people died as a result of dementia.
Table 3
Causes of dementia in people with diabetes
| | |
| --- | --- |
| Alzheimer's disease | 62% |
| Vascular dementia | 17% |
| Mixed | 10% |
| Lewy body dementia | 4% |
| Parkinson's disease | 2% |
| Frontotemporal | 2% |
| Others | 3% |
Diabetes and Dementia
The rate of cognitive decline in older individuals with type 2 diabetes appears to be up to twofold quicker than the general population, and a number of studies have indicated that the risk of dementia is increased by approximately 50% in people with diabetes (Cheng et al. 2012). The commonest cause of dementia in people with diabetes is Alzheimer's disease, which is increased by 46%, while vascular dementia is increased 2.38-fold (Cheng et al. 2012). It is estimated that the diabetes-attributable risk of dementia is 6–7%; in other words, 1 in 15 cases of dementia is attributable to diabetes (Koekkoek et al. 2015). An increased risk of dementia has also been reported in people with prediabetes and metabolic syndrome (Crichton et al. 2012). Diabetes worsens the outcome for people with dementia and is associated with 90% increase in mortality compared with those without diabetes (Zilkens et al. 2013).
Part of the explanation for this increased incidence of dementia risk stems from a higher prevalence of risk factors among people with diabetes (Table
4
). Many of these cardiovascular risk cluster in people with diabetes and those at risk of diabetes. Interestingly, glycemia per se appears to have little impact on the risk (Geijselaers et al.
2015
). Only one study has linked elevated HbA
1c
with the risk of dementia and only in those with markedly elevated levels (10–12%, 86–108 mmol/mol). No association between fasting or postprandial glucose and measures of glucose variability with dementia has been found.
Table 4
Risk factors for Alzheimer's disease and vascular dementia
| Alzheimer's disease | Vascular dementia |
| --- | --- |
| Dyslipidemia | Dyslipidemia |
| Smoking | Smoking |
| Hypertension | Hypertension |
| Obesity | Obesity |
| Physical inactivity | Atrial fibrillation |
| Depression | Previous coronary heart disease, stroke of transient ischemic event |
| Alcohol |   |
| Head injury |   |
Unlike in younger adults, recurrent hypoglycemia is an important risk factor for cognitive decline in patients with dementia (Whitmer et al. 2009; Punthakee et al. 2012). In a retrospective study of 16,667 older people with diabetes, a history of one, two, and three or more severe hypoglycemic episodes increased the risk of dementia by 26%, 80%, and 94%, respectively, independent of glycemic control, medications, and other comorbidities (Whitmer et al. 2009). The relationship, however, appears to be bidirectional as cognitive dysfunction increases risk of hypoglycemia, thereby, creating a vicious cycle.
Impaired insulin signaling in the brain may also play a role in the development of Alzheimer's disease (Li et al. 2015). Briefly, the pathology of Alzheimer's disease is characterized by the deposition of β-amyloid plaques and tangles in the brain (Turner et al. 2003; Niedowicz et al. 2011). β-amyloid is derived from the cleavage of amyloid precursor protein, an extracellular protein which is critical to neuron growth, survival, and post-injury repair. The formation of β-amyloid is regulated with several genes but is increased in aging and by obesity, and less prudent diet (Niedowicz et al. 2011). Insulin inhibits the production and accumulation of β-amyloid, and so in situations where there is insulin deficiency or impaired action, β-amyloid accumulates (Li et al. 2015). Supporting this hypothesis is the observation of reduced brain insulin and its receptor in people with Alzheimer's disease.
Clinical Implications of Dementia in People with Diabetes
Conclusions
This chapter has highlighted some of the many and various ways in which diabetes interacts with the brain. It is clear that these connections can have a major impact on diabetes outcomes, and health professionals who work with people with diabetes, require good knowledge and awareness of these issues to be able to provide optimal care. There is, clearly, also a great need for closer working between diabetes services and mental health services while further research on these topics is also required.
Notes
Acknowledgments
Richard Holt has received fees for lecturing and consultancy from the following companies: Eli Lilly, Janssen, Lundbeck, Novo Nordisk, Novartis, Otsuka, Sanofi, Sunovion, Takeda, and MSD.
Copyright information
© Springer Nature Switzerland AG 2019