Nuclear Receptor Regulation of Hepatic Cytochrome P450 Enzymes
Living reference work entry
DOI:
https://doi.org/
10.1007/978-3-030-21573-6_234-1
Keywords
Drug-metabolizing enzymes 
Enzyme induction 
Gene regulation 
Receptor activation 
Receptor pharmacology 
Glossary Terms
Cytochrome P450 (CYP)

Family of hemeprotein monooxygenase enzymes that plays a central role in the oxidative metabolism of structurally diverse lipophilic steroids, fatty acids, drugs, and environmental chemicals. P450-catalyzed biotransformation of drugs is primarily carried out by 10–15 distinct human P450 enzymes, each encoded by a separate P450 gene.

Lithocholic acid

3α-hydroxy-5β-cholanoic acid, a hepatotoxic and cholestatic secondary bile acid which is formed by bacterial dehydroxylation of primary bile acids in the intestine.

Orphan nuclear receptor

Receptor protein belonging to the nuclear receptor superfamily whose physiological ligand has not been identified.

P450 induction

The process whereby cellular and tissue levels of one or more cytochrome P450 enzymes are increased in response to treatment of cells, or a whole organism, with certain drugs or environmental chemicals referred to as P450 inducers. P450 induction leads to an increase in the cell's capacity for P450-catalyzed oxidative metabolism of many xenochemicals, as well as endogenous steroidal and fatty acid P450 substrates.

Peroxisome proliferator chemicals

Chemicals that activate the nuclear receptor PPARα (peroxisome proliferator-activated receptor-α) and induce the enlargement and proliferation of liver peroxisomes in susceptible rodent species (e.g., rats and mice). Persistent exposure to peroxisome proliferator chemicals is closely linked to PPARα activation and liver tumor development in these species.

Phthalate esters

Di- and mono-esters of phthalic acid, an ortho-dicarboxylic acid derivative of benzene. These compounds are widely used as industrial plasticizers to coat polyvinylchloride surfaces of plastics used in food packaging and medical devices (intravenous drip bags, blood storage bags, etc.) and are common environmental contaminants. Several phthalate mono-esters are peroxisome proliferator chemicals and can activate the peroxisome proliferator-activated receptor PPAR.

Retinoid X receptor, RXR

Nuclear receptor that binds and is activated by certain endogenous retinoids, such as 9-cis-retinoic acid. RXR is the obligatory heterodimerization partner for a large number of non-classic steroid nuclear receptors, such as thyroid hormone receptor, vitamin D3 receptor, peroxisome proliferator-activated receptor, and pregnane X receptor.
Definition
Cytochrome P450 (CYP) induction is the process whereby cellular or tissue levels of one or more P450 enzymes are increased as a result of de novo protein synthesis in response to treatment with certain drugs (e.g., phenobarbital and rifampicin) or exposure to environmental chemicals (e.g., dioxins and polychlorinated biphenyls), which are designated P450 inducers. This inductive response generally results from an increase in P450 gene transcription and leads to an increase in the capacity for P450-catalyzed oxidative metabolism of both xenochemicals (i.e., drugs and other foreign chemicals) and endogenous lipophilic substrates (i.e., steroid hormones, vitamins, fatty acids, and bile acids). Other drug-metabolizing enzymes, such as drug conjugation enzymes (e.g., glutathione S-transferases and UDP-glucuronosyltransferases), are also subject to induction by classic P450 inducers, whose pharmacological and toxicology effects are discussed here.
Basic Mechanisms
P450 induction can occur in many cell types and tissues but is most prominent in the liver, a major organ for metabolism of steroids, drugs, and environmental chemicals. Many of the inducible P450s are active catalysts of drug metabolism, and P450 induction typically enhances the capacity for chemical biotransformation, resulting in a shorter elimination half-life and more rapid clearance of the chemical from the body. Consequently, P450 induction can have a major impact on P450-dependent drug metabolism, pharmacokinetics, and drug-drug interactions; the toxicity and carcinogenicity of foreign chemicals; and the disposition and biological activity of endogenous steroids and certain other hormones. Although some P450 substrates also serve as P450 inducers, there is no necessary relationship between the ability of a chemical to induce a particular P450 enzyme and its ability to serve as a substrate for metabolism by that same P450.
At least 10 of the 57 known human P450s are subject to induction by xenochemicals. In most, but not all cases, the induction of P450 protein and enzyme activity occurs by a mechanism that involves increased transcription of the corresponding P450 gene. Members of four P450 gene families,
CYP
families 1, 2, 3 and 4, are induced by receptor-dependent transcriptional mechanisms (Fig.
1
). P450 genes belonging to the
CYP1
gene family and the
CYP2S1
gene are induced by the aryl hydrocarbon receptor (AhR, also known as dioxin receptor), which is a member of the basic helix-loop-helix (bHLH)/periodic circadian protein (PER)-AhR nuclear translocator (ARNT)-single minded protein (SIM) superfamily of transcription factors (Rothhammer and Quintana
2019
). In contrast, the induction of select genes from P450 families
CYP2
,
CYP3
, and
CYP4
is mediated by transcription factors from the nuclear receptor superfamily. The nuclear receptor known as constitutive androstane receptor (CAR, gene designation
NR1I3
) preferentially induces
CYP2B
genes (Kobayashi et al.
2015
), whereas pregnane X receptor (PXR, gene designation
NR1I2
, also known as steroid and xenobiotic receptor and pregnane-activated receptor) preferentially induces
CYP3A
genes and peroxisome proliferator-activated receptor α (PPARα, gene designation
NR1C1
) preferentially induces
CYP4A
genes (Hakkola et al.
2018
).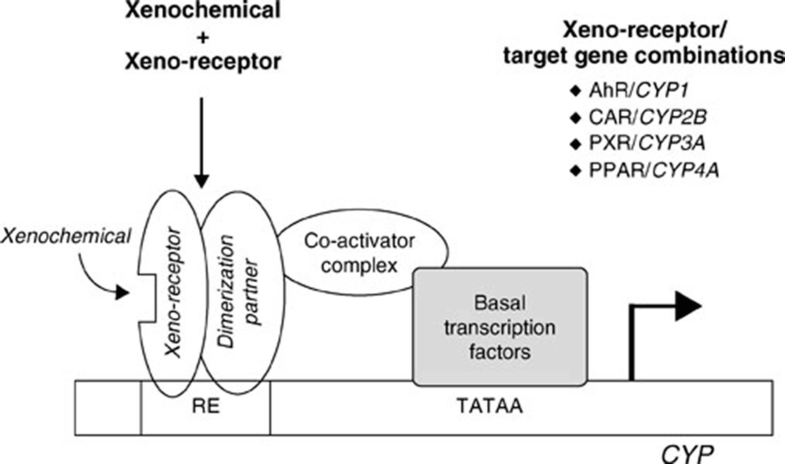 CAR is an orphan nuclear receptor that mediates the widely studied induction of CYP2B genes by phenobarbital, other "phenobarbital-like" lipophilic drugs, and other chemicals (Kobayashi et al. 2015). PXR activates CYP3A genes in response to diverse chemicals, including certain drugs, natural products, and natural and synthetic steroids (Chai et al. 2016). PPARα mediates the induction of fatty acid hydroxylases of the CYP4A family by many acidic chemicals classified as non-genotoxic carcinogens and peroxisome proliferators (Hakkola et al. 2018). These three xenochemical receptors are most highly expressed in the liver, where they may be activated by either by endogenous ligands or foreign chemicals, including many drugs and environmental pollutants. CAR and PXR are also expressed in the intestine, where they may also mediate P450 induction. The discovery of endogenous ligands for CAR (androstanes, which decrease basal receptor activity and serve as inverse agonists), PXR (certain pregnenolone derivatives, bile acids, and other steroids), and PPARα (specific prostaglandins and other fatty acid metabolites) suggests that these three nuclear receptors play an important role in modulating liver gene expression in response to endogenous metabolic or hormonal stimuli, in addition to their established role in modulating liver drug and xenochemical metabolism by induction of cytochromes P450 and other enzymes of foreign compound metabolism.
Pharmacological Relevance
Importance of Nuclear Receptors for Drug Metabolism and Drug Development
The identification of specific nuclear receptors as molecular targets of P450 inducers impacts drug metabolism and drug development in several important ways:
1.

Drug interactions, often associated with interindividual differences in drug metabolism, are a major contributor to idiosyncratic drug responses, which can sometimes be fatal. P450 induction, especially the induction of CYP3A enzymes via PXR, can contribute significantly to interpatient differences in drug metabolism. High throughput screens for P450 inducers that activate AhR, CAR, PXR, and PPARα have been developed and can readily be applied to characterize the P450 induction potential of drugs currently used in the clinic, as well as investigational drugs and lead compounds under development. These efforts may help to predict, and thereby avoid, drug interactions associated with P450 induction.

 

2.

Interindividual differences in the function and expression of nuclear receptors and their accessory proteins, reflecting either genetic or epigenetic factors, may represent another set of determinants of interindividual differences in pharmacokinetics and possibly pharmacodynamics. Further elucidation of the factors that regulate cellular nuclear receptor levels (e.g., glucocorticoids, which increase expression of PXR in human hepatocytes) and the identification of genetic polymorphisms that impact receptor expression, ligand binding specificity or transcriptional activity are also likely to be important.

 

3.

Receptor proteins involved in the induction of cytochromes P450 and other enzymes of drug metabolism may serve as novel drug targets. Examples of established nuclear receptor drug targets include PPARα, which is a target of hypolipidemic fibrate drugs, and PPARα, which is targeted by anti-type II diabetes drugs of the thiazolidinedione class. CAR and PXR are also therapeutic targets based on the role of CAR activators in the treatment of jaundice and PXR activators in the relief of cholestasis associated with hepatotoxic bile acids, hypercholesterolemia, and inflammatory bowel disease. PXR antagonists might be developed to block CYP3A auto-induction responses, which can substantially shorten the elimination half-life of a drug that simultaneously serves as a CYP3A inducer and a CYP3A substrate, which is a characteristic of several HIV-AIDS protease inhibitors and the anti-cancer drug ifosfamide. The finding that genes encoding liver and intestinal drug transporters are also targets of CAR and PXR (Hakkola et al. 2018) presents additional opportunities but also additional challenges in drug development.

 
Notes
Acknowledgments
Supported in part by NIH grant ES024421 (D.J.W.) and the Natural Sciences and Engineering Research Council of Canada Discovery Grants Program, RGPIN-2019-05254 (T.K.H.C.).
Copyright information
© Springer-Verlag Berlin Heidelberg New York 2020