Abstract
Different plant parts and water extracts of Salacia have extensively been consumed in many Asian countries as a food supplement to prevent obesity and diabetes. Studies suggest that extracts of Salacia chinensis regulate multiple enzymes in carbohydrate and lipid metabolism, viz., α-glucosidase, aldose reductase, and pancreatic lipase. The major phyto-constituents of S. chinensis are thiosugar sulfonium sulfates such as salacinol, kotalanol, ponkoranol, and salaprinol and their corresponding de-0-sulfonated compounds. In addition, triterpenes, sesquiterpenes, lignans, xanthones, flavanols, flavonoids, and proanthocyanidins have been reported in S. chinensis extracts, which are attributed to other important medicinal properties. Phenolic glycosides, megastigmane glycosides, and certain triterpenes such as foliasalacins and 1,3-diketofriedelane derivatives have not been studied in detail for their pharmaceutical potentials.
Keywords
Antidiabetic 
Antiobesity 
Kotalanol 
Mangiferin 
Salacia chinensis
Salacinol 
1

Introduction

Salacia chinensis

is a large straggling shrub or woody climber (Fig.

1

) that belongs to family Celastraceae (Hippocrateacae). It is widely spread across tropical forests of South and Southeast Asian countries [

1

,

2

], including Indian subcontinent [

3

]. The fruits (berries) are round or ovate; ripened fruits are red in color (Fig.

1b

). The sweet, translucent, and jelly-like pulp surrounding the seeds of the fruit is edible. Ripened fruits are a rich source of minerals and vitamins and are eaten by rural populations [

2

]. Extract of

Salacia

functions as an antidiabetic as it modulates multiple pathways of carbohydrate and lipid metabolism, including inhibition of α-glucosidase activity [

4

,

5

]. Extracts from their stems and roots have long been used in treatment of rheumatism, asthma, skin diseases, irregular menstruation, amenorrhea, dysmenorrhea, and venereal diseases [

6

,

7

]. Clinical studies have already indicated the efficiency of

Salacia

extracts without any toxic effects [

2

,

8

]. In this chapter, we have elucidated phyto-constituents from

S. chinensis

and their potential pharmaceutical applications.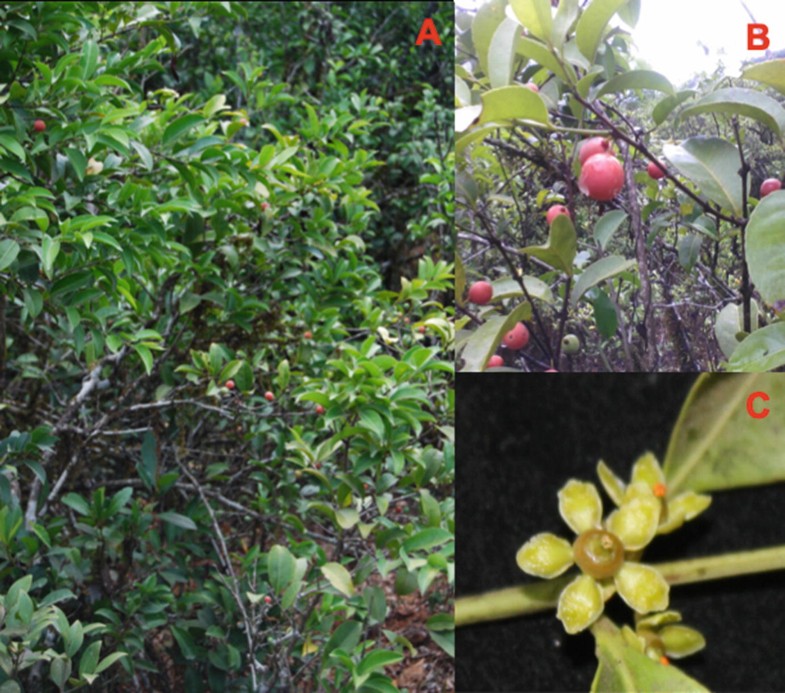 2

Phytochemical Constituents

Novel thiosugar sulfonium sulfate salts salacinol, kotalanol, ponkoranol, and salaprinol are the major phyto-constituents of

Salacia

having antidiabetic activity [

5

,

9

]. Although subsequent studies have reported their de-0-sulfonates, viz., neosalacinol, neokotalanol, neoponkaranol, and neosalaprinol, respectively (Fig.

2

), these are minor components in most

Salacia

extracts [

10

]. Another potent antidiabetic phytochemical mangiferin, an inhibitor of sucrase, aldose reductase, and isomaltase, has been found in the extracts of

S. chinensis

and other related species [

2

,

11

].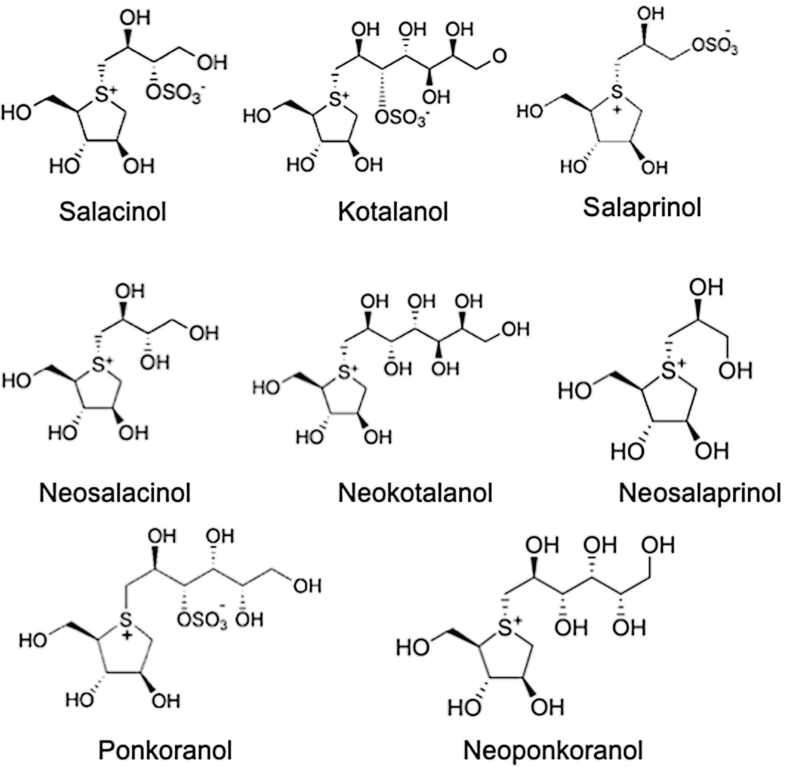 A range of phytochemicals have been isolated from
S. chinensis
. The list of phytochemicals isolated from
S. chinensis
is summarized in Table
1
. Polyphenols and flavonoids, isolated recently, are found abundantly in root and stem than that of fruits and seeds. Gallic acid, catechol, ferulic acid, and salicylic acid are the major polyphenols in the roots, whereas catechol was abundant in the fruits of
S. chinensis
[
16
]. Various flavanols such as epigallocatechin, epicatechin, and epiafzelechin have been isolated from the extracts which have exhibited antioxidant activity [
16
,
23
].
Table 1
Phytochemicals isolated from Salacia chinensis
Chemical class

Phytochemicals

Plant part

Solvent used

Ref.

Thiosugar sulfonium sulfates

Salacinol, kotalanol, salaprinol, ponkoranol, neosalacinol, neokotalanol, and neosalaprinol

Stem and root

Methanol/water

Neoponkoranol and neosalaprinol

Stem

Water

Megastigmane glycosides

Foliasalaciosides: A1,A2, B1, B2, C, D, E1, E2, E3, F, G, H, and I

Stem and leaves

Methanol

[13]

Phenolic glycosides

Foliachinenosides: A1, A2, A3, B1, B2, C, and D

Leaves

Methanol

Phenolic acids

Gallic acid, ethyl gallate, and ellagic acid

 

Methanol

Triterpenes

Friedel-1-one-3-one

Friedelane-1,3-dione-7α-ol

Friedelane-1,3-dione-24-al

Root bark

–

[18]

D:B-friedobaccharane-type foliasalacins: D1, D2, and D3

Leaves

Methanol

[19]

Foliasalacins

Dammarane-type: A1, A2, A3, A4

Lupane-type: B1, B2, B3

Oleanane-type: C

Leaves

Methanol

[20]

1,3-diketofriedelane derivatives

P, Q, S, T, and U

Root bark

Hexane

[21]

Friedelane-like derivative R

25, 26-oxido-friedel-1, 3-dione

Root bark

Hexane

Friedelane-type triterpenes

Salasone D and salasone E

Norfriedelane-type triterpene: salaquinone B

Stem

80% aqueous methanol

[23]

28-hydroxy-3-oxo-30-lupanoic acid; 3-oxo-lupane-30-al; 29-nor-21α-H-hopane-3, 22-dione; 21α-H-hop-22(29)-ene-3β, 30-diol; and botulin

Stem

n-Hexane

[24]

Friedelane derivatives

Friedel-1-en-3-one

Friedelane-1,3-dione

1,3-dioxofriedelan-24-al

7a-hydroxy-friedelane-1.3-dione

Root bark

Methanol

[25]

Norfriedelane-type triterpenes:tigenone, tingenine B, regeol A, and triptocalline A

Stem

Methanol

[26]

Ursan-type triterpenes: Tripterygic acid A and D emethylregelin

Stem

Methanol

[26]

Oleanane-type triterpenes

3ß,22 ß-dihydroxyolean-12-en-29-oic acid, maytenfolic acid, ß-Amyrin, 22α-Hydroxy-3-oxoolean-12-en-29-oic acid and ß-amyrenone

Stem

Methanol

[26]

Lupeol; Lup-20 (29)-en-3beta30-diol

30-Hydorxylup-20 (29)-en-3-one

3, 22-dioxo-29-normoretane; ursolic acid

beta-Sitosterol and beta-Daucosterol

–

–

[17]

Sesquiterpene

Agarofuran-type sesquiterpenes: Celahin C

Stem

Aqueous methanol

[23]

Polyacylated eudesmane-type sesquiterpene:salasol B

Stem

Aqueous methanol

[23]

Lignans

(+) lyoniresinol, (+) isolariciresinol, and (+)-8-methoxyisolariciresinol

 
 

[26]

Xanthone

Mangiferin

–

–

[26]

Flavanols

(−)-epigallocatechin, (−)-epicatechin, and (+)-catechin

–

–

[26]

Flavonoids

Quercetin; quercetin-3′, 4′-dimethyl ether; isorhamnetin and kaempferol-4′-methyl ether

–

–

[17]

Fatty acids

Hentriacontanol and Hentriacontan-12-ol

–

–

[17]

Ketones

1,3-diketone A; 1,3-diketone B

Root bark

–

[27]

Proanthocyanidin

Leucopelargonidin monomer:Pentaacetate and trimethyl ether

Leucopelargonidin dimer with free glycerol group

Nonacetate and hexamethyl ether

Leucopelargonidin dimer without free glycerol group: Octaacetate and hexamethyl ether

Leucopelargonidin tetramer:Heptadecaacetate and dodecamethyl ether

Root bark

Acetone and rectified spirit

[28]
Lignins, norfriedelane-type triterpene, and catechin constituents from S. chinensis stem were found to have free radical scavenging properties [26]. Leucopelargonidin-type proanthocyanidins were reported from stems and roots in monomeric, dimeric, and tetrameric states in the same plant source [28].Various triterpenes such as tigenone, tingenine B, regeol A and triptocalline A, oleanane type triterpenes, and sesquiterpenes like celahin C and salasol D were also isolated [26]. Triterpenoids such as friedelanes [21, 26], lupanes [17], hopanes, and foliasalacins [20] are some of the abundant phyto-constituents in root and stem [29].
3

Pharmacognosy

Salacia chinensis extracts that contain thiosugar sulfonium salts act as inhibitors α-glucosidase and thus induce antidiabetic and antihyperglycemic activities [4, 5, 30, 31, 32, 33, 34, 35, 36]. α-glucosidase inhibitory activity of salacinol and other related compounds .is as effective as that of acarbose and voglibose, which are commonly used in the clinical studies.

Other medicinal properties of

S. chinensis

include anti-obesity, hepatoprotective, immunomodulatory, nephroprotective, anticancer, and antioxidant properties. Summary of pharmacological investigations on

S. chinensis

extracts as well as isolated compounds is presented in Table

2

. Many other phyto-constituents isolated from

S. chinensis

have not yet been tested for their medicinal or nutraceutical applications.

Table 2

Pharmacological investigations on Salacia chinensis
Sr. no

Activity

Model system/assay used

Part/extract used

Conclusions

Ref.

1

Antidiabetic

Sucrose or maltose loaded rats

Methanolic extract of stems

Inhibition of intestinal α-glucosidase and lens aldose reductase from rat eyes

[30]

α-glucosidase inhibition activity assay

Aqueous and methanolic extracts of roots, stems, and seeds

Inhibition of intestinal α-glucosidase. Seeds and stems can be good alternative to roots so as to conserve plant from overexploitation for roots. Aqueous extracts showed better inhibition than that of methanolic extract

[29]

ob/ob mice

Hot water extract of the stems

Aqueous extract intake suppressed the elevation of blood glucose and glycated hemoglobin levels (due to neokotalanol), with no significant changes in food intake and body weight

[33]

Streptozotocin-induced diabetic rats

Oral dose of mangiferin isolated from methanolic root extract

Antidiabetic activity of S. chinensis mangiferin was due to increased insulin secretion and the increased activities of carbohydrate metabolic enzymes in kidney

[37]

2

Hypoglycemic

KK-Ay mice

Hot water extract of stems

Salacinol, kotalanol, and neokotalanol proved to be inhibitors of human and mice α-glucosidase. Salacinol, neosalacinol, kotalanol, and neokotalanol are highly stable in gastric juices

[5]

Streptozotocin-induced diabetic rats

Aqueous extract of dried stem

Oral administration of extract facilitates increase in the glycoalbumin levels by enhancing the uptake of glucose by organs, and not by raising insulin secretion or inhibiting α-glucosidase. Thus, helping in improving diabetic condition

[38]

Double blind, randomized, placebo-controlled, crossover study on healthy human volunteers

Aqueous alcoholic extract of roots and stems

After carbohydrate-rich food intake, postprandial plasma glucose levels were reduced significantly when extracts of roots and stems were administered

Double blind, randomized, placebo-controlled, crossover study on healthy human volunteers

Capsules containing ethanolic extract of roots

When patients fed with sucrose and S. chinensis capsules, postprandial plasma glucose levels and insulin levels were reduced significantly due to phyto-constituents present in extracts of roots and stems

[35]

3

Immunomodulatory

Swiss albino rats

Aqueous extracts

Lower extract concentration can boost the immune system; however, at higher concentrations immune response can be reduced

[39]

4

Blood tonic

Streptozotocin-induced diabetic rats

Oral dose of mangiferin isolated from methanolic root extract

Mangiferin isolated from S. chinensis showed antidiabetic activity by enhancing the activities of glycolytic enzymes. Improved levels of blood cells and their indices

5

Hepatoprotective

D-galactosamine-induced cytotoxicity in primary cultured mouse hepatocytes

Methanolic extract of leaves

Lignans, eleutheroside E2, and 7R,8S-dihydrodehydrodiconiferyl alcohol 4-O-β-D-glucopyranoside were protective effects on hepatocytes

[41]

Wistar strain of albino rats with CCl4-induced hepatic damage

Ethanolic extract of root bark

Extract cures hepatic damage induced by carbon tetrachloride through reduction in level of serum enzymes SGOT, SGPT, ALP, and bilirubin

[42]

6

Anti-obesity anti-hyperlipidemic

Humans and albino mice

Dehydrated powder

Reduction in mean blood glucose levels (fasting as well as postprandial blood sugar levels), reduction in serum triglycerides and LDL cholesterol, decrease in body weight, no significant toxicity was found in the liver, kidney, and intestine

[43]

Triton-induced and atherogenic diet-induced hyperlipidemic rat

Chloroform extract and ethanol extract of root

Reduction in serum lipid parameters such as triglycerides, total cholesterol, low-density lipoprotein, very low-density lipoprotein, and increase in high-density lipoprotein. Hence good adjuvant with current therapy in treatment of hyperlipidemia

[34]

7

Hypotensive

For hypotensive activity, estrous female rats, and for vasodilator activities, isolated thoracic aortic rings

n-butanol extract from stems

Injection of extract decreased mean arterial blood pressure and heart rate of anesthetized rats. Extract also caused vasodilatation of thoracic aortic rings in vitro, thus suggesting that extract from stems possesses hypotensive activity

[44]

8

Nephro-protective

Diabetic chronic kidney disease patients

Dried extract

After extract administration, serum creatinine and creatinine clearance in kidney suggest that extract may slow down or stop the progression of chronic kidney disease

[45]

9

Antimutagenic

Ames assay and chromosomal aberration induction by mutagens in Salmonella spp.

Mangiferin isolated from methanolic extract of roots

Ethanol extract of mangiferin from S. chinensis were highly effective in reducing the mutagenicity caused by various mutagens

[2]

10

Anticancer

Cancer cell lines: Hep-G2 (liver cancer), LU (lung cancer), KB (mouth cancer), and MCF-7 (breast cancer)

Eight triterpenoids isolated from methanolic extracts of leaves

7α,21α-dihydroxyfriedelane-3-one, 28-hydroxy-3-oxo-30-lupanoic acid, and 3,4-seco-friedelane-3-oic acid were cytotoxic to all four cancer cells

[46]

11

Antimicrobial

Broth dilution and disk diffusion methods

Ethanolic and aqueous extracts of leaves

Ethanolic extracts were more effective as antimicrobial (antifungal and antibacterial) as compared to water extracts

[47]

12

Reproductive success

Sprague-Dawley rats

Dehydrated extract

Even higher doses of plant extract has no negative effects on reproductive success, and growth and development of offsprings in rats suggests that S. chinensis extract has no toxic effects

[8]

13

Antioxidant

DPPH assay

Methanolic extract of dried stem

Stem extracts constituents such as norfriedelane-type triterpene, lignan, and catechin possess radical scavenging activity

[23]

DPPH, FRAP, ABTS, and DMPD assays

Root, stem, leaf, fruit pulp, and seed with various solvents

Steam bath extraction was most suitable among various extraction techniques for the extraction of phenolics, flavonoids, and antioxidants

[16]
4

Conclusion

Traditionally, S. chinensis root extracts and decoctions have been used in treatment of type 2 diabetes and many other human ailments and disorders. Other plant parts such as stem, leaves, and fruits contain medicinally important phytochemicals. However, roots contain considerably higher amounts of salacinol and related compounds as compared to other plant parts. With the advent of new technologies for isolation and characterization of phytochemicals, many new compounds have been identified and proved to have diverse medicinal properties. This will certainly lead to overexploitation of the roots and other plant parts; hence conservation strategies have to be implemented carefully. Alternative biotechnological approaches, such as tissue culture, metabolic engineering, and other modern methods of omics studies, need to be developed to enhance contents of medicinally important compounds in this plant.
Notes
Acknowledgments
The authors SP thank to UGC New Delhi for Dr. D. S. Kothari fellowship award and PK thanks to SERB New Delhi for NPDF award.
Copyright information
© Springer Nature Switzerland AG 2019
Section editors and affiliations