Polyendocrine Disorders and Endocrine Neoplastic Syndromes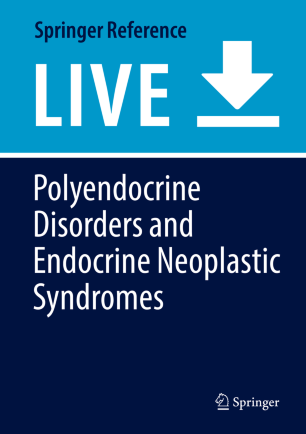 About this book
Introduction
This comprehensive reference book is meant to support clinicians in the diagnosis and treatment of polyendocrine diseases and endocrine neoplastic syndromes.
Although a large majority of endocrine diseases present as sporadic cases, an increasing proportion can be identified as part of a polyendocrine or systemic syndrome. These include autoimmune endocrine diseases, which may be part of autoimmune polyendocrine disorders (APS) or rare complex disorders such as POEMS (polyneuropathy, organomegaly, endocrinopathy, M-protein and skin changes) or IPEX (immune dysregulation, polyendocrinopathy, enteropathy, X-linked) syndromes. On the other hand, endocrine tumors may develop in a variety of clinical conditions, including multiple endocrine neoplasia (MEN) syndromes, syndromic diseases such as McCune Albright or Carney's complex, or peculiar familial associations such as pheochromocytoma/paraganglioma syndromes.
The book discusses the significant advances that have been made in the clinical and genetic characterization of such entities, with major implications in terms of diagnosis and clinical management, including familial screening, as well as in terms of multidisciplinarity.
This volume is intended for clinicians, residents, specialists and physicians involved in the diagnosis and treatment of affected patients, including specialists in endocrinology, internal medicine, oncology and genetics.
Keywords
Autoimmune polyendocrine syndromes
Multiple Endocrine Neoplasia MEN
Syndromic diseases
Genetics
Familial screening
Bibliographic information
DOI

https://doi.org/10.1007/978-3-319-73082-0

Copyright Information

Springer Nature Switzerland AG 2020

Publisher Name

Springer, Cham

eBook Packages

Medicine

Reference Module Medicine

Online ISBN

978-3-319-73082-0

Series Print ISSN

2510-1927

Series Online ISSN

2510-1935
Industry Sectors