Handbook of Laser Micro- and Nano-Engineering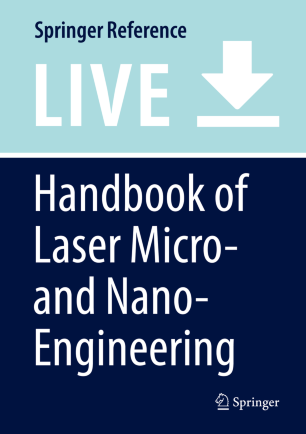 About this book
Introduction
This handbook provides a comprehensive review of the entire field of laser micro and nano processing, including not only a detailed introduction to individual laser processing techniques but also the fundamentals of laser-matter interaction and lasers, optics, equipment, diagnostics, as well as monitoring and measurement techniques for laser processing. Consisting of 11 sections, each composed of 4 to 6 chapters written by leading experts in the relevant field. Each main part of the handbook is supervised by its own part editor(s) so that high-quality content as well as completeness are assured. The book provides essential scientific and technical information to researchers and engineers already working in the field as well as students and young scientists planning to work in the area in the future.
Lasers found application in materials processing practically since their invention in 1960, and are currently used widely in manufacturing. The main driving force behind this fact is that the lasers can provide unique solutions in material processing with high quality, high efficiency, high flexibility, high resolution, versatility and low environmental load. Macro-processing based on thermal process using infrared lasers such as CO2 lasers has been the mainstream in the early stages, while research and development of micro- and nano-processing are becoming increasingly more active as short wavelength and/or short pulse width lasers have been developed. In particular, recent advances in ultrafast lasers have opened up a new avenue to laser material processing due to the capabilities of ultrahigh precision micro- and nanofabrication of diverse materials.
This handbook is the first book covering the basics, the state-of-the-art and important applications of the dynamic and rapidly expanding discipline of laser micro- and nanoengineering. This comprehensive source makes readers familiar with a broad spectrum of approaches to solve all relevant problems in science and technology. This handbook is the ultimate desk reference for all people working in the field.
Keywords
Laser Additive Processing
Laser Ablation at nanoscale
Laser Nanotechnology
Laser Material Removal
Laser Material Deposition
Laser surface Diagnostics
Laser Metrology and materials characterisation
Ultrafast laser material processing
Handbook Laser Engineering
Handbook Nanoengineering
Laser subtractive processing
Laser surface structuring
Bibliographic information
Book Title

Handbook of Laser Micro- and Nano-Engineering

Editors

Koji Sugioka


DOI

https://doi.org/10.1007/978-3-319-69537-2

Publisher Name

Springer, Cham

eBook Packages

Physics and Astronomy

Reference Module Physical and Materials Science

eBook ISBN

978-3-319-69537-2

Edition Number

0

Number of Pages

, 0

Number of Illustrations

0 b/w illustrations, 0 illustrations in colour
Industry Sectors