Introduction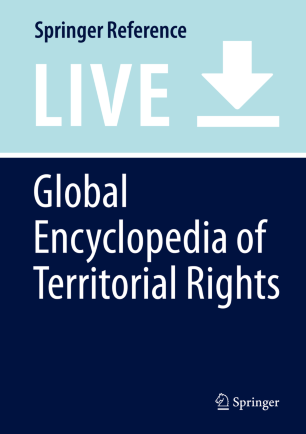 This major reference work is a single-volume Encyclopedia that consolidates existing knowledge about territorial rights with new developments in academic scholarship. It contains more than 500 entries which combine concepts and theoretical arguments with concise, up-to-the-minute, graphic summaries of practical disputes about immigration, natural resources, secession, minority rights, borders, restorative justice, Aboriginal rights, and other issues related to territory.
The entries cover three levels. The first level concerns specific territorial claims, and provides specific examples of disputes over territory, each of which gives rise to a unique series of territorial claims. Some examples in this category are Crimea/Ukraine, Russia, the Northwest Passage and Scottish Independence. The second level covers types and causes of territorial conflict. Prominent examples are conflicts about immigration, minority rights, indigenous people, and unoccupied land. The third level focuses on normative theories of territorial rights. Here the object of study involves the norms and political practices that govern territorial rights, both inside sovereign jurisdictions and at large in global society. Examples are individualism, nationalism/national self-determination, and a statist/collectivist framework. This section includes proposals for theories of territorial rights, such as associative, remedial, pluralistic and descriptive theories.
The combination of concise entries listed alphabetically, abundant links to academic sources, and a bibliography of territorial rights make this major reference work a primary research tool for scholars and a comprehensive introduction to new developments in a number of linked fields.
Editorial Board
Dr. Kevin W. Gray, Dr. Costas Laoutides, Dr. Laura Lo Coco, Dr. Lavonna L. Lovern, Dr. Nick C. Sagos, Dr. Katrinka Somdahl-Sands
Bibliographic information
DOI

https://doi.org/10.1007/978-3-319-68846-6

Publisher Name

Springer, Cham

eBook Packages

Springer Reference Religion and Philosophy

Reference Module Humanities and Social Sciences

Number Of Entries

43