Introduction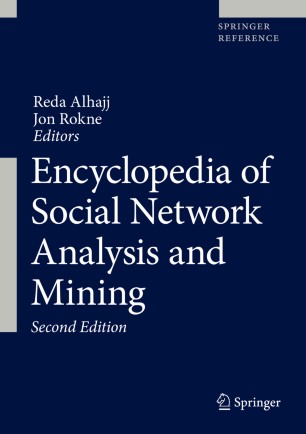 Social Network Analysis and Mining Encyclopedia (ESNAM) is the first major reference work to integrate fundamental concepts and research directions in the areas of social networks and applications to data mining. The second edition of ESNAM is a truly outstanding reference appealing to researchers, practitioners, instructors and students (both undergraduate and graduate), as well as the general public.

This updated reference integrates all basics concepts and research efforts under one umbrella. Coverage has been expanded to include new emerging topics such as crowdsourcing, opinion mining, and sentiment analysis. Revised content of existing material keeps the encyclopedia current. The second edition is intended for college students as well as public and academic libraries. It is anticipated to continue to stimulate more awareness of social network applications and research efforts.
The advent of electronic communication, and in particul
ar on-line communities, have created social networks of hitherto unimaginable sizes. Reflecting the interdisciplinary nature of this unique field, the essential contributions of diverse disciplines, from computer science, mathematics, and statistics to sociology and behavioral science, are described among the 300 authoritative yet highly readable entries. Students will find a world of information and insight behind the familiar façade of the social networks in which they participate. Researchers and practitioners will benefit from a comprehensive perspective on the methodologies for analysis of constructed networks, and the data mining and machine learning techniques that have proved attractive for sophisticated knowledge discovery in complex applications. Also addressed is the application of social network methodologies to other domains, such as web networks and biological networks.
Bibliographic information
DOI

https://doi.org/10.1007/978-1-4939-7131-2

Copyright Information

Springer Science+Business Media, LLC, part of Springer Nature 2018

Publisher Name

Springer, New York, NY

Print ISBN

978-1-4939-7130-5

Online ISBN

978-1-4939-7131-2

Number Of Entries

1581